Having a best friend is really a great thing that we should be thankful for. Best friends are the one that we can more depend on.Unlike usual friends, our best friend know more about us like our personal secrets, opinions and they are also there for dark part of our lives and they are willing to accompany us and give some inspirational advice that usually bring more strength to us. So, on their birthday, show your love for him/her by giving present and most importantly, some meaningful wordings that surely make him/her feel special.
If you re looking for some Best Friend Birthday Quotes, you are free to consider my collection provided. Hope you like it !
Best Birthday Best friend Quotes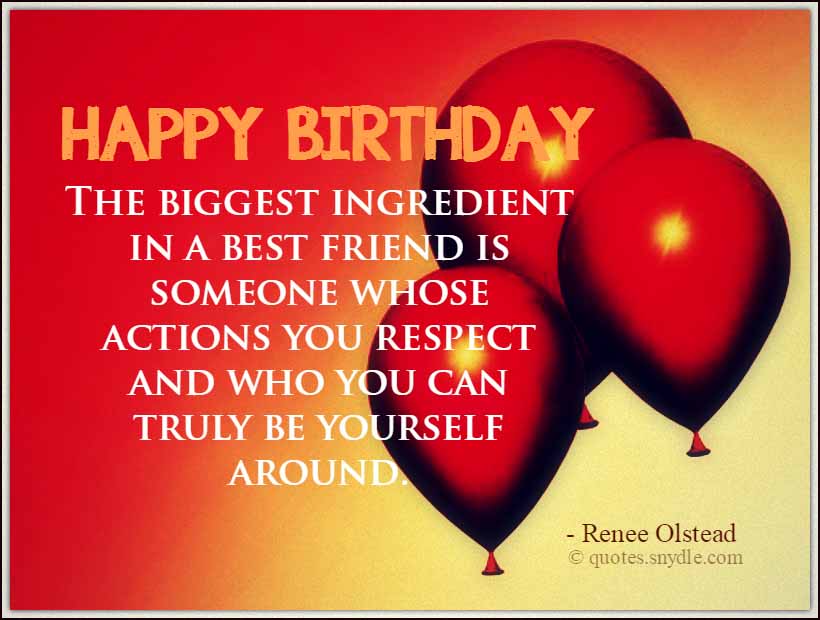 The biggest ingredient in a best friend is someone whose actions you respect and who you can truly be yourself around.
– Renee Olstead
Our friendship is like a cup of tea…a special blend of you and me.
– Anonymous
Good friends are like stars. You don't always see them, but you know that they are always there.
– Anonymous
She's always there for me when I need her; She's my best friend; she's just my everything.
– Ashley Olsen
A best friend is like a four leaf clover: hard to find and lucky to have.
– Anonymous
Best Friends can turn a horrible day, into one of the best days of your life.
– Nathanael Richmond
Friends are connected heart to heart. Distance and time can't break them apart.
– Anonymous
True friendship isn't about being inseparable, it's being separated and nothing changes.
– Anonymous
Birthday Quotes for Best Friend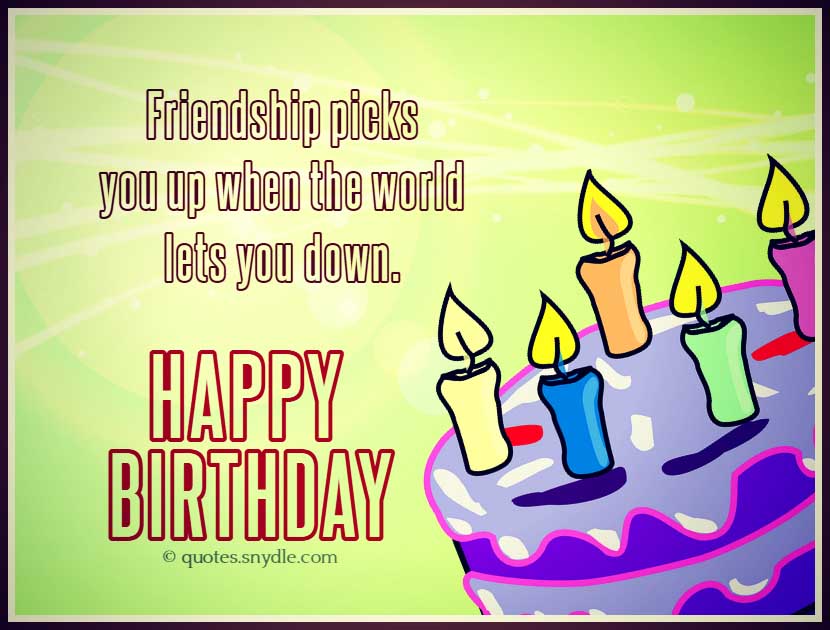 Friendship picks you up when the world lets you down.
– Anonymous
A hand that helps to make a person understand his true stand than supporting him to defend his wrong position in any given situation is only of his best friend.
– Anuj Somany
Friendship is always a sweet responsibility, never an opportunity',
Thanks for being such a sweet friend.
– Khalil Gibran
Friends are the bacon bits in the salad bowl of life.
– Anonymous
An good friend will help you move. But best friend will help you move a dead body.
– Jim Hayes
Every gift from a friend is a wish for your happiness…'
Thanks to you, I always am so happy. Now I want to give you all the happiness on your birthday.
– Richard Bach
One loyal friend is worth ten thousand relatives.
– Euripides
A friend is one who knows us, but loves us anyway.
– Jerome Cummings.
Inspirational Birthday Best Friend Quotes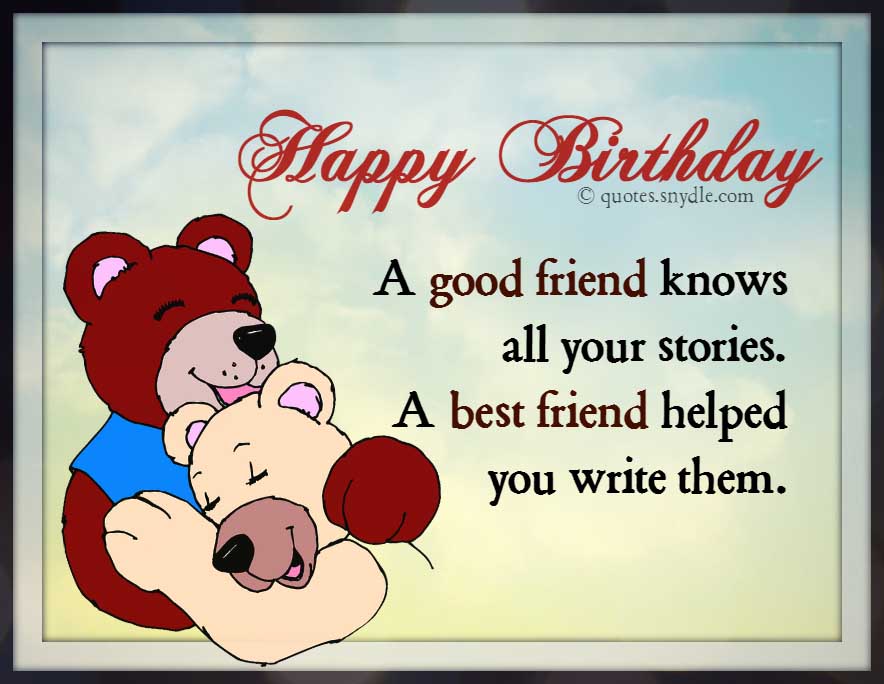 A good friend knows all your stories. A best friend helped you write them.
– Anonymous
Friends are the angels who lift us to our feet when our wings have trouble remembering how to fly'.
Thanks for lifting up my spirits whenever I was low. Wishing you an awesome birthday.
– Anonymous
A friend is someone who knows all about you and still loves you.
– Elbert Hubbard
Friends listen to what you say. Best friends listen to what you don't say.
– Anonymous
My father always used to say that when you die, if you've got five real friends, then you've had a great life.
– Lee Iacocca
True friendship is when two friends can walk in opposite directions, yet remain side by side.
– Anonymous
Funny Birthday Best Friend Quotes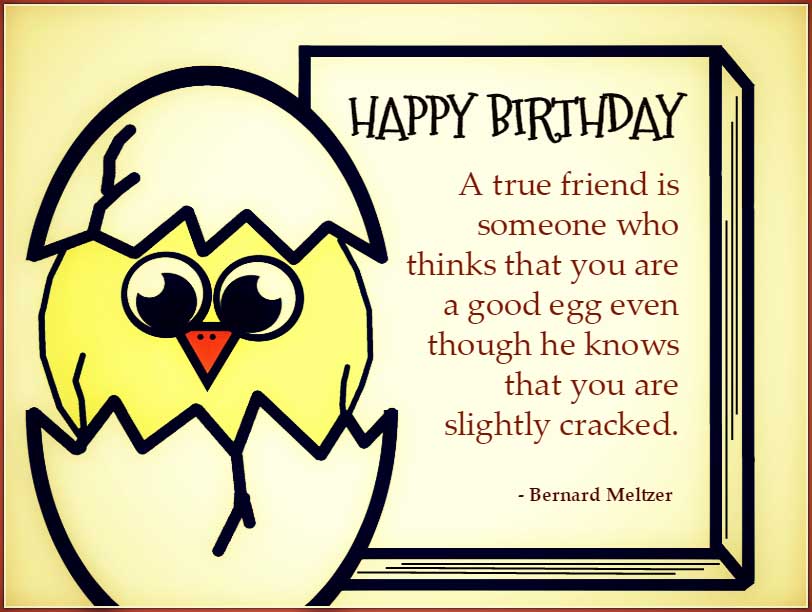 A true friend is someone who thinks that you are a good egg even though he knows that you are slightly cracked.
– Bernard Meltzer
Friendship is like peeing in your pants. Everyone can see it, but only you can feel the warm feeling inside.
– Anonymous
You can always tell a real friend: when you've made a fool of yourself he doesn't feel you've done a permanent job.
– Laurence J. Peter
Good friends offer a shoulder when you need to cry. Best friends are there with a shovel to beat up who made you cry.
– Anonymous
We're always together, we're one of a kind, 3 words describe us – 'partners in crime'.
– Anonymous
When you're in jail, a good friend will be trying to bail you out. But a best friend will be in the cell next to you saying, 'Damn, that was fun!
– Groucho Marx
Best Friend Birthday Quotes and Sayings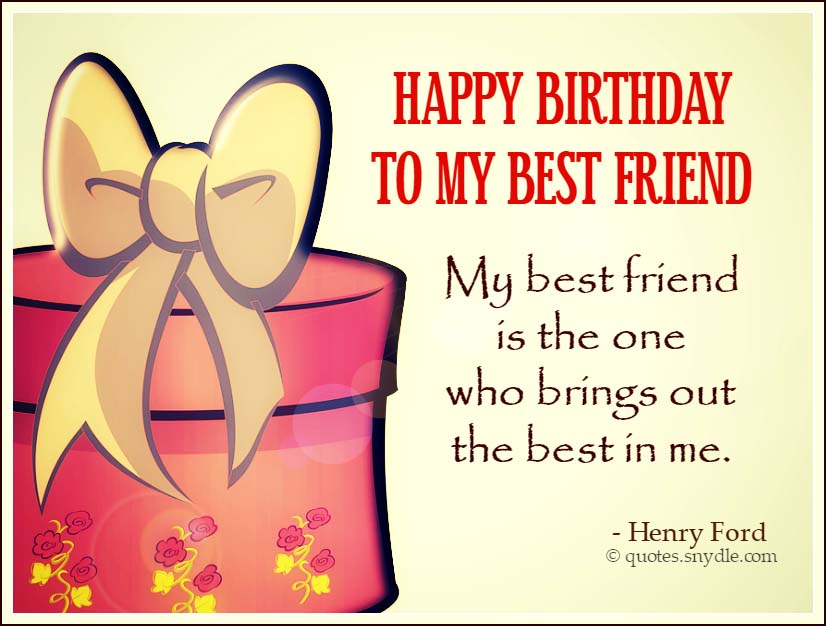 My best friend is the one who brings out the best in me.
– Henry Ford
Good friends help you find important things when you have lost them. Your smile, you hope, and your courage.
– Anonymous
Things are never quite as scary when you have a best friend.
– Bill Watterson
Life is partly what we make it, and partly what is made by the friends whom we choose.
– Tehyi Hsieh.
My best friend is the man who in wishing me well wishes it for my sake.
– Aristotle
Friends show their love in times of trouble…'
I don't know what I would do without you.
– Euripides
Best friend: someone you can only stay mad at for so long because you have important things to talk about.
– Anonymous
I've known my best friend since I was a baby, and I don't know what I would do without her. She is always straight with me and can make me laugh hysterically. Everyone should have someone like that in their life.
– Jasmine Guinness