Friendship has different meanings for different people. Friendship Quotes may describe, "Friends are someone to keep you company and help you grow." You'll need friends to survive in an island. If you're the only person in the island then you have animals to keep you company. Only a few friends can stay with you until death. You might lose them along the road. When they do be happy for them and wish them well. Your roads will cross someday and you'll make new memories.
Famous Quotes about Friendship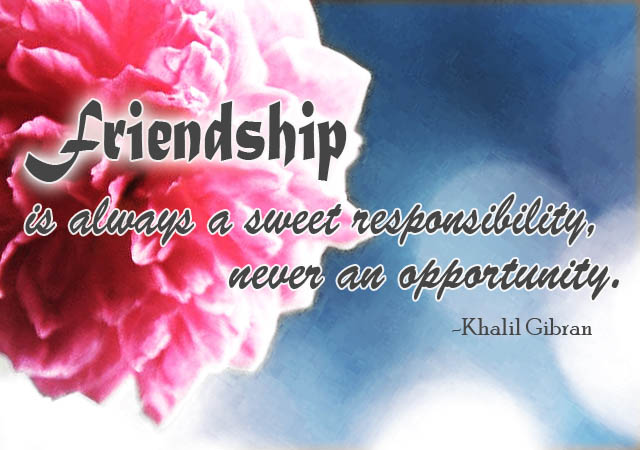 Friendship is always a sweet responsibility, never an opportunity.
― Khalil Gibran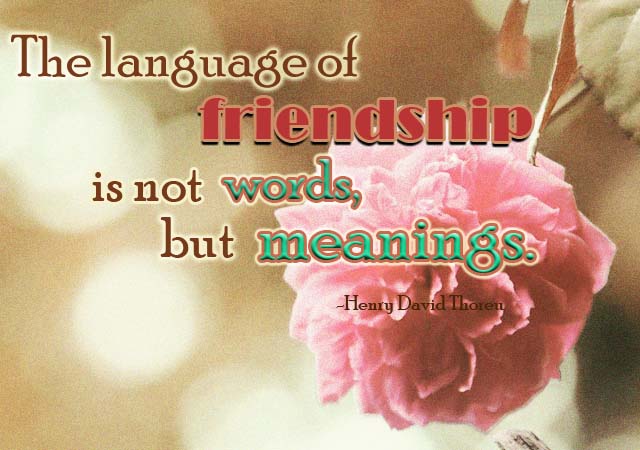 The language of friendship is not words but meanings.
― Henry David Thoreau
Friendship is the only cement that will ever hold the world together.
― Woodrow T. Wilson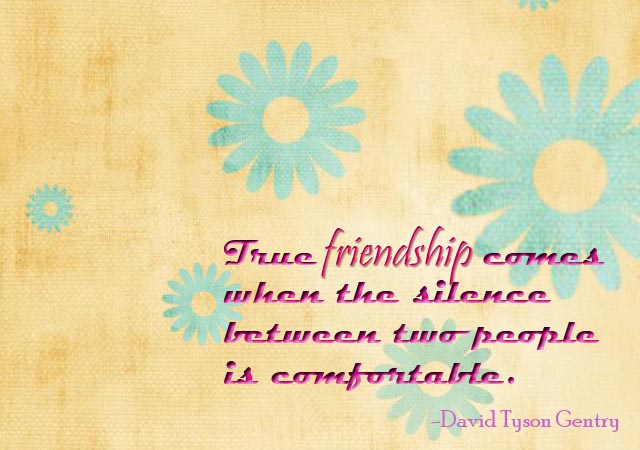 True friendship comes when the silence between two people is comfortable.
― David Tyson Gentry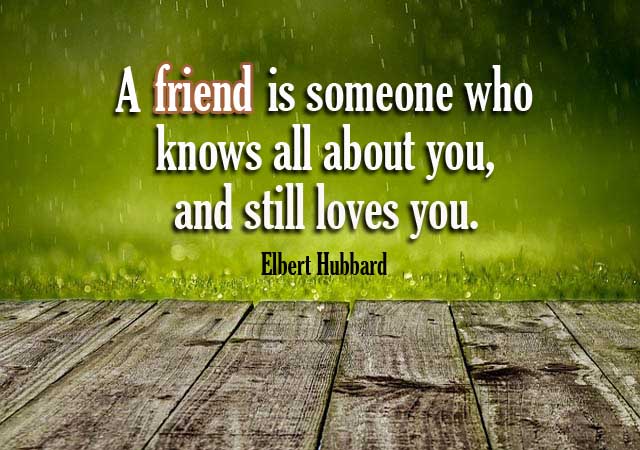 A friend is someone who knows all about you and still loves you.
― Elbert Hubbard
Words are easy, like the wind; Faithful friends are hard to find.
― William Shakespeare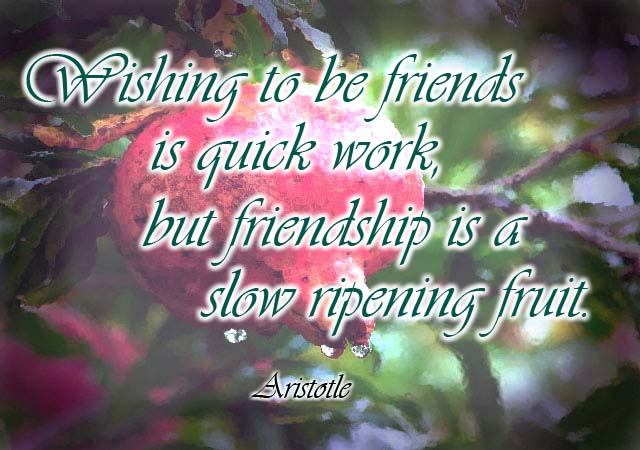 Wishing to be friends is quick work, but friendship is a slow ripening fruit.
― Aristotle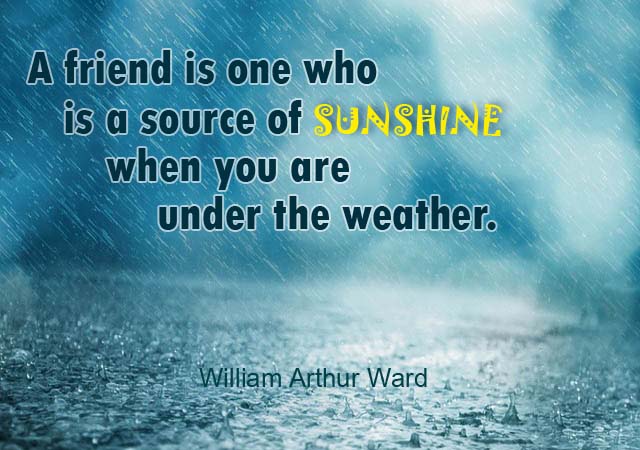 A friend is one who is a source of sunshine when you are under the weather.
– William Arthur Ward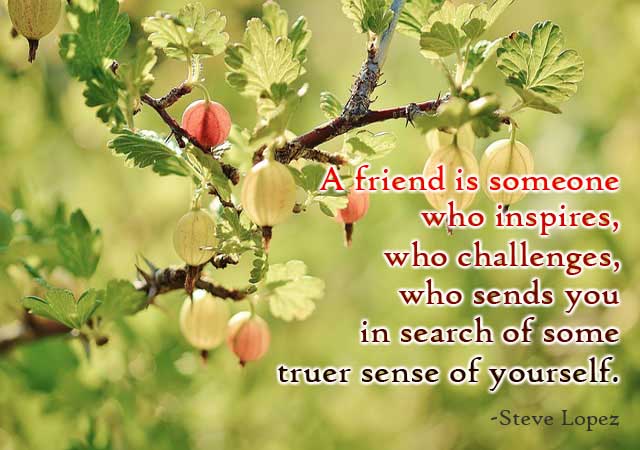 A friend is someone who inspires, who challenges, who sends you in search of some truer sense of yourself.
– Steve Lopez

The best things in life aren't things…they're your friends.
― Unknown
Friendship with oneself is all important because without it one cannot be friends with anybody else in the world.
― Eleanor Roosevelt
Short Quotes about Friendship
The only way to have a friend is to be one
― Ralph Waldo Emerson
Friends are the family you choose.
― Jess C. Scott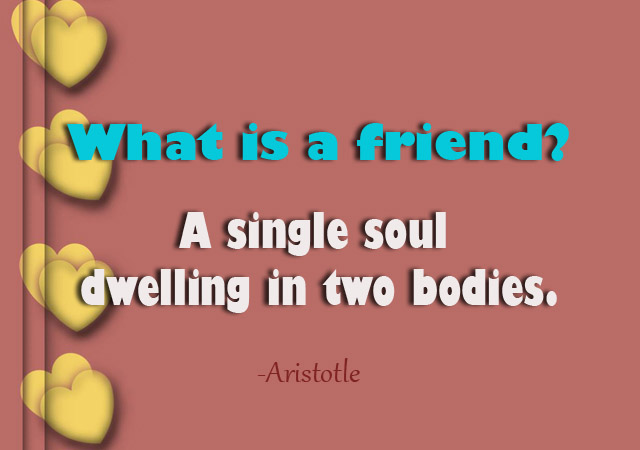 What is a friend? A single soul dwelling in two bodies.
― Aristotle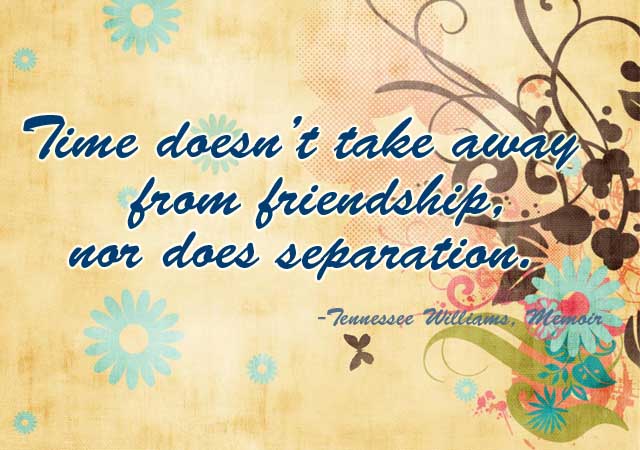 Time doesn't take away from friendship, nor does separation.
― Tennessee Williams, Memoirs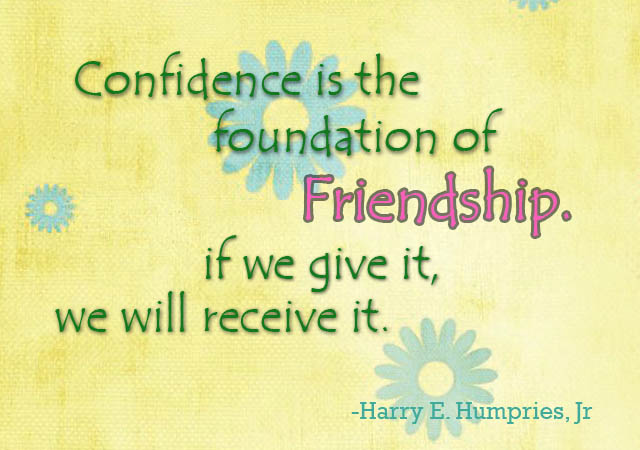 Confidence is the foundation of friendship. If we give it, we will receive it.
― Harry E. Humphreys, Jr.
True friends are always together in spirit. (Anne Shirley)
― L.M. Montgomery, Anne of Green Gables
Friendship is the only cement that will ever hold the world together.
– Woodrow T. Wilson
My best friend is the one who brings out the best in me.
– Henry Ford
Best Quotes about Friendship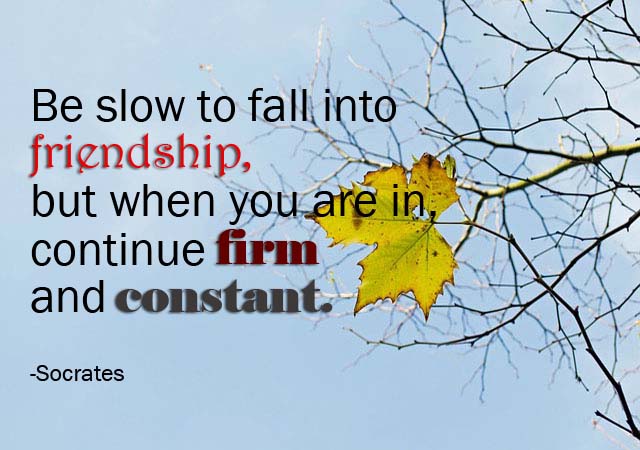 Be slow to fall into friendship but when you are in, continue firm and constant.
– Socrates
A good friend can tell you what is the matter with you in a minute. He may not seem such a good friend after telling.
– Arthur Brisbane
Love is blind; friendship closes its eyes.
– Friedrich Nietzsche
Never leave a friend behind. Friends are all we have to get us through this life–and they are the only things from this world that we could hope to see in the next.
– Dean Koontz
In prosperity our friends know us; in adversity we know our friends.
– John Churton Collins
The friend who holds your hand and says the wrong thing is made of dearer stuff than the one who stays away.
– Barbara Kingsolver
Don't walk behind me; I may not lead. Don't walk in front of me; I may not follow. Just walk beside me and be my friend.
— Albert Camus
There is nothing better than a friend, unless it is a friend with chocolate.
— Linda Grayson
Inspirational Quotes about Friendship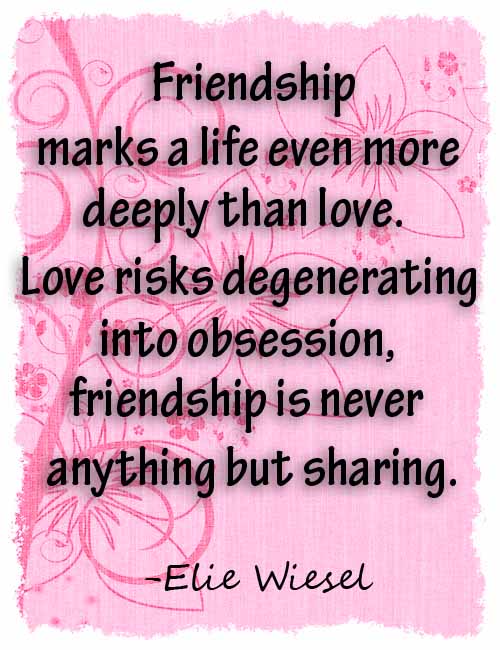 Each friend represents a world in us, a world possibly not born until they arrive, and it is only by this meeting that a new world is born.
― Anaïs Nin
Silence make the real conversations between friends. Not the saying, but the never needing to say that counts.
― Margaret Lee Runbeck
Nobody likes being alone that much. I don't go out of my way to make friends, that's all. It just leads to disappointment.
― Haruki Murakami, Norwegian Wood
The man of knowledge must be able not only to love his enemies but also to hate his friends.
― Friedrich Nietzsche
Friendship- my definition- is built on two things. Respect and trust. Both elements have to be there. And it has to be mutual. You can have respect for someone, but if you don't have trust, the friendship will crumble.
― Stieg Larsson
The friend who holds your hand and says the wrong thing is made of dearer stuff than the one who stays away.
― Barbara Kingsolver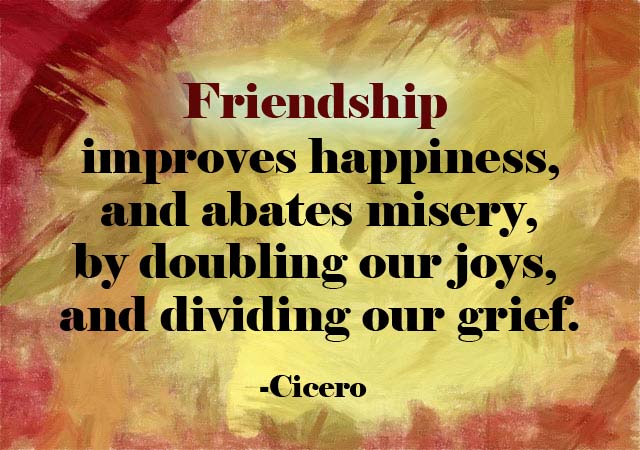 Friendship improves happiness and abates misery, by doubling our joys and dividing our grief.
― Cicero
So long as we love we serve; so long as we are loved by others, I would almost say that we are indispensable; and no man is useless while he has a friend.
― Robert Louis Stevenson, Lay Morals
Friends are a strange, volatile, contradictory, yet sticky phenomenon. They are made, crafted, shaped, molded, created by focused effort and intent. And yet, true friendship, once recognized, in its essence is effortless.
― Vera Nazarian, The Perpetual Calendar of Inspiration
If you care about somebody, you should want them to be happy. Even if you wind up being left out.
― Stephen Chbosky, The Perks of Being a Wallflower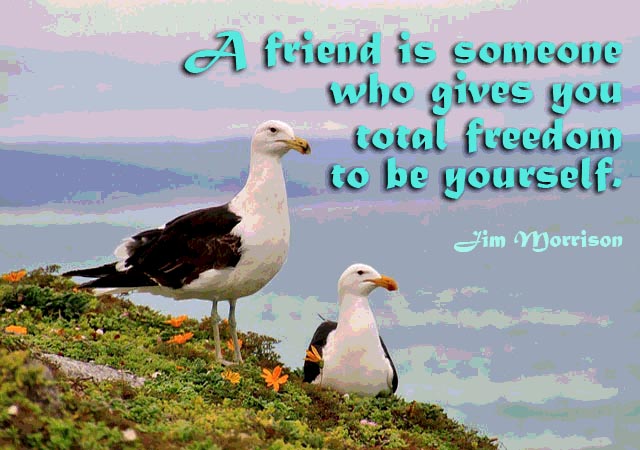 A friend is someone who gives you total freedom to be yourself.
– Kim Morrison
However rare true love may be, it is less so than true friendship.
― Albert Einstein
Meaningful Quotes about Friendship
What do you most value in your friends?
Their continued existence.
― Christopher Hitchens, Hitch-22: A Memoir
Never contract friendship with a man that is not better than thyself.
― Confucius
Let there be no purpose in friendship save the deepening of the spirit.
― Khalil Gibran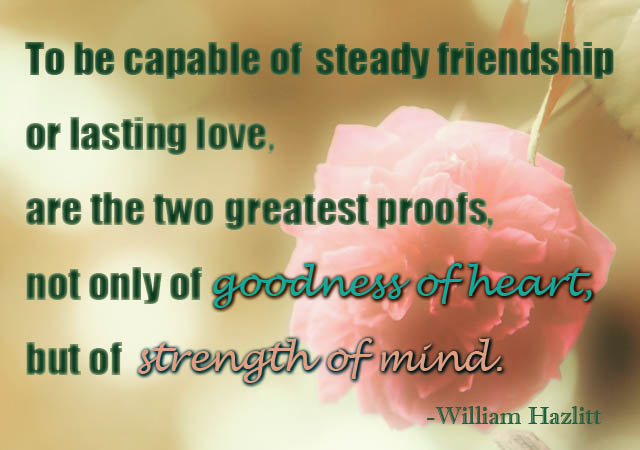 To be capable of steady friendship or lasting love, are the two greatest proofs, not only of goodness of heart, but of strength of mind.
― William Hazlitt
It's a good thing to be rich and a good thing to be strong, but it is a better thing to be beloved of many friends.
― Oliver Wendell Holmes
Do you know what friends are? They're people you like. And because of them, you learn to like yourself.
― Jounouchi of Yu-Gi-Oh
There is nothing I would not do for those who are really my friends. I have no notion of loving people by halves, it is not my nature.
― Jane Austen