Looking for famous and best Bob Marley Quotes? You've come at the right place. Here's the largest collection of quotes of Bob Marley, with pictures. Bob Marley is a world-famous Jamaican reggae artist. He is popular for his unique song-writing and vocal style. He was one of the most charismatic performers of his time. His career spanned more than twenty years and encompassed every aspect in the rise of Jamaican music from ska to contemporary reggae. He also advocated for social change in his music.
He died of cancer in May 11,1981 and was buried on May 23,1981. He was given an official burial by the people of Jamaica with the Prime Minister and the Leader of the Opposition in attendance. Despite the tragic end of his life, his words and his music lives on until today in the hearts of fans that were forever changed by his words. Here are some of the best quotes of Bob Marley. We collected and categorized Bob Marley quotes, and put them into images, just for you.
Best Bob Marley Quotes
Bob Marley had many quotes on many subjects. His music became an avenue for him to spread his message to the world. Many of the best words of wisdom and sayings are attributed to him. Here are some of the well-known and famous quotes of Bob Marley.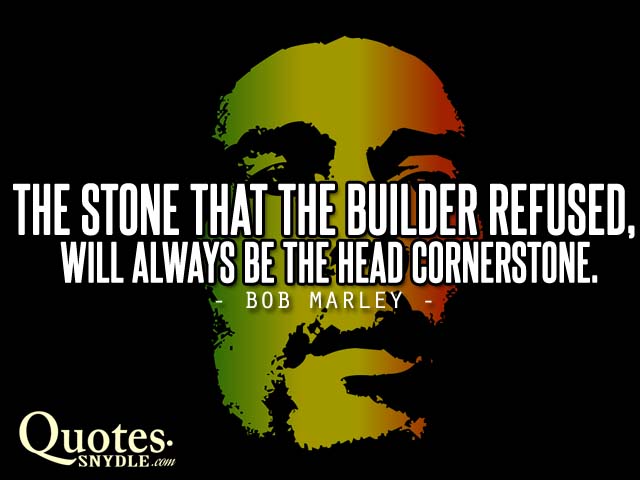 The stone that the builder refused, will always be the head cornerstone.
― Bob Marley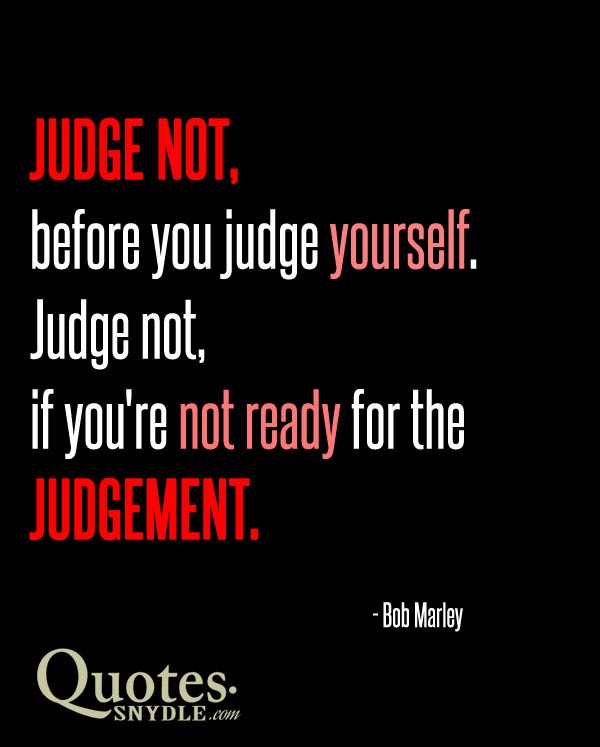 Judge not, Before you judge yourself. Judge not, If you're not ready for the Judgement.
― Bob Marley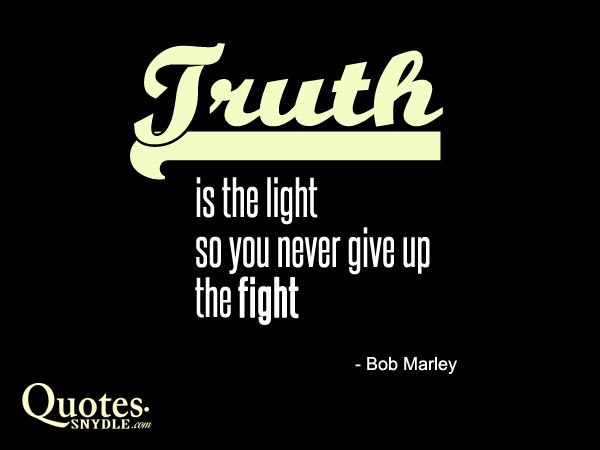 Truth is the light so you never give up the fight.
― Bob Marley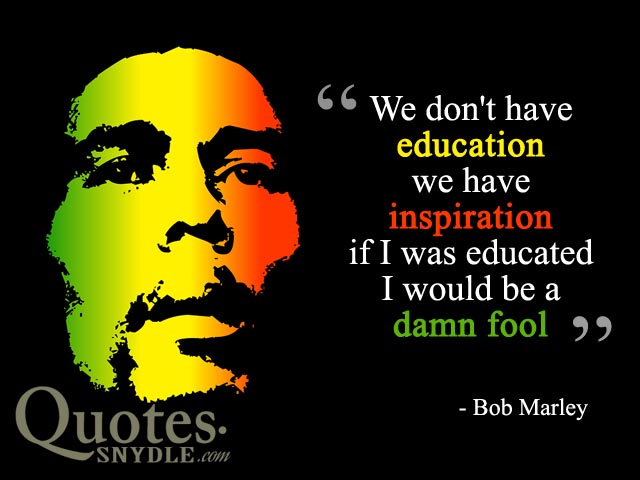 We don't have education, we have inspiration; if I was educated I would be a damn fool.
― Bob Marley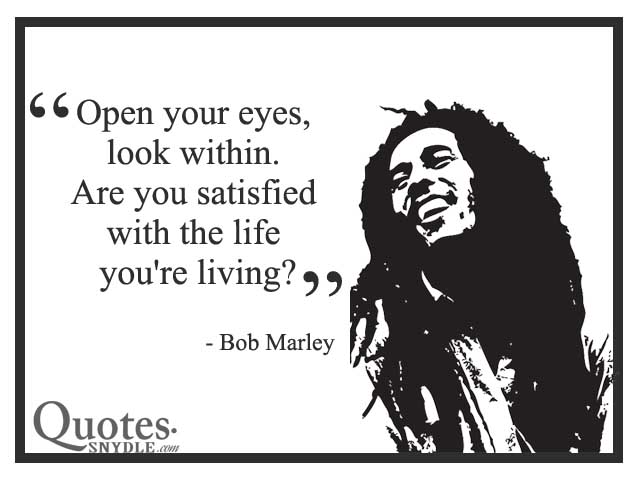 Open your eyes, look within. Are you satisfied with the life you're living?"
― Bob Marley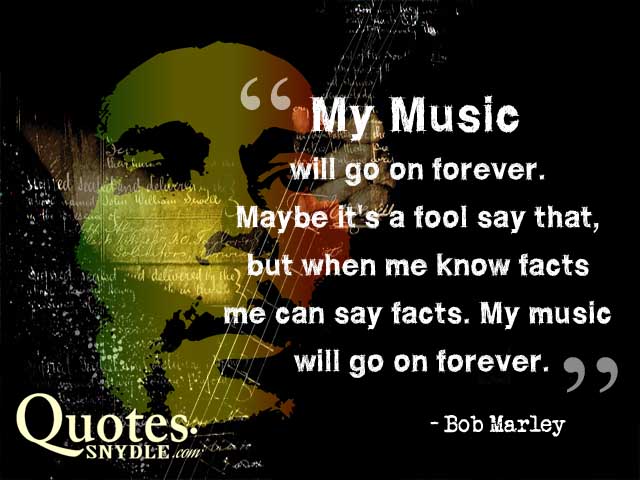 My music will go on forever. Maybe it's a fool say that, but when me know facts me can say facts. My music will go on forever.
― Bob Marley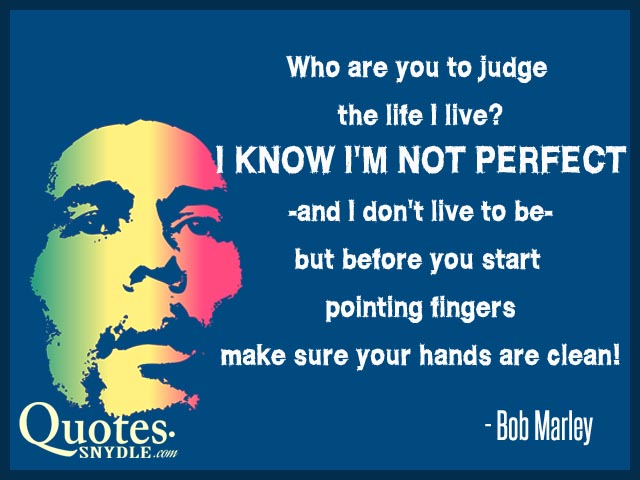 Who are you to judge the life I live?
I know I'm not perfect
-and I don't live to be-
but before you start pointing fingers…
make sure you hands are clean!
― Bob Marley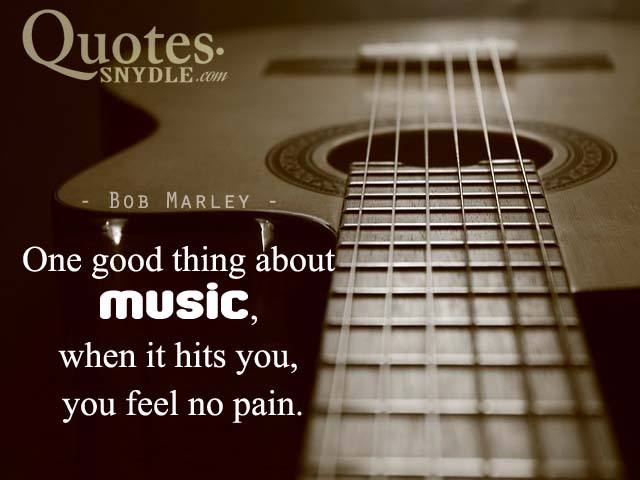 One good thing about music, when it hits you, you feel no pain.
― Bob Marley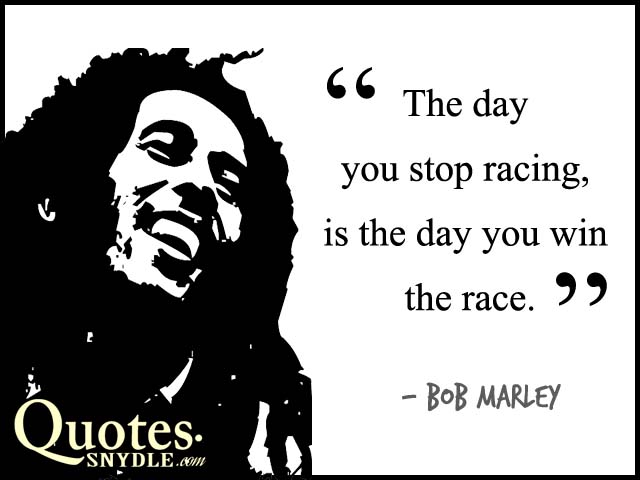 The day you stop racing, is the day you win the race.
― Bob Marley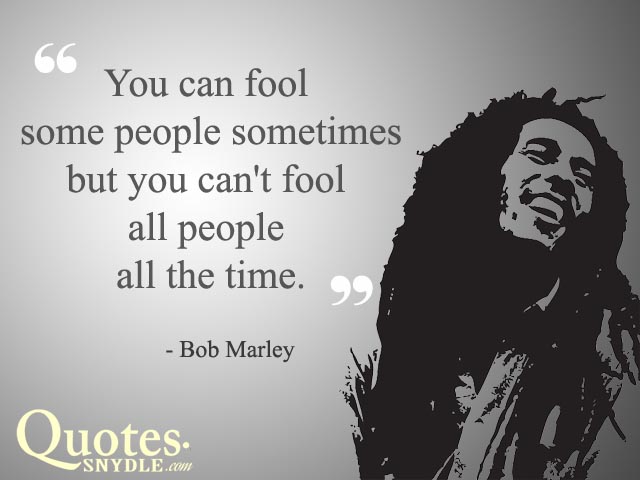 You can fool some people sometimes but you can't fool all people all the time.
― Bob Marley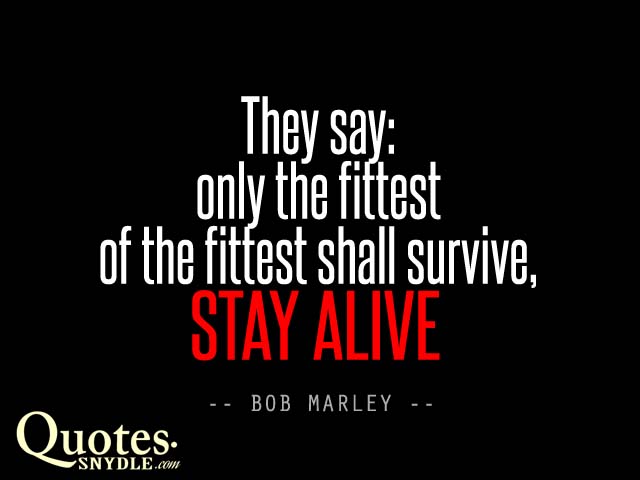 They say: only the fittest of the fittest shall survive, stay alive.
― Bob Marley
Bob Marley Love Quotes
There are also so many love quotes that Bob Marley quoted. In fact, some of these love quotes are very popular nowadays. Here are some of the best and sweet bob marley quotes on love.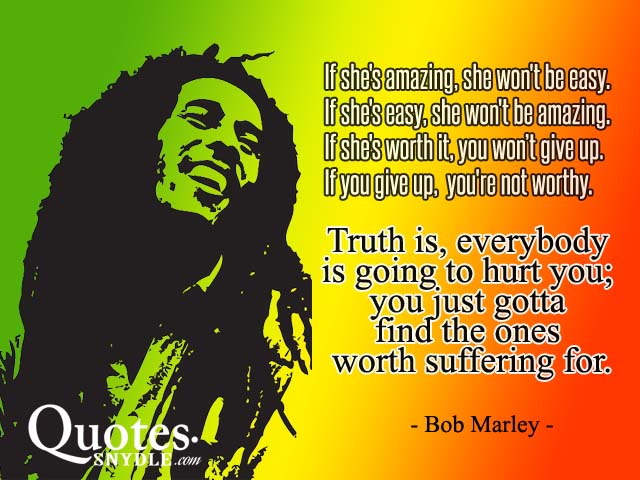 If she's amazing, she won't be easy. If she's easy, she won't be amazing. If she's worth it, you won't give up. If you give up, you're not worthy. … Truth is, everybody is going to hurt you; you just gotta find the ones worth suffering for.
― Bob Marley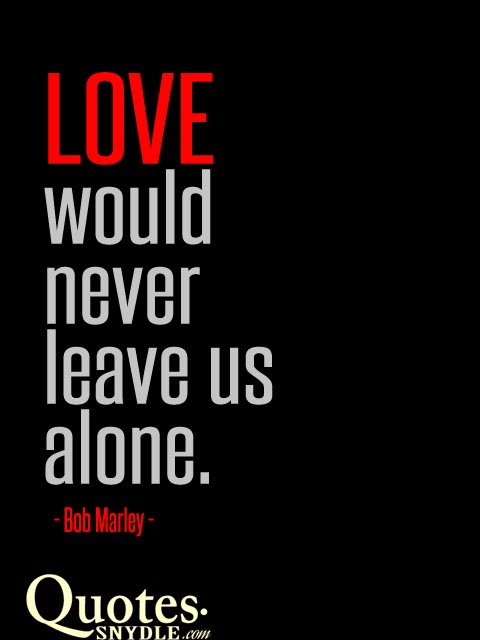 Love would never leave us alone.
― Bob Marley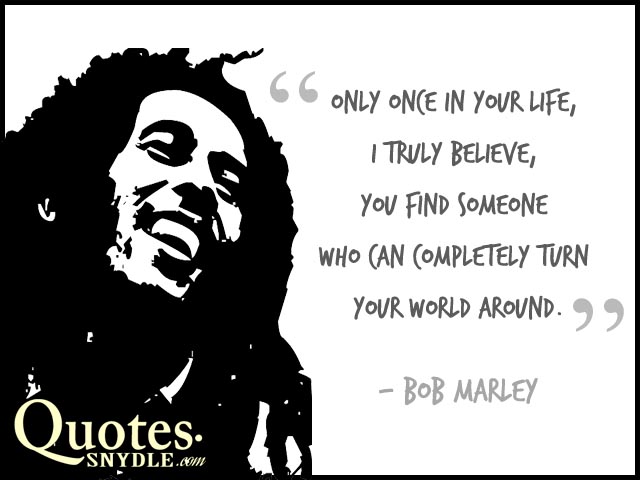 Only once in your life, I truly believe, You find someone who can completely turn your world around.
― Bob Marley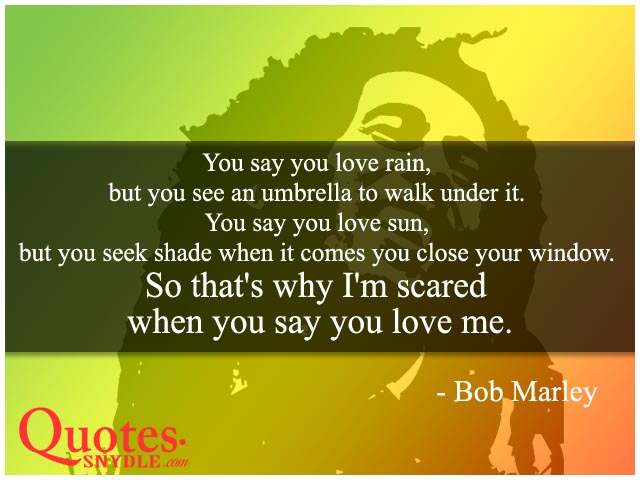 You say you love rain, but you see an umbrella to walk under it. You say you love sun, but you seek shade when it comes you close your window. So that's why I'm scared when you say you love me.
― Bob Marley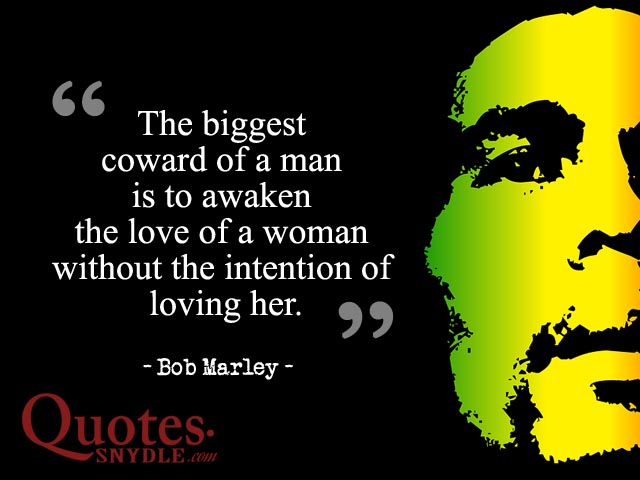 The biggest coward of a man is to awaken the love of a woman without the intention of loving her.
― Bob Marley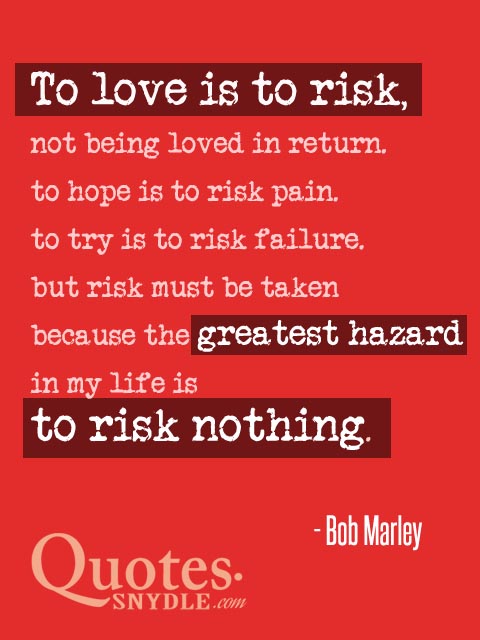 To love is to risk, not being loved in return. to hope is to risk pain. to try is to risk failure. but risk must be taken because the greatest hazard in my life is to risk nothing.
― Bob Marley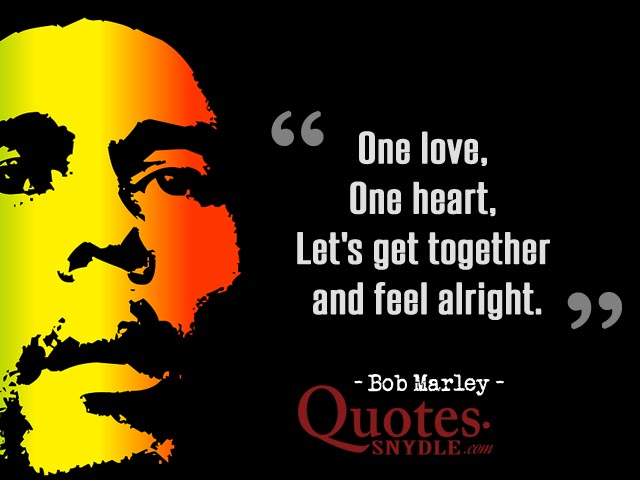 One love, One heart, Let's get together and feel alright.
― Bob Marley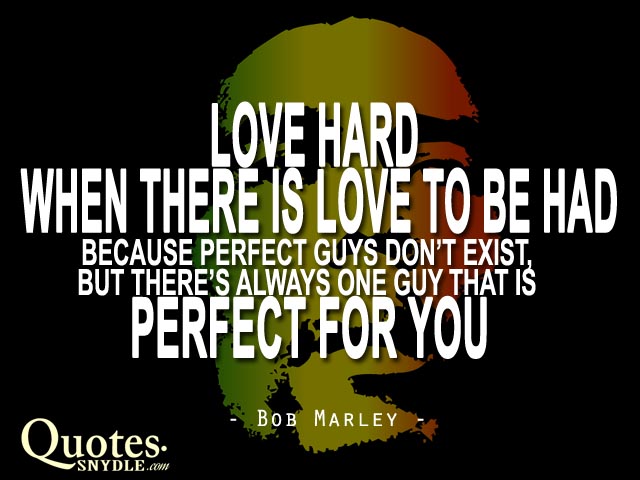 Love hard when there is love to be had. Because perfect guys don't exist, but there's always one guy that is perfect for you.
― Bob Marley
Bob Marley Inspirational Quotes
He had a way of explaining and looking at life in a new, creative and colorful way. Inspirational Bob Marley quotes can inspire you and brighten your day. Take a look at this collection of Bob Marley quotes and be inspired.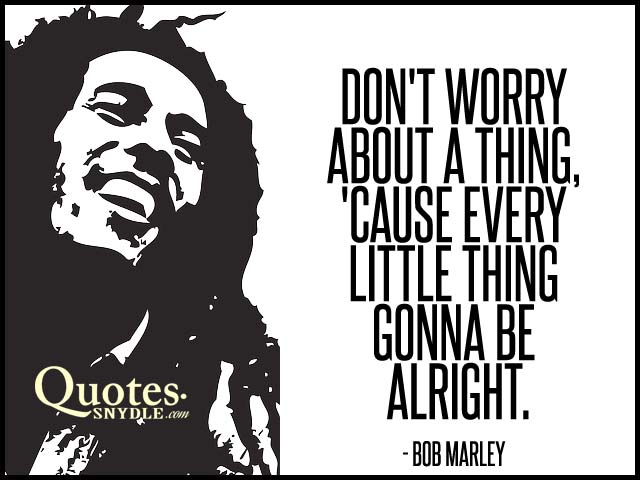 Don't worry about a thing, 'Cause every little thing gonna be all right.
― Bob Marley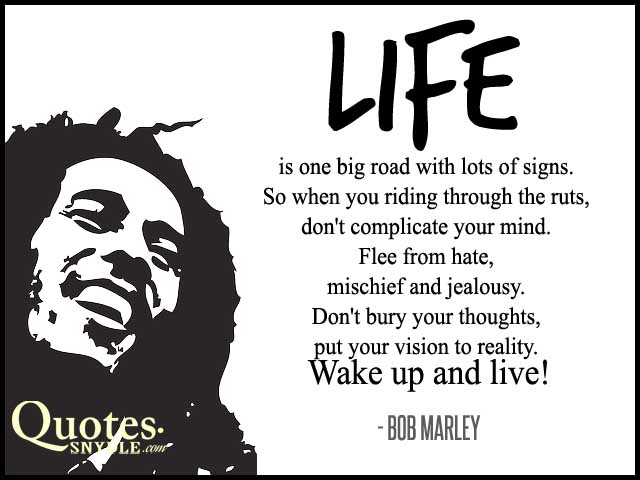 Life is one big road with lots of signs. So when you riding through the ruts, don't complicate your mind. Flee from hate, mischief and jealousy. Don't bury your thoughts, put your vision to reality. Wake up and live!
― Bob Marley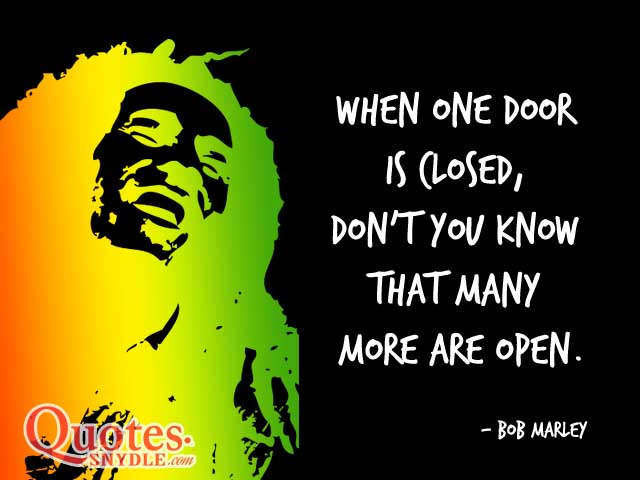 When one door is closed, don't you know that many more are open.
― Bob Marley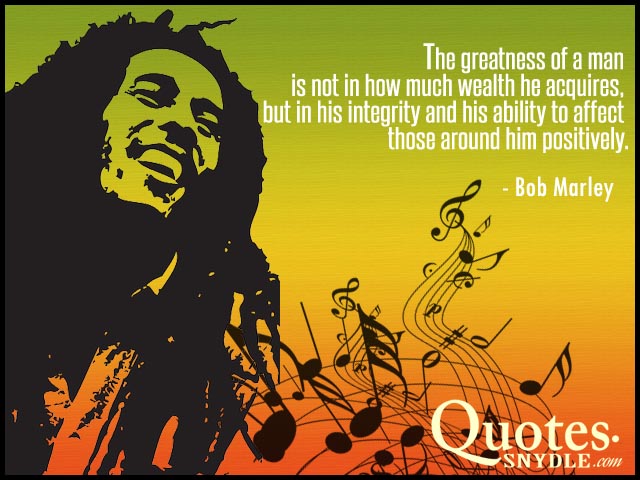 The greatness of a man is not in how much wealth he acquires, but in his integrity and his ability to affect those around him positively.
― Bob Marley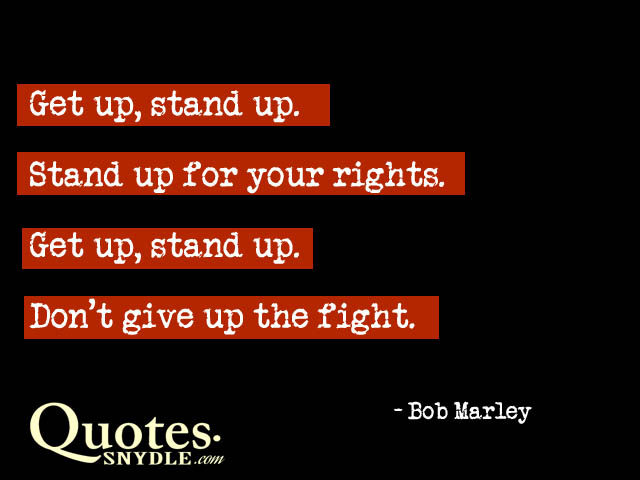 Get up, stand up. Stand up for your rights. Get up, stand up. Don't give up the fight.
― Bob Marley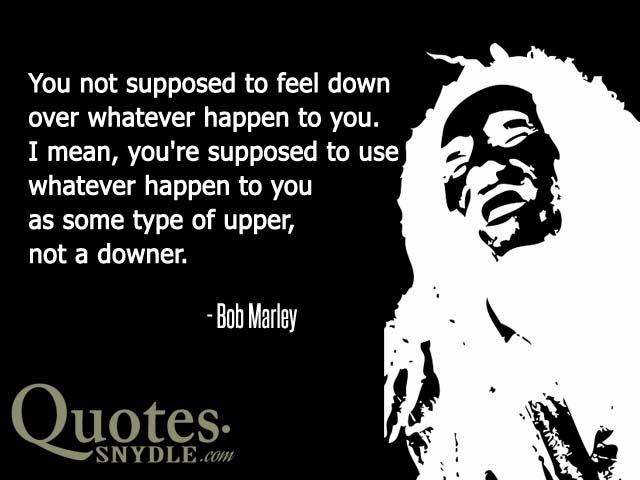 You not supposed to feel down over whatever happen to you. I mean, you're supposed to use whatever happen to you as some type of upper, not a downer.
― Bob Marley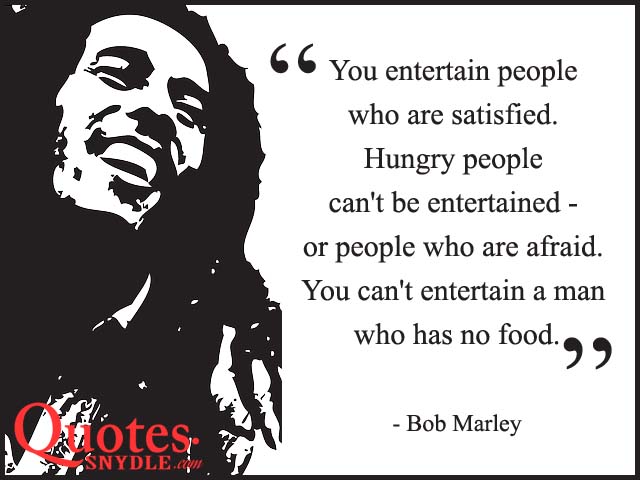 You entertain people who are satisfied. Hungry people can't be entertained – or people who are afraid. You can't entertain a man who has no food.
― Bob Marley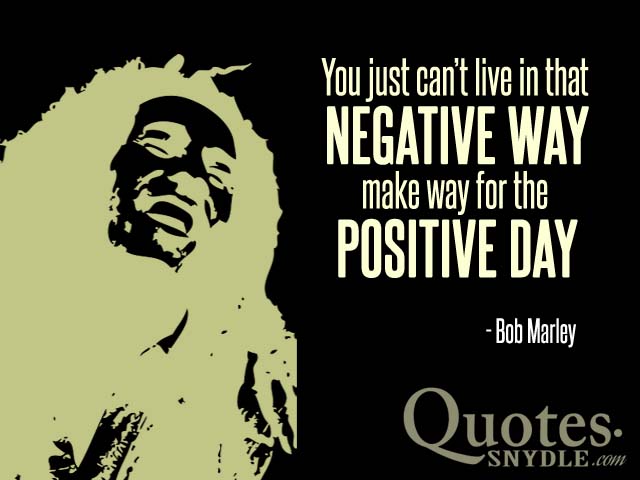 You just can't live in that negative way, make way for the positive day.
― Bob Marley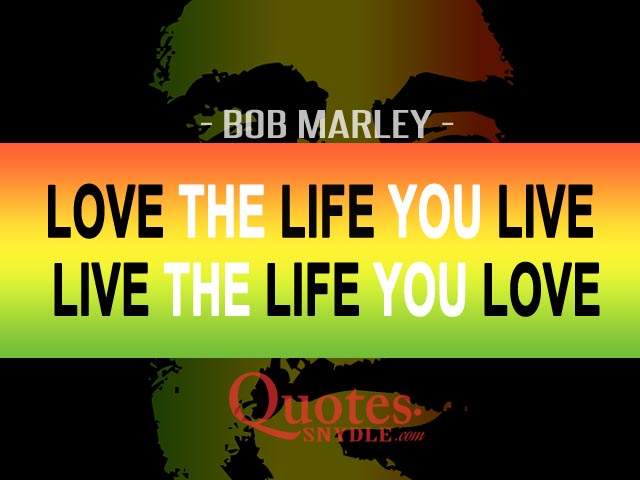 Love the life you live. Live the life you love.
― Bob Marley
Bob Marley Short Quotes
Short Bob Marley quotes can give you a better outlook in life and a new way to see things. His words can change your life in ways you can never imagine. So, what are you waiting for? Browse these inspiring and uplifting bob marley quotes on life.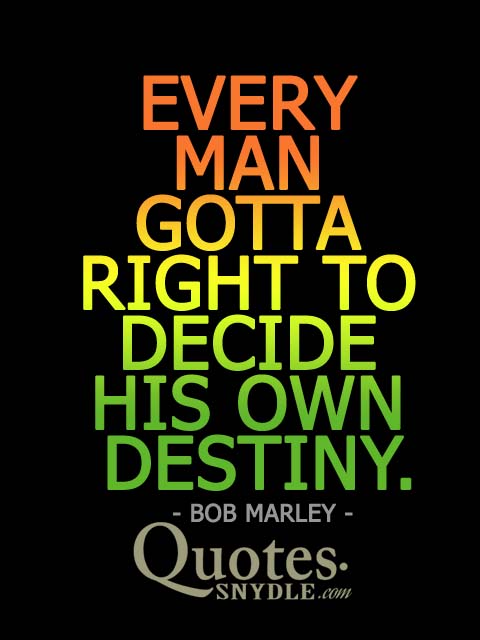 Every man gotta right to decide his own destiny.
― Bob Marley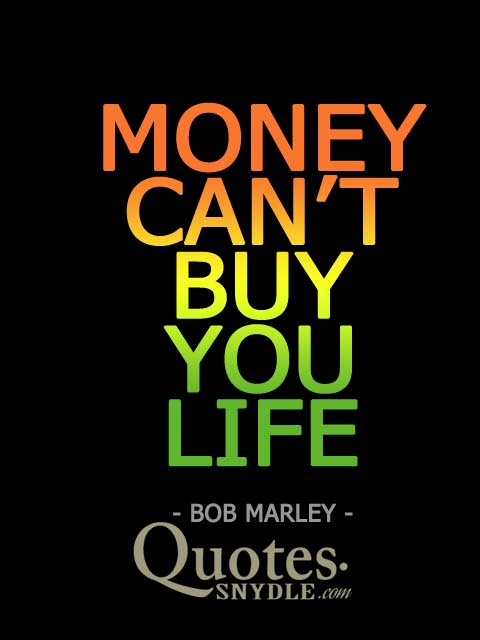 Money can't buy you Life.
― Bob Marley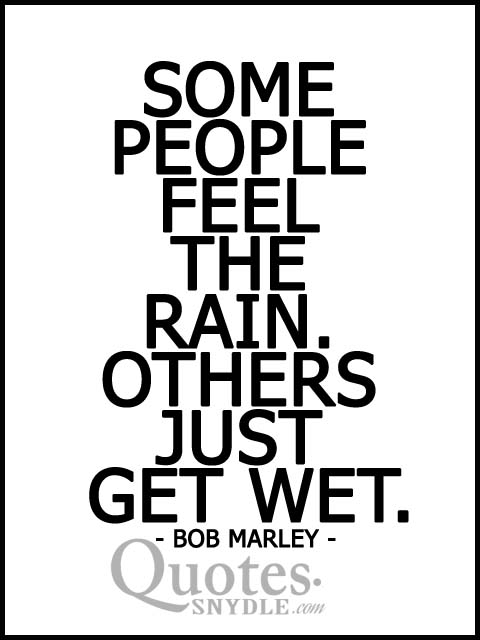 Some people feel the rain. Others just get wet.
― Bob Marley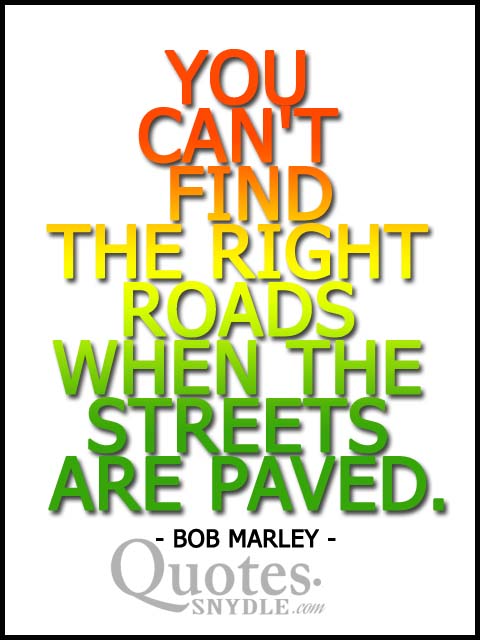 You can't find the right roads when the streets are paved.
― Bob Marley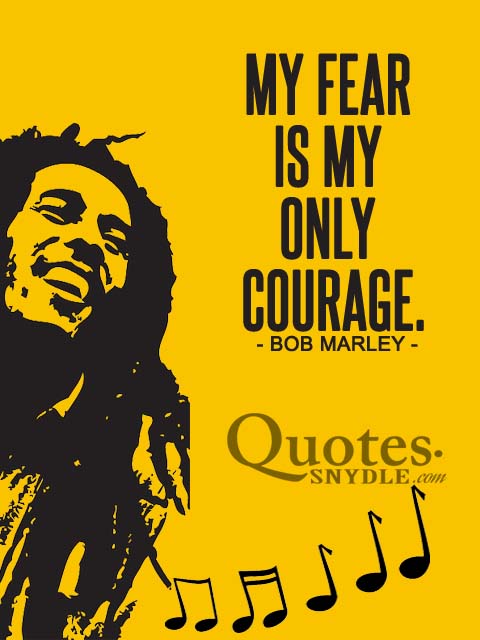 My fear is my only courage.
― Bob Marley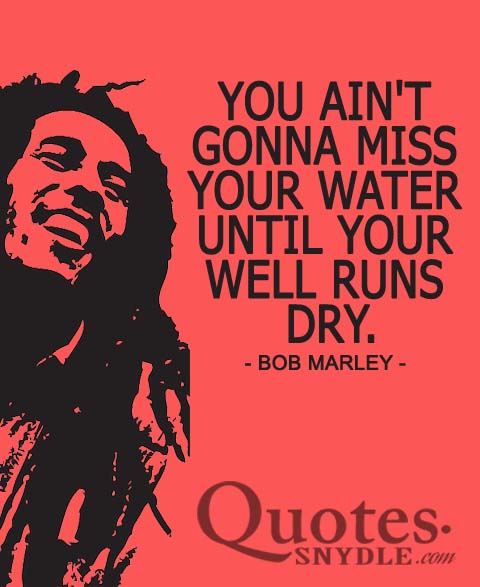 You ain't gonna miss your water until your well runs dry.
― Bob Marley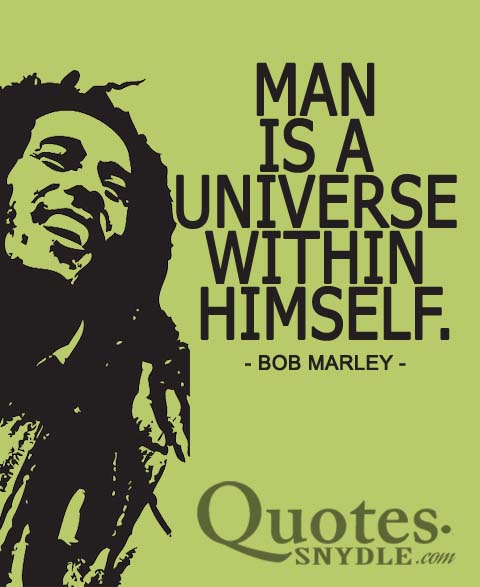 Man is a universe within himself.
― Bob Marley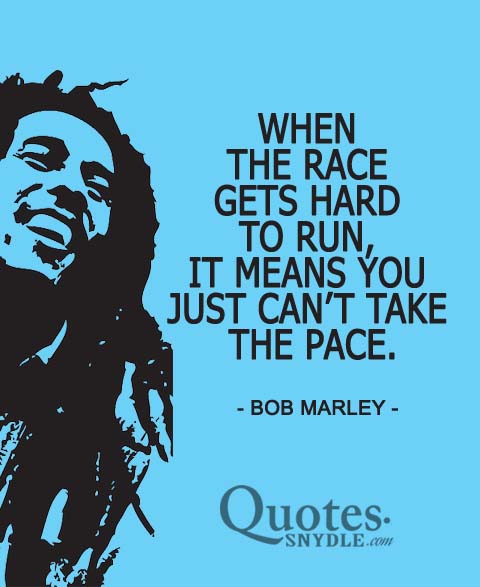 When the race gets hard to run, it means you just can't take the pace.
― Bob Marley
Bob Marley Peace Quotes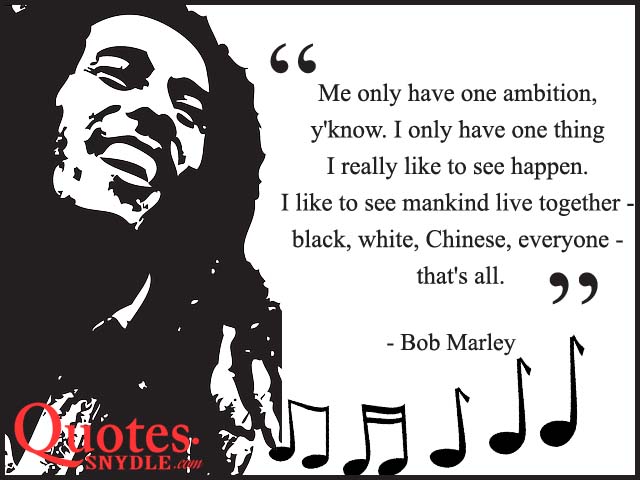 Me only have one ambition, y'know. I only have one thing I really like to see happen. I like to see mankind live together – black, white, Chinese, everyone – that's all.
― Bob Marley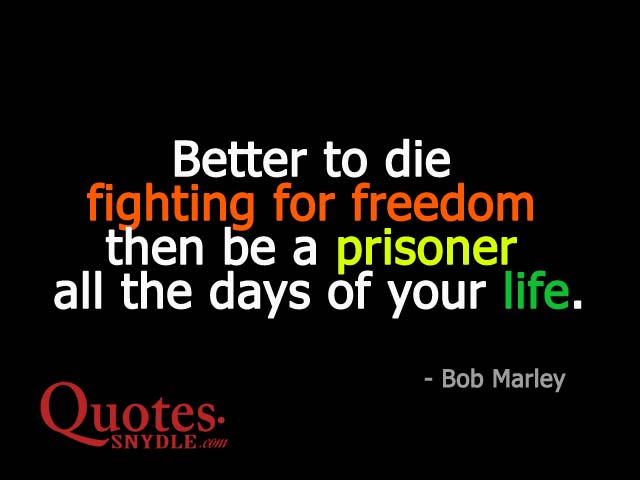 Better to die fighting for freedom then be a prisoner all the days of your life.
― Bob Marley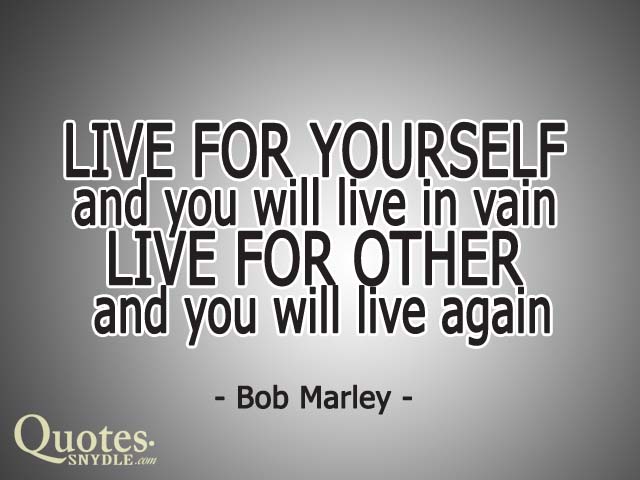 Live for yourself and you will live in vain: Live for other, and you will live again.
― Bob Marley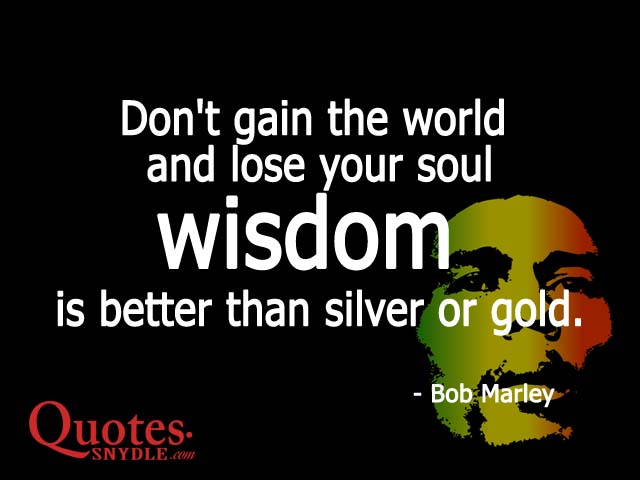 Don't gain the world & lose your soul
wisdom is better than silver or gold.
― Bob Marley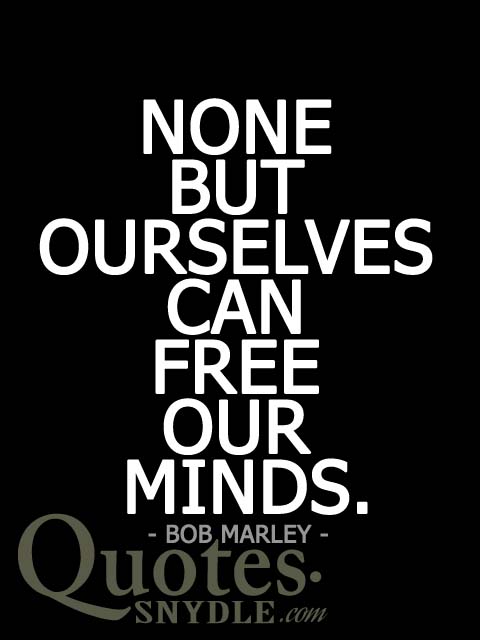 None but ourselves can free our minds.
― Bob Marley