So you've been searching for Dr. Seuss quotes and sayings? You've come at the right place. Theodor Seuss Geisel—more popularly known as Dr. Seuss —is a well-loved children's book author whose messages live on until today. His drawings, stories and his characters have ignited the imaginations of children and adults alike.
There is a lot of Dr. Seuss quotes around the internet taken from many of his works. Dr. Seuss has a way of injecting bits of wisdom and teachings in his books. His words have resonated through the years because of their simplicity and truth.
Dr. Seuss placed pockets of wisdom among his fanciful drawings and stories. He made them so simple and straightforward that even a child can understand and learn from it. Although he died at the age of 87 in 1991, his words are still written in indelible ink in every heart. In fact, he has so many quotes and sayings that you will truly love. Here are some of the best and famous Dr. Seuss quotes on love, life, and for kids.
Best and Famous – Dr. Seuss Quotes
Dr. Seuss touched many hearts and minds with his words. Even people who haven't heard of him or read his books are familiar with a Dr. Seuss quote or two. He is famous for having the best quotes and messages about life and love. Here are some of the famous and best quotes of Dr. Seuss.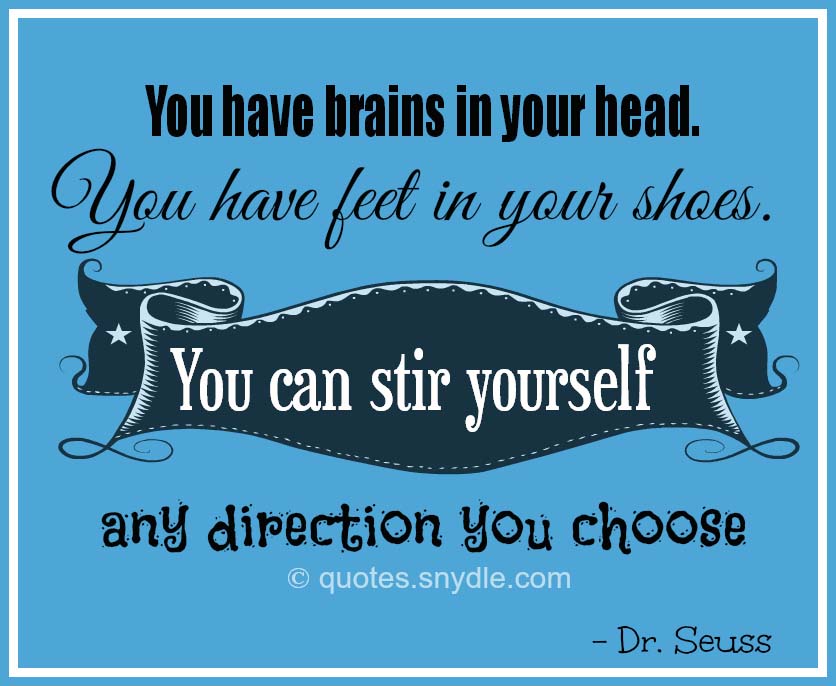 You have brains in your head. You have feet in your shoes. You can steer yourself, any direction you choose.
― Dr. Seuss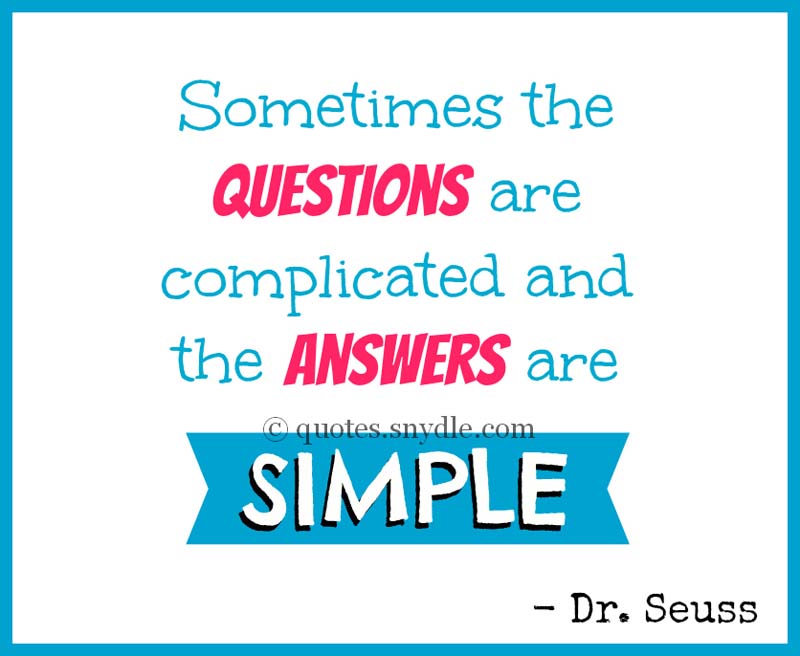 Sometimes the questions are complicated and the answers are simple.
― Dr. Seuss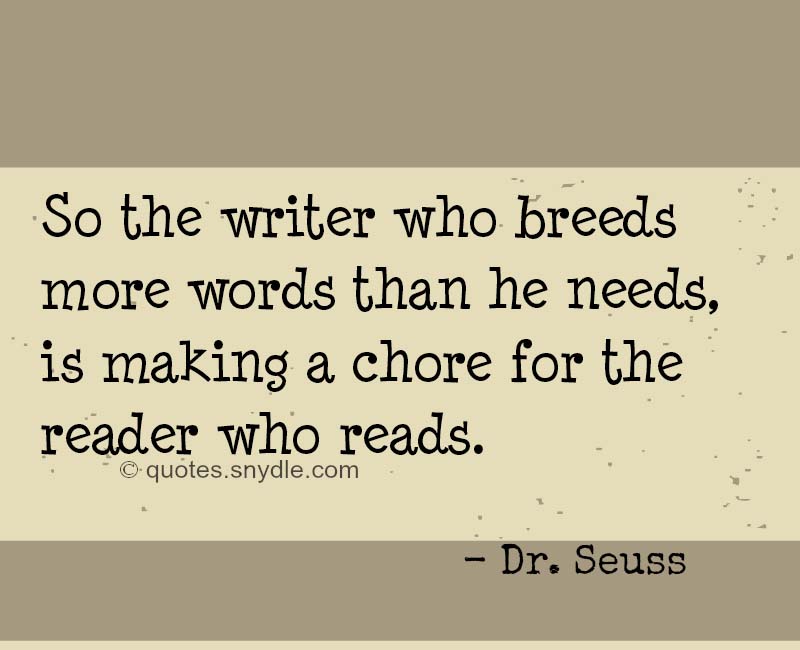 So the writer who breeds more words than he needs, is making a chore for the reader who reads.
― Dr. Seuss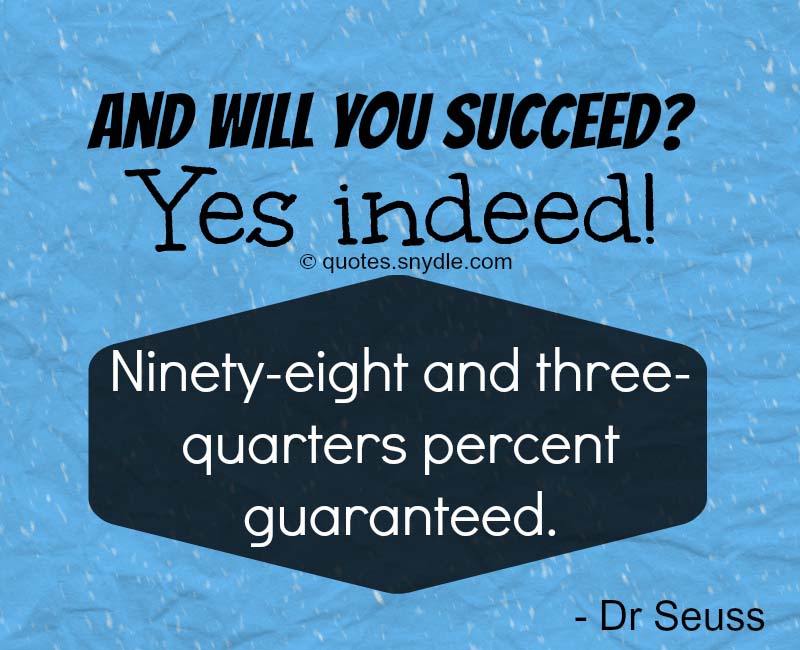 And will you succeed? Yes indeed, yes indeed! Ninety-eight and three-quarters percent guaranteed.
― Dr. Seuss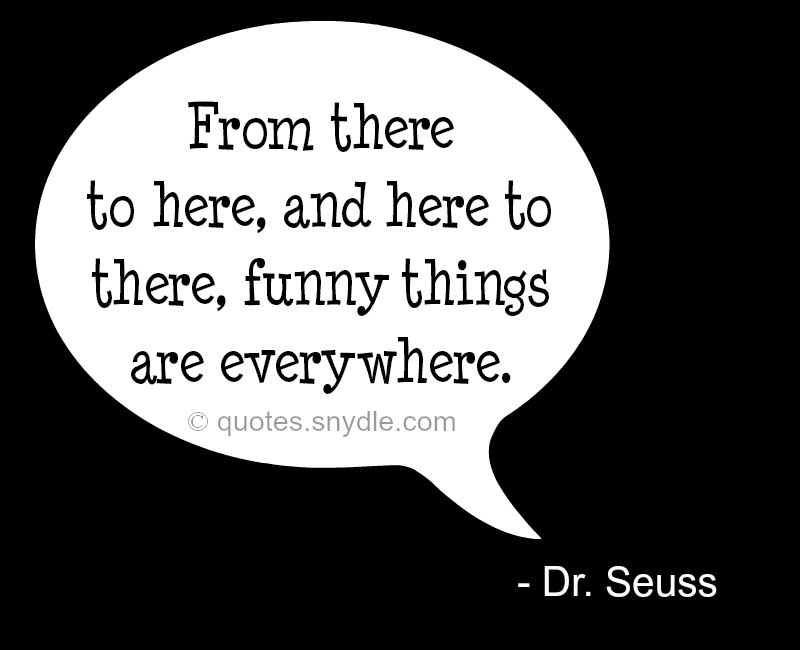 From there to here, and here to there, funny things are everywhere.
― Dr. Seuss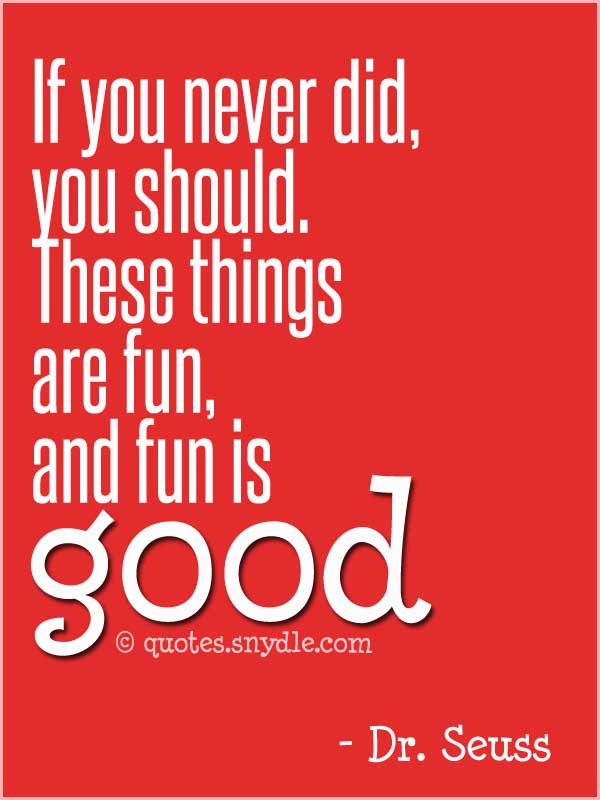 If you never did, you should. These things are fun, and fun is good.
― Dr. Seuss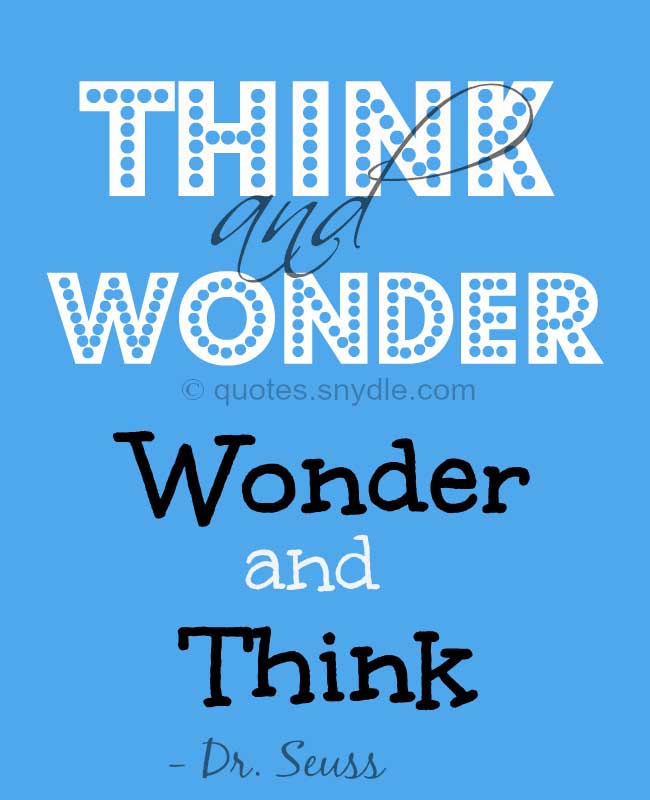 Think and wonder, wonder and think.
― Dr. Seuss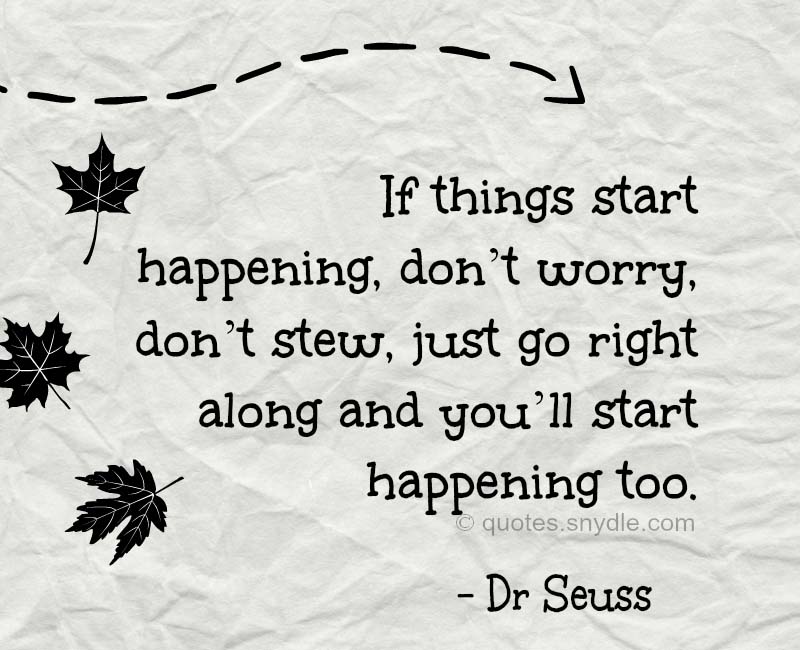 If things start happening, don't worry, don't stew, just go right along and you'll start happening too.
― Dr. Seuss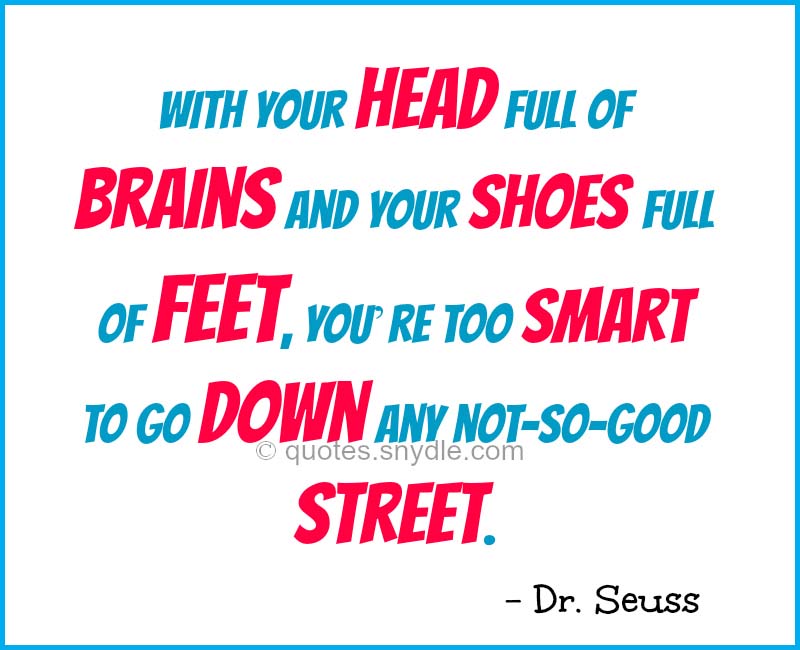 With your head full of brains and your shoes full of feet, you're too smart to go down any not-so-good street.
― Dr. Seuss
It is better to know how to learn than to know.
― Dr. Seuss
Dr Seuss Love Quotes
Learning about love in a children's book is sometimes unheard of. People think that love is a thing for grown-ups to learn and talk about. Dr. Seuss proved that theory wrong. He proved that children's books can become a treasure trove of messages about love. Here are some of the love quotes and sayings of Dr Seuss.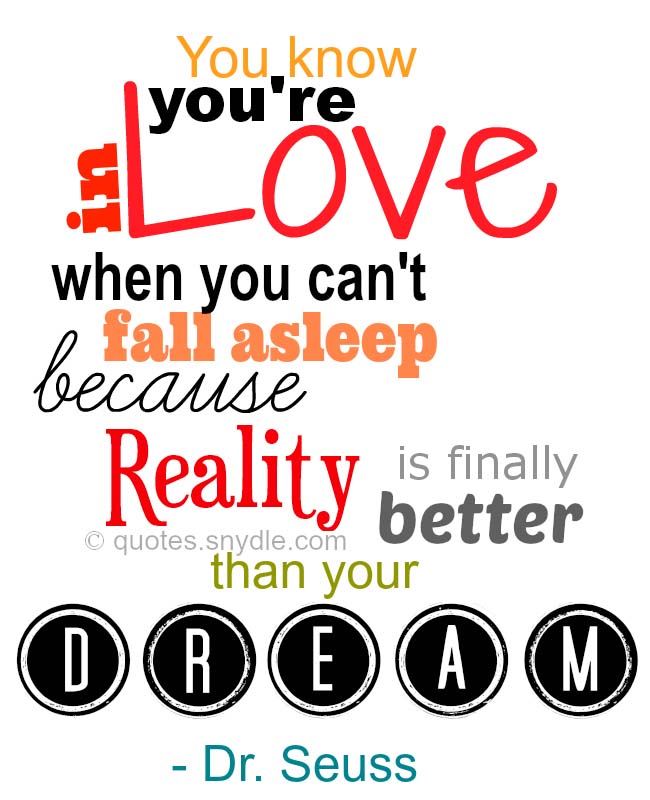 You know you're in love when you can't fall asleep because reality is finally better than your dreams.
― Dr. Seuss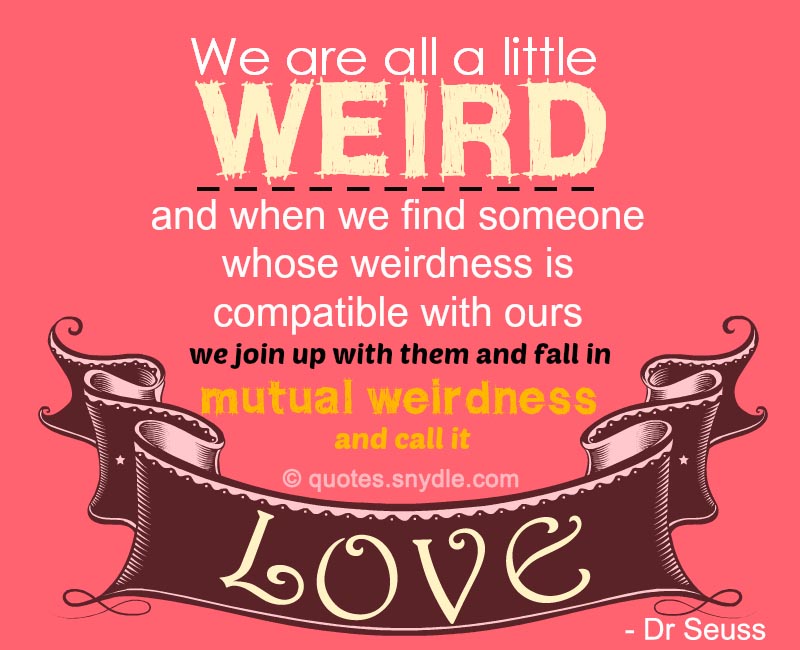 We are all a little weird and life's a little weird, and when we find someone whose weirdness is compatible with ours, we join up with them and fall in mutual weirdness and call it love.
― Dr. Seuss

Unless someone like you cares a whole awful lot, nothing is going to get better. It's not.
― Dr. Seuss

Don't cry because it's over. Smile because it happened.
― Dr. Seuss

Sometimes you will never know the value of a moment, until it becomes a memory.
― Dr. Seuss
Dr Seuss Birthday Quotes
Birthdays are special occasions that happen only once a year. Make birthdays and birthday greetings more special with a quote or two from Dr. Seuss. His whimsical and fanciful birthday quotes and drawings will surely put a smile on anyone's face.
Today is your day! Your mountain is waiting. So… get on your way.
― Dr. Seuss

Today you are you! That is truer than true! There is no one alive who is you-er than you!
― Dr. Seuss

I am what I am. That's a great thing to be! If I say so myself, Happy Birthday to me!
― Dr. Seuss

Today is your day, you're off to great places! You're off and away!
― Dr. Seuss

Today was good. Today was Fun. Tomorrow is another one.
― Dr. Seuss
Dr Seuss Quotes for Kids
Dr. Seuss has published over 40 books for children. Dr. Seuss has helped children of all ages from all over the world to read and understand life, love and friendship. No one can capture the heart and imagination of a child better than Dr. Seuss.
Kid, you'll move mountains!
― Dr. Seuss

Young cat, if you keep your eyes open enough, oh, the stuff you would learn. The most wonderful stuff!
― Dr. Seuss

Think left and think right and think low and think high. Oh, the thinks you can think up if only you try.
― Dr. Seuss

You can get help from teachers, but you are going to have to learn a lot by yourself, sitting alone in a room.
― Dr. Seuss

A person's a person no matter how small.
― Dr. Seuss

I do not like green eggs and ham, I do not like them Sam I am!
― Dr. Seuss

So you see! There's no end to the thing you might know, depending how far beyond Zebra you go.
― Dr. Seuss

And today the great Yertle, that Marvelous he, Is King of the Mud. That is all he can see.
And the turtles, of course…all the turtles are free As turtles and, maybe, all creatures should be.
― Dr. Seuss

Adults are just outdated children.
― Dr. Seuss
Dr Seuss Life Quotes
Before Dr. Seuss, no one thought of learning about life from a child's book. Life seemed too complicated for that. Well, we were wrong. Life is not that complicated. Dr. Seuss has helped people of all ages and sizes and all walks of life know what it really means to be living.
I have heard there are troubles of more than one kind. Some come from ahead and some come from behind. But I've bought a big bat. I'm all ready you see. Now my troubles are going to have troubles with me.
― Dr. Seuss

I'mafraid sometimes, you'll play lonely games too, games you can't win because you'll play against you.
― Dr. Seuss

The more that you read, the more things you will know. The more that you learn, the more places you'll go.
― Dr. Seuss

Step with care and great tact ,and remember that Life's a Great Balancing Act.
― Dr. Seuss

Oh the things you can find, if you don't stay behind!
― Dr. Seuss

Why fit in when you were born to stand out?
― Dr. Seuss

You'll miss the best things if you keep your eyes shut.
― Dr. Seuss

Fantasy is a necessary ingredient in living, it's a way of looking at life through the wrong end of a telescope.
― Dr. Seuss

You'll be on your way up! You'll be seeing great sights! You'll join the high fliers who soar to high heights.
― Dr. Seuss

You're on your own. And you know what you know. And you are the one who'll decide where to go.
― Dr. Seuss