Begin your day and be inspired with these beautiful and inspirational good morning quotes. Start your day with a smile and you will be surprised at how much it can improve the day. Start your day with a happy thought and encouraging words from the many motivating and inspirational quotes you have at your disposal. Make these words your inspiration and guide as you go through your day and marvel at the energy it can give you. Here are some of the best motivating and inspiring good morning quotes that you can share for good vibes.
Inspirational Good Morning Quotes
Need some inspiring words to keep your motivated this morning? Read on and enjoy these good morning inspirational quotes that we collected and put into images just for you. Feel free to share these good morning picture quotes to your social media profiles too.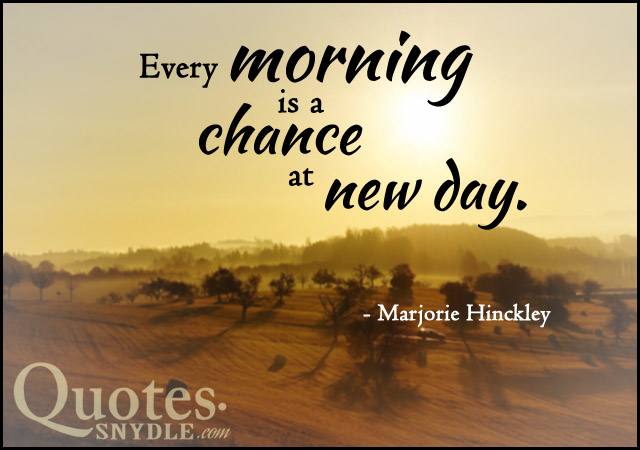 Every morning is a chance at new day.
― Marjorie Hinckley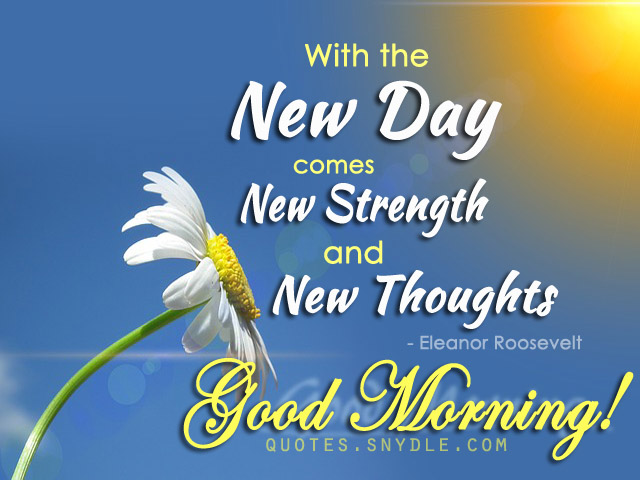 With the new day comes new strength and new thoughts.
― Eleanor Roosevelt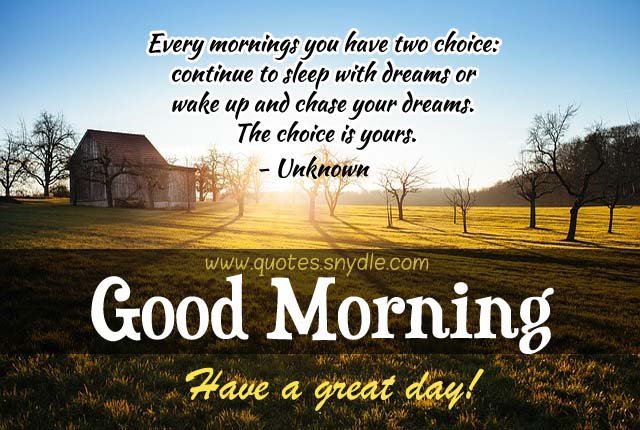 Every mornings you have two choice: continue to sleep with dreams or wake up and chase your dreams. The choice is yours.
― Unknown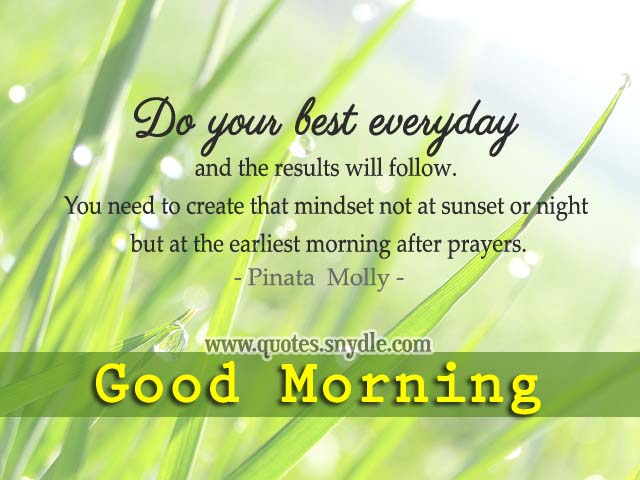 Do your best everyday and the results will follow. You need to create that mindset not at sunset or night but at the earliest morning after prayers.
― Pinata Molly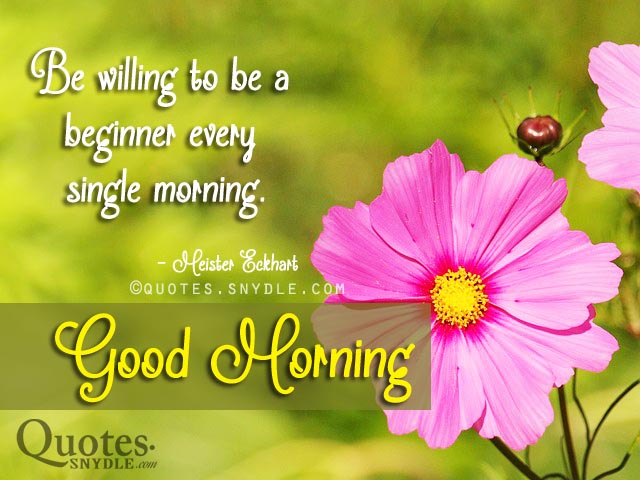 Be willing to be a beginner every single morning.
― Meister Eckhart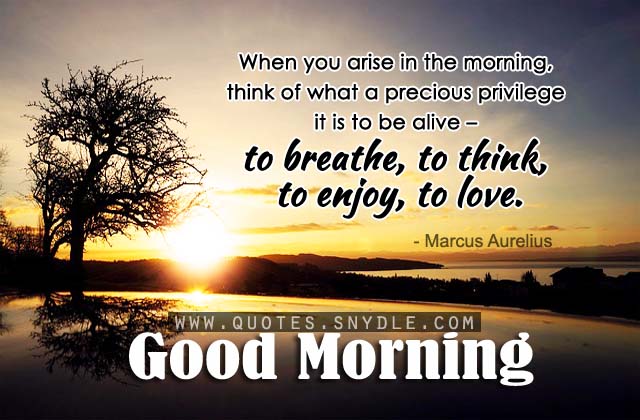 When you arise in the morning, think of what a precious privilege it is to be alive – to breathe, to think, to enjoy, to love.
― Marcus Aurelius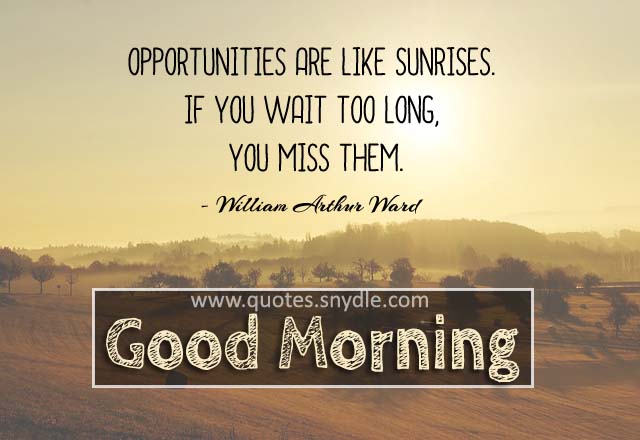 Opportunities are like sunrises. If you wait too long, you miss them.
― William Arthur Ward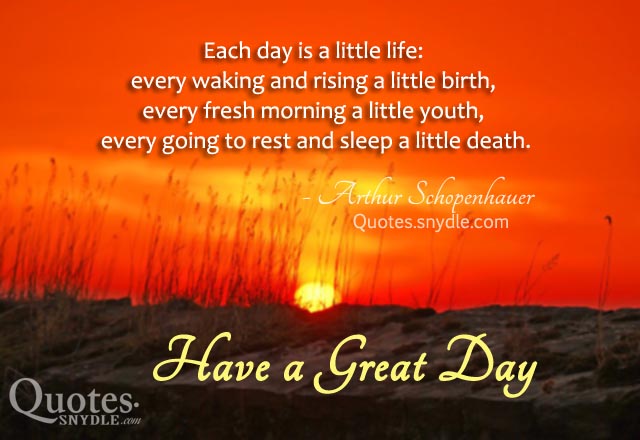 Each day is a little life: every waking and rising a little birth, every fresh morning a little youth, every going to rest and sleep a little death.
― Arthur Schopenhauer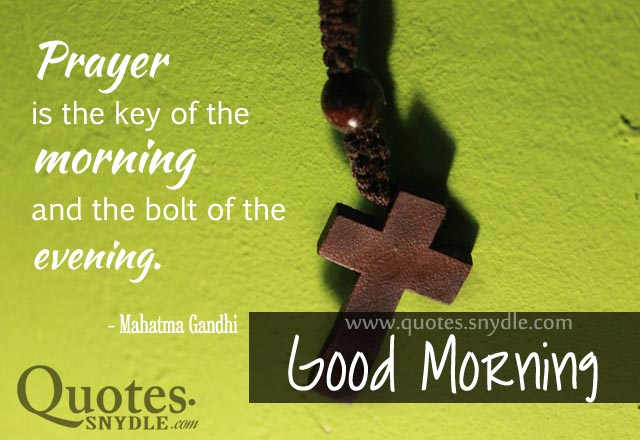 Prayer is the key of the morning and the bolt of the evening.
― Mahatma Gandhi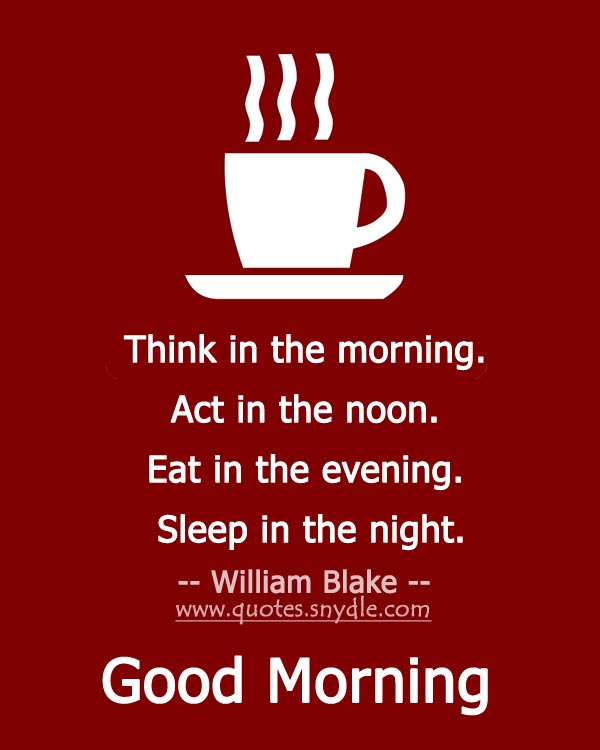 Think in the morning. Act in the noon. Eat in the evening. Sleep in the night.
― William Blake
Beautiful Good Morning Quotes
Make your mornings extra beautiful with these lovely and encouraging good morning quotes that we collected just for you. I hope that you enjoy the picture quotes that go along them too. We chose the best and most good morning motivational quotes to boost up your mood and make a good start on your day.
Thank God every morning when you get up that you have something to do that day, which must be done, whether you like it or not.
― James Russell Lowell
Old friends pass away, new friends appear. It is just like the days. An old day passes, a new day arrives. The important thing is to make it meaningful: a meaningful friend – or a meaningful day.
― Dalai Lama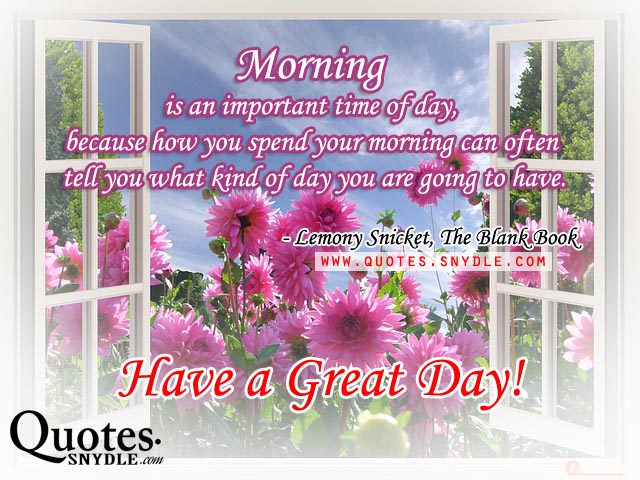 Morning is an important time of day, because how you spend your morning can often tell you what kind of day you are going to have.
― Lemony Snicket, The Blank Book
I want to live my life in such a way that when I get out of bed in the morning, the devil says, "aw shit, he's up!
― Steve Maraboli, Unapologetically You: Reflections on Life and the Human Experience
Leave the worries of last night to darkness and let the light of motivation and inspiring things take control of your mind and actions. Start a beautiful morning and end up with a successful and blessed day.
― Justin Mayer
Good morning is not just a word, it's an action and a belief to live the entire day well. Morning is the time when you set the tone for the rest of the day. Set it right!
― Fain Blake
Motivational Good Morning Quotes
Are you looking for more good morning picture quotes? Well, don't worry, we're here to provide you more quotes on morning with images. Don't forget to share. Enjoy!
When you arise in the morning, think of what a precious privilege it is to be alive—to breathe, to think, to enjoy, to love—then make that day count!
― Steve Maraboli, Life, the Truth, and Being Free
When I first open my eyes upon the morning meadows and look out upon the beautiful world, I thank God I am alive.
― Ralph Waldo Emerson
No you are not too late nor are you too old. This morning
make up your mind to live anew. Life is not in the mundane boring things but in being alive and doing exciting things.
― Mira Banquets
Fill your mind with seeds of greatness. Surround yourself with people who want to see you prosper. Act like you are a winner and are winning your way to victory. That is the way to start your morning to find success.
― Vincent Rolland
You can become blind by seeing each day as a similar one. Each day is a different one, each day brings a miracle of its own. It's just a matter of paying attention to this miracle.
― Paolo Coehlo
Don't underestimate the power of thoughts and words. What you tell yourself every morning will set your mind and life on that path. Talk success, victory, happiness and blessings over your destiny.
― Nina Bolivares
Count your good deeds every morning and fill your mind with positive thoughts. That is secret to being happy and inspired all day long.
― Voile Corine
Good Morning Inspirational Quotes
Fill your day with happiness and start this morning with a smile. And of course, don't forget to share the good vibes to your loved ones and friends by sharing these good morning quotes for friends and family. You can also use these good morning quotes with images as your wallpaper or profile picture on facebook for the day.
I've learnt that a smile and good morning goes a long way, and saying thank you goes even further.
― Unkown
Every morning is a fresh beginning. Every day is the world made new. Today is a new day. Today is my world made new. I have lived all my life up to this moment, to come to this day. This moment – this day – is as good as any moment in all eternity. I shall make of this day – each moment of this day – a heaven on earth. This is my day of opportunity.
― Dan Custer
When you rise in the morning, give thanks for the light, for your life, for your strength. Give thanks for your food and for the joy of living. If you see no reason to give thanks, the fault lies in yourself.
― Tecumseh
Today I have made up my mind to leave doubts and fear behind because they are too hard to live with. I am going to live an inspired, faith filled, victorious life which goes above and beyond my past.
― Jeremy Sykes
Every morning was a cheerful invitation to make my life of equal simplicity, and I may say innocence, with Nature herself.
― Henry David Thoreau
Each day is a little life: every waking and rising a little birth, every fresh morning a little youth, every going to rest and sleep a little death.
― Arthur Schopenhauer
No matter how bad things are, you can at least be happy that you woke up this morning.
― D. L. Hughley
Good Morning Quotes for Friends
This morning don't let the worries of life put you down. Remember that I was, I am and I will always be with you like a faithful friend. Good morning!
― Warren Freeman
Friends like you are like a sip of hot cup of coffee. You refresh my mind away from the boring sleepy times and excite me for the good times ahead of us.
― Michelle Tins
Friends are a blessing from almighty God and a faithful friend is worth more than gold. What can be a better time to wish friends than early morning? Have a good day buddy!
― Mary Burton
Be pleasant until ten o'clock in the morning and the rest of the day will take care of itself.
―Elbert Hubbard
I have always been delighted at the prospect of a new day, a fresh try, one more start, with perhaps a bit of magic waiting somewhere behind the morning.
― J. B. Priestley