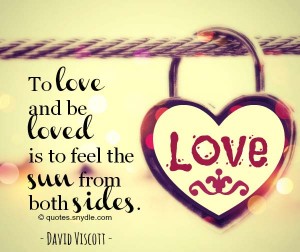 Get some inspiration with these inspiring quotes about love. Love is truly an amazing feeling that can fill your heart with immense happiness and warmth. In this world, you will find people that can be so special for you, someone who will make you experience an extraordinary love. However, it is not the case all the time.
While some love can give you intense happiness and pleasure, some may give you equal pain and sorrow. But don't be afraid to give your all when the time comes that you fall in love. Those who give their all can find true love. Here are some inspirational quotes about love that will surely give you hope and inspiration.
Best Inspirational Quotes about Love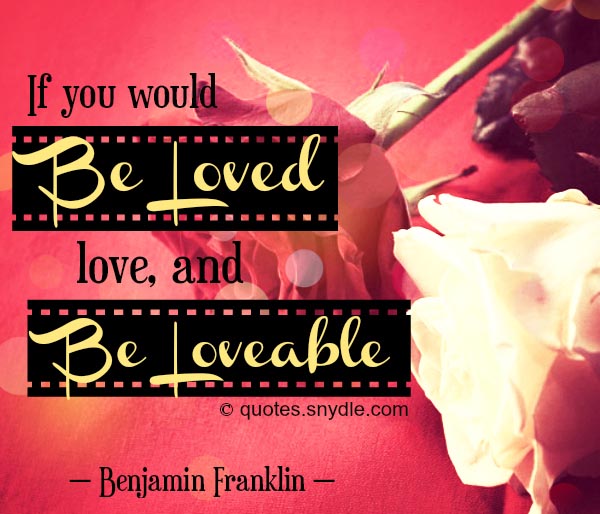 If you would be loved, love, and be loveable.
— Benjamin Franklin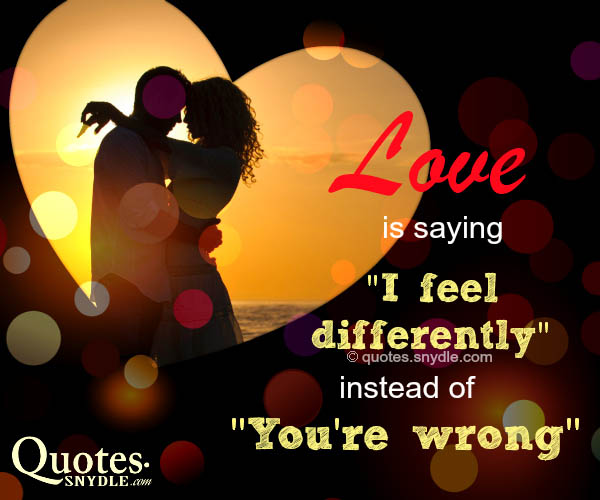 Love is saying 'I feel differently' instead of 'You're wrong.'
— Anonymous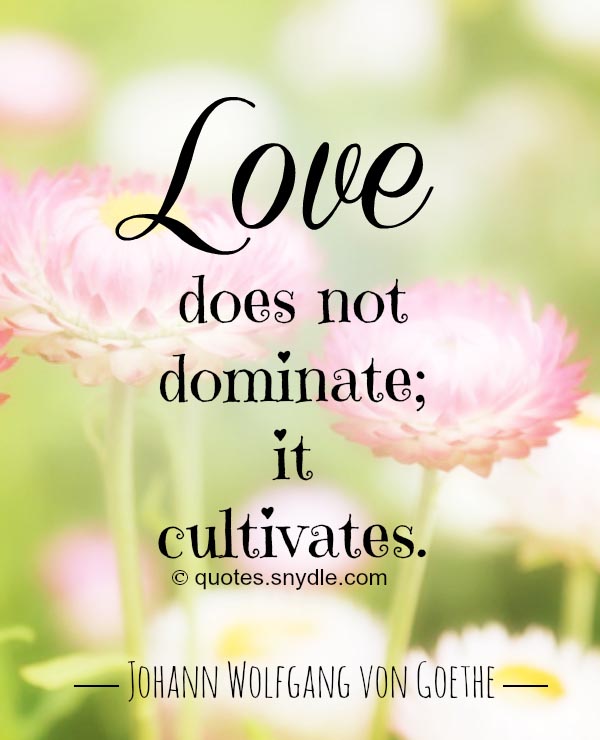 Love does not dominate; it cultivates.
— Johann Wolfgang von Goethe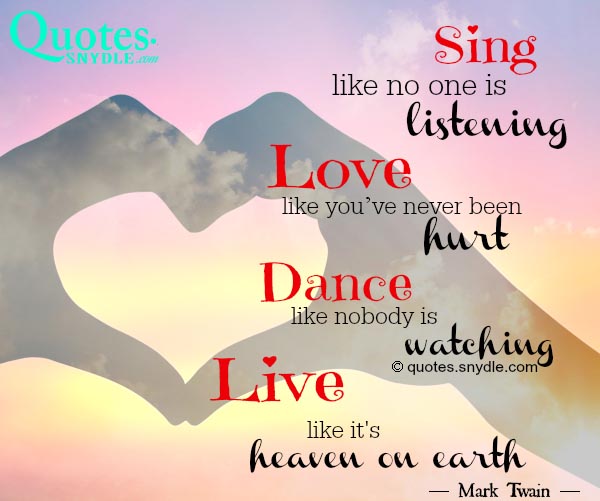 Sing like no one is listening, love like you've never been hurt, dance like nobody is watching and live like it's heaven on earth.
― Mark Twain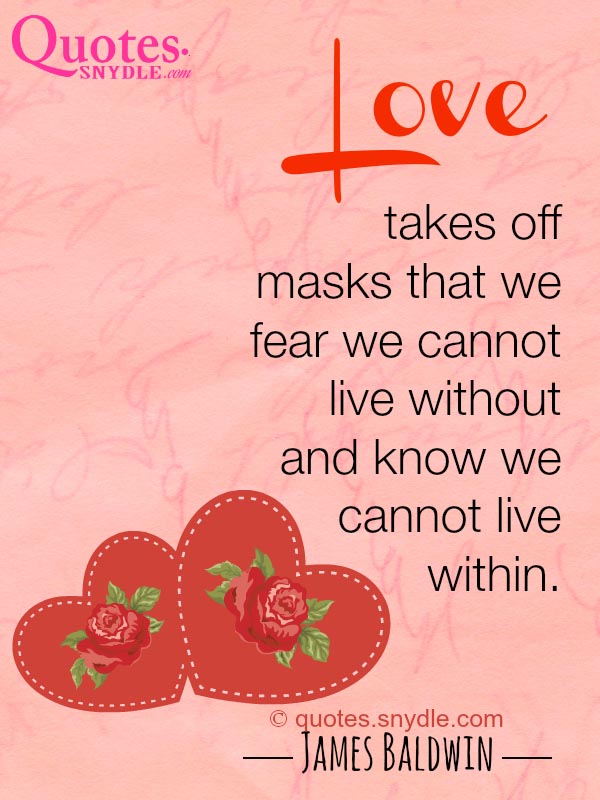 Love takes off masks that we fear we cannot live without and know we cannot live within.
— James Baldwin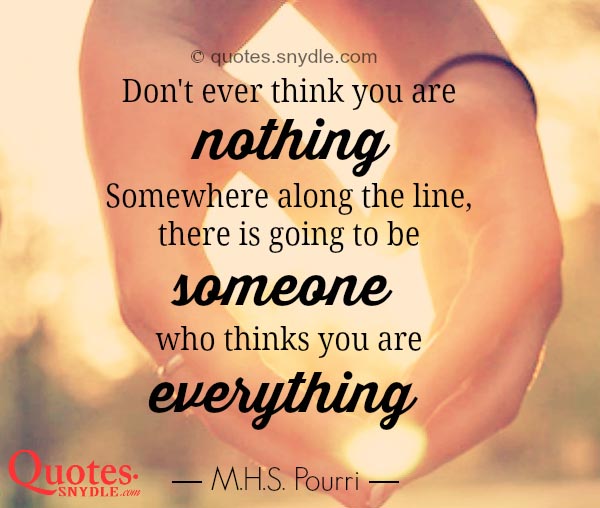 Don't ever think you are nothing. Somewhere along the line, there is going to be someone who thinks you are everything.
― M.H.S. Pourri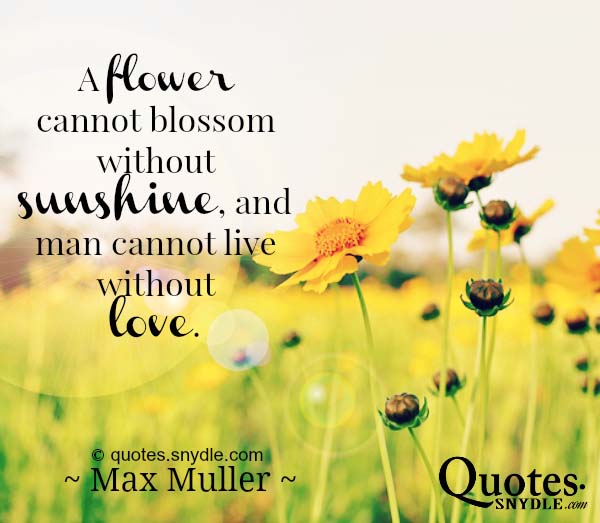 A flower cannot blossom without sunshine, and man cannot live without love.
― Max Muller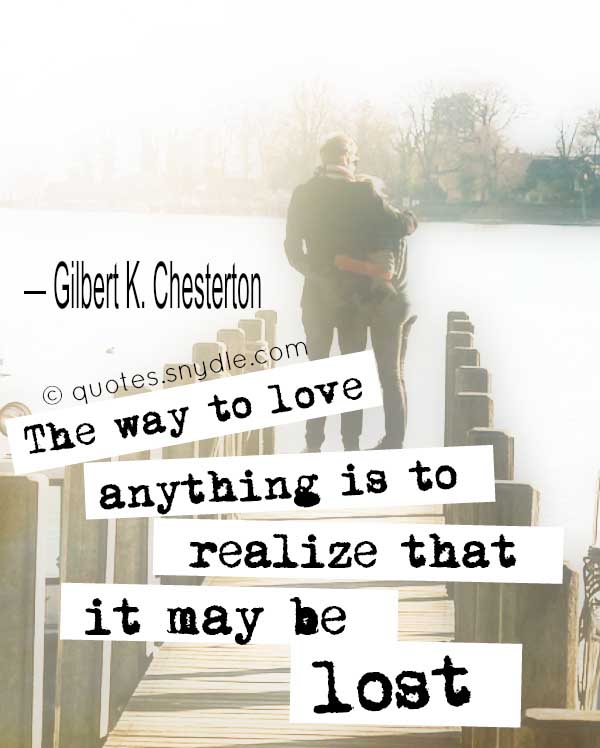 The way to love anything is to realize that it may be lost.
— Gilbert K. Chesterton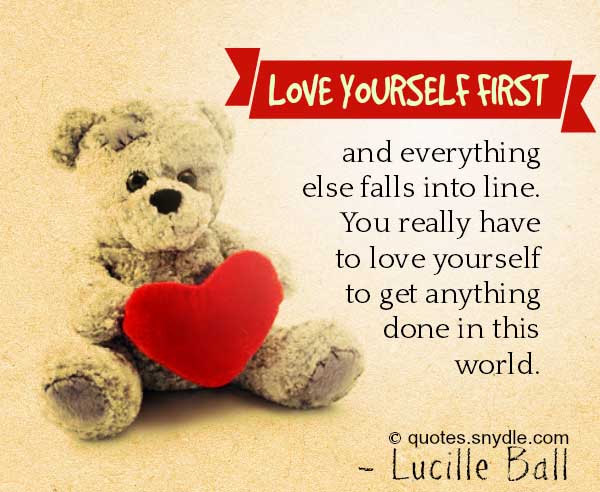 Love yourself first and everything else falls into line. You really have to love yourself to get anything done in this world.
― Lucille Ball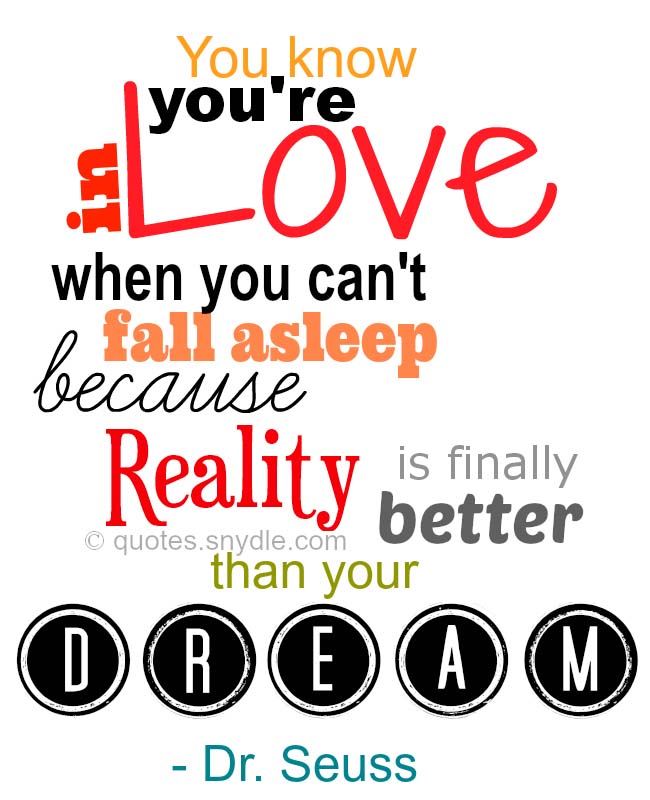 You know you're in love when you can't fall asleep because reality is finally better than your dreams.
― Dr. Seuss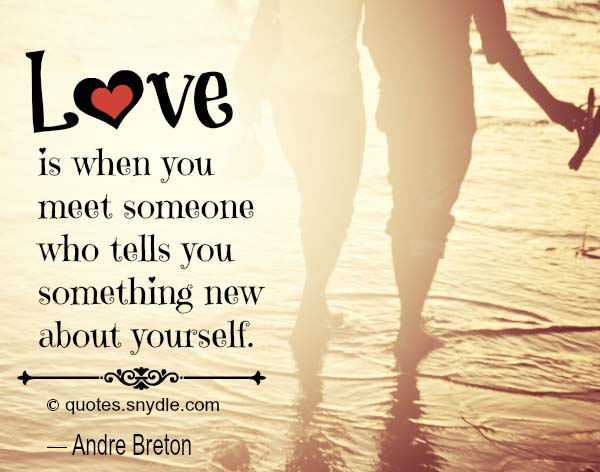 Love is when you meet someone who tells you something new about yourself.
— Andre Breton
Inspirational Quotes about Life and Love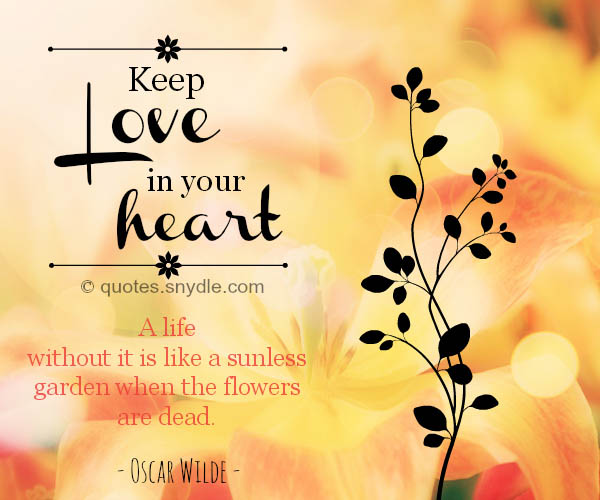 Keep love in your heart. A life without it is like a sunless garden when the flowers are dead.
— Oscar Wilde
The most important thing in life is to learn how to give out love, and to let it come in.
— Morrie Schwartz
Life without love is like a tree without blossoms or fruit.
— Khalil Gibran
Love doesn't sit there like a stone. It has to be made like bread; remade all the time,…made new.
― Le Guin
Before, I wanted to say: "I found love!" But now, I want to say: "I found a person. And he belongs to me and I belong to him.
― C. JoyBell C.
Never disregard a person who you really loves you cause in today's world true love is hard to find … Things come and go but once you lose a person you shall never find the same place in his heart you once had .
― Sucher Chaturvedi
You know it's love when all you want is that person to be happy, even if you're not part of their happiness.
— Julia Roberts
Love conquers all things; let us too surrender to love.
— Virgil
Inspirational Quotes of Love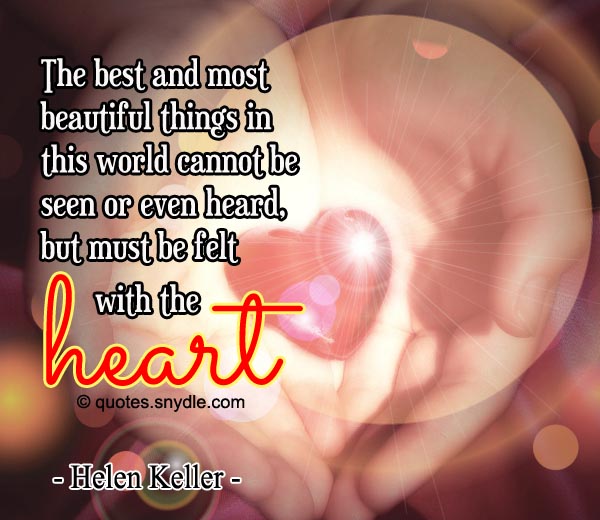 The best and most beautiful things in this world cannot be seen or even heard, but must be felt with the heart.
— Helen Keller
To live is like to love – all reason is against it, and all healthy instinct for it.
― Samuel Butler
Your task is not to seek for love, but merely to seek and find all the barriers within yourself that you have built against it.
― Rumi
Tell your heart that the fear of suffering is worse than the suffering itself. And no heart has ever suffered when it goes in search of its dream.
― Paulo Coelho
True love is not a potion one person can swallow and another refuse to drink. It happens only when the souls of two join together to form one.
― P.C. Cast, Goddess of the Sea
All, everything that I understand, I only understand because I love.
— Leo Tolstoy
Famous Inspirational Love Quotes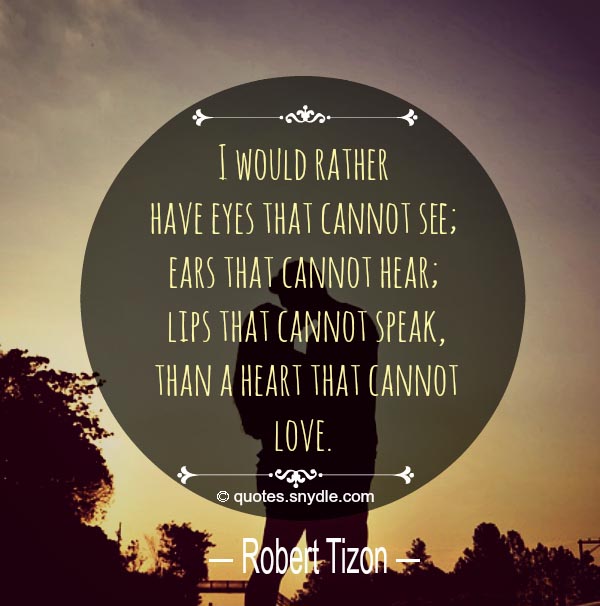 I would rather have eyes that cannot see; ears that cannot hear; lips that cannot speak, than a heart that cannot love.
― Robert Tizon
I have learned not to worry about love; But to honor its coming with all my heart.
― Alice Walker
Love is everything it's cracked up to be. That's why people are so cynical about it … It really is worth fighting for, risking everything for. And the trouble is, if you don't risk everything, you risk even more.
― Erica Jong
Being deeply loved by someone gives you strength, while loving someone deeply gives you courage.
― Lao Tzu
Every person has to love at least one bad partner in their lives to be truly thankful for the right one.
— Unknown
Don't marry a rich man. Marry a good man. He will spend his life trying to keep you happy. No rich man can buy that!
― Staness Jonekos
In this world, it is too common for people to search for someone to lose themselves in. But I am already lost. I will look for someone to find myself in.
― C. JoyBell C.
Inspirational Quotes about Love and Relationships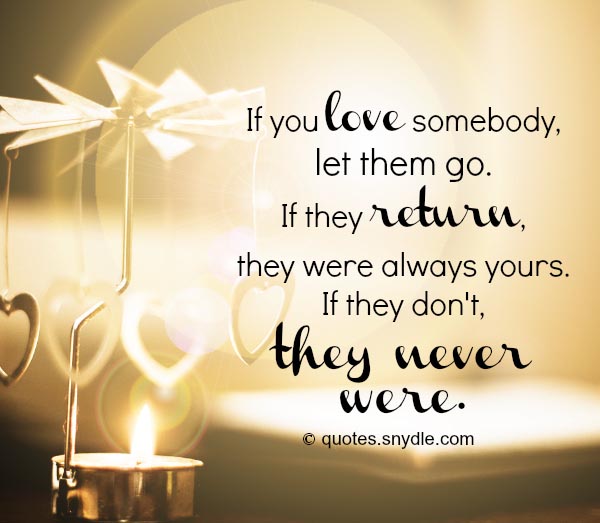 If you love somebody, let them go. If they return, they were always yours. If they don't, they never were.
— Anonymous
Love is not only something you feel, it is something you do.
— David Wilkerson
Love is missing someone whenever you're apart, but somehow feeling warm inside because you're close in heart.
— Kay Knudsen
Do not love me because i love you, love me for loving me.
— Anonymous
If you live to be a hundred, I want to live to be a hundred minus one day so I never have to live without you.
— A. A. Milne
Love never dies a natural death. It dies because we don't know how to replenish its source. It dies of blindness and errors and betrayals. It dies of illness and wounds; it dies of weariness, of witherings, of tarnishings.
— Anaïs Nin
I don't look for love. Love looks for me." "Why?" "Because it needs me. Because I'm not afraid of it.
― C. JoyBell C.
Love seems the swiftest, but it is the slowest of all growths. No man or woman really knows what perfect love is until they have been married a quarter of a century.
― Mark Twain
More Inspirational Quotes on Love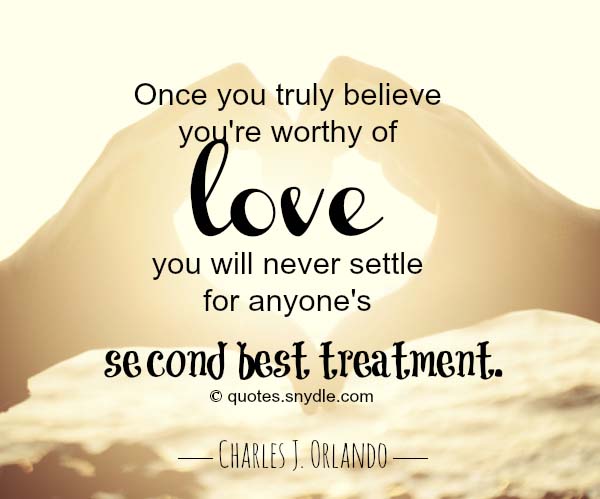 Once you truly believe you're worthy of love, you will never settle for anyone's second best treatment.
— Charles J. Orlando
A dream you dream alone is only a dream. A dream you dream together is reality.
— John Lennon
The heart wants what it wants. There's no logic to these things. You meet someone and you fall in love and that's that.
— Woody Allen
You don't love someone because they're perfect, you love them in spite of the fact that they're not.
― Jodi Picoult, My Sister's Keeper
When you realize you want to spend the rest of your life with somebody, you want the rest of your life to start as soon as possible.
— When Harry Met Sally
People must learn to hate and if they can learn to hate, they can be taught to love.
— Nelson Mandela
When two people love each other, they don't look at each other, they look in the same direction.
— Ginger Rogers
Better to have lost and loved than never to have loved at all.
— Hemingway
The greatest thing you'll ever learn Is to love and be loved in return.
— "Unforgettable with Love" by Natalie Cole
Love doesn't make the world go round. Love is what makes the ride worthwhile.
― Franklin P. Jones