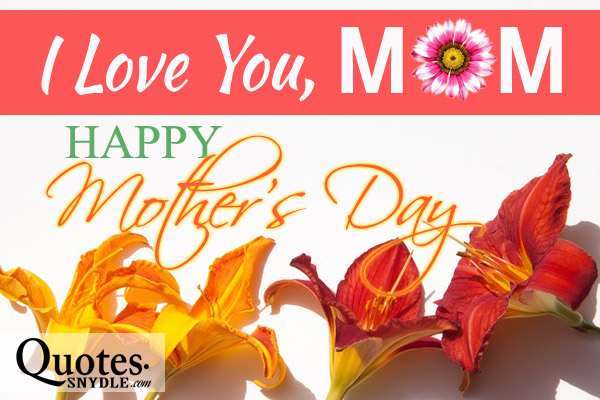 Here are heartfelt and good Mothers day quotes and sayings for you. Mother's Day is not enough to celebrate the love our mothers have shown us. Mother's Day is not enough to thank them for all the sacrifices they made for us. But at least for one day in a year, we can show appreciation to our mothers, who selflessly give all what they can even if it means a lot of sacrifice.
They spend a lot of care, love, time, and effort to make their children live comfortably. They really make things easy in our daily lives. They wake up early to prepare breakfast, prepare all the things you need for school, and pack your lunch. All of these are done repeatedly every day. All these and more are done lovingly by our mothers.
Happy Mother's Day Quotes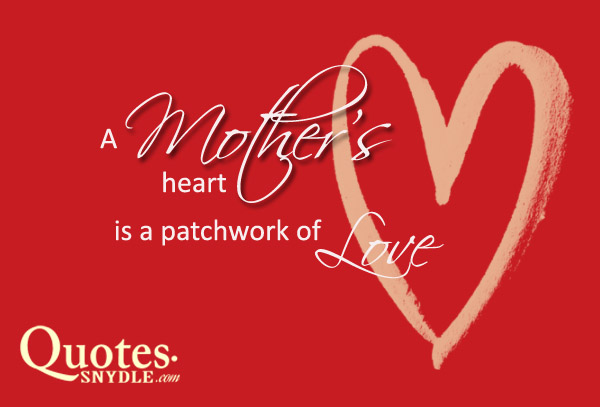 A mother's heart is a patchwork of love.
― Author Unknown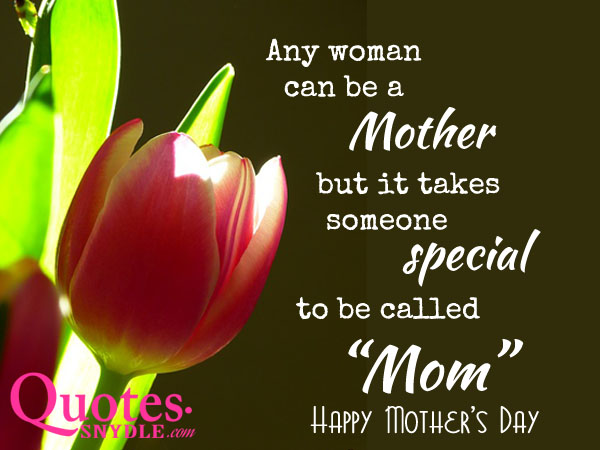 Any woman can be a mother, but it takes someone special to be called "MOM".
― Anonymous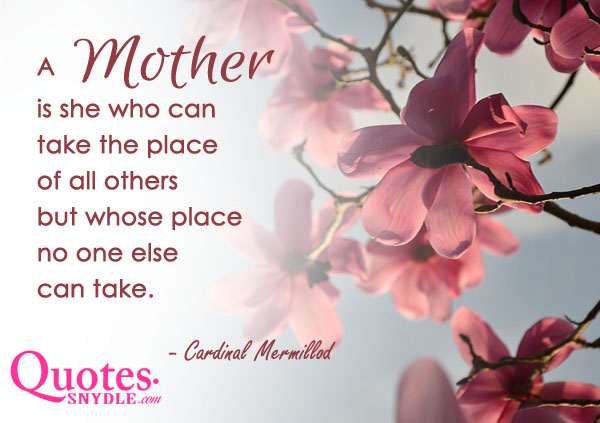 A mother is she who can take the place of all others but whose place no one else can take
― Cardinal Mermillod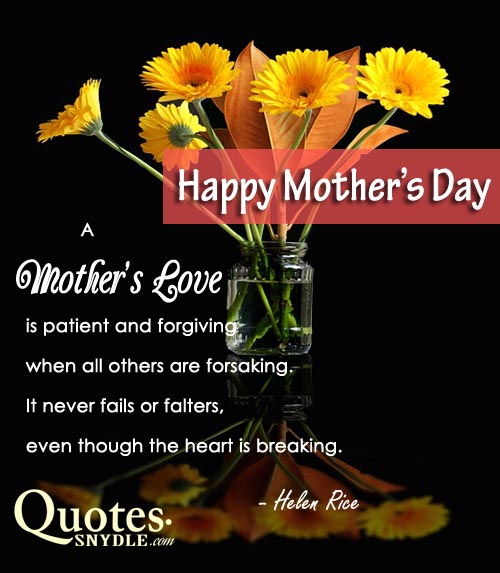 A mother's love is patient and forgiving when all others are forsaking. It never fails or falters, even though the heart is breaking.
― Helen Rice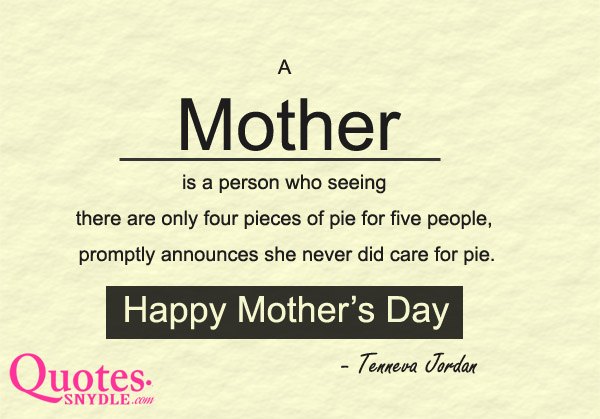 A mother is a person who seeing there are only four pieces of pie for five people, promptly announces she never did care for pie.
― Tenneva Jordan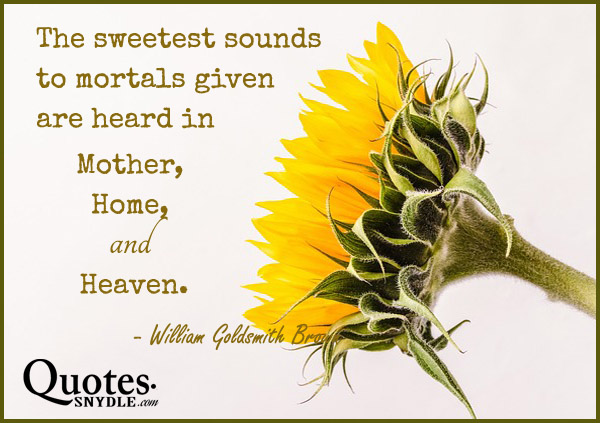 The sweetest sounds to mortals given
Are heard in Mother, Home, and Heaven.
― William Goldsmith Brown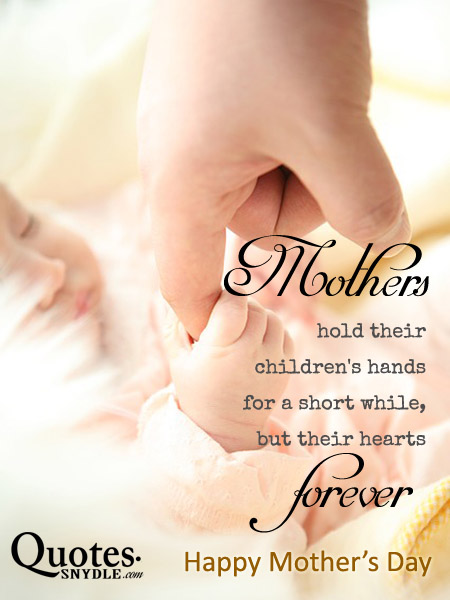 Mothers hold their children's hands for a short while, but their hearts forever.
― Author Unknown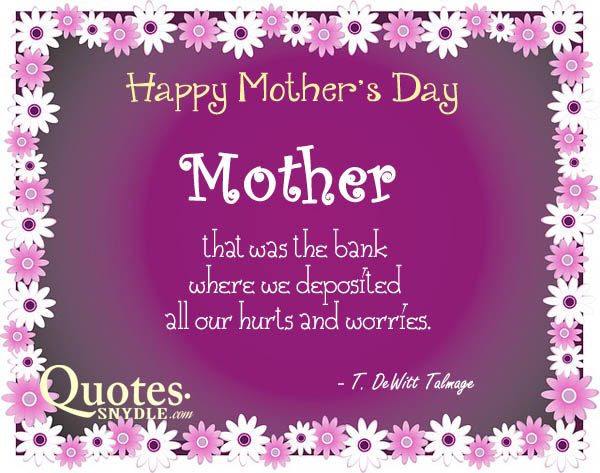 Mother — that was the bank where we deposited all our hurts and worries.
― T. DeWitt Talmage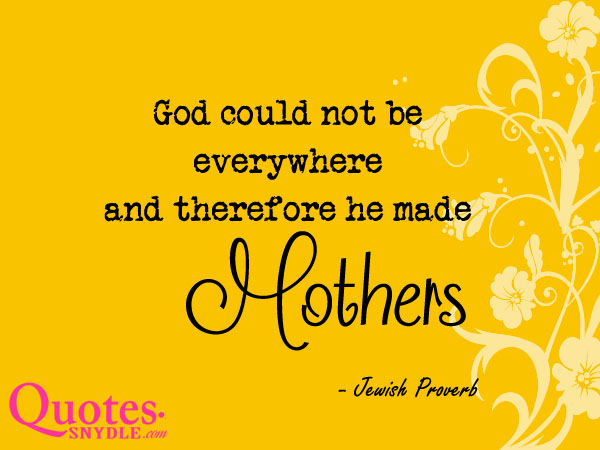 God could not be everywhere and therefore he made mothers.
― Jewish Proverb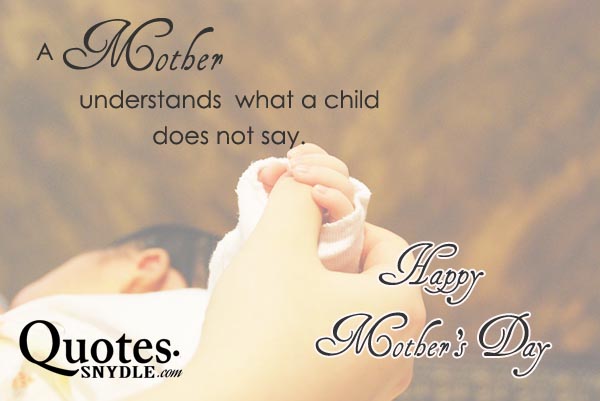 A mother understands what a child does not say.
― Author Unknown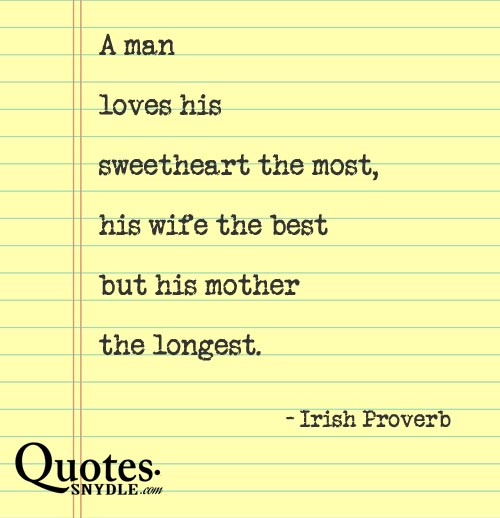 A man loves his sweetheart the most, his wife the best, but his mother the longest.
― Irish Proverb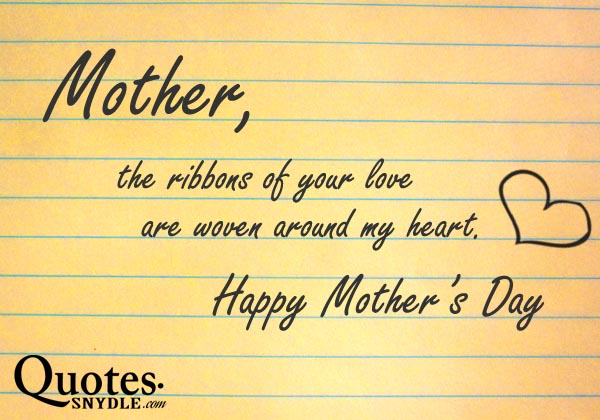 Mother, the ribbons of your love are woven around my heart.
― Author Unknown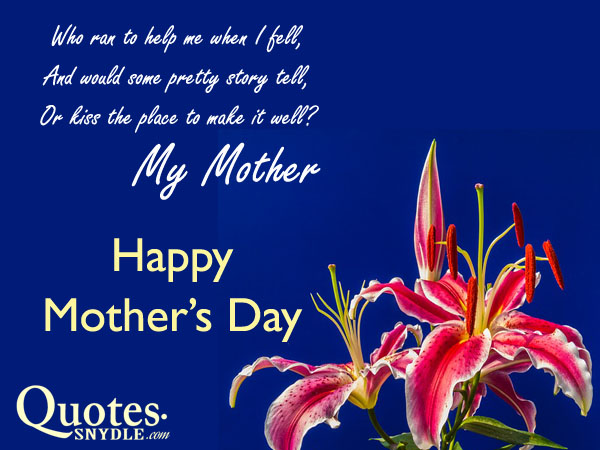 Who ran to help me when I fell,
And would some pretty story tell,
Or kiss the place to make it well?
My mother.
― Ann Taylor
Best Quotes for Mother's Day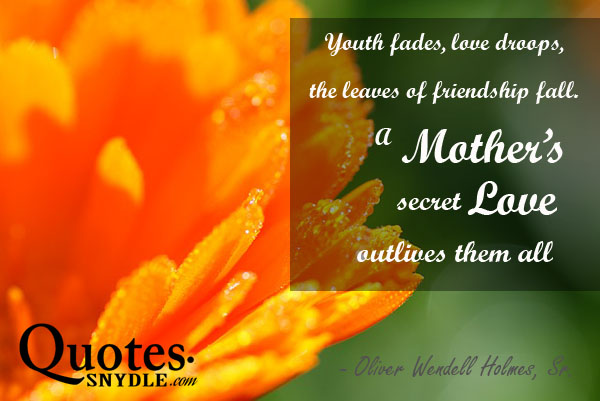 Youth fades, love droops, the leaves of friendship fall. A mother's secret love outlives them all
― Oliver Wendell Holmes, Sr.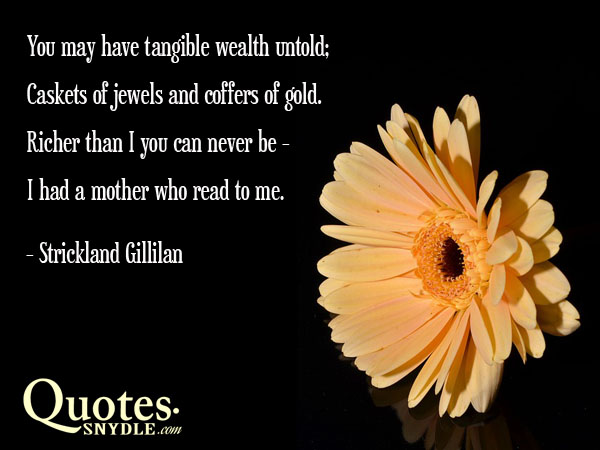 You may have tangible wealth untold;
Caskets of jewels and coffers of gold.
Richer than I you can never be –
I had a mother who read to me.
– Strickland Gillilan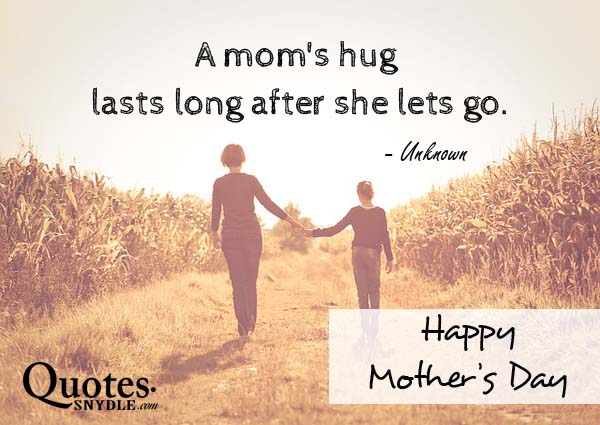 A mom's hug lasts long after she lets go.
― Author Unknown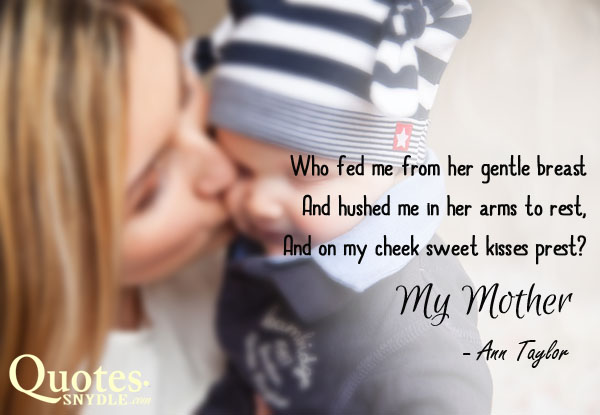 Who fed me from her gentle breast
And hushed me in her arms to rest,
And on my cheek sweet kisses prest?
My Mother.
― Ann Taylor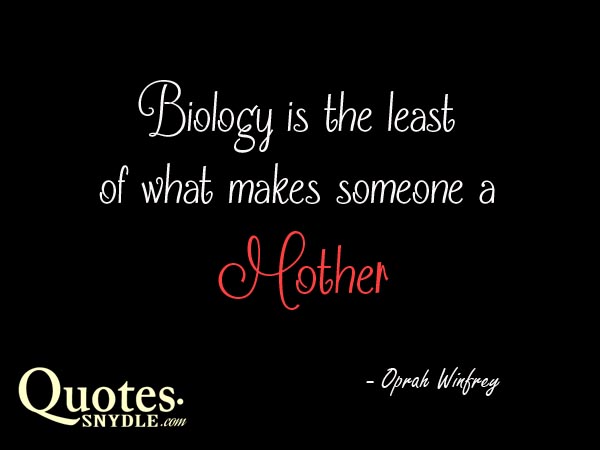 Biology is the least of what makes someone a mother. ~
― Oprah Winfrey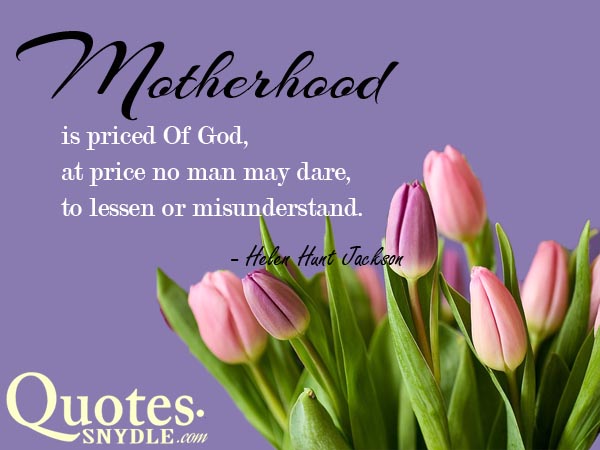 Motherhood is priced Of God, at price no man may dare, to lessen or misunderstand.
― Helen Hunt Jackson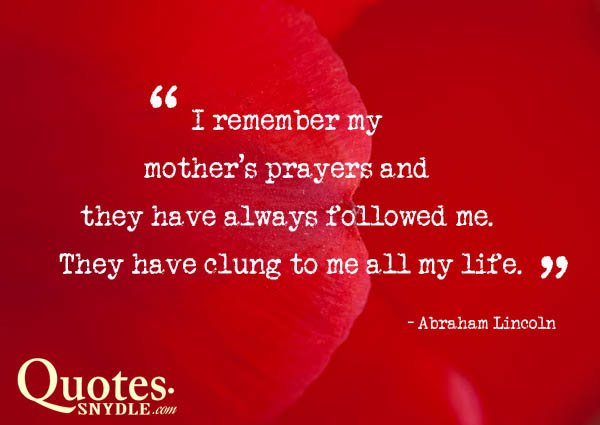 I remember my mother's prayers and they have always followed me. They have clung to me all my life.
― Abraham Lincoln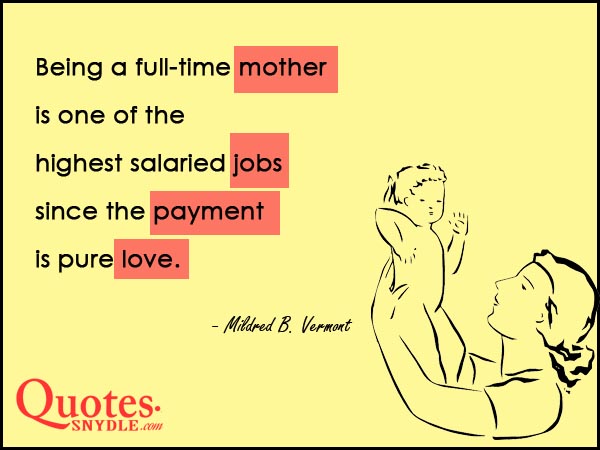 Being a full-time mother is one of the highest salaried jobs… since the payment is pure love.
― Mildred B. Vermont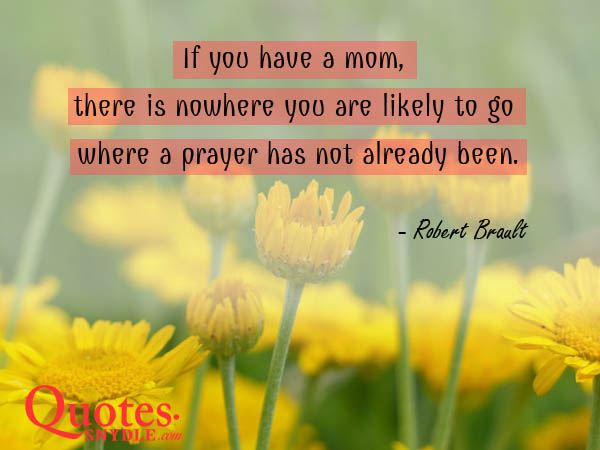 If you have a mom, there is nowhere you are likely to go where a prayer has not already been.
― Robert Brault
Mother's Day Quotes for Cards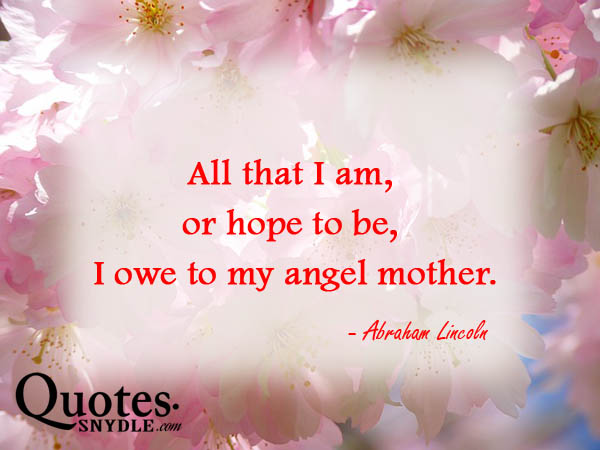 All that I am, or hope to be, I owe to my angel mother.
― Abraham Lincoln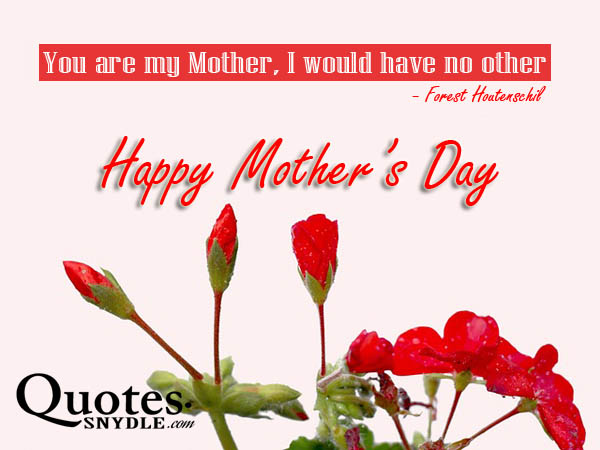 You're my mother,
I would have no other!
― Forest Houtenschil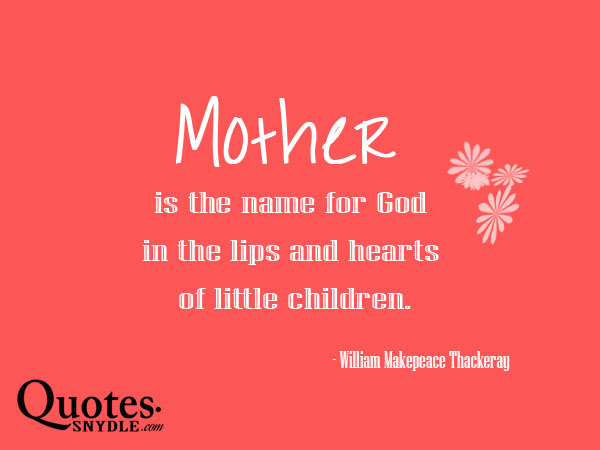 Mother is the name for God in the lips and hearts of little children.
― William Makepeace Thackeray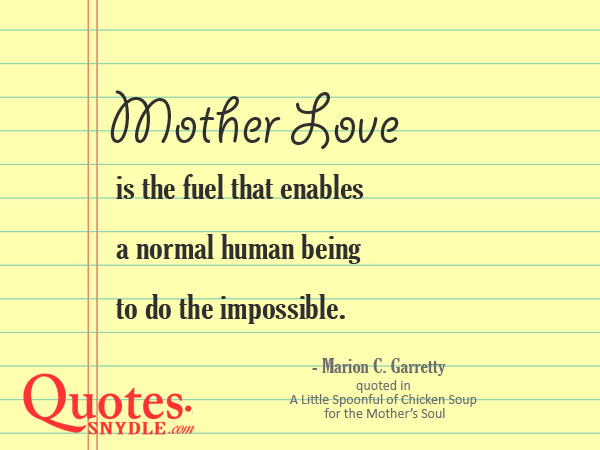 Mother love is the fuel that enables a normal human being to do the impossible.
― Marion C. Garretty, quoted in A Little Spoonful of Chicken Soup for the Mother's Soul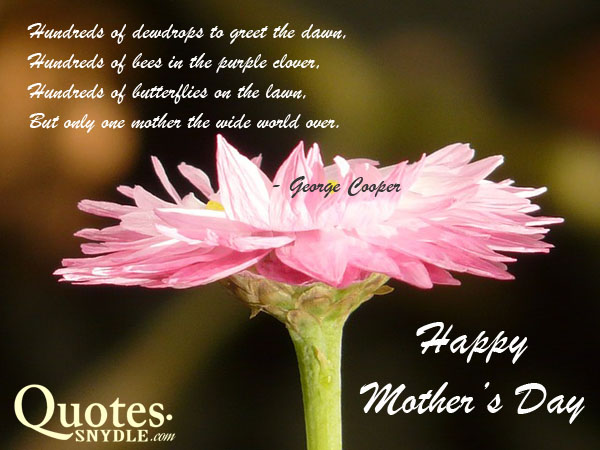 Hundreds of dewdrops to greet the dawn,
Hundreds of bees in the purple clover,
Hundreds of butterflies on the lawn,
But only one mother the wide world over.
― George Cooper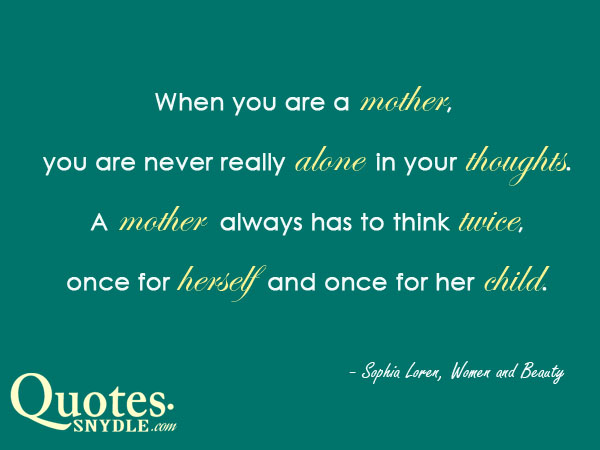 When you are a mother, you are never really alone in your thoughts. A mother always has to think twice, once for herself and once for her child.
― Sophia Loren, Women and Beauty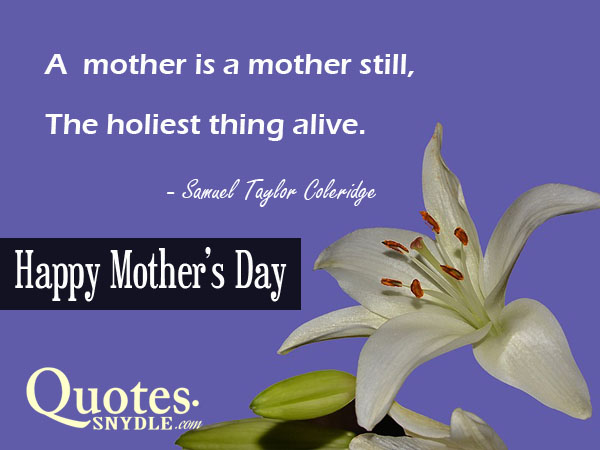 A mother is a mother still,
The holiest thing alive.
― Samuel Taylor Coleridge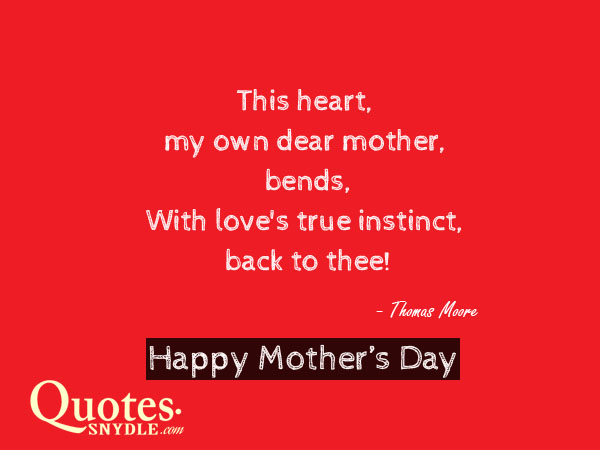 This heart, my own dear mother, bends,
With love's true instinct, back to thee!
― Thomas Moore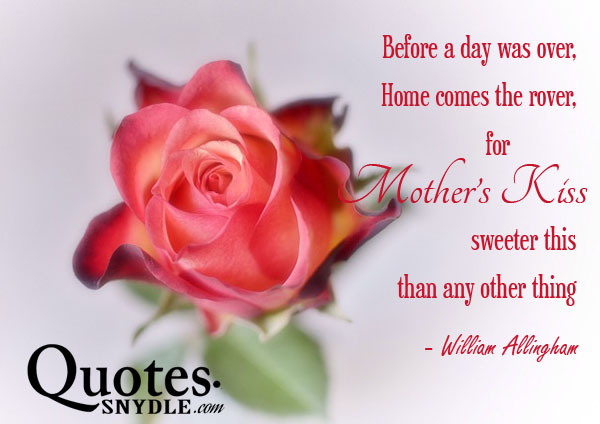 Before a day was over,
Home comes the rover,
For mother's kiss — sweeter this
Than any other thing!
― William Allingham
Famous Mothers Day Quotes
A suburban mother's role is to deliver children obstetrically once, and by car forever after.
― Peter De Vries
If the whole world were put into one scale, and my mother in the other, the whole world would kick the beam.
― Lord Langdale (Henry Bickersteth)
The moment a child is born, the mother is also born. She never existed before. The woman existed, but the mother, never. A mother is something absolutely new.
― Rajneesh
The real religion of the world comes from women much more than from men — from mothers most of all, who carry the key of our souls in their bosoms.
― Oliver Wendell Holmes
All women become like their mothers. That is their tragedy. No man does. That's his.
― Oscar Wilde, The Importance of Being Earnest, 1895
Mothers are fonder than fathers of their children because they are more certain they are their own.
― Aristotle
Making the decision to have a child is momentous. It is to decide forever to have your heart go walking around outside your body.
― Elizabeth Stone
A mother is the truest friend we have, when trials heavy and sudden, fall upon us; when adversity takes the place of prosperity; when friends who rejoice with us in our sunshine desert us; when trouble thickens around us, still will she cling to us, and endeavor by her kind precepts and counsels to dissipate the clouds of darkness, and cause peace to return to our hearts.
― Washington Irving