Contrary to what people believe, a person can have more than one soul mate in their lifetime. A soul mate is a special friend because you understand each other and share feelings and interests, and mostly our soul mates turn out to be our spouses or lovers.
A soul mate is someone who understands us so well that it is as though they see through our very soul. Finding one's soul mate is a gift of life. Even though not many people get this chance to find their soul mate and so settle for what the think is the next best thing or person, even that person can eventually become your soul mate if you care to work hard at the relationship.
When you read through quotes written by famous people, authors and every day simple folk you will find the inspiration to know that whether or not you meet your soul mate in your life time you can still live a rich life. If you are searching for your soul mate you can get inspired by the quotes to hold on and never give up in your quest, and if you already have found your soul mate you can learn how to make your relationship richer and more fulfilling for both of you.
Quotes and Sayings about Soulmate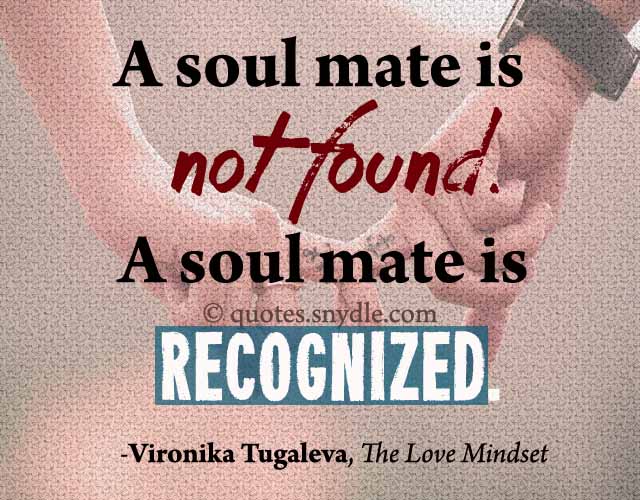 A soul mate is not found. A soul mate is recognized.
– Vironika Tugaleva, The Love Mindset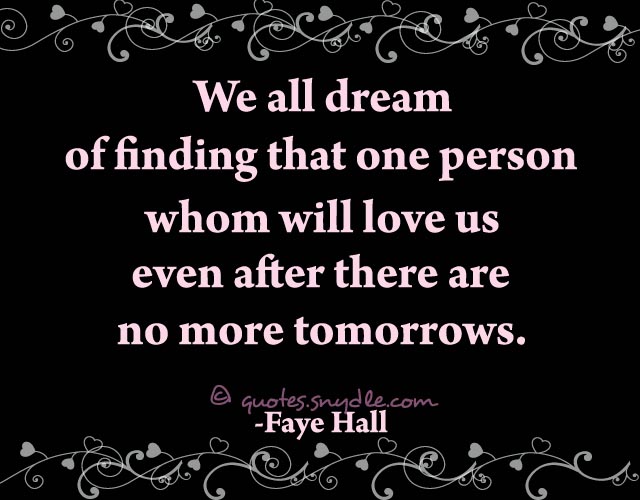 We all dream of finding that one person whom will love us even after there are no more tomorrows.
– Faye Hall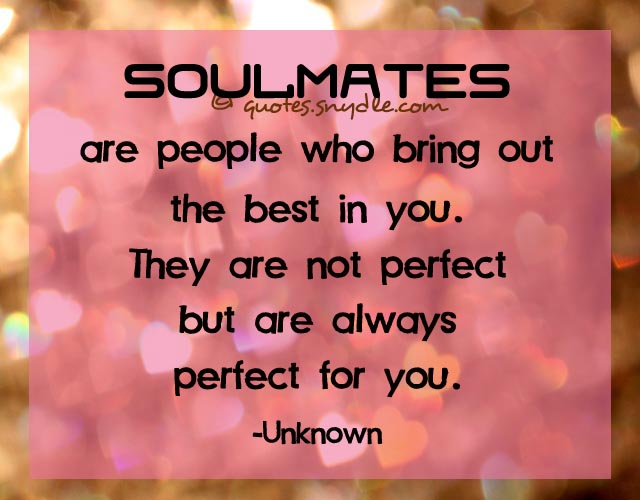 Soulmates are people who bring out the best in you. They are not perfect but are always perfect for you.
– Unknown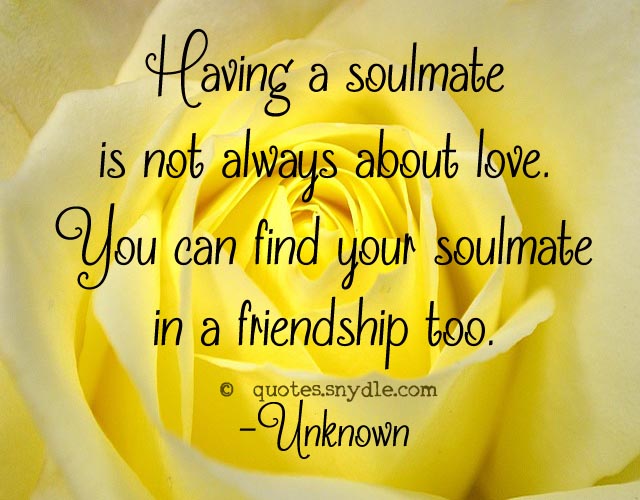 Having a soulmate is not always about love. You can find your soulmate in a friendship too.
– Unknown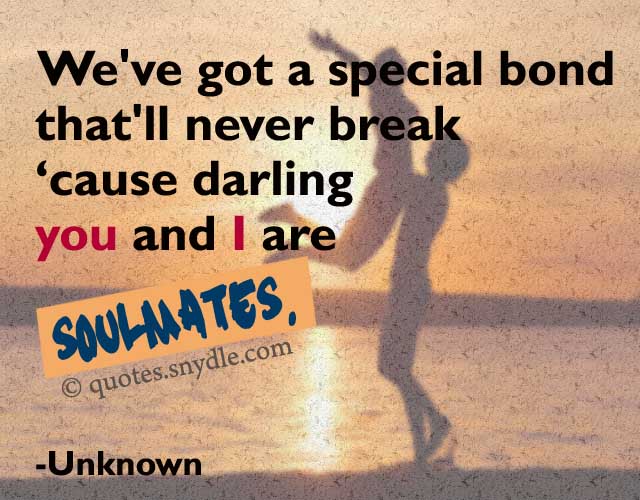 We've got a special bond that'll never break cause darling you and I are soulmates.
– Unknown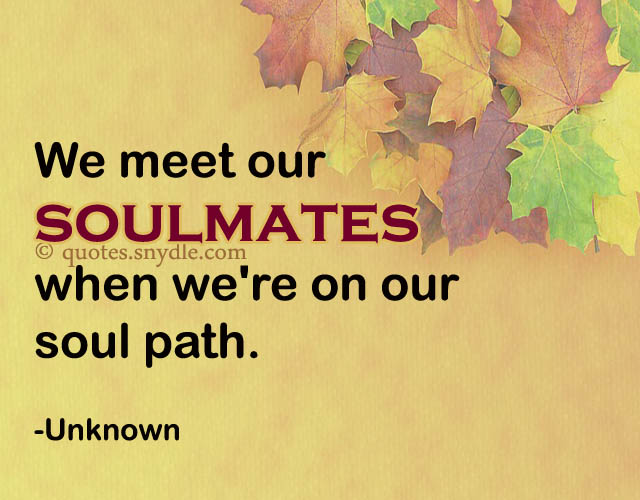 We meet our soulmates when we're on our soul path.
– Unknown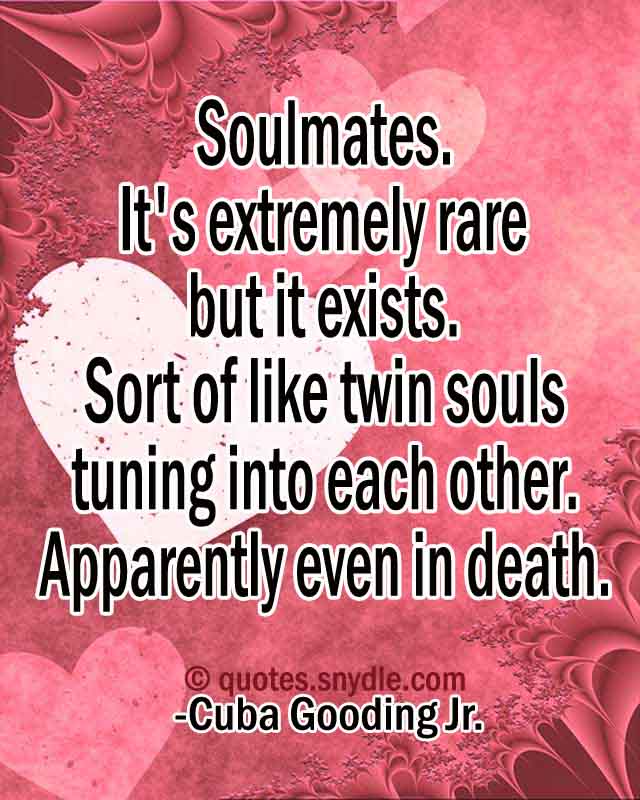 Soulmates. It's extremely rare but it exists. Sort of like twin souls tuning into each other. Apparently even in death.
– Cuba Gooding Jr.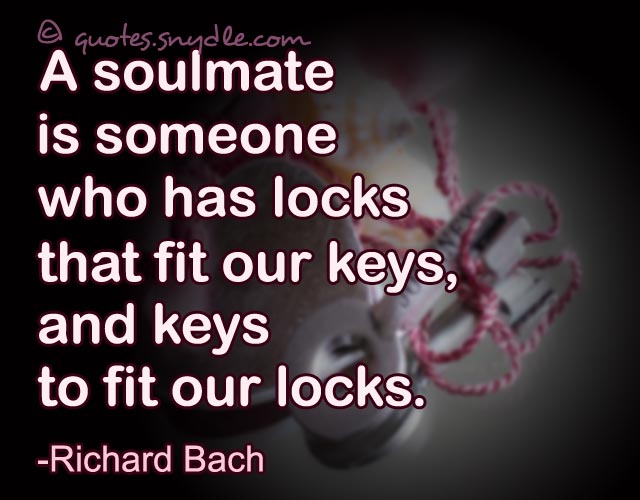 A soulmate is someone who has locks that fit our keys, and keys to fit our locks.
– Richard Bach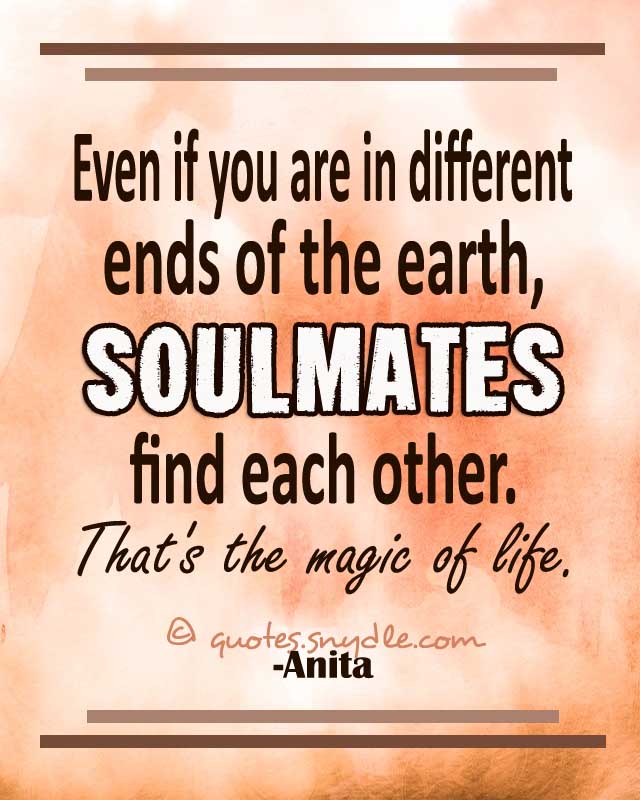 Even if you are in different ends of the earth, soulmates find each other. That's the magic of life.
– Anita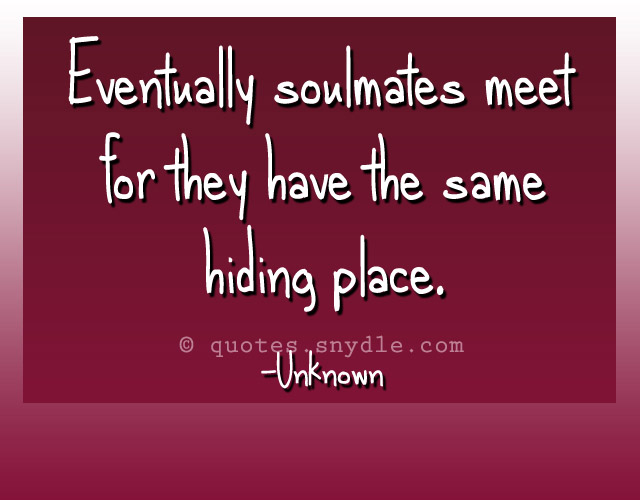 Eventually soulmates meet for they have the same hiding place.
– Unknown
Finding your Soulmate Quotes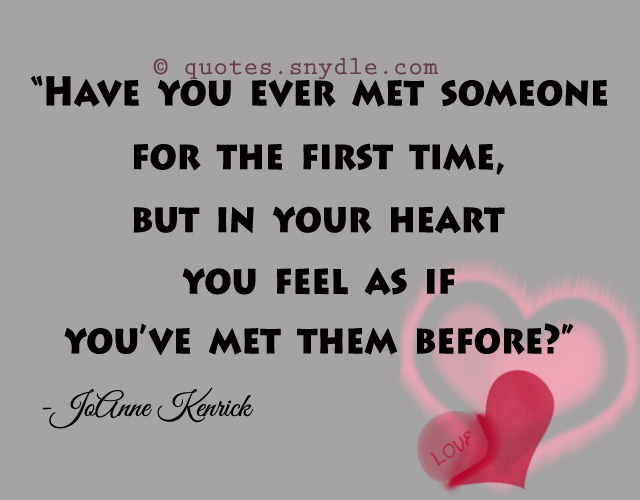 Have you ever met someone for the first time, but in your heart you feel as if you've met them before?
– JoAnne Kenrick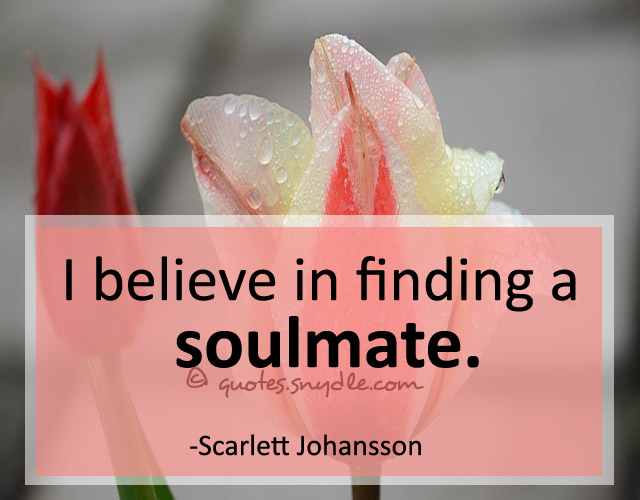 I believe in finding a soulmate.
– Scarlett Johansson
Some people spend all their lives searching for their soulmates.
– Ellen Schreiber
And then my soul saw you and it kind of went "Oh there you are. I've been looking for you.
– Unknown
So, I love you because the entire universe conspired to help me find you.
– Paulo Coelho, The Alchemist
Soul mates may be linked, but fight to separate, causing wounds and confusion. They teach what no one else can."
– Donna Lynn Hope
Marriage is miserable unless you find the right person that is your soulmate and that takes a lot of looking.
– Marvin Gaye
Inspirational Quotes on Soulmate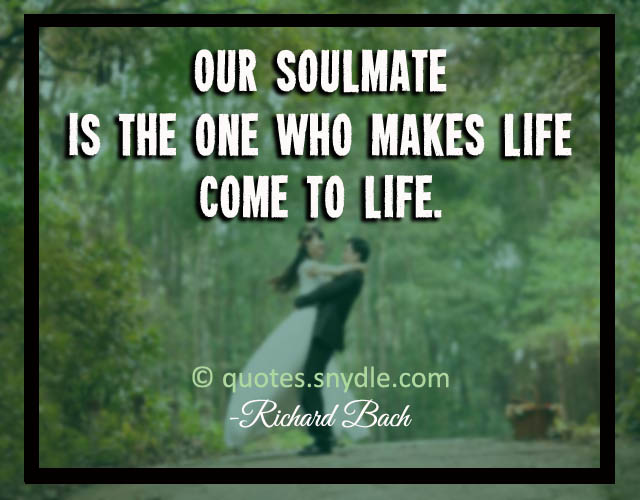 Our soulmate is the one who makes life come to life.
– Richard Bach
After all, soulmates always end up together.
– Rosie Dunne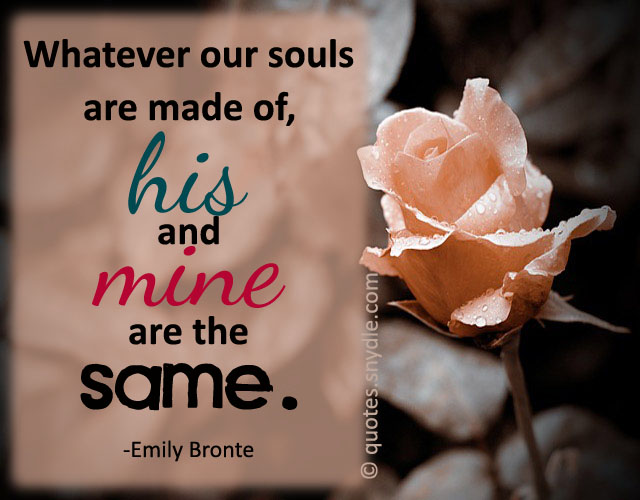 Whatever our souls are made of, his and mine are the same.
– Emily Bronte
Soul mate is a mirror, the person who shows you everything that's holding you back, the person who brings you to your own attention so you can change your life.
– Elizabeth Gilbert
What we find in a soulmate is not something wild to tame but something wild to run with.
– Robert Brault
We don't meet people by accident. They are meant to cross our path for a reason.
– Unknown
Through all the challenges life may throw at us; let's not forget that we are soulmates… companions… individuals… divinely fused together by the immeasurable power of love and that we can get through it all as one.
– Dr. Steve Maraboli
A soulmate has the capacity to push you towards an emotional, mental and spiritual growth.
– Rubyanne
Your soulmate is the person who mends your broken heart, by simply giving you theirs.
– Unknown
It wasn't an infatuation love like you see in junior high school. They were soulmates.
– John Miller
Either way, we'll ride out together. That's how it is with soulmates. That's just what they do.
– Alyson Noel
Hot coffee and cold winter mornings are two of the best soulmates who ever did find each other.
– Terri Guillemets
Soulmate, a person for whom one feels a deep physical, mental, emotional and spiritual connection. A connection of mutual affinity between people which cannot be expressed in words.
– Unknown