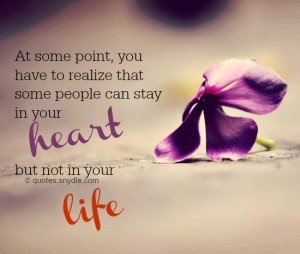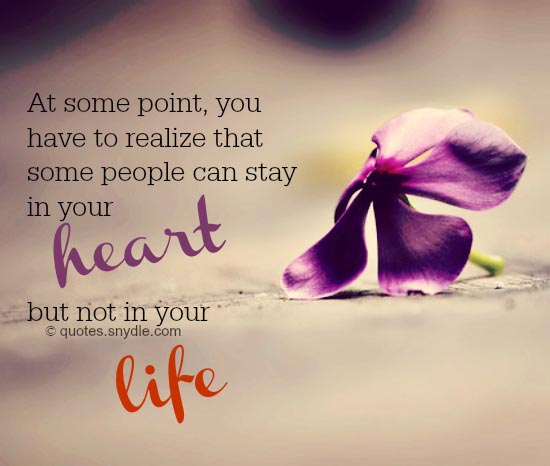 No one in the world can say they are happy without having even only a single person that they can call a friend. As social beings we bloom and thrive around the friendships that we possess whether good or bad. The friends we have and the company that we keep regularly has a huge impact on our lives and this can either be positive or negative.
Friendship can hurt when we have to part with those who mean so much to us, and it also hurts when we wrongly place our trust and give our emotions to those who do not deserve it. Such a beautiful virtue can also cause us such deep sadness as well. Below are some of the most popular sad friendship quotes. Some may even make you cry and make you cherish friends more.
Famous Sad Friendship Quotes
Sad friendship quotes bring this reality to us because no matter how good a friend there is always some pain that accompanies that relationship. Here are famous quotes about sad friendship.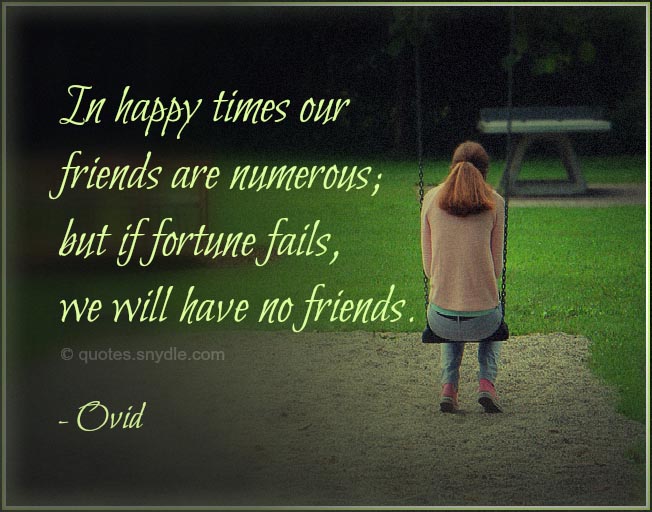 In happy times our friends are numerous; but if fortune fails, we will have no friends.
-Ovid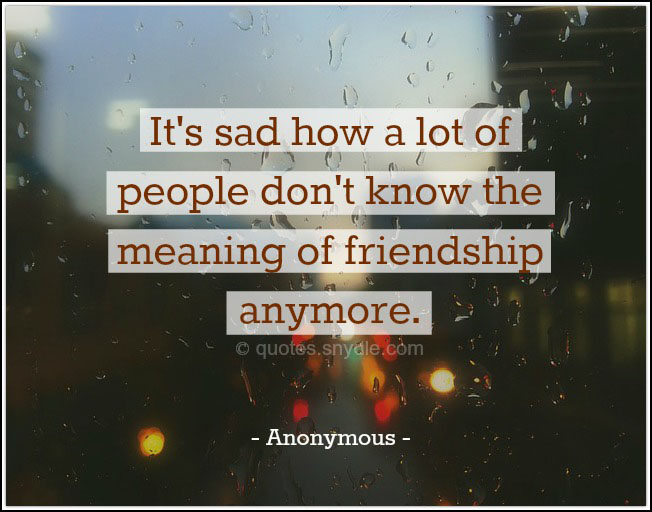 It's sad how a lot of people don't know the meaning of friendship anymore.
– Anonymous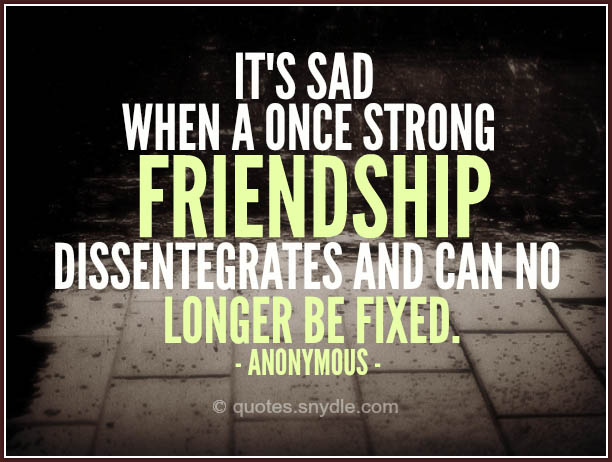 It's sad when a once strong friendship dissentegrates and can no longer be fixed.
– Anonymous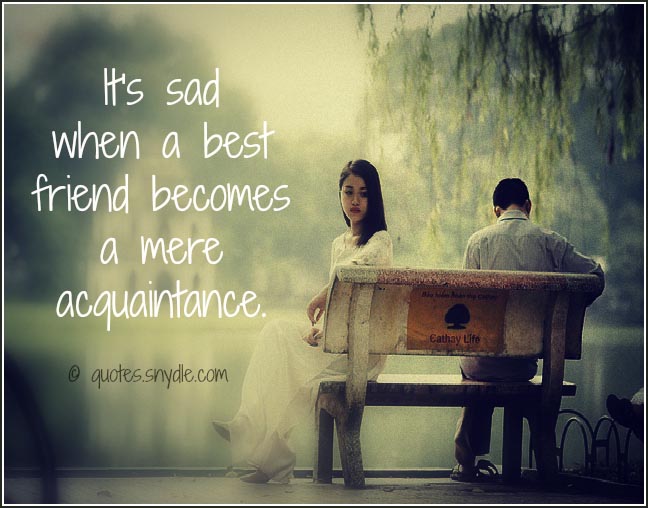 It's sad when a best friend becomes a mere acquaintance.
– Unknown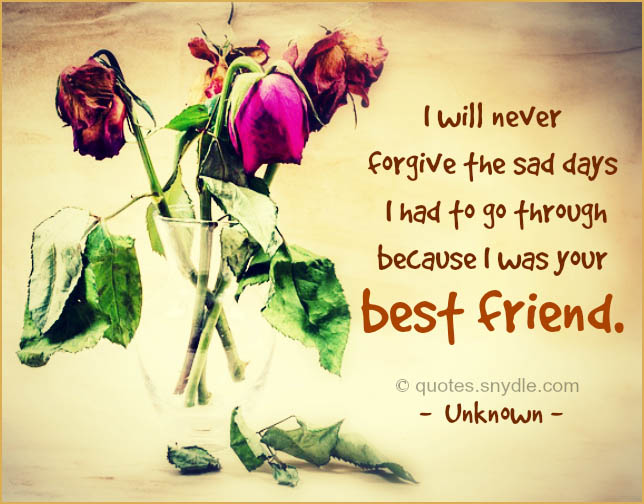 I will never forgive the sad days I had to go through because I was your best friend.
– Unknown
If you are successful, you will win false friends and true enemies. Succeed anyway.
– Kent M. Keith
One of life's biggest losses is that of a friend whom you once deemed close.
– Unknown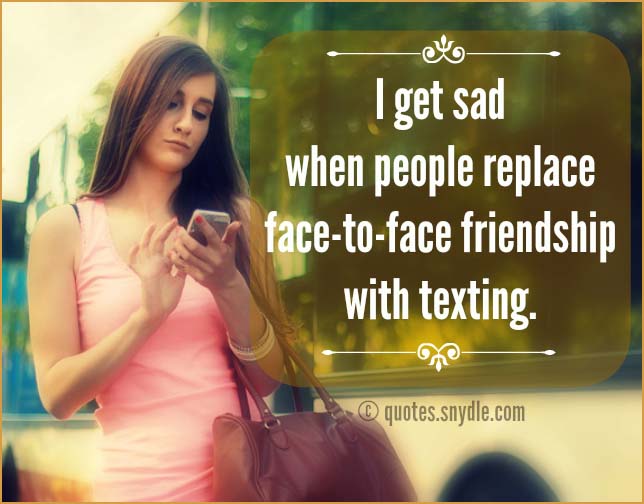 I get sad when people replace face-to-face friendship with texting.
– Unknown
Never explain – your friends do not need it and your enemies will not believe you anyway.
– Elbert Hubbard
That awkward moment when you think you're important to someone, and you're not.
– Unknown
Life is very insistent; and it always seems to be so when friends sadly leave us.
– Alec Guinness
Friendship is like ink once it's spilled the stain will remain but everything will never be the same.
– Anonymous
Friendship often turns into love, but love never into friendship. Quite sad.
– Anonymous
Not all scars show, not all wounds heal. Sometimes you can't always see the pain someone feels.
– Anonymous
Nobody ever chooses the already unfortunate as objects of his loyal friendship.
– Lucan
Nobody likes being alone that much. I don't go out of my way to make friends, that's all. It just leads to disappointment.
– Haruki Murakami, Norwegian Wood
Just because you stopped calling me your friend, doesn't mean I stopped calling you mine.
– Unknown
Short Sad Friendship Quotes
Reading quotes written by people from all walks of life on this subject should inspire you to know that no matter what happens in your relationship whether it is your fault or the other person's fault, you need to take time to be kind to yourself. Browse our short quotes about sad friendship.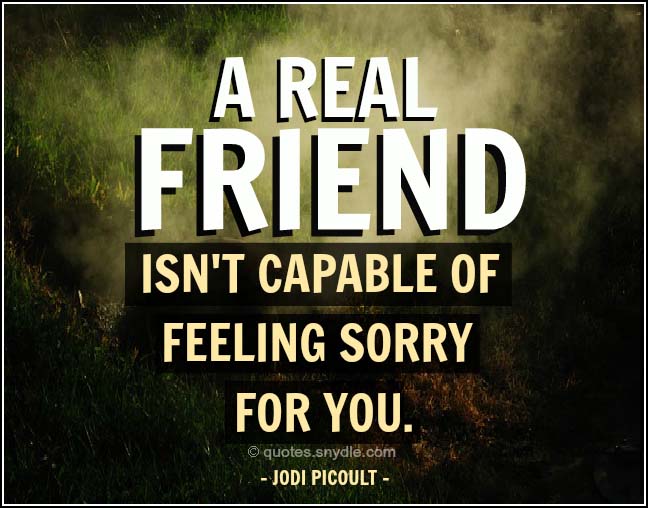 A real friend isn't capable of feeling sorry for you.
– Jodi Picoult, My Sister's Keeper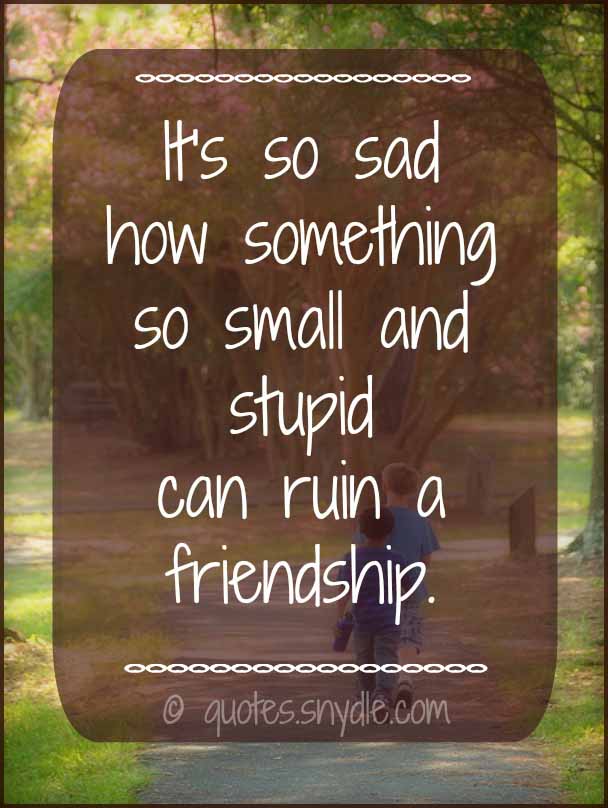 It's so sad how something so small and stupid can ruin a friendship.
– Unknown
They that sow in tears shall reap in joy.
-Psalms
Friendship often ends in love. But love in friendship; never.
– Charles Caleb Colton
Misfortune shows those who are not really friends.
– Aristotle
Friendship is but a name; fidelity but an empty name.
– Ovid
He has no enemies, but is intensely disliked by his friends.
– Oscar Wilde
It's sad my friendship meant that little.
– Anonymous
Every time a friend succeeds, I die a little.
– Gore Vidal
There is no friendship in trade.
– Cornelius Vanderbilt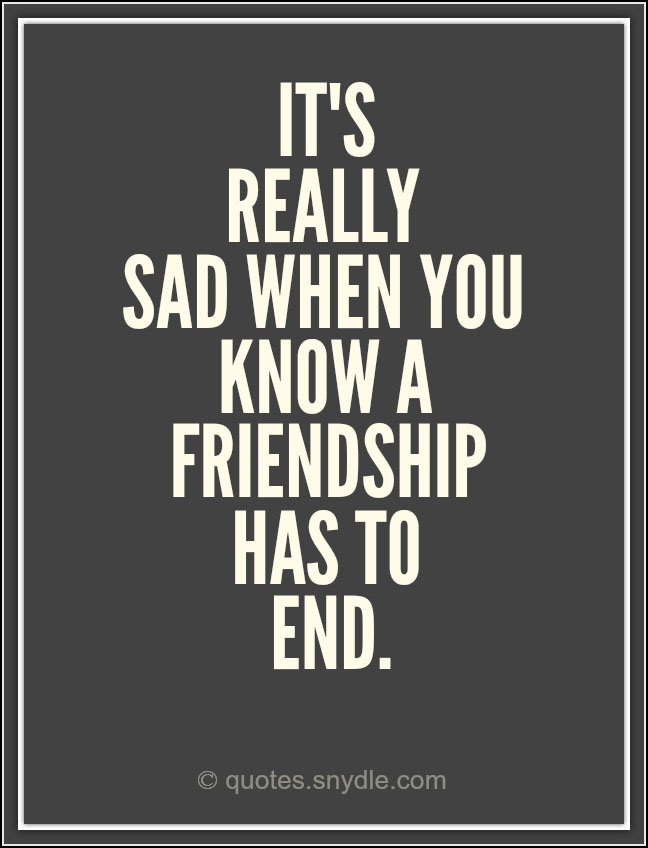 It's really sad when you know a friendship has to end.
– Anonymous
Sad Friendship Quotes that Make You Cry
Once you realize that you are just but an imperfect person living in an imperfect world then you will understand that nothing is permanent and friends will come and go, no matter what kind they are. Here are some very sad friendship quotes that will make you cry.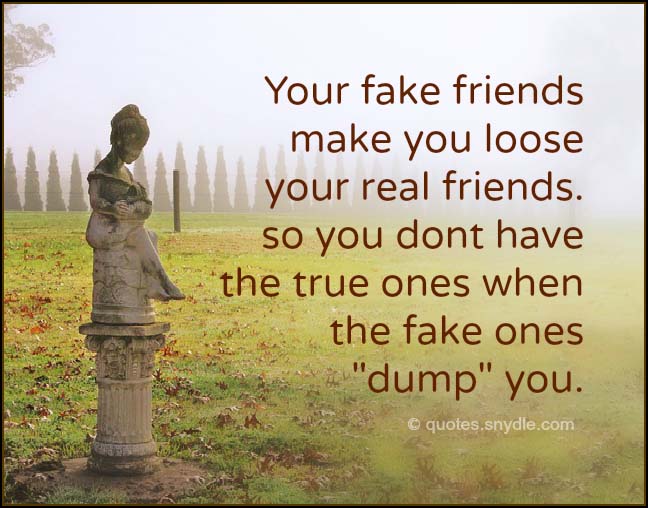 Your fake friends make you loose your real friends. so you dont have the true ones when the fake ones "dump" you.
– Anonymous
I get sad when people replace face-to-face friendship with texting.
– Anonymous
It's sad when a best friend becomes a mere acquaintance.
-Anonymous
It's sad when a once strong friendship dissentegrates and can no longer be fixed.
– Anonymous
Always sad when a friendship goes from warm and personal, to cold and professional over something minor. Pride is dangerous…
– Anonymous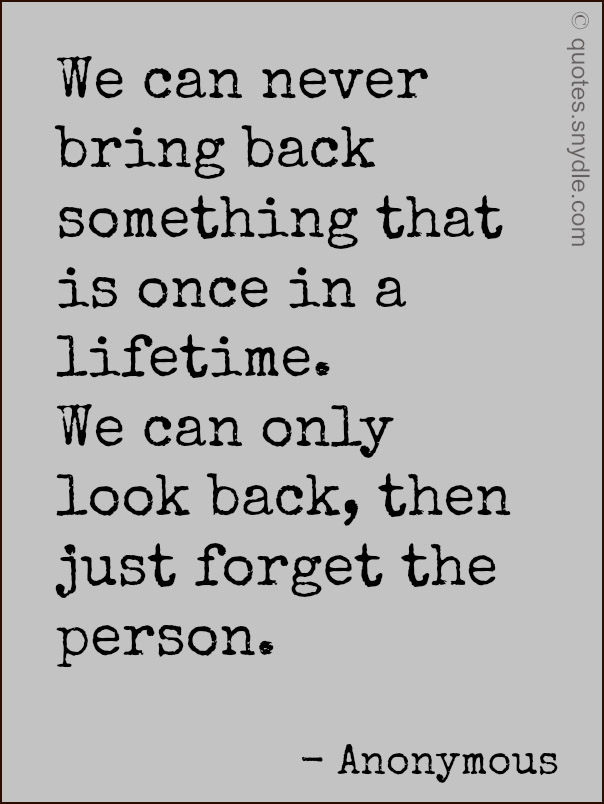 We can never bring back something that is once in a lifetime. we can only look back, then just forget the person.
– Anonymous
When I look back on all the memories that we created together, it seems like they were a lie. For when I really needed you by my side, you were nowhere to be found.
– Anonymous
Real loss only occurs when you lose something that you love more than yourself.
– Anonymous
To lose someone whom you held so dear, as I did you, is perhaps one of the most painful feelings in the world. Since you cannot always get what you want, I will have to make do with your absence.
– Unknown
My best friend… I feel like I've lost him forever, and he was like my touchstone.
– Reality Bites
Can miles truly separate you from friends… If you want to be with someone you love, aren't you already there?
– Richard Bach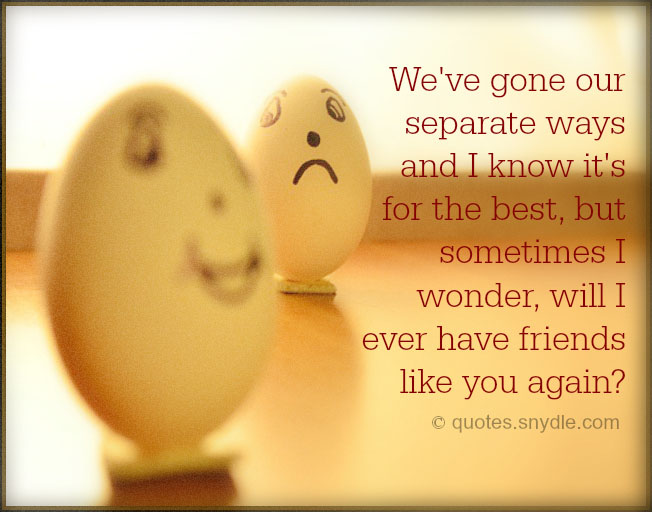 We've gone our separate ways and I know it's for the best, but sometimes I wonder, will I ever have friends like you again?
– Anonymous
More Sad Friendship Quotes
Want more emotional and sad friendship quotes and sayings? Browse further. We compiled more friendship sad quotes below.
Real loss only occurs when you lose something that you love more than yourself.
– Anonymous
When it hurts to look back and you're afraid to look ahead, you can look beside you and your bestfriend will be there.
– Unknown
It's really sad when you had a great friendship with someone and then a relationship just kills it all….
– Unknown
The sacrifices of friendship were beautiful in her eyes as long as she was not asked to make them.
– Hector Hugh Munro
The bitterest tears shed over graves are for words left unsaid and deeds left undone.
– Anonymous
Ever has it been that love knows not its own depth until the hour of separation.
– Kahlil Gibran
Not all scars show, not all wounds heal. Sometimes you can't always see the pain someone feels.
– Anonymous
Friendship with oneself is all important, because without it one cannot be friends with anyone else in the world.
– Unknown
Friendship is that one precious pearl in the ocean of life that helps you get through all the pebbles that are thrown at you. It is true that in the deepest seas of despair are such pearls found, and that not all are lucky enough to find it.
– Unknown
To trust someone with my heart and soul, have hid their secrets from everyone, and then, to have that very someone rip me apart is the hardest feeling ever.
– Unknown
The bitterest tears shed over graves are for words left unsaid and deeds left undone.
-Anonymous
Growing apart doesn't change the fact that for a long time we grew side by side; our roots will always be tangled. I'm glad for that.
– Ally Condie, Matched
There are no goodbyes for us. Wherever you are, you will always be in my heart.
– Mahatma Gandhi
A true friend is someone who is there for you when he'd rather be anywhere else.
– Len Wein
The sad thing is you think your friendship and respect was better than that…so disappointing.
– Unknown
Friendship based solely upon gratitude is like a photograph; with time it fades.
– Carmen Sylva
Ever has it been that love knows not its own depth until the hour of separation.
– Khalil Gibran
No matter how far you take it with your friends, whether you're fighting with them or you hate them for two months, you just really need them, because they're the ones who teach you the most about yourself.
– Kate Hudson
Anyone can make you smile or cryBut it takes someone special to make you smileWhen you already have tears in your eyes
– Unknown
It takes your enemy and your friend, working together, to hurt you to the heart: the one to slander you and the other to get the news to you.
– Mark Twain
Of all the friends I've ever met, you're the one I won't forget and if I die before you do I'll go to heaven and wait for you.
– Unknown
Why are old lovers able to become friends? Two reasons. They never truly loved each other, or they love each other still.
– Whitney Otto, How to Make an American Quilt
"Many pecks of salt must be eaten before the duties of friendship can be discharged."
-Cicero
"It's sad when you realize people you once considered close friends don't value the friendship like they used to."
-Anonymous
Never catch a hand saying you will always be a friend when you know that you won't because it hurts when you play with hearts.
-Anonymous
Why do people have to lose things to find out what they really mean ?
– Anonymous
Sometimes best friends fall in love.. And when this relation breaks… IT ends up with breaking of two relations.. the best friendship and the the love TOO.
– Anonymous
The bitterest tears shed over graves are for words left unsaid and deeds left undone.
– Anonymous