If you are in search of the best collection of sweet love quotes and sayings, this post is for you. There are many ways to say I love you as there are many ways to show it. Let us awaken the romantic person in us and think outside the box. From short simple love quotes to long, beautiful love letters, there are many ways we can convey the feelings of love and affection to a significant other. Romantic and sweet quotes are one of the best way to convey your feelings to your someone special. Here are some of the best love quotes that we personally pick just for you.
Sweet I Love You Quotes
Sweep them of their feet with these sweet quotes that express your love for them. Short, random notes and scribbles posted on sticky notes hidden all over the house for your love to find will surely bring smiles to their faces. Through these sweet love sayings, you can easily tell them how much you love them.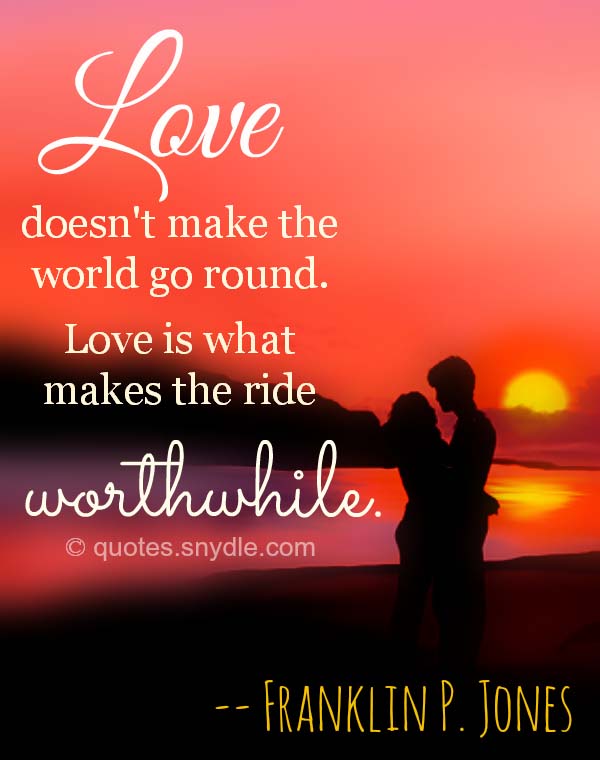 Love doesn't make the world go round. Love is what makes the ride worthwhile.
— Franklin P. Jones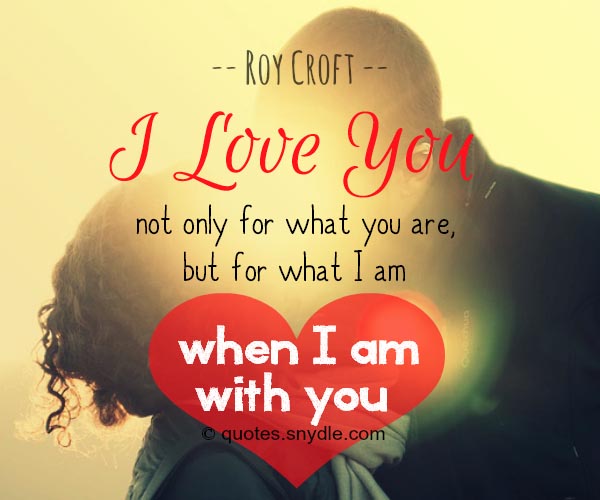 I love you, not only for what you are, but for what I am when I am with you.
— Roy Croft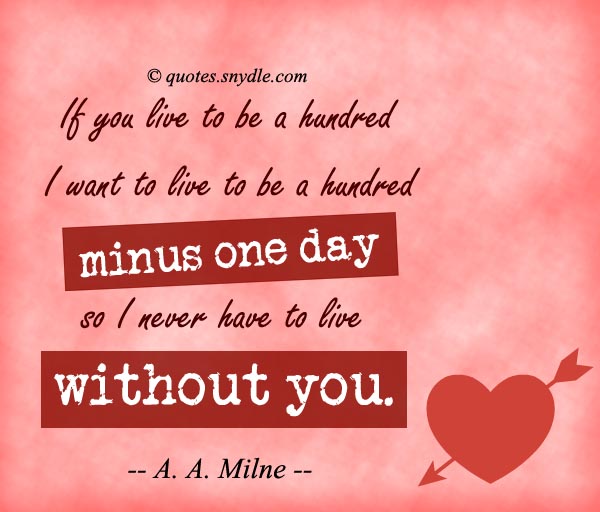 If you live to be a hundred, I want to live to be a hundred minus one day so I never have to live without you.
— A. A. Milne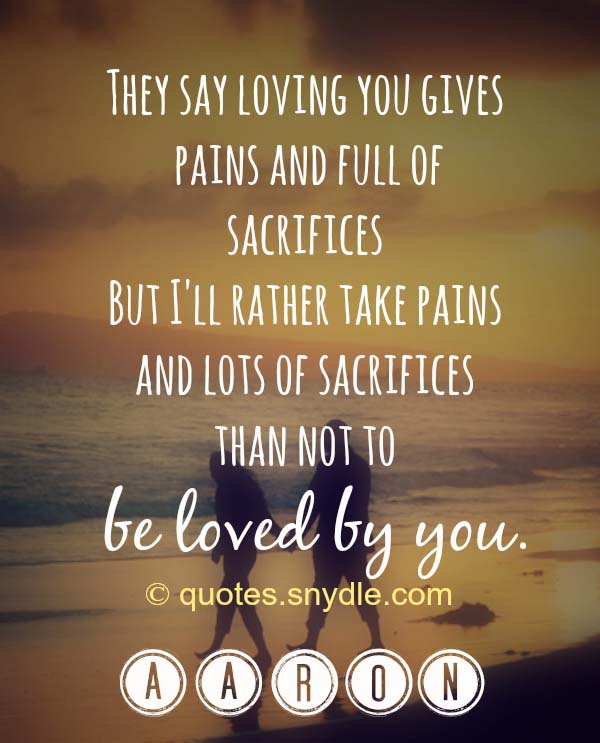 They say loving you gives pains and full of sacrifices But I'll rather take pains and lots of sacrifices than not to be love by you.
— Aaron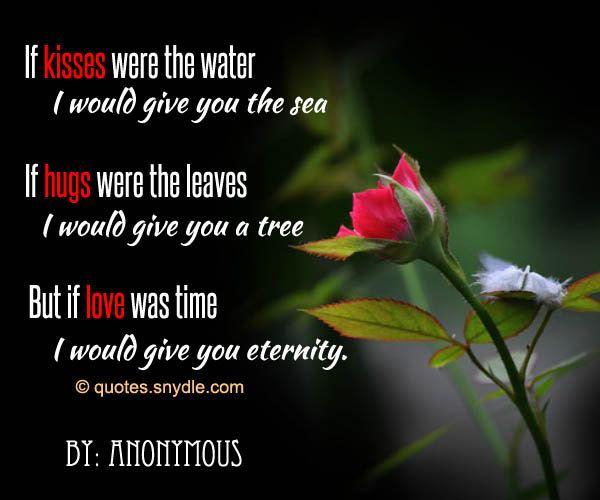 If kisses were the water I would give you the sea, if hugs were the leaves I would give you a tree, but if love was time, I would give you eternity.
— Anonymous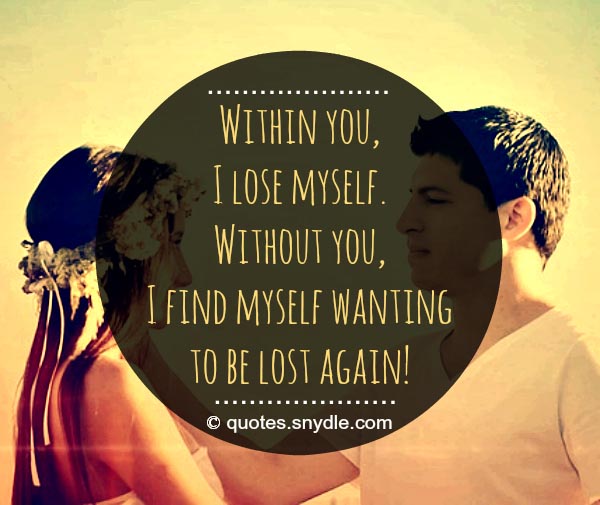 Within you, I lose myself. Without you, I find myself wanting to be lost again!
— Anonymous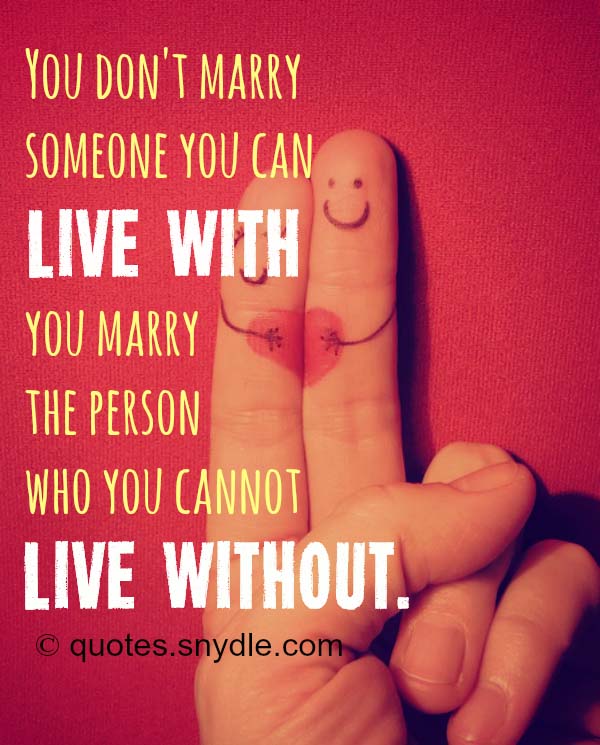 You don't marry someone you can live with…you marry the person who you cannot live without.
— Anonymous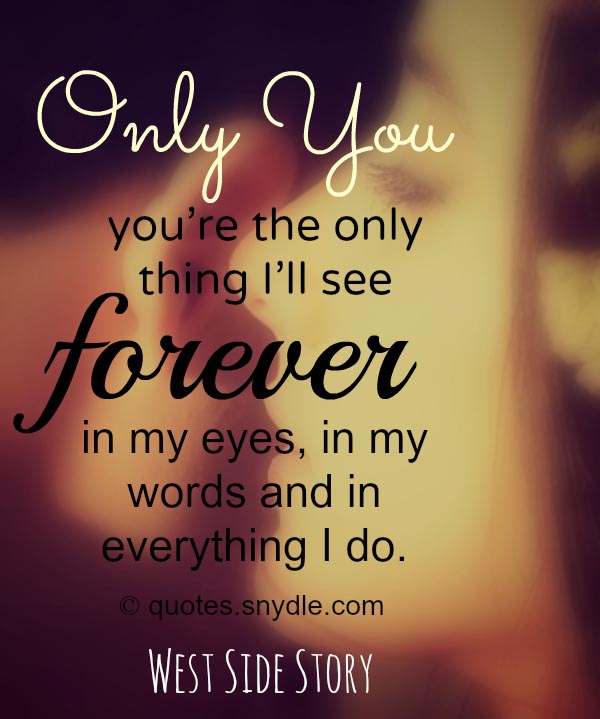 Only you, you're the only thing I'll see forever. In my eyes, in my words and in everything I do.
— West Side Story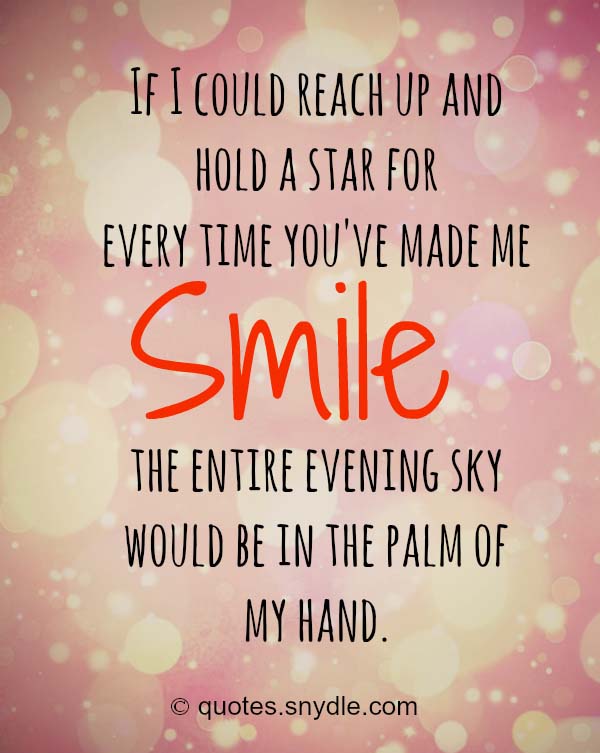 If I could reach up and hold a star for every time you've made me smile, the entire evening sky would be in the palm of my hand.
— Unknown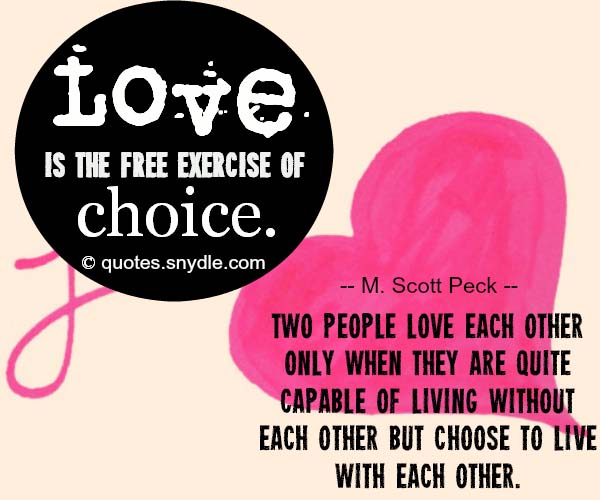 Love is the free exercise of choice. Two people love each other only when they are quite capable of living without each other but choose to live with each other.
— M. Scott Peck
Sweet Love Quotes for Him
Sweet Love Quotes for Your Boyfriend and Husband
Put a smile on his face by writing him a cute love quotes, notes or messages. Tell him how much you appreciate all the things he has done for you. Whether it is your boyfriend or husband, be sure to tell him that you love him with these sweet love quotes.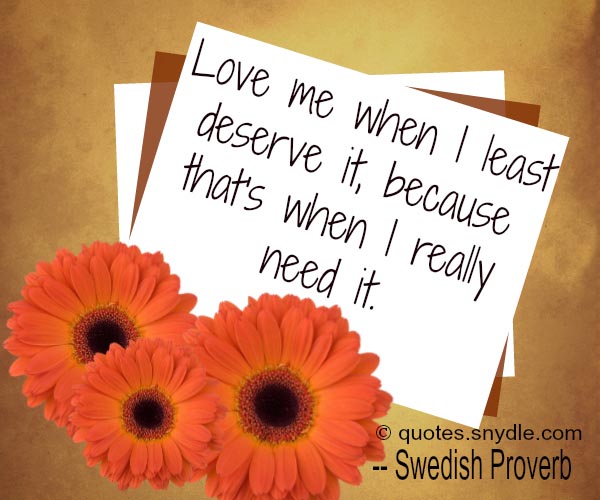 Love me when I least deserve it, because that's when I really need it.
— Swedish Proverb
The only guy that will ever be good enough for you is the one who thinks he does not deserve you.
— Snehal Dongre
In the movie of my life you are my leading man. Heck leading man, you are the only man in the movie!
— Anonymous
My love for you is a journey; starting at forever, and ending at never.
— Anonymous
My favorite place to be is inside of your hugs where it's warm and loving. I Love You!
— Unknown
He's everything to me. He's perfect for me. But the best part of all… is that he loves me!
— Unknown
And if it all falls apart, I will know deep in my heart, the only dream that mattered had come true. In this life, I was loved by you.
— Colin Raye
Before I met you I never knew what it was like, to look at someone and smile for no reason!
— Anonymous
You make me smile for no reason whatsoever, You make me laugh at the unfunniest things, But most of all, you make me love you.
— Unknown
Sweet Love Quotes for Her
Sweet Love Quotes for Your Girlfriend and Wife
She's the one who gives you inspiration, someone who loves you unconditionally, cares for you endlessly. It's time to express your appreciation to the woman of your life. Put a spark in your relationship with the help of love quotes your girlfriend or wife is sure to love!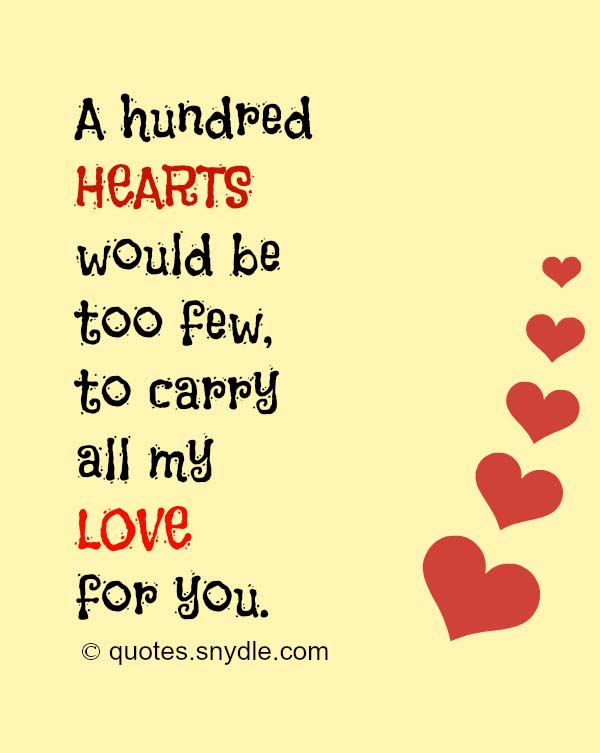 A hundred hearts would be too few, to carry all my love for you.
— Unknown
Forever is a long time. But I wouldn't mind spending it by your side.
— Unknown
I want to be the only one to get the chance to see how amazing you really are.
— Unknown
It's been said that you only truly fall in love once, but I don't believe it. Every time I see you, I fall in love all over again.
— Unknown
As we grow older together, As we continue to change with age, There is one thing that will never change… I will always keep falling in love with you.
— Karen Clodfelder
I seem to have loved you in numberless forms, numberless times, in life after life, in age after age forever.
— Rabindranath Tagore
Sometimes your nearness takes my breath away; and all the things I want to say can find no voice. Then, in silence, I can only hope my eyes will speak my heart.
— Unknown
Don't go trying some new fashion,
Don't change the color of your hair
I could not love you any better,
I love you just the way you are.
— Billy Joel
I love you with all of my heart, body ,and soul. You complete me. You make my life worth living. To have known you and to have loved you has been the most beautiful dream. I can only hope that I never wake up.
— Unknown
When I say I love you, please believe it's true. When I say forever, know I'll never leave you. When I say goodbye, promise me you won't cry. Cause the day I'll be saying that would be the day I die.
— Unknown
Short Sweet Love Quotes, Short But Sweet Love Quotes
Love has a tendency to reduce us to silent tongue-tied creatures that have lost their command of language and words. But the truth is, words of love don't have to be lengthy. Few words are enough to express your true feelings. Here are some of the best short sweet love quotes that prove that.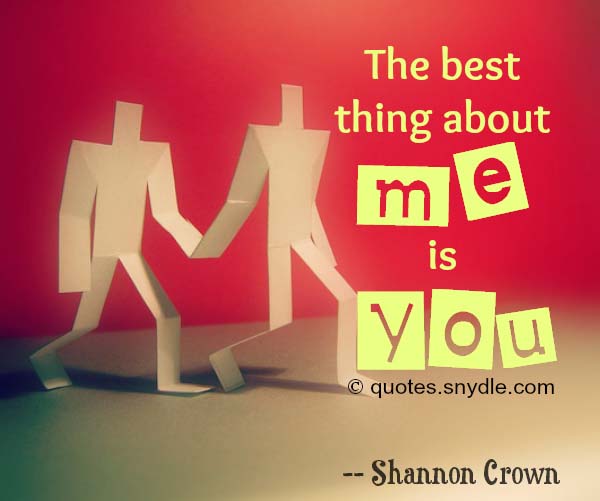 The best thing about me is you.
— Shannon Crown
Love is being stupid together.
— Paul Valery
Love reminds you that nothing else matters.
— Amy Bushell
Every love story is beautiful, but ours is my favorite.
— Unknown
If I know what love is, it is because of you.
— Hermann Hesse
I love you without reason and that is reason enough.
— Unknown
When you love someone, all your saved-up wishes start coming out.
— Elizabeth Bowen
Come live in my heart, and pay no rent.
— Samuel Lover
My favorite place in the world is next to you.
— Unknown
Some love lasts a lifetime. True love lasts forever.
— Unknown
Love creates an 'us' without, destroying a 'me'."
— Leo Buscaglia
Sweet and Romantic Love Quotes
Sometimes, we feel that no mere words can express the depth and magnitude of our feelings that we become dumb and mute in trying to describe and express them. We run out of words to say. Worry not as there are so many sweet quotes about love that you can use. Here are they: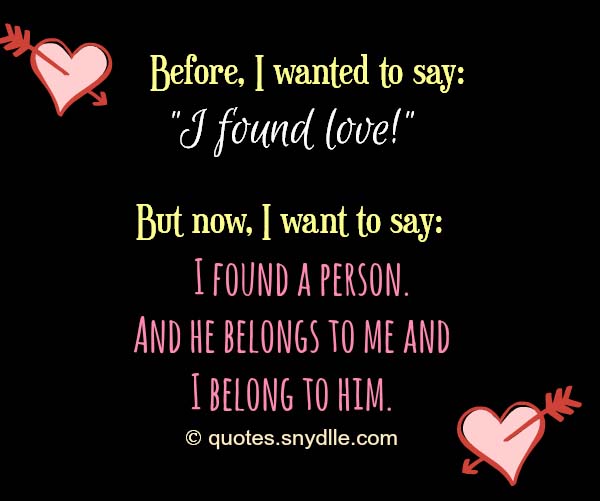 Before, I wanted to say: "I found love!" But now, I want to say: "I found a person. And he belongs to me and I belong to him.
— C. JoyBell C.
Love is like playing the piano. First you must learn to play by the rules, then you must forget the rules and play from your heart.
— Anonymous
Love does not consist in gazing at each other but in looking together in the same direction.
— Antoine de Saint-Exupery
I've noticed that being with you, I smile more often, I anger a little less quickly, the sun shines a little brighter, and life is so much sweeter. For being with you takes me to a different place: a place called love.
— Unknown
The one thing we can never get enough of is love. And the one thing we never give enough is love.
— Henry Miller
Love is never wanting to lose faith, never wanting to give up, and never truly moving on. Love is knowing and praying in the deepest part of what's left of your heart that they feel the same.
— Courtney Jo Wright
It takes a minute to have a crush on someone, an hour to like someone and a day to love someone but it takes a lifetime to forget someone.
— Unknown
Soulmates. It's extremely rare, but it exists. It's sort of like twin souls tuned into each other.
— What Dreams May Come
Love is like a violin. The music may stop now and then, but the strings remain forever.
— Unknown
Love is not what we become, but what we already are.
— Stephen Levine