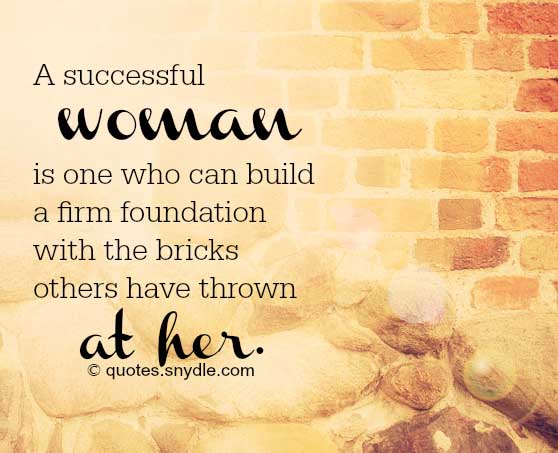 As a woman, you can find inspiration from reading inspirational quotes for women that were written by great sages, and meditating upon these words will begin stirring you up and soon, just like a butterfly, you will emerge from the cocoon of stereotypes that you have been placed in either by yourself of society around you, and you will then be able to spread your wings and fly.
As a man, you can begin to appreciate the women in your life once you understand just how wonderful they are and can be, with the right motivation and encouragement. Here are some of the most encouraging and inspiring quotes for women that you can mull over.
Best Inspirational Quotes for Women
We can borrow the examples of great people like Nellie Mclung, Diane Mariechild and Alphonse De Lamartine and many others who have written wonderful and inspiring quotes about women. Below are some samples: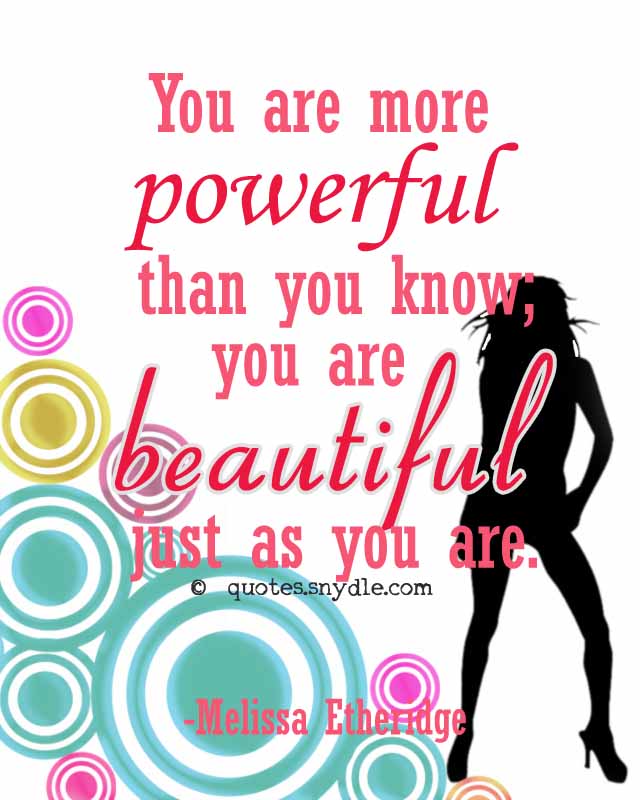 You are more powerful than you know; you are beautiful just as you are.
— Melissa Etheridge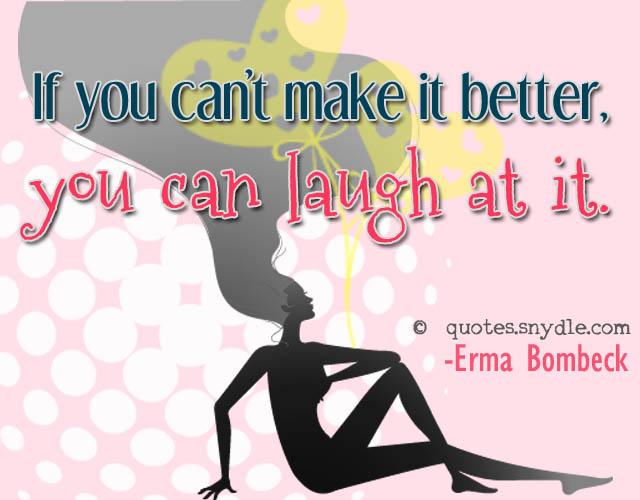 If you can't make it better, you can laugh at it.
— Erma Bombeck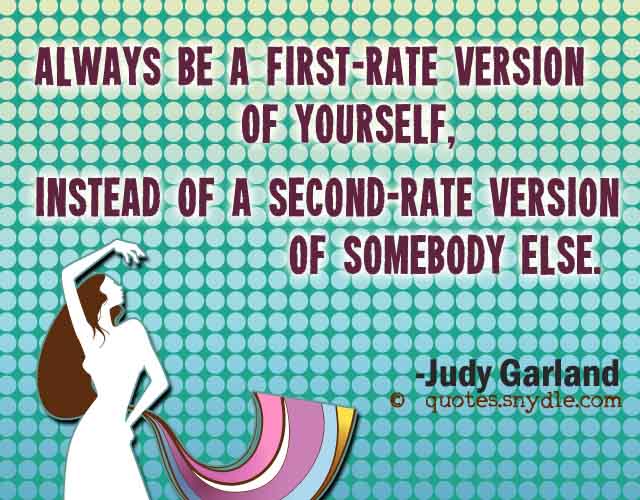 Always be a first-rate version of yourself, instead of a second-rate version of somebody else.
— Judy Garland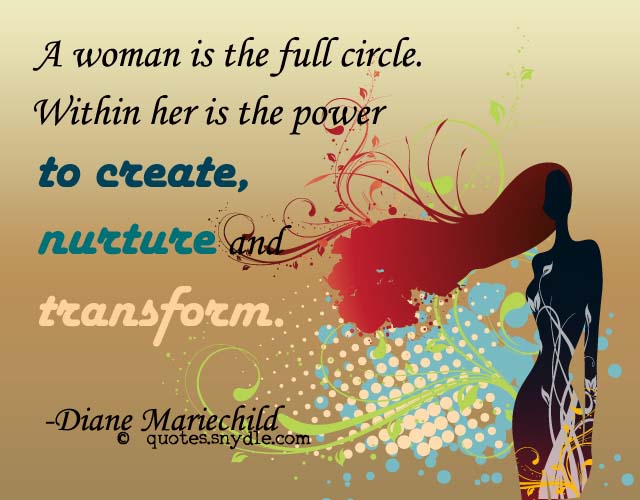 A woman is the full circle. Within her is the power to create, nurture and transform.
— Diane Mariechild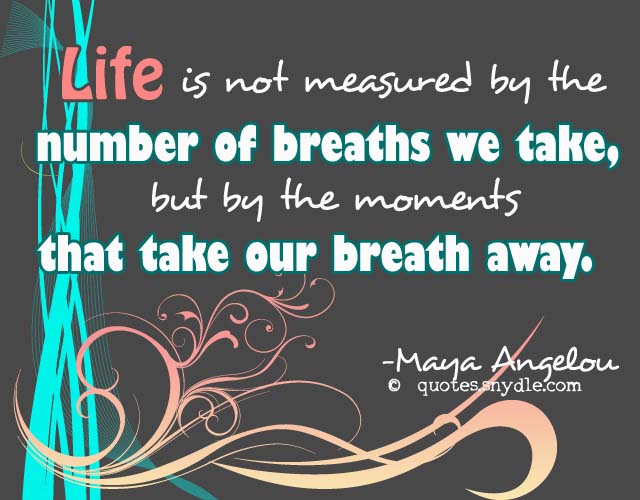 Life is not measured by the number of breaths we take, but by the moments that take our breath away.
— Maya Angelou
A woman is like a tea bag, you cannot tell how strong she is until you put her in hot water.
— Nancy Davis Reagan
Courage is like a muscle. We strengthen it by use.
— Ruth Gordo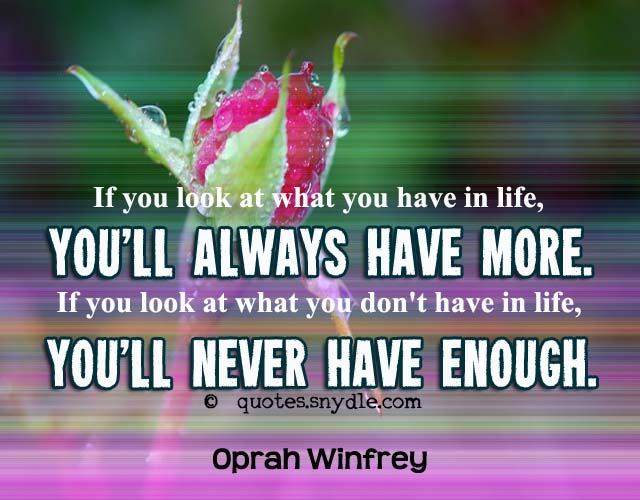 If you look at what you have in life, you'll always have more. If you look at what you don't have in life, you'll never have enough.
— Oprah Winfrey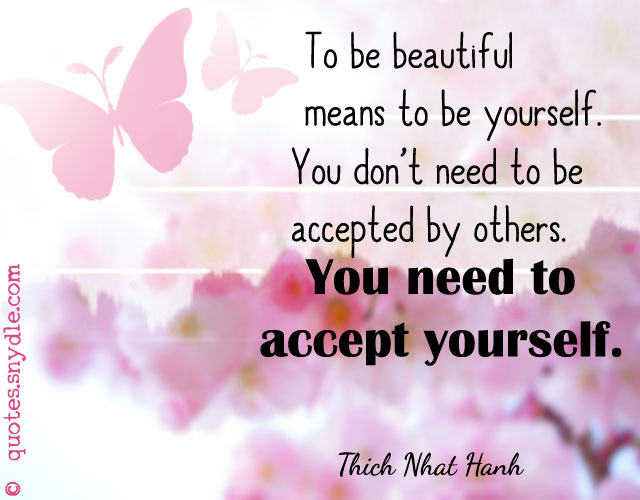 To be beautiful means to be yourself. You don't need to be accepted by others. You need to accept yourself.
— Thich Nhat Hanh
If you don't like being a doormat then get off the floor.
— Unknown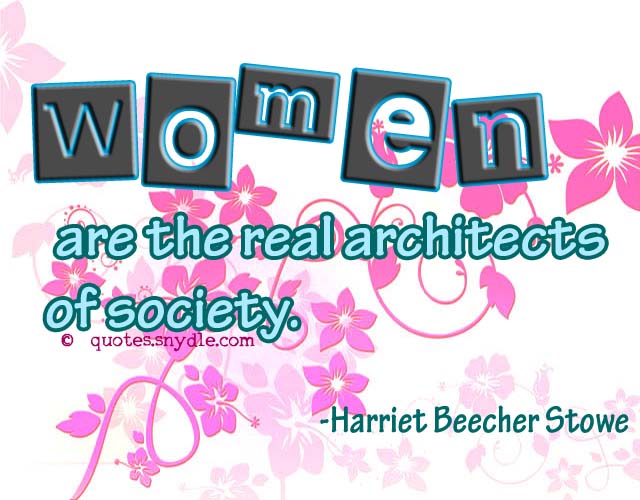 Inspirational Quotes for Young Women
Very few women are able to reach within themselves and believe that they have got what it takes to make an impact on their own personal lives, their families and the societies they live in. Here are some of the best inspirational quotes for young women today.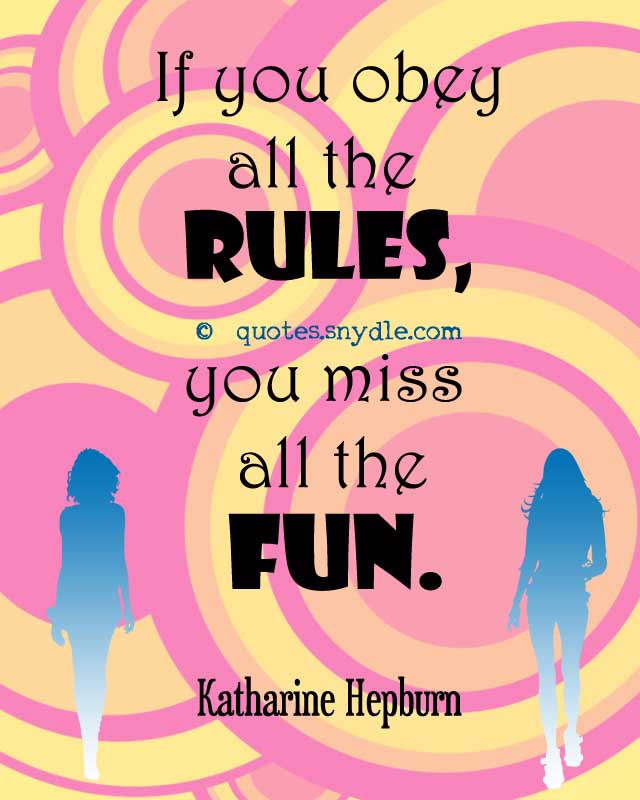 If you obey all the rules, you miss all the fun.
— Katharine Hepburn.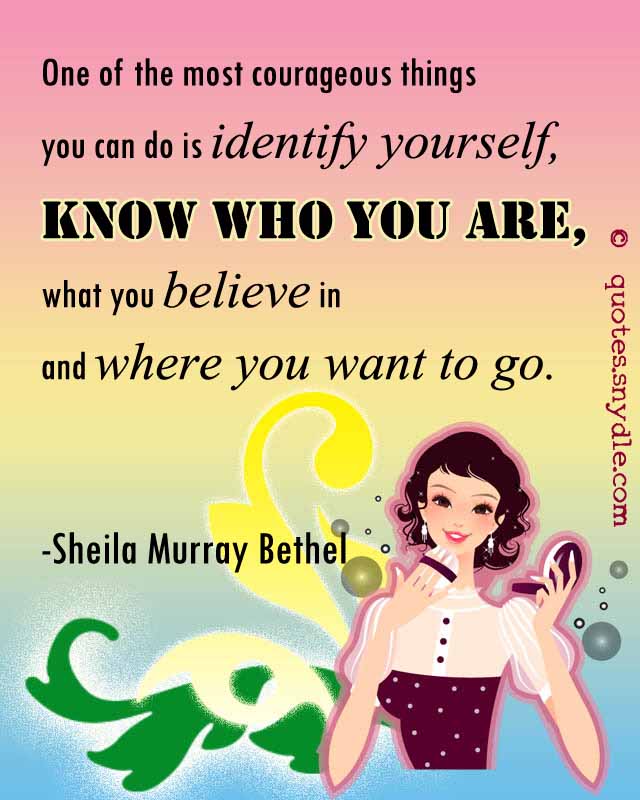 One of the most courageous things you can do is identify yourself, know who you are, what you believe in and where you want to go.
— Sheila Murray Bethel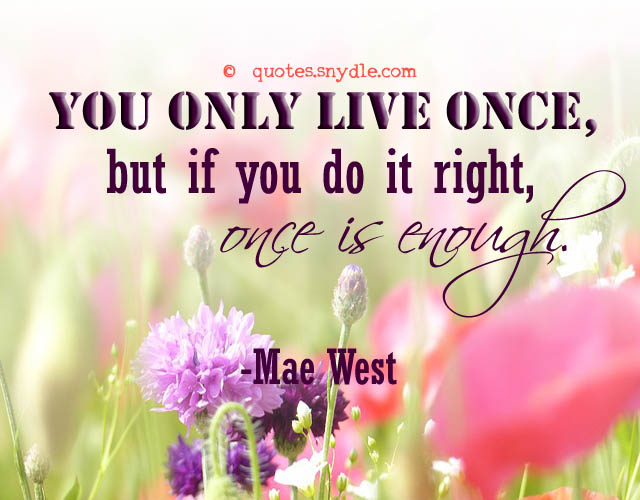 You only live once, but if you do it right, once is enough.
— Mae West
I love to see a young girl go out and grab the world by the lapels. Life's a bitch. You've got to go out and kick ass.
— Maya Angelou
The most effective way to do it, is to do it.
— Amelia Earhart
Woman must not accept; she must challenge. She must not be awed by that which has been built up around her; she must reverence that woman in her which struggles for expression.
— Margaret Higgins Sanger
Remove those 'I want you to like me' stickers from your forehead and, instead, place them where they truly will do the most good – on your mirror!
— Susan Jeffers
How wrong is it for a woman to expect the man to build the world she wants, rather than to create it herself?
— Anaïs Nin
Inspirational Bible Quotes for Women
There is a God-given ability in every woman to excel but sadly only a few every reach their full potential. With these inspiring quotes for women from the bible, hopefully you can find courage and inspiration to strive in today's society.
A gracious woman gets honor, and violent men get riches.
— Proverbs 11:16
She opens her hand to the poor and reaches out her hands to the needy. She is not afraid of snow for her household, for all her household are clothed in scarlet.
— Proverbs 31:20-21
Consider it all joy, my brethren, when you encounter various trials, knowing that the testing of your faith produces endurance. And let endurance have its perfect result, so that you may be perfect and complete, lacking in nothing.
— James 1:2-4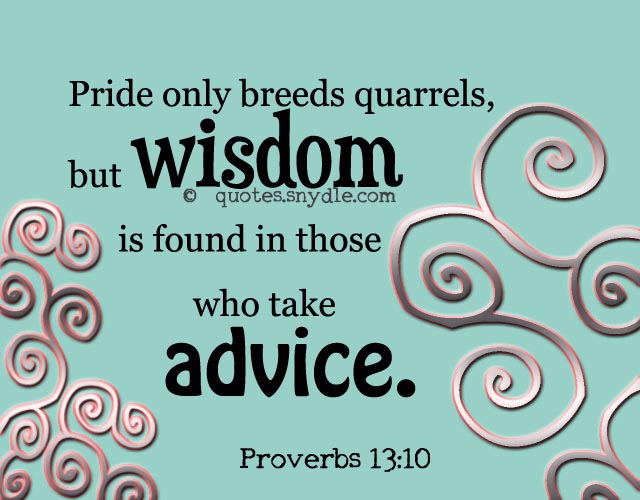 Pride only breeds quarrels, but wisdom is found in those who take advice.
— Proverbs 13:10
Therefore I tell you, do not worry about your life, what you will eat or drink; or about your body, what you will wear. Is not life more important than food, and the body more important than clothes?
— Matthew 6:25
Daily Inspirational Quotes for Women
It all starts with simple words read or heard, and a heart that is receptive and change begins forming from within. Start your day with these daily inspiring quotes for women out there.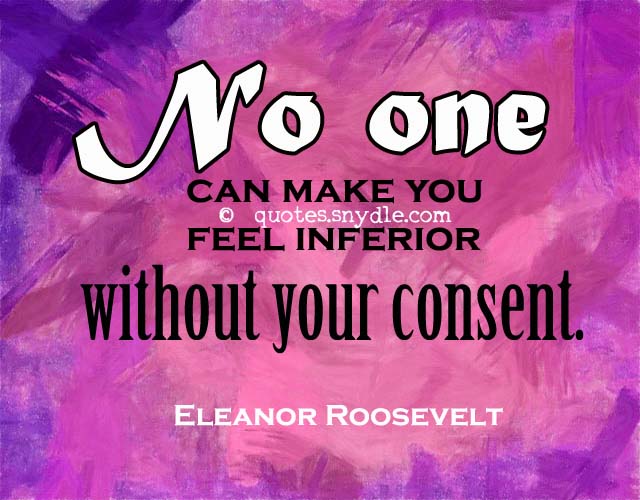 No one can make you feel inferior without your consent.
— Eleanor Roosevelt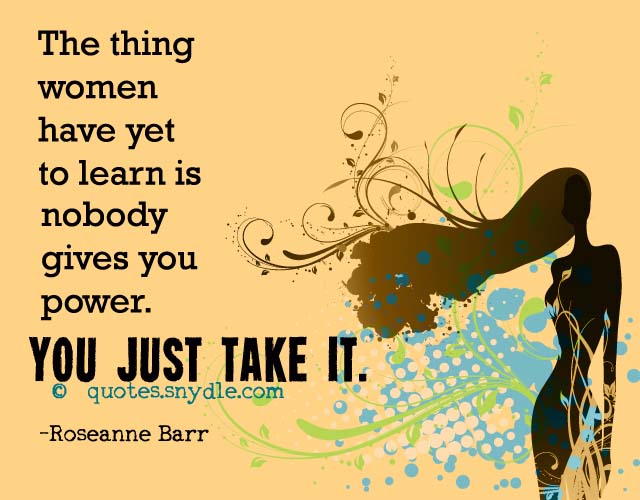 The thing women have yet to learn is nobody gives you power. You just take it.
— Roseanne Barr
A lot of people are afraid to say what they want. That's why they don't get what they want.
— Madonna
When we do the best we can, we never know what miracle is wrought in our life, or in the life of another.
— Helen Keller.
It took me quite a long time to develop a voice, and now that I have it, I am not going to be silent.
— Madeleine Albright
I don't think of all the misery but of the beauty that still remains.
— Anne Frank
Look at everything as though you were seeing it either for the first or last time. Then your time on earth will be filled with glory.
— Betty Smith
The most common way people give up their power is by thinking they don't have any.
— Alice Walker.
More Inspirational Quotes for Women
For some it may be instant and take a very short time, for others it may take a life time but change, no matter how small make a great difference by and by. Enjoy these more quotes for women that are inspiring and encouraging.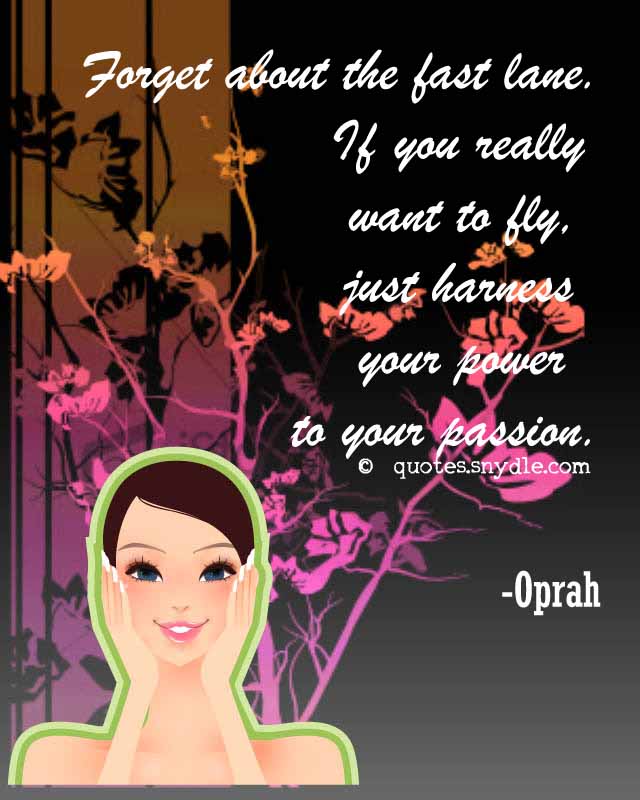 Forget about the fast lane. If you really want to fly, just harness your power to your passion.
— Oprah.
Women are the real architects of society.
— Harriet Beecher Stowe
Women speak two languages – one of which is verbal.
— William Shakespeare
Whatever you do, be different – that was the advice my mother gave me, and I can't think of better advice for an entrepreneur. If you're different, you will stand out.
— Anita Roddick
When you forgive, you heal your own anger and hurt and are able to let love lead again. It's like spring cleaning for your heart.
— Marci Shimoff
A woman has got to love a bad man once or twice in her life, to be thankful for a good one.
— Marjorie Kinnan