Being in a long distance relationship is very challenging. It's not just the longing the couple has to suffer. In long distance relationship, trust, love and ability to understand is being tested. Love may be enough to keep the relationship going, however, partners may still feel sad, depressed and tend to give up. This is where these inspirational and best long distance relationship quotes and sayings come handy as they can boost and motivate the couple to keep going. We also put some picture quotes for long distance relationship.
Best Long Distance Relationship Quotes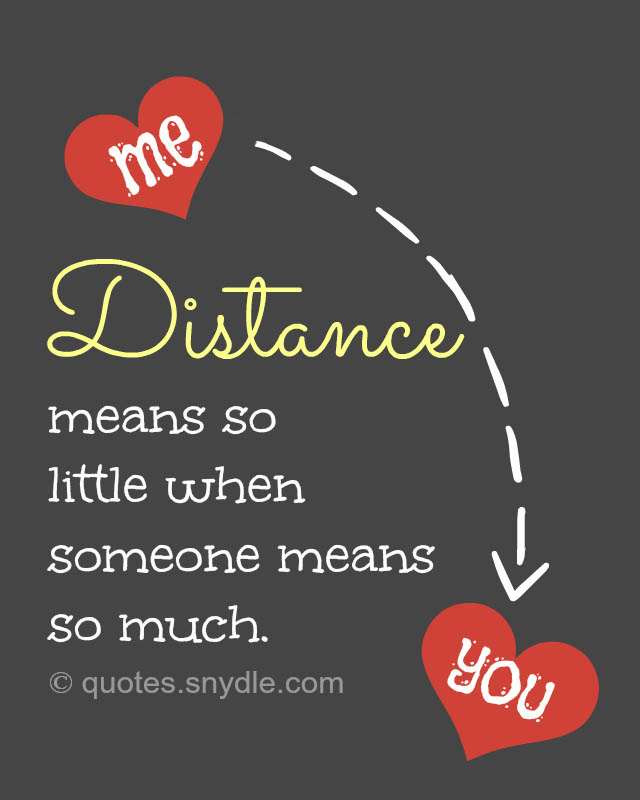 Distance means so little when someone means so much.
— Unknown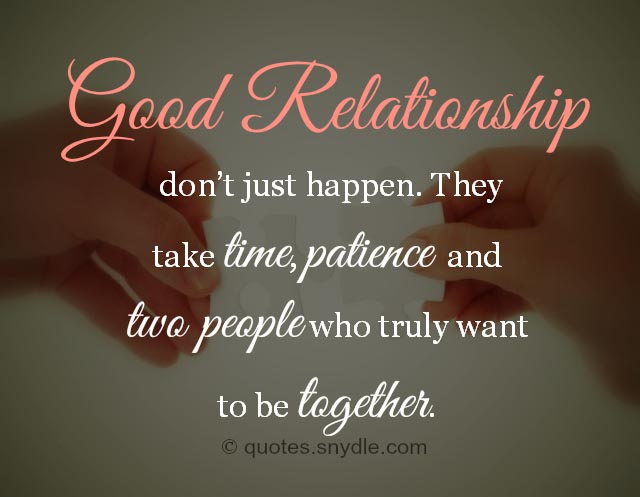 Good relationships don't just happen. They take time, patience and two people who truly want to be together.
— Unknown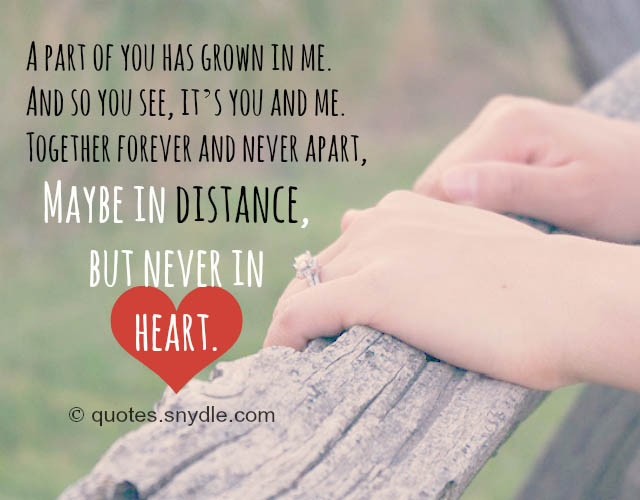 A part of you has grown in me.
And so you see, it's you and me
Together forever and never apart,
Maybe in distance, but never in heart.
— Anonymous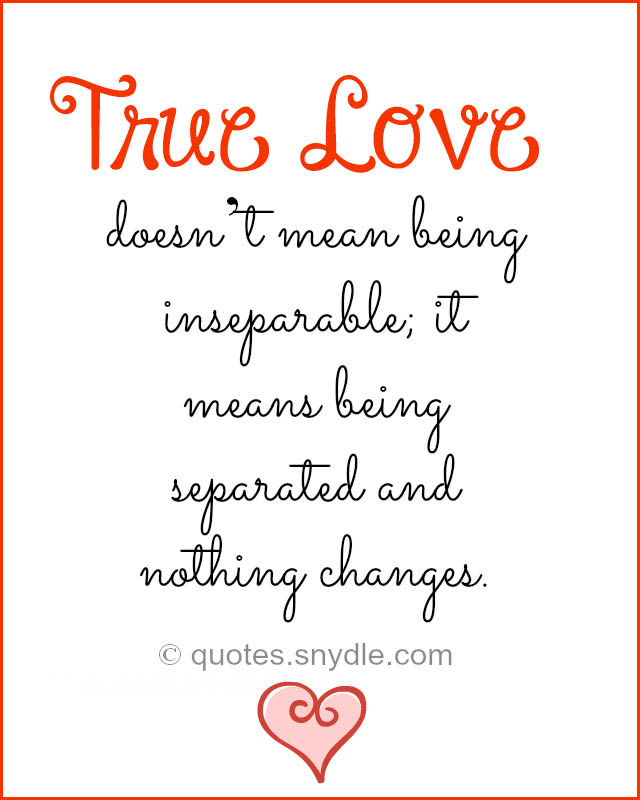 True love doesn't mean being inseparable; it means being separated and nothing changes.
— Anonymous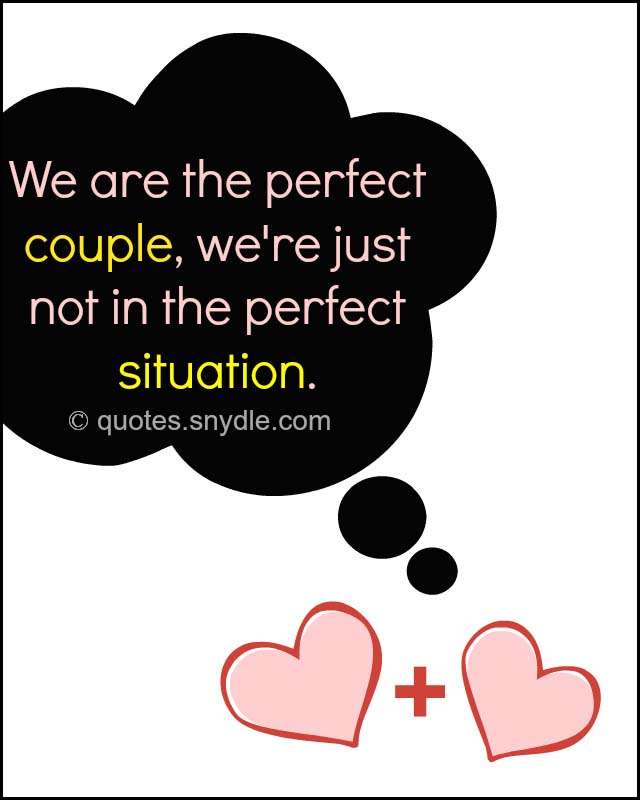 We are the perfect couple, we're just not in the perfect situation.
— Unknown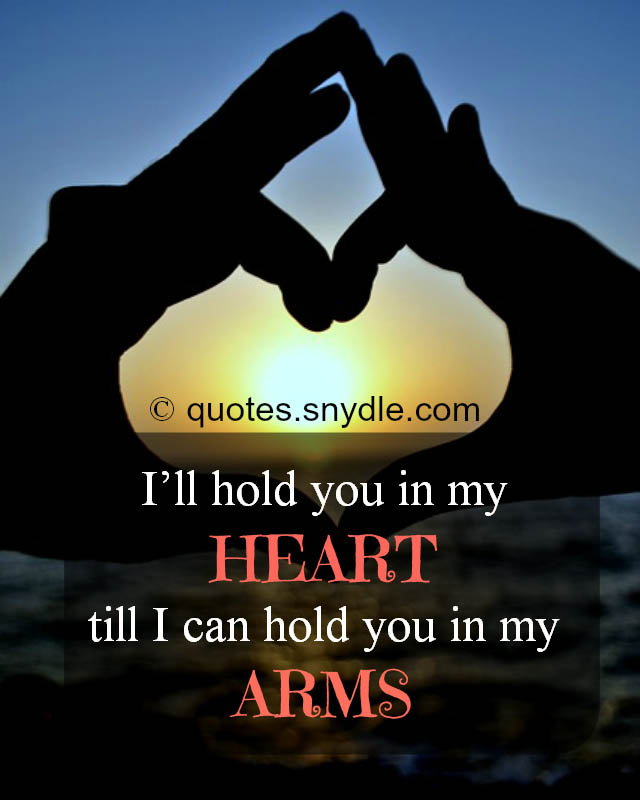 I'll hold you in my heart, till I can hold you in my arms.
— Anonymous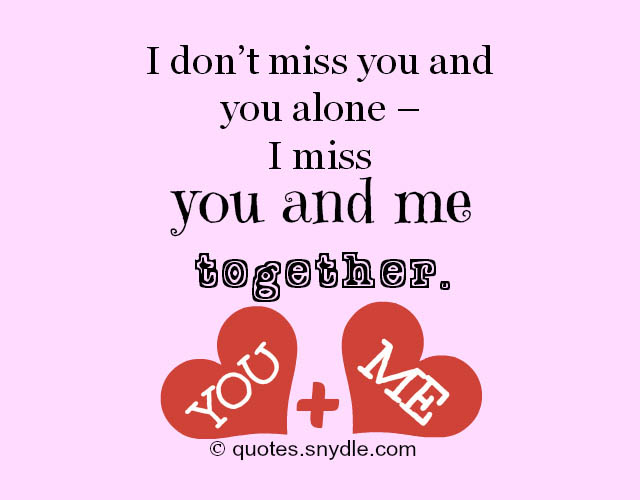 I don't miss you and you alone – I miss you and me together.
— Anonymous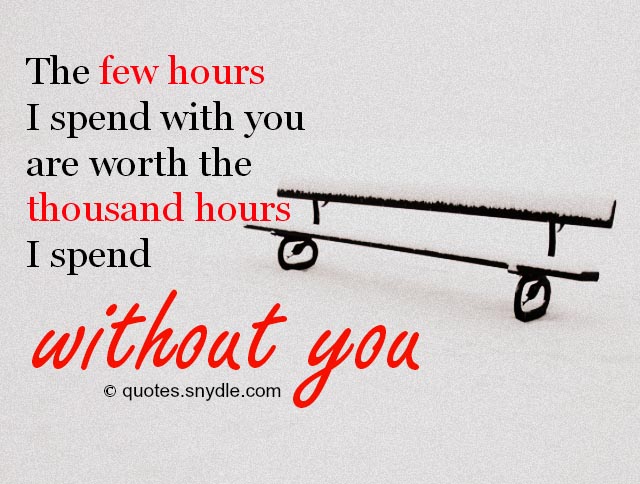 The few hours I spend with you are worth the thousand hours I spend without you.
— Unknown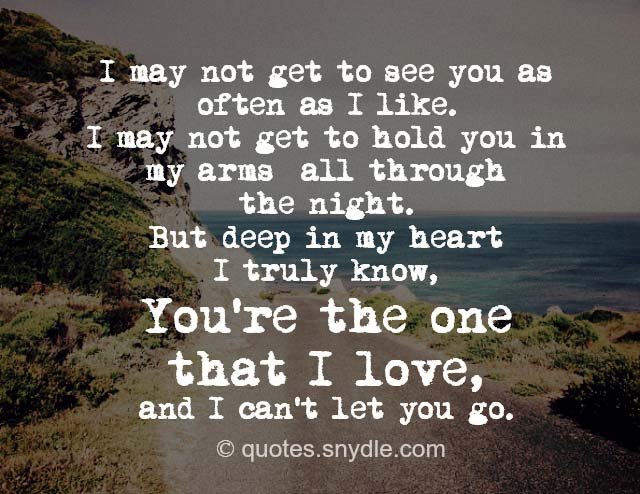 I may not get to see you as often as I like.
I may not get to hold you in my arms all through the night.
But deep in my heart I truly know,
You're the one that I love, and I can't let you go.
— Anonymous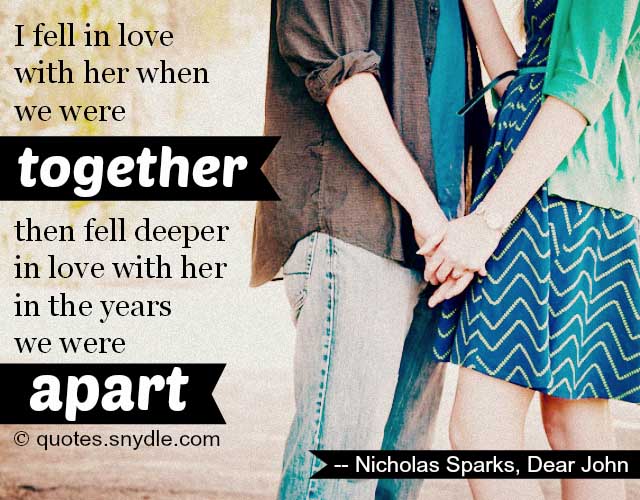 I fell in love with her when we were together, then fell deeper in love with her in the years we were apart.
— Nicholas Sparks, Dear John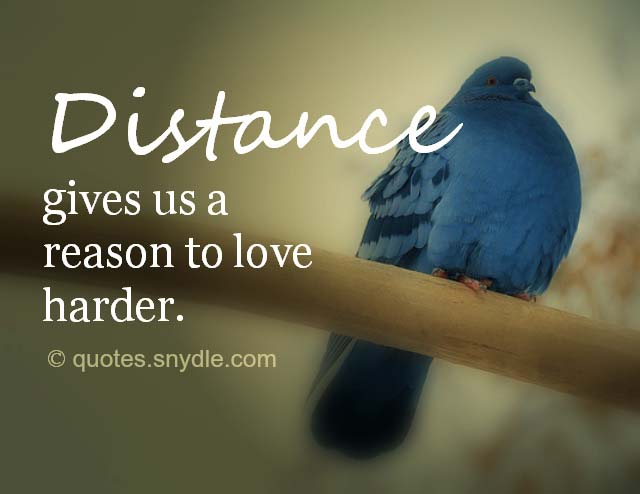 Distance gives us a reason to love harder.
— Anonymous
A journey of a thousand miles begins with a single step.
— Lao-tzu
Cute Long Distance Relationship Quotes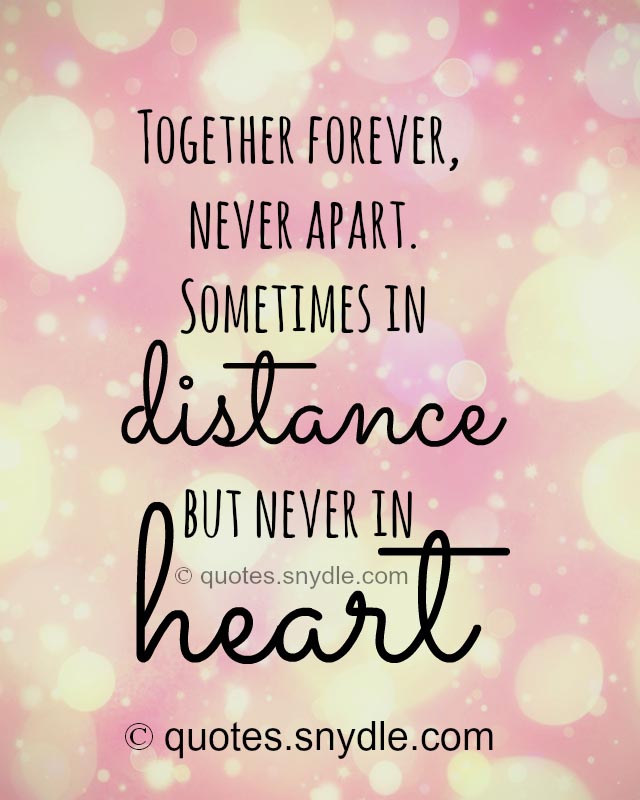 Together forever, never apart. Sometimes in distance, but never in heart.
— Anonymous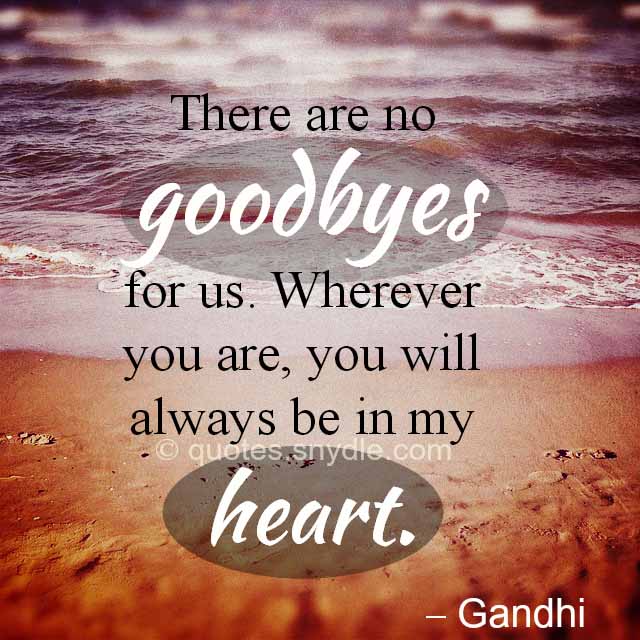 There are no goodbyes for us. Wherever you are, you will always be in my heart.
– Gandhi
If the only place where I could see you was in my dreams, I'd sleep forever.
— Anonymous
If need be, you can live in my heart…rent free…all utilities included.
— Grace Nagar
If the days allow us to see each other, memories will, and if my eyes can't see you, my heart will never forget you.
— Anonymous
When you feel alone, just look at the spaces between your fingers, remember that in those spaces you can see my fingers locked with yours forever.
— Anonymous
The thought of being with you tomorrow, gives me the strength to get through today.
— Anonymous
No matter how many years pass, how much distance exists between us, wherever we are in the world – even if the universe itself tries to keep us separated – I will always find my way to you.
— Anonymous
I can't text you roses, or fax you my heart. I'd email you kisses, but we'd still be apart. I love you to pieces, and just wish you'd see that I care for you so much because you mean the world to me.
— Mahmoud El Hallab
Long Distance Relationship Love Quotes
Love is missing someone whenever you're apart, but somehow feeling warm inside because you're close in heart.
— Kay Knudsen
The reason it hurts so much to separate is because our souls are connected.
— Anonymous
Remember how far you've come, not just how far you have to go. You are not where you want to be, but neither are you where you used to be.
—Rick Warren.
When two hearts are meant for each other, no distance is too far, no time too long and no other love can break them apart.
— Anonymous
Absence makes the heart grow fonder, but it sure makes the rest of you lonely.
– Charlie Brown
The best and most beautiful things in the world cannot be seen or even touched. They must be felt with the heart."
— Helen Keller
Waiting is painful. Forgetting is painful. But not knowing which to do is the worst kind of suffering.
— Paulo Coelho
It's not gonna be easy. It's gonna be really hard. We're gonna have to work at this every day, but I want to do that because I want you. I want all of you, forever, you and me, every day.
— Nicholas Sparks, The Notebook
Quotes on Long Distance Relationship
Absence makes thy heart grow fonder.
— Anonymous
It's not the distance that's the enemy, but the endless time I have to wait until I hold you in my arms.
— Besski Livius
In true love the smallest distance is too great, and the greatest distance can be bridged.
— Hans Nouwens
Love knows not distance; it hath no continent; its eyes are for the stars.
— Gilbert Parker
Your absence has not taught me how to be alone; it merely has shown that when together we cast a single shadow on the wall.
— Doug Fetherling
Sometimes you have to be apart from the people you love, but that doesn't make you love them any less. Sometimes you love them more.
— Nicholas Sparks, The Last Song
Distance does not ruin people's relationships. You don't have to see someone every day to be in love.
— Anonymous
There is never a moment that I do not think of you. So when you think of me, smile knowing that in that very moment we are together at least in thought.
— Anonymous
You may not be there yet, but you're closer than you were yesterday.
— Anonymous
Inspirational Long Distance Relationship Quotes
You know you've found true love when you catch yourself falling in love with the same person over and over again despite them being miles away from you.
— Anonymous
When you feel like giving up, remember why you held on for so long.
— Anonymous
I didn't want to kiss you goodbye that was the trouble; I wanted to kiss you goodnight. And there's a lot of difference.
— Ernest Hemingway
As long as you're in my heart and I am in yours, there is no distance great enough that our love can't travel.
— Anonymous
Distance teaches us to really appreciate the love we create with that special person. It strengthens and tests our love and we should be grateful for that.
— Anonymous
Be the success story you're looking for. Be the ones to survive your long distance relationship. Be the inspiration for others to follow.
— Dee King