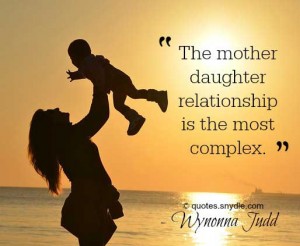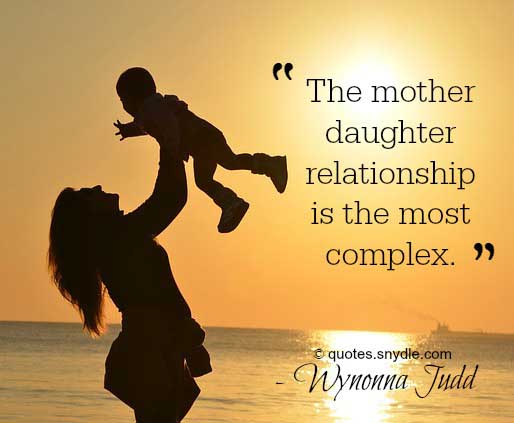 The mother and daughter relationship remains one of the most simple and yet complex relationships at the same time because the tendency has always been that girls lean more towards their fathers than their mothers. It is no wonder that great men and women found the need to write quotes about this relationship as an inspiration to those who often are quite baffled at how things are going in their own lives.
Though mother and daughter relationships differ, basically there are a lot of similarities and understanding other people's experiences can make a lot of difference in the way that these ladies in a family handle each other. Below are some of the popular and famous mother daughter quotes that define the relationship between a mom and a daughter.
Short Mother Daughter Quotes
Quotes about mothers and daughters written by those before you should inspire you not to give up on your relationship with your mother or your daughter. Take a look at these short yet meaningful quotes about mothers and daughters.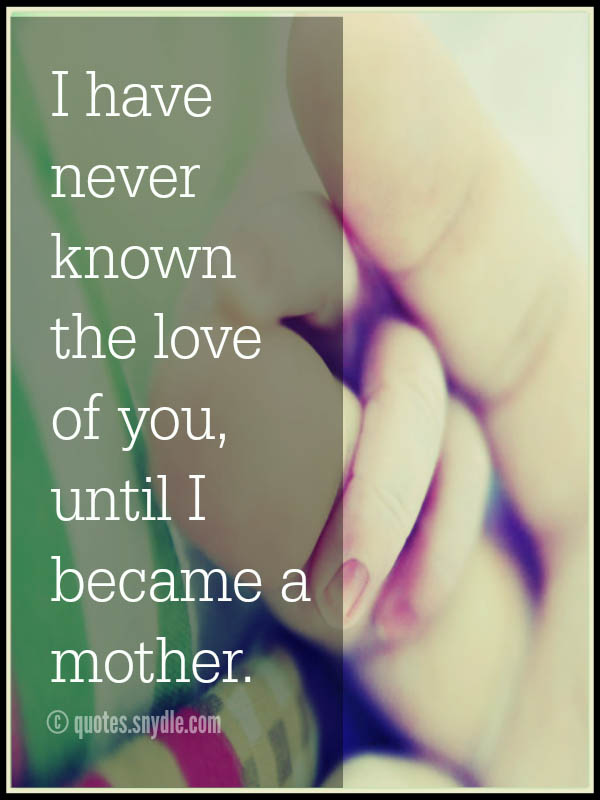 I have never known the love of you, until I became a mother.
– Anonymous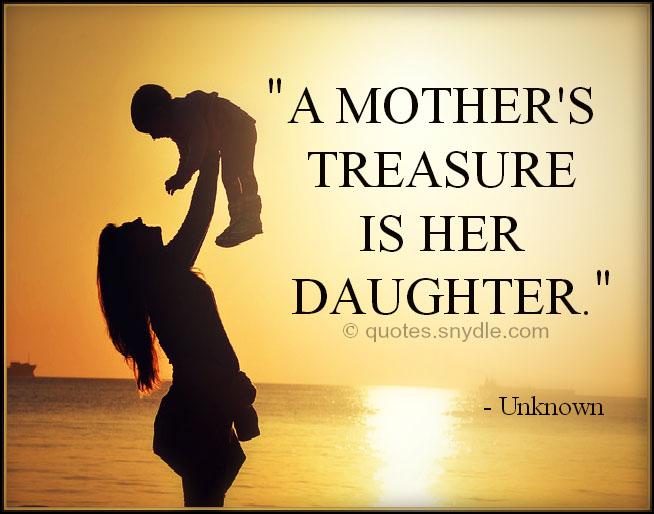 A mother's treasure is her daughter.
– Unknown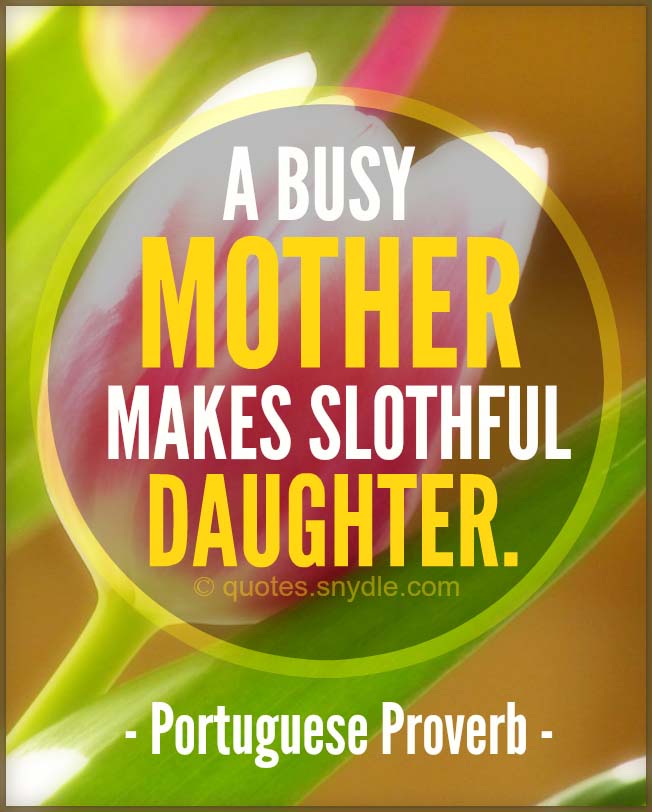 A busy mother makes slothful daughters.
– Portuguese Proverb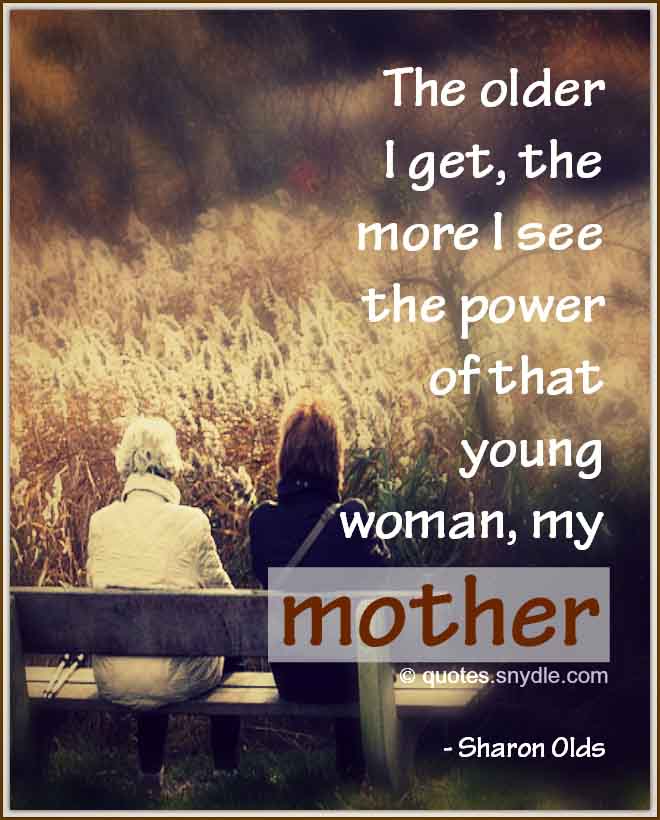 The older I get, the more I see the power of that young woman, my mother.
– Sharon Olds
A daughter is a day brightener and a heart warmer.
– Unknown
A man's work is from sun to sun, but a mother's work is never done.
– Unknown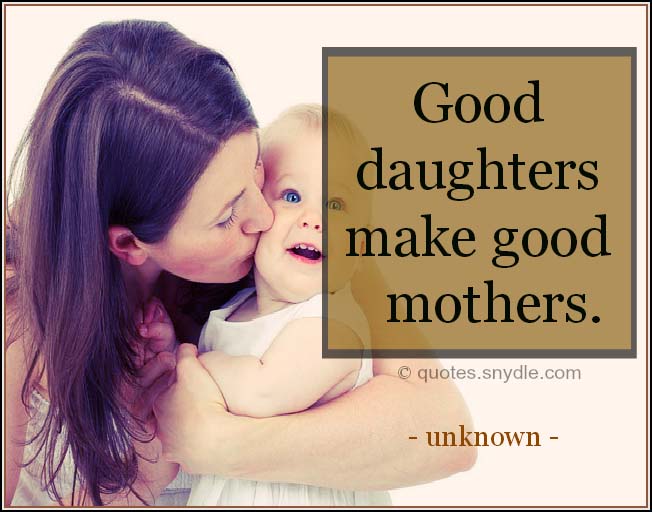 Good daughters make good mothers.
– Unknown
Being mother is the biggest blessing and the toughest job.
– Unknown
Like Mother, like Daughter.
– Proverb
What the daughter does, the mother did.
– Proverb
No influence is so powerful as that of the mother.
– Sarah Josepha Hale
The strength of motherhood is greater than natural laws.
– Barbar Kingsolver
Mother Daughter Relationship Quotes
Women have had to deal with either mothers or daughters whether biological or adopted. Knowing what to expect and seeing how others have coped can be a great source of inspiration and even keep you sane and bring some semblance of normalcy in even difficult relationships.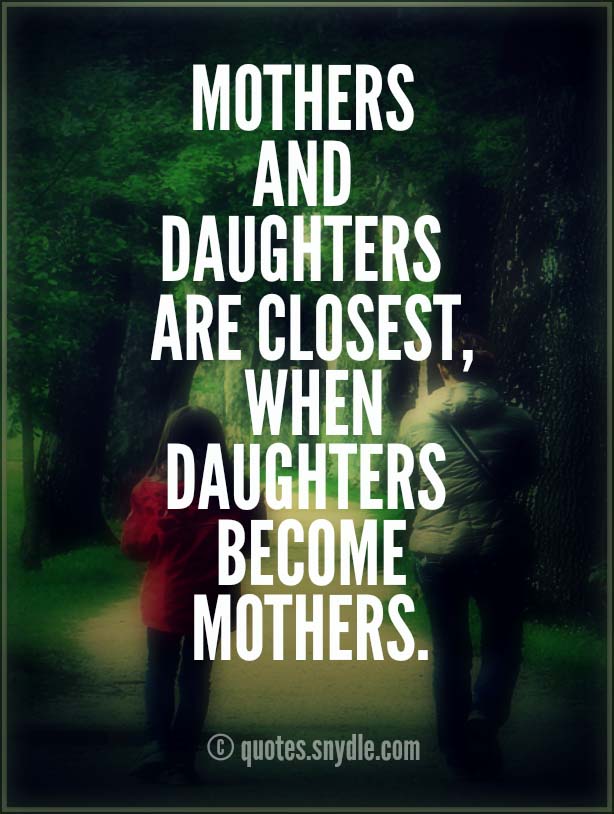 Mothers and daughters are closest, When daughters become mothers.
– Unknown
When a mother quarrels with a daughter, she has a double dose of unhappiness–hers from the conflict, and empathy with her daughte r's from the conflict with her. Throughout her life a mother retains this special need to maintain a good relationship with her daughter.
– Terri Apter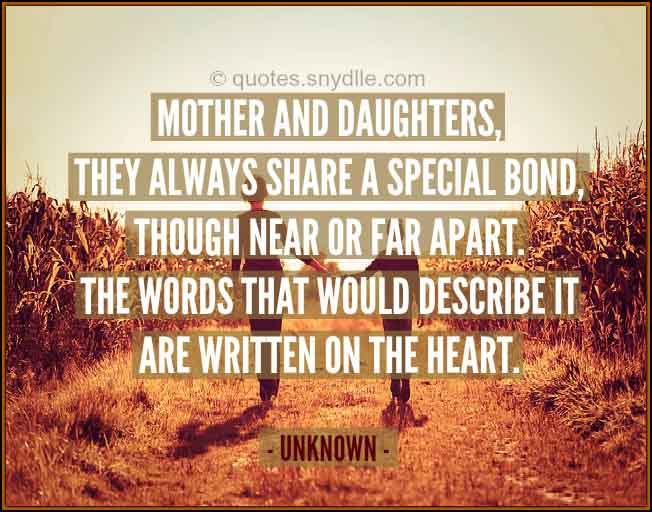 Mother and daughters, they always share a special bond – though near or far apart. The words that would describe it are written on the heart.
– Unknown
Because mothers and daughters can affirm and enjoy their commonalities more readily, they are more likely to see how they might ad vance their individual interests in tandem, without one having to be sacrificed for the other.
– Mary Field Belenky
The important thing for you as a mom is to be there for your daughter as a trusted source of information. That is the duty of all parents, to be there for their children.
– Anonymous
My mother's love has always been a sustaining force for our family, and one of my greatest joys is seeing her integrity, her compassion, her intelligence reflected in my daughters.
– Michelle Obama
Unlike the mother-son relationship, a daughter's relationship with her mother is something akin to bungee diving. She can stake he r claim in the outside world in what looks like total autonomy–in some cases, even "divorce" her mother in a fiery exit from the family–but there is an invisible emotional cord that snaps her back. For always there is the memory of mother, whose judgments are so completely absorbed into the daughter's identity that she may wonder where Mom leaves off and she begins.
– Victoria Secunda
Every mother hopes that her daughter will marry a better man than she did, and is convinced that her son will never find a wife as good as his father did.
– Martin Andersen-Nexö.
The mother-daughter relationship is the most complex.
– Unknown
Raising a daughter is an extremely political act in this culture. Mothers have been placed in a no-win situation with their daught ers: if they teach their daughters simply how to get along in a world that has been shaped by men and male desires, then they betray their daughters' potential But, if they do not, they leave their daughters adrift in a hostile world without survival strategies.
– Elizabeth Debold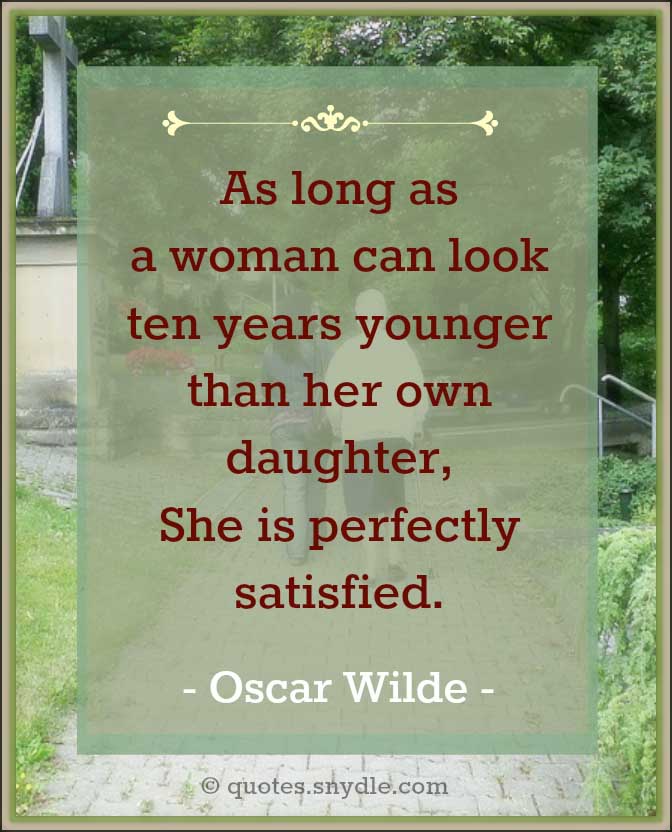 As long as a woman can look ten years younger than her own daughter, She is perfectly satisfied.
– Oscar Wilde
Quotes about Daughter to Mother
Is there something that you want to say to your mom but you can't express it using your own words? Here are some quotes that you can convey to your mother.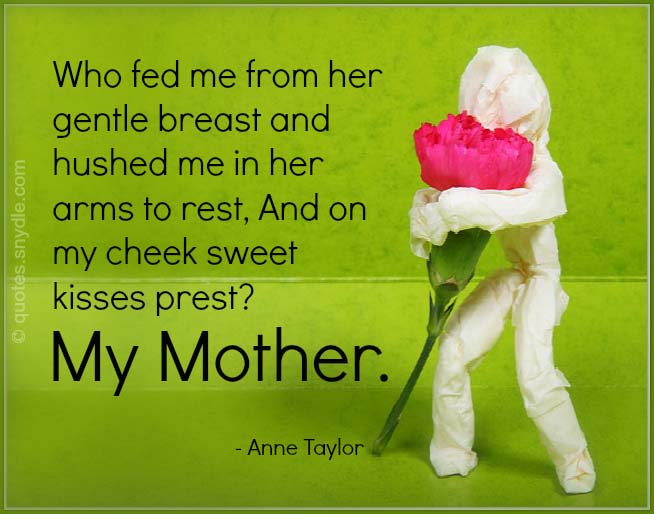 Who fed me from her gentle breast and hushed me in her arms to rest, And on my cheek sweet kisses prest? My Mother.
– Anne Taylor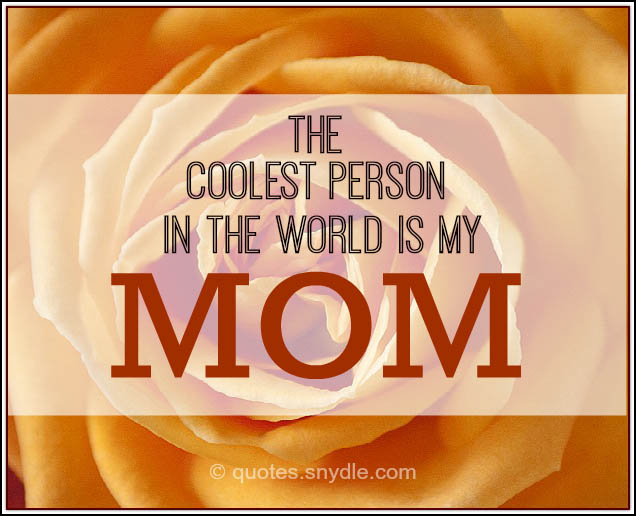 The coolest person in the world is my mom.
– Anonymous
My mom is literally a part of me. You can't say that about many people except relatives, and organ donors.
– Carrie Latet
I love my mother for all the times she said absolutely nothing. . . . Thinking back on it all, it must have been the most difficul t part of mothering she ever had to do: knowing the outcome, yet feeling she had no right to keep me from charting my own path. I thank her for all her virtues, but mostly for never once having said, "I told you so."
– ShareErma Bombeck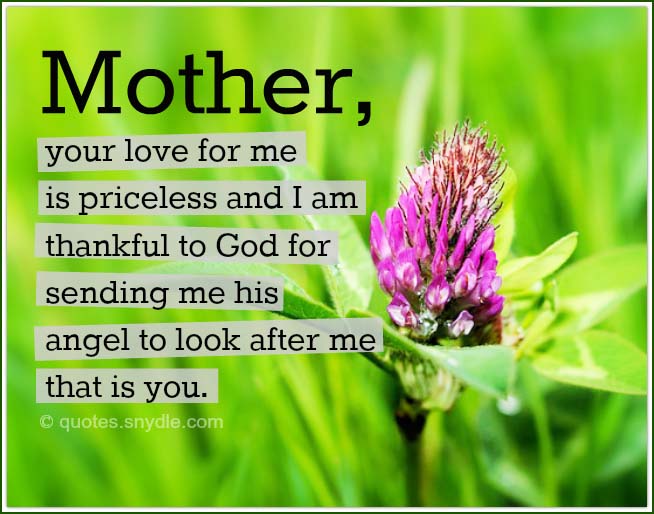 Mother, your love for me is priceless and I am thankful to God for sending me his angel to look after me that is you.
– Anonymous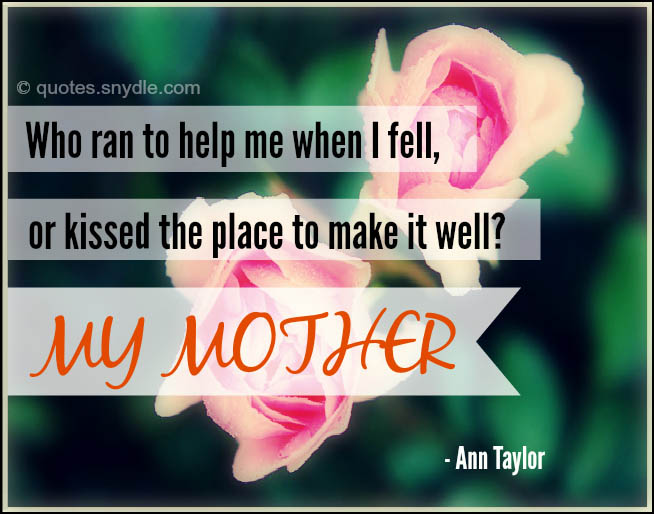 Who ran to help me when I fell, or kissed the place to make it well? My mother.
– Ann Taylor
For the world, you are someone, but for me, you are the world.
– Anonymous
I am sorry for all the times I have hurt you. I just wanted to say that I love you Mom.
– Unknown
My mother has never been involved in my professional life. I am very close to my mother but we keep it on a mother-daughter basis and not a work-related basis.
– Sheena Easton quotes
A mother is not a person to lean on, But a person to make leaning unnecessary.
– Dorothy Canfield
When you are a mother, you are never really alone in your thoughts. A mother always has to think twice, once for herself and once for her child.
– Sophia Loren
Mother is the one we count on for the things that matter most of all.
– Katherine Butler Hathaway
More Mother Daughter Quotes
Reach for those inspiring quotes and find new meaning and direction as to how you can cope and deal with the complexities of this relationship.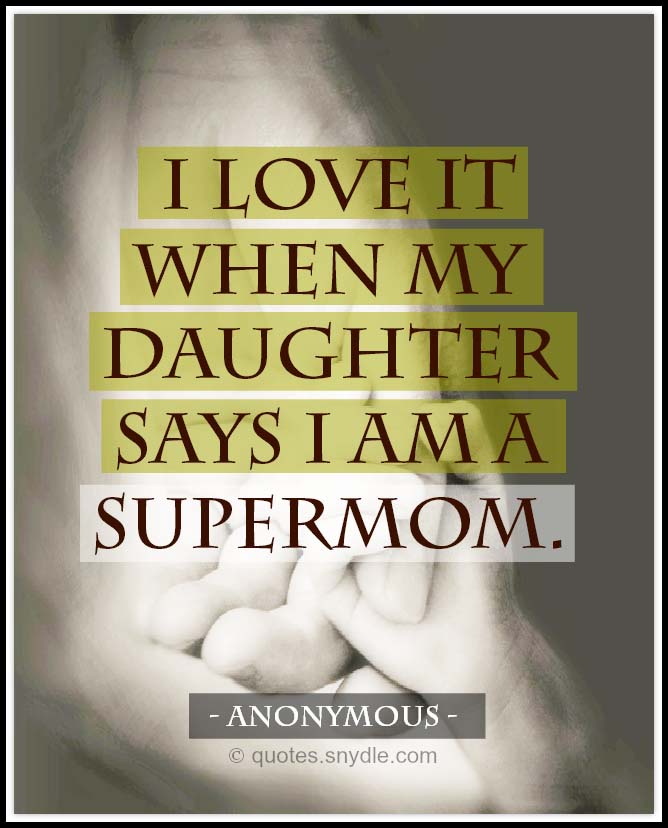 I love it when my daughter says I am a supermom.
– Anonymous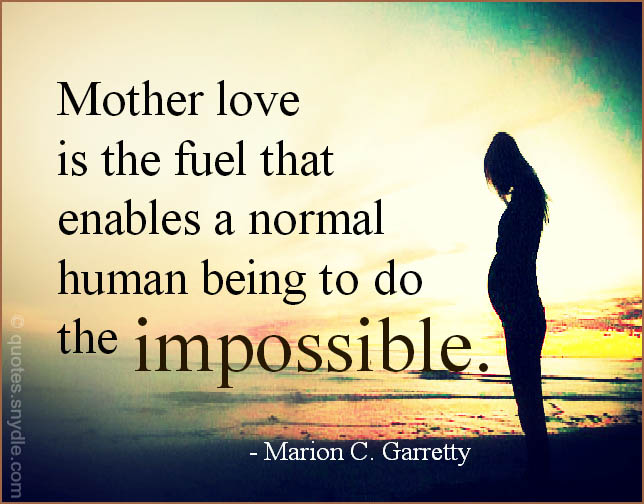 Mother love is the fuel that enables a normal human being to do the impossible.
– Marion C. Garretty
A daughter is a mother's gender partner, her closest ally in the family confederacy, An extension of herself.
– Unknown
A daughter is someone you laugh with, dream with, and love with your all heart.
– Anonymous
Some are kissing mothers and some are scolding mothers, but it is love just the same.
– Pearl S Buck
We mothers are learning to mark our mothering success by our daughters' lengthening flight. When they need us, we are fiercely there. But we do not need them to need us, or to become us.
– Letty Cottin Pogrebin
A daughter is the happy memories of the past, the joyful moments of the present, and the hope and promise of the future.
– Anonymous
A son is a son till he takes him a wife, a daughter is a daughter all of her life
– Anonymous
Mothers are not simply models of femininity to their daughters but also examples of how a woman reacts to a man. Daughters learn a bout fathers, and men, not only by being with Dad but also by observing their parents' marital relationship–or its unraveling.
– Victoria Secunda
We mothers are learning to mark our mothering success by our daughters' lengthening flight.
– Letty Cottin Pogrebin
Of all the haunting moments of motherhood, few rank with hearing your own words come out of your daughter's mouth.
– Victoria Secunda
What children take from us, they give. We become people who feel more deeply, question more deeply, and love more deeply.
– Sonia Taitz
I thought about all of us women and how we spend half our lives rebelling against our mothers and the next half rebelling against our daughters.
– Lois Wyse
A mother-in-law and a daughter-in-law in one house are like two cats in a bag.
– Yiddish Proverb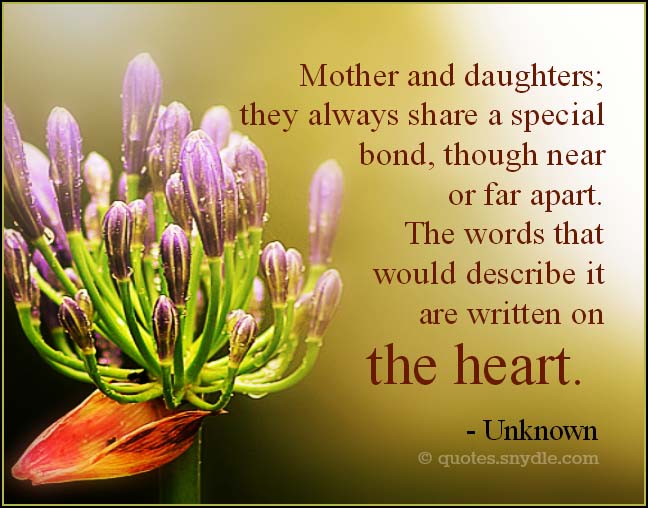 Mother and daughters, they always share a special bond – though near or far apart. The words that would describe it are written on the heart.
– Unknown
My goal is to be cool in my daughter's eyes.
– Unknown
We've begun to raise daughters more like sons, but few have the courage to raise our sons more like our daughters.
– Gloria Steinem
If you would have a good wife, Marry one who has been a good daughter.
– Thomas Fuller