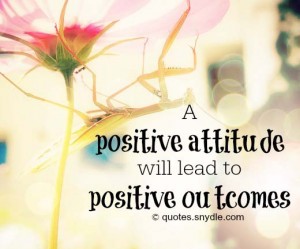 Let's face it, life can be hard and challenging and there are days when all we want to do in the morning is bury our heads under our blankets and not emerge to face the day ahead. But in spite of the challenges it is still a good life and can be faced with a positive attitude. With positive attitude, everything seems to be easier, even when it's not.
Great men and women have written quotes about keeping a positive attitude in the face of great challenges and as one wisely put it, the greatest lessons that we learn are those that we learn when faced with adversities. Today, start your day with a daily dose of positive quotes. Get inspiration and keep motivated with these quotes about positive attitude.
Quotes About Positive Attitude
Keeping a positive attitude can make the difference as to whether we succeed or fail. Negative thoughts will eat you alive, especially in this fast-paced world. Keep your attitude positive with these inspiring and motivating quotes on attitude.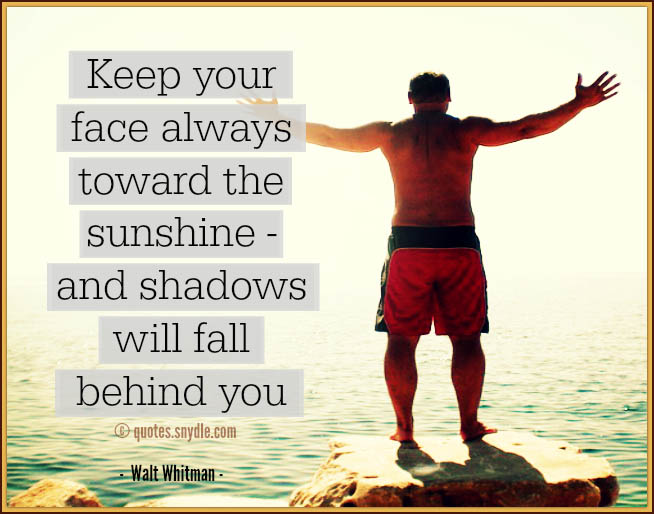 "Keep your face always toward the sunshine – and shadows will fall behind you."
– Walt Whitman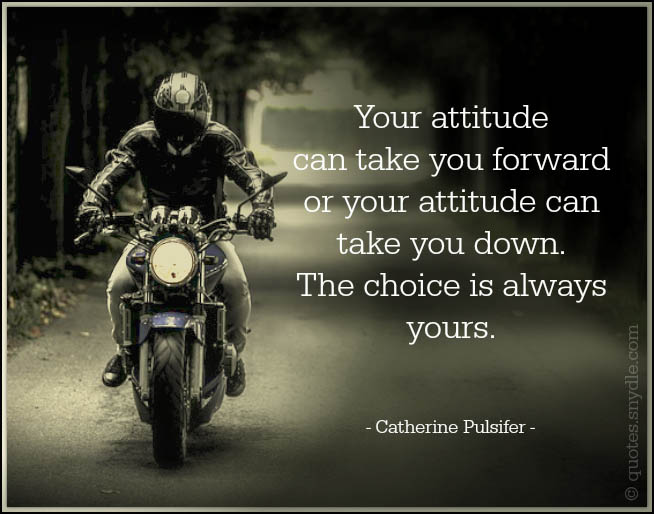 "Your attitude can take you forward or your attitude can take you down. The choice is always yours!"
– Catherine Pulsifer
Attitude is a little thing that makes a big difference.
– Winston Churchill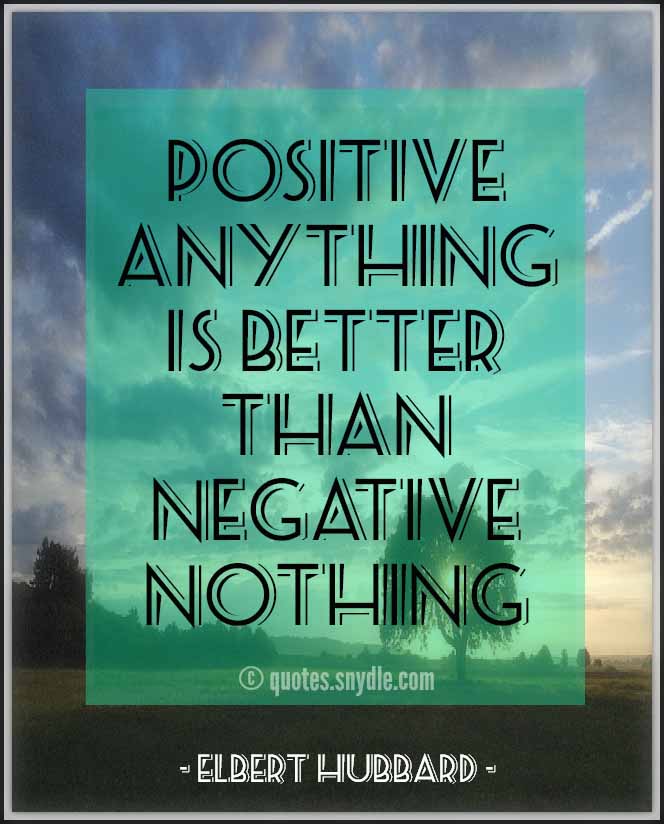 "Positive anything is better than negative nothing."
– Elbert Hubbard
A positive attitude can really make dreams come true – it did for me.
– David Bailey
Every day may not be good, but there's something good in every day.
– Unknown
"Life is full of surprises, so you may as well get used to it."
– Susan Meddaugh
It's so hard when I have to, and so easy when I want to.
– Annie Gottlier
A positive attitude is not going to save you. What it's going to do is, everyday, between now and the day you die, whether that's a short time from now or a long time from now, that every day, you're going to actually live.
– Elizabeth Edwards
A 'positive attitude' is definitely one of the keys to success. My definition of a positive attitude is a simple one: Looking for the good in all circumstances.
– Catherine Pulsifer
"Believing in negative thoughts is the single greatest obstruction to success."
– Charles F. Glassman
Life is not happening to you. Life is responding to you.
– Author Unknown
Whenever you fall, pick something up.
– Oswald Avery
Defeat is not bitter unless you swallow it.
– Joe Clark
"The optimist sees opportunity in every danger; the pessimist sees danger in every opportunity."
– Winston Churchill
Virtually nothing is impossible in this world if you just put your mind to it and maintain a positive attitude.
– Lou Holtz
Wherever you go, no matter what the weather, always bring your own sunshine.
– Anthony J. D'Angelo
Best Quotes on Positive Attitude
One such inspiring quote is that made by Thomas Edison when he had gone through ten thousand failed attempts to make a light bulb. This great man never gave up and that is why we enjoy lighting in our homes and elsewhere. Read on and find more inspiring quotes on positive attitude.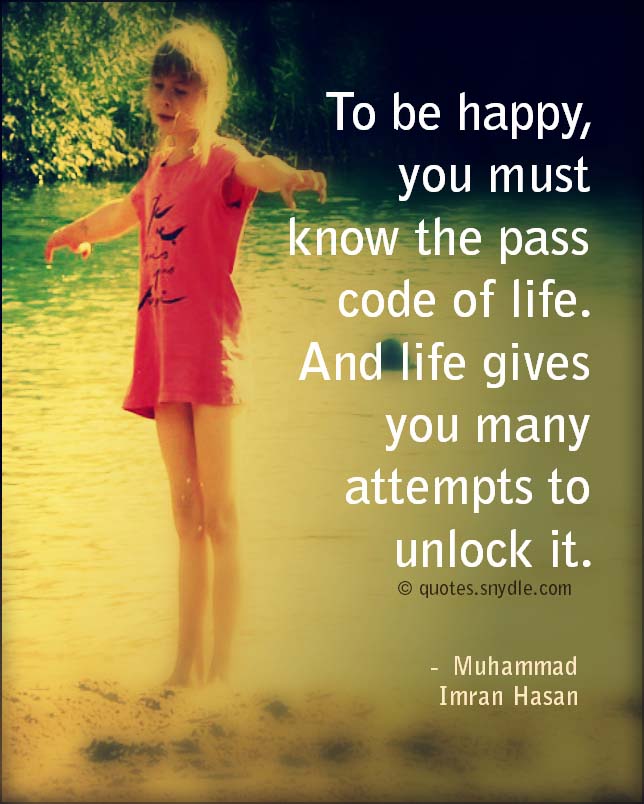 "To be happy, you must know the pass code of life. And life gives you many attempts to unlock it."
– Muhammad Imran Hasan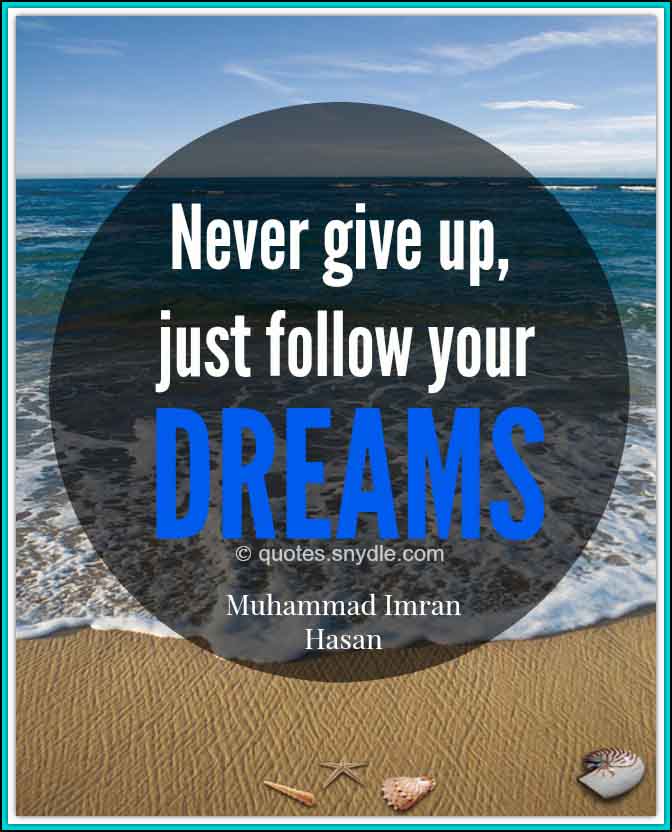 "Never give up, just follow your dreams"
– Muhammad Imran Hasan
"To make a change, you must be: willing to commit, willing to change, willing to have an open mind, and willing to take action!"
– Tae Yun Kim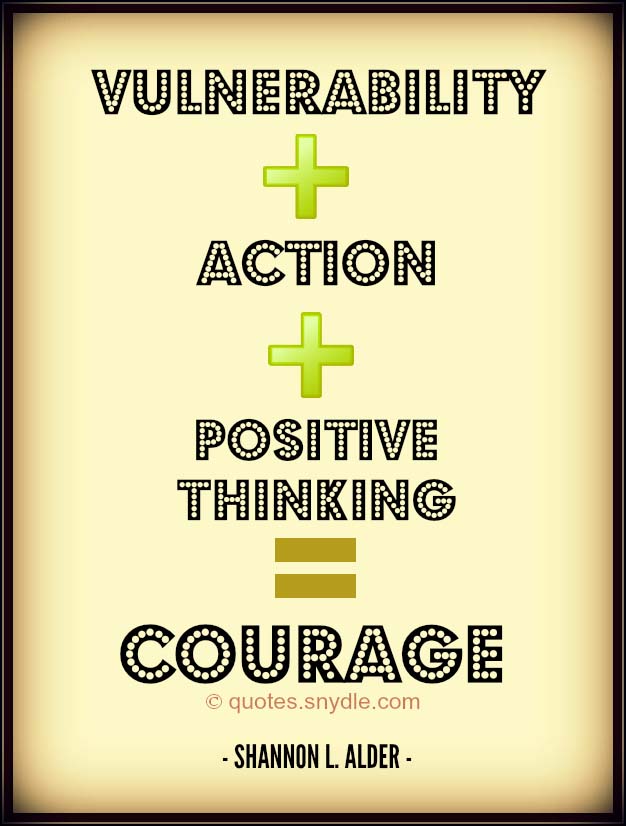 "Vulnerability + Action + Positive Thinking = Courage"
– Shannon L. Alder
"Love is an inspiration. It moves you. It motivates you. It keeps you going."
– Dee Dee Artner
"We all live in suspense from day to day; in other words, you are the hero of your own story."
– Mary McCarthy
Staying positive is one of the hardest fights, though I'm happy I'm in it.
– Daniel
"Don't go around saying the world owes you a living; the world owes you nothing; it was here first."
– Mark Twain
Being in a good frame of mind helps keep one in the picture of health.
– Author Unknown
The only disability in life is a bad attitude.
– Scott Hamilton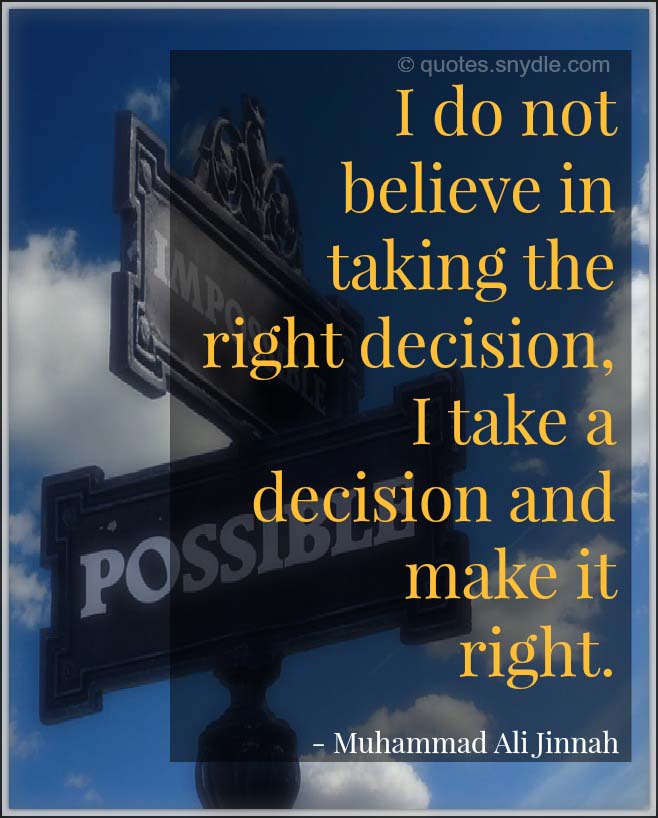 "I do not believe in taking the right decision, I take a decision and make it right."
– Muhammad Ali Jinnah
If you don't get everything you want, think of the things you don't get that you don't want.
– Oscar Wilde
"The only difference between a good day and a bad day is your ATTITUDE!"
– Dennis S. Brown
To be wronged is nothing unless you continue to remember it.
– Confucius
"Positive thinking won't let you do anything but it will let you do everything better than negative thinking will."
– Zig Ziglar
"Gratitude is more of a compliment to yourself than someone else."
– Raheel Farooq
Enjoy the little things, for one day you may look back and realize they were the big things.
– Robert Brault
Positive Attitude Quotes for Work And Success
Reading through inspirational quotes that challenge us to keep a positive attitude and embracing this wonderful advice can change the way we perceive life. To achieve success in everything you do, you must have a positive attitude.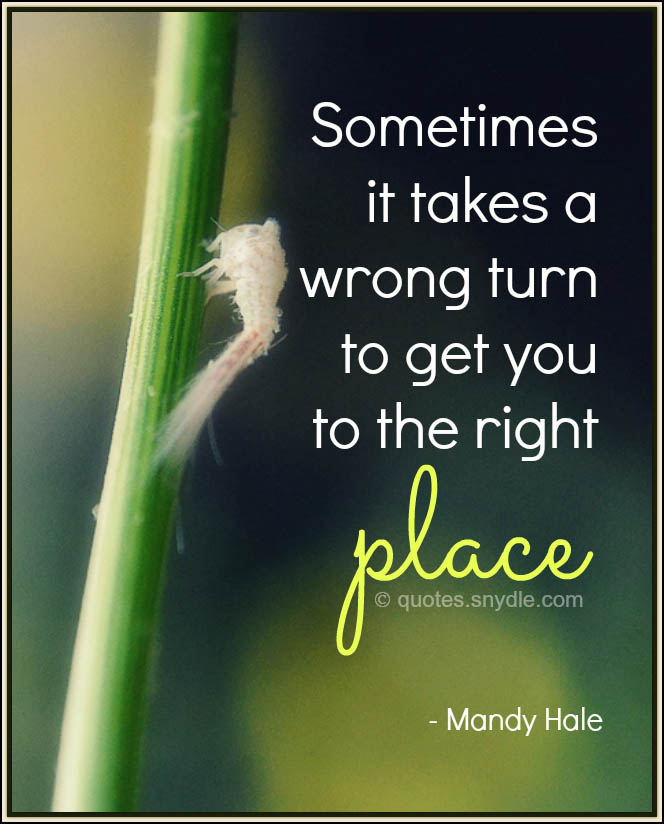 "Sometimes it takes a wrong turn to get you to the right place."
– Mandy Hale
"Always strive to aim for the highest peak of the goals in life you have set, this way if you manage to reach even half way toward a goal, landing in the middle is not such a bad place to end up."
– Victoria Addino
"Adventure isn't hanging on a rope off the side of a mountain. Adventure is an attitude that we must apply to the day to day obstacles of life – facing new challenges, seizing new opportunities, testing our resources against the unknown and in the process, discovering our own unique potential."
– John Amatt
"Focus on what you can do right now, not what you can't do right now"
– Avis Williams
Every day is a new opportunity to be grateful, and enjoy the world, and improve it — in our own little ways.
– Terri Guillemets
A positive attitude is something everyone can work on, and everyone can learn how to employ it.
– Joan Lunden
"Everybody has problems. How you deal with your own problems will determine your ultimate success. Get a better attitude and find better answers."
– Dianne Nahirny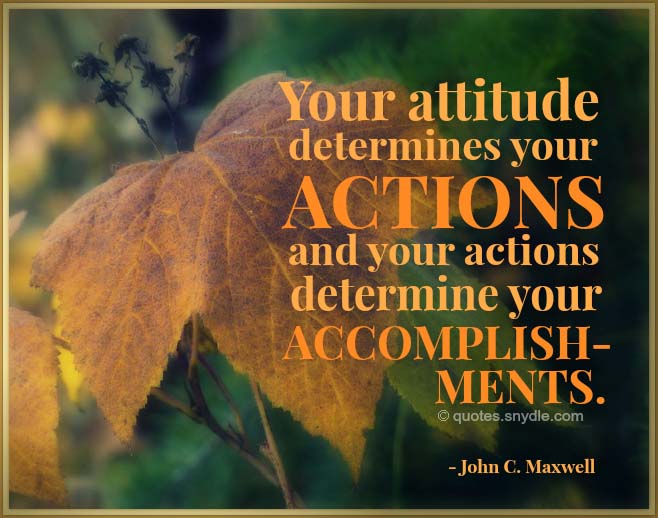 "Your attitude determines your actions, and your actions determine your accomplishment."
– John C. Maxwell
"For success, attitude is equally as important as ability."
– Harry F. Banks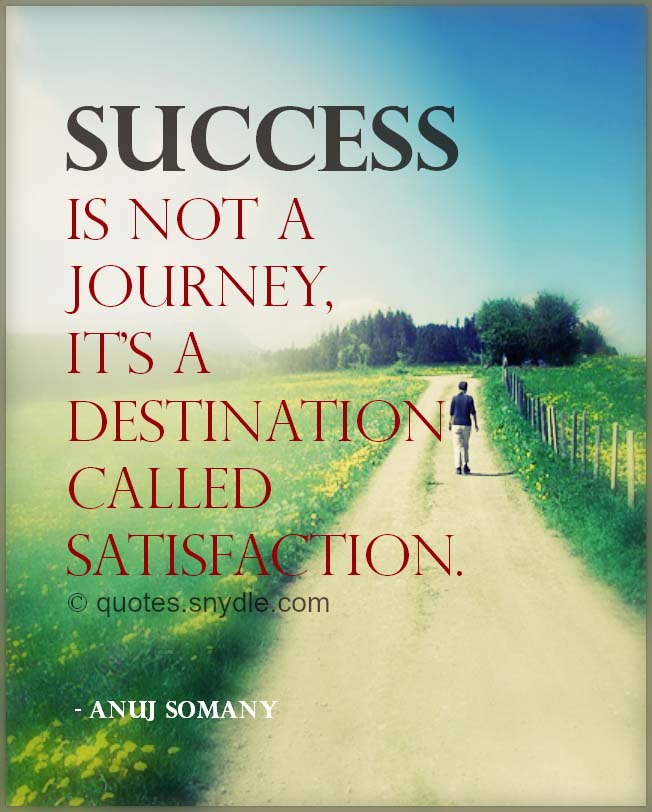 "Success is not a journey, it's a destination called satisfaction."
– Anuj Somany
Any fact facing us is not as important as our attitude toward it, for that determines our success or failure."
– Norman Vincent Peale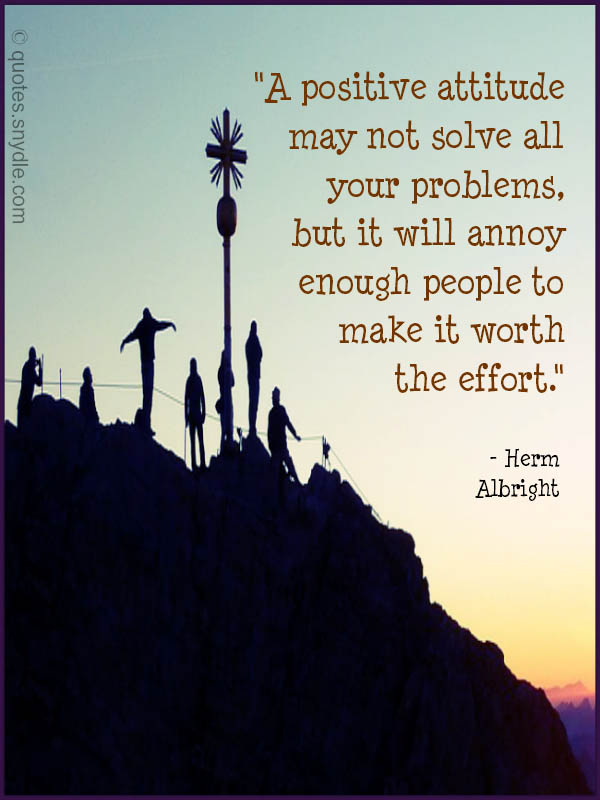 A positive attitude may not solve all your problems, but it will annoy enough people to make it worth the effort.
– Herm Albright
Inspirational Quotes Positive Attitude
We can also draw inspiration from the small everyday things that we see, like how often we clean out the cobwebs from our dwellings and yet in a few days the spiders are back spinning their webs once again. These little critters never give up even when faced with vast odds, and neither should you.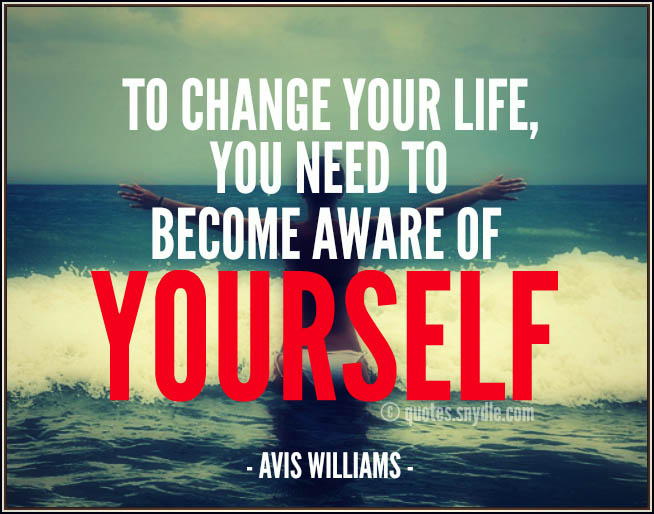 "To change your life, you need to become aware of yourself"
– Avis Williams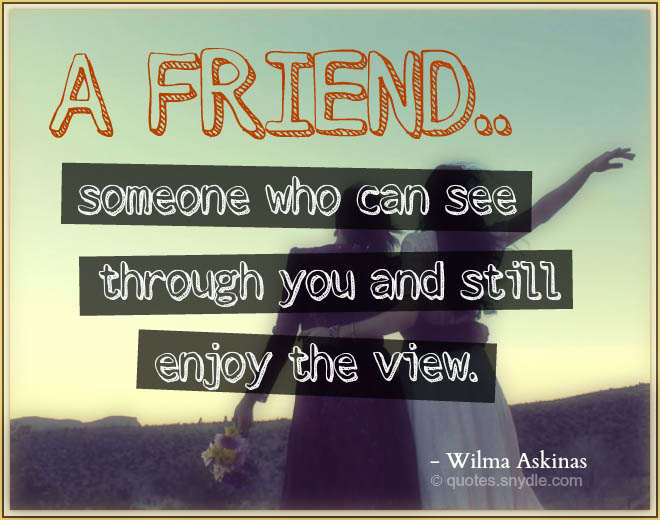 A friend is someone who can see through you and still enjoy the view.
– Wilma Askinas
Above all, be true to yourself, and if you cannot put your heart in it, take yourself out of it.
– Unknown
"Always strive to aim for the highest peak of the goals in life you have set, this way if you manage to reach even half way toward a goal, landing in the middle is not such a bad place to end up."
– Victoria Addino
Say you are well, or all is well with you, and God shall hear your words and make them true.
– Ella Wheeler Wilcox
"Don't hang with negative people. They will pull you down with them. Instead, invite them into your light and together you will both shine strong."
– L.F. Young
"Adventure isn't hanging on a rope off the side of a mountain. Adventure is an attitude that we must apply to the day to day obstacles of life – facing new challenges, seizing new opportunities, testing our resources against the unknown and in the process, discovering our own unique potential."
– John Amatt
I have learned to use the word impossible with the greatest caution.
– Wernher von Braun
There is nothing so easy but that it becomes difficult when you do it reluctantly.
– Publius Terentius Afer
"Passion is in all great searches and is necessary to all creative endeavors."
– W. Eugene Smith
Just because you're miserable doesn't mean you can't enjoy your life.
– Annette Goodheart
"When a person finds life hard, he needs motivation and inspiration; but if he finds life's journey easy, then he needs meditation and introspection to know the true quality of his life."
– Anuj Somany
"Dignity will only happen when you realize that having someone in your life doesn't validate your worth."
– Shannon L. Alder
Learn to smile at every situation. See it as an opportunity to prove your strength and ability.
– Joe Brown
The greatest discovery of my generation is that a human being can alter his life by altering his attitudes.
– William James
"Winners evaluate themselves in a positive manner and look for their strengths as they work to overcome weaknesses."
– Zig Ziglar
Could we change our attitude, we should not only see life differently, but life itself would come to be different.
– Katherine Mansfield
Look at everything as though you were seeing it either for the first or last time.
– Betty Smith