Browse our best quotes about change here. Change is the only constant thing in this world. Feelings change, appearances change, people change and the world changes. Life is full of uncertainties, but there's always one thing that we can be certain of and that is change.
Changes occur all around us. Sometimes, we do not notice them. Sometimes, we do not want them. Sometimes we can do without them. Sometimes, changes hurt us. Often times, we are not mindful of these things until they affect us directly or until they are right in front of us. Take a look at these beautiful quotes about change.
Famous Quotes about Change
Here are some of the best and famous change quotes and sayings that will help you accept that nothing in this world is permanent.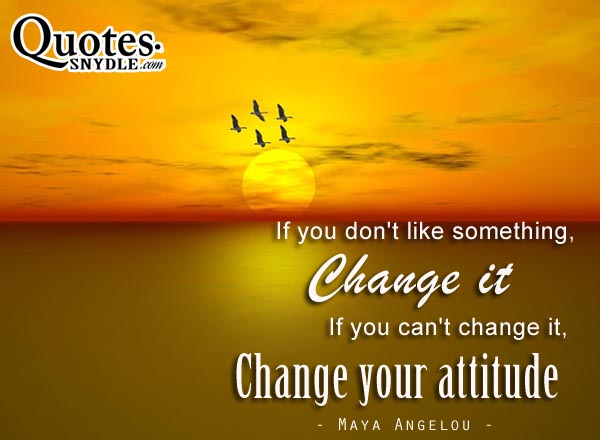 If you don't like something, change it. If you can't change it, change your attitude.
― Maya Angelou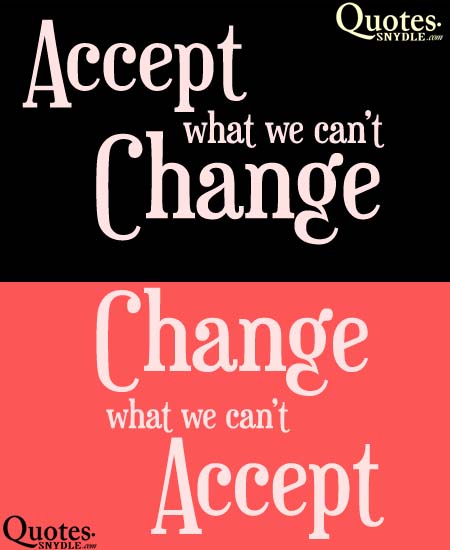 Accept what we can't change. Change what we can't accept.
– Unknown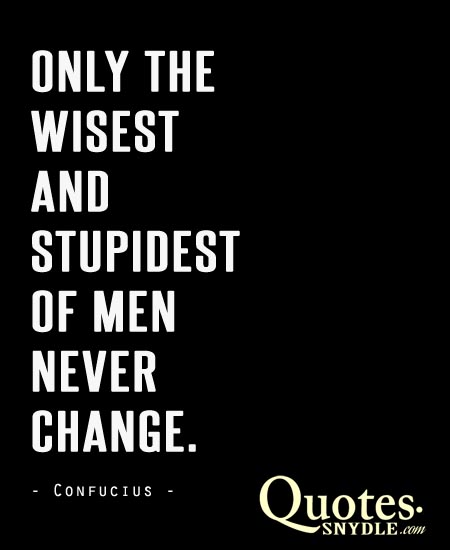 Only the wisest and stupidest of men never change.
― Confucius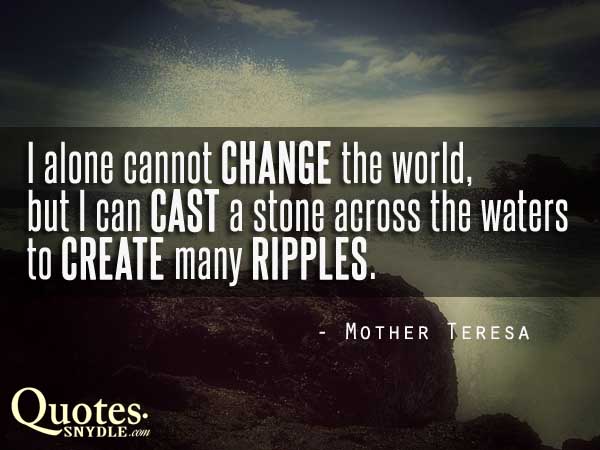 I alone cannot change the world, but I can cast a stone across the waters to create many ripples.
― Mother Teresa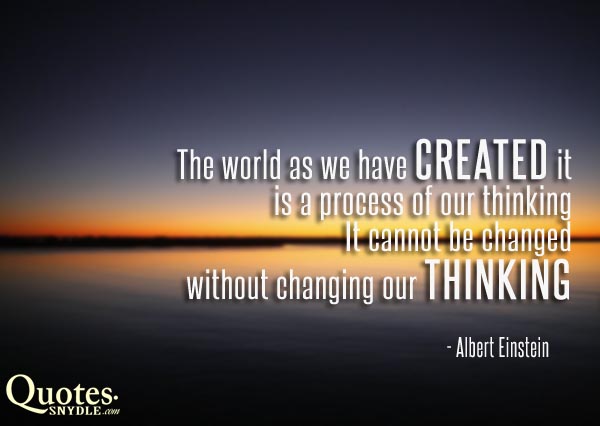 The world as we have created it is a process of our thinking. It cannot be changed without changing our thinking.
― Albert Einstein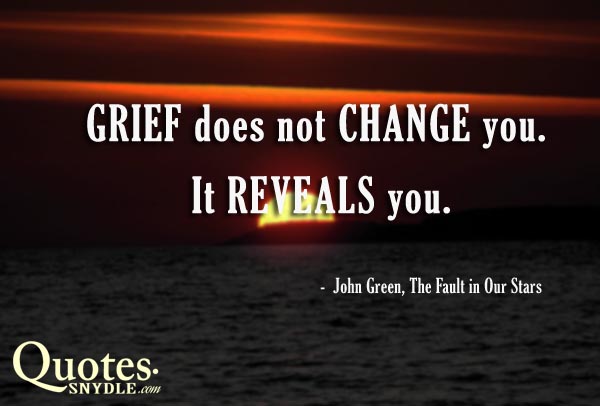 Grief does not change you. It reveals you.
― John Green, The Fault in Our Stars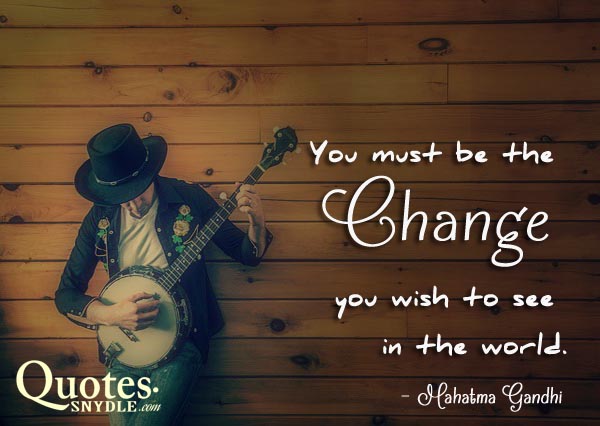 You must be the change you wish to see in the world.
― Mahatma Gandhi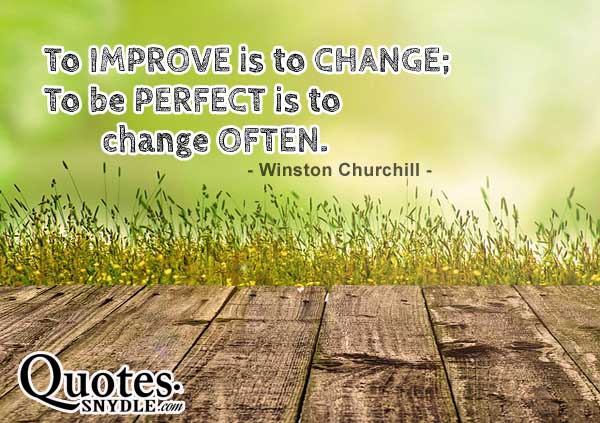 To improve is to change; to be perfect is to change often.
― Winston Churchill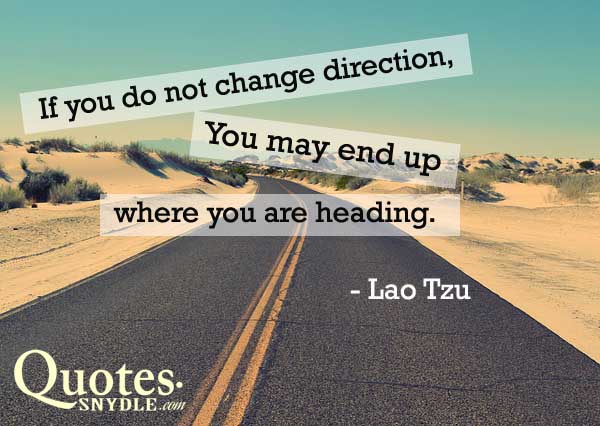 If you do not change direction, you may end up where you are heading.
― Lao Tzu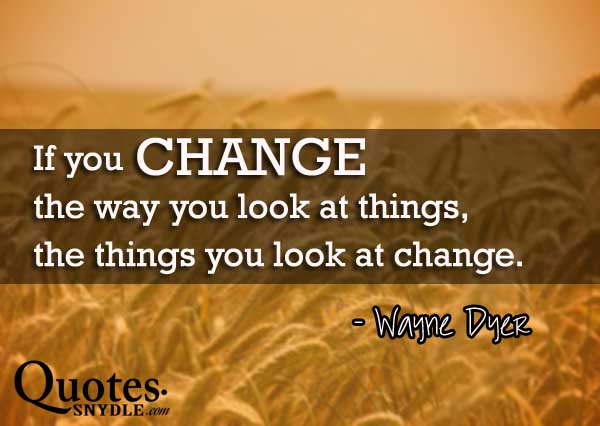 If you change the way you look at things, the things you look at change.
― Wayne Dyer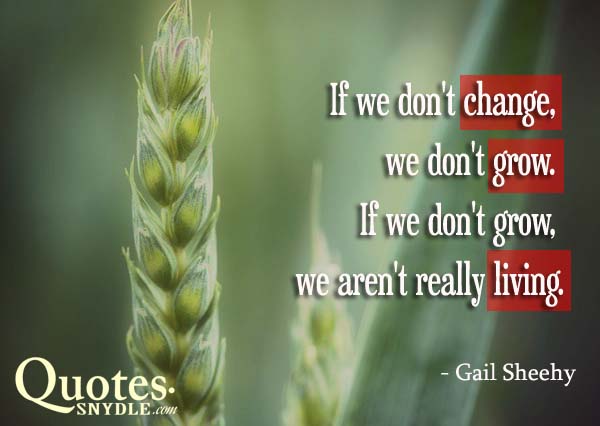 If we don't change, we don't grow. If we don't grow, we aren't really living.
― Gail Sheehy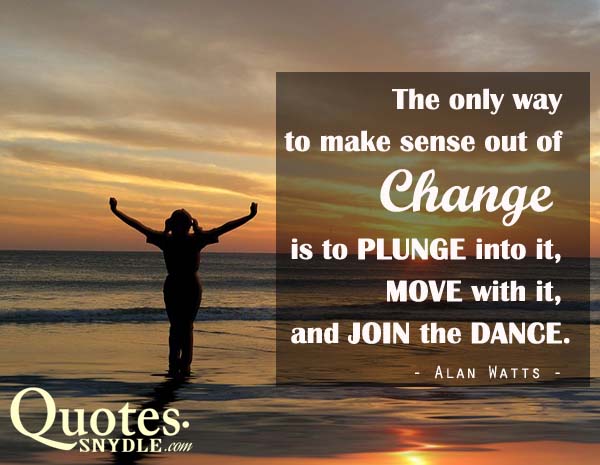 The only way to make sense out of change is to plunge into it, move with it, and join the dance.
― Alan Watts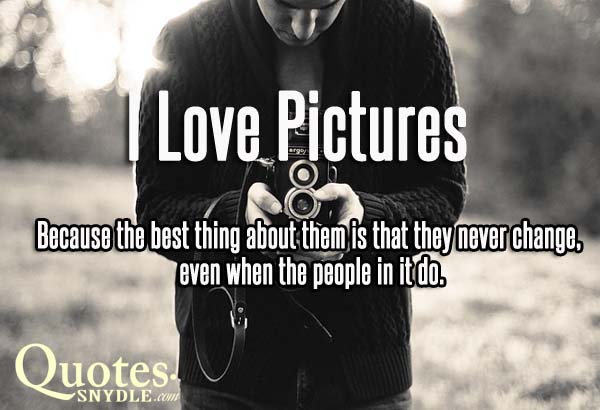 I love pictures. Because the best thing about them is that they never change, even when the people in it do.
― Unknown
Quotes about Change and Love
Sometimes, changes can hurt, but we must always accept change. We must learn to move on and accept them. Let us stop holding on to the past where we were younger, more attractive or smarter. Say goodbye to the past that hurt us and scarred us. Get inspiration and understand better using these love quotes about change.
Find someone who can change your life, not your relationship status.
– Unknown

People change and forget to tell each other.
― Unknown
Love can change a person the way a parent can change a baby- awkwardly, and often with a great deal of mess.
― Lemony Snicket, Horseradish
God grant me the serenity to accept the things I cannot change, the strength to change the things I can and the wisdom to know the difference."
― Unknown

People change for two reasons: They have learned a lot, or they have been hurt too many times.
– Unknown

If some things are better left unsaid, then maybe they too are better left undone."
― Unknown
You're always you, and that don't change, and you're always changing, and there's nothing you can do about it.
― Neil Gaiman, The Graveyard Book
Any change, even a change for the better, is always accompanied by drawbacks and discomforts.
― Arnold Bennett
Changes are always there in our lives, the wise ones accept change and live with it.
― Unknown
The greatest courage on earth is to bear defeat without losing HEART.
― Robert Green Ingersole
The only thing in this world that always stays the same is change itself.
― Unknown
Inspirational Quotes about Change
Sometimes, we are given the choice to change ourselves or not. A lot of people change when they are hurt. They become a little bit sadder and a little bit colder. They want to be tougher and detached to the people around them, because they don't want to get hurt again. Be inspired and get motivated with these inspirational change quotes and sayings.
When life changes to be harder, change yourself to be stronger.
― Unknown
Change does not roll in on the wheels of inevitability, but comes through continuous struggle. And so we must straighten our backs and work for our freedom. A man can't ride you unless your back is bent.
― Martin Luther King, Jr.
God grant me the serenity to accept the things I cannot change, the courage to change the things I can, and the wisdom to know the difference.
― Reinhold Niebuhr
Change will not come if we wait for some other person, or if we wait for some other time. We are the ones we've been waiting for. We are the change that we seek.
― Barack Obama
For the past 33 years, I have looked in the mirror every morning and asked myself: 'If today were the last day of my life, would I want to do what I am about to do today?' And whenever the answer has been 'No' for too many days in a row, I know I need to change something.
― Steve Jobs
A fanatic is one who can't change his mind and won't change the subject.
― Winston Churchill
Incredible change happens in your life when you decide to take control of what you do have power over instead of craving control over what you don't.
― Steve Maraboli, Life, the Truth, and Being Free
The only way that we can live, is if we grow. The only way that we can grow is if we change. The only way that we can change is if we learn. The only way we can learn is if we are exposed. And the only way that we can become exposed is if we throw ourselves out into the open. Do it. Throw yourself.
― C. JoyBell C.
Quotes about Change in Life
A lot of people spend thousands and millions of money to bring back what once was, and that keeps them from fully living in their present lives. Let us continue to change for the better and keep on moving forward. Stop living in the past, but live in the present so that you will have a brighter future.
Life is a series of natural and spontaneous changes. Don't resist them; that only creates sorrow. Let reality be reality. Let things flow naturally forward in whatever way they like.
― Lao Tzu
And that is how change happens. One gesture. One person. One moment at a time.
― Libba Bray, The Sweet Far Thing
Some changes look negative on the surface but you will soon realize that space is being created in your life for something new to emerge.
― Eckhart Tolle
Everyone thinks of changing the world, but no one thinks of changing himself.
― Leo Tolstoy
They always say time changes things, but you actually have to change them yourself.
― Andy Warhol, The Philosophy of Andy Warhol
Positive Quotes about Change
Changes could be for the better or not. We can improve ourselves and our skills or just continue to ignore them until they fade and vanish.
Never believe that a few caring people can't change the world. For, indeed, that's all who ever have.
― Margaret Mead
When we are no longer able to change a situation – we are challenged to change ourselves.
― Viktor E. Frankl
All changes, even the most longed for, have their melancholy; for what we leave behind us is a part of ourselves; we must die to one life before we can enter another.
― Anatole France
Education is the most powerful weapon which you can use to change the world.
― Nelson Mandela
Progress is impossible without change, and those who cannot change their minds cannot change anything.
― George Bernard Shaw
When we least expect it, life sets us a challenge to test our courage and willingness to change; at such a moment, there is no point in pretending that nothing has happened or in saying that we are not yet ready. The challenge will not wait. Life does not look back. A week is more than enough time for us to decide whether or not to accept our destiny.
― Paulo Coelho, The Devil and Miss Prym