Looking for quotes about strength? It really sucks when you are just sitting there with not a care in the world and suddenly, life comes and dumps heaps and heaps of problems and worries. Sometimes, you just can't handle all the drama in your life—especially if they keep coming at you all at once. It'd be nice if they could bother us one at a time, but, hey, that's not how the universe works. Sometimes problems just uncontrollably rain down on us.
It is in times like these that we need our inner strength to help us overcome the sadness and the hopelessness our problems sow in us. I hope that these quotes about strength may help you inspire to realize your inner courage to live on your life. Below are some of the best strength quotes to motivate and give you inspiration.
Best Quotes about Strength
We need strength to be able to face our problems head on as opposed to just sulking there in the corner or pretending nothing ever happened. Read on and be inspired with these inspirational quotes about strength and courage.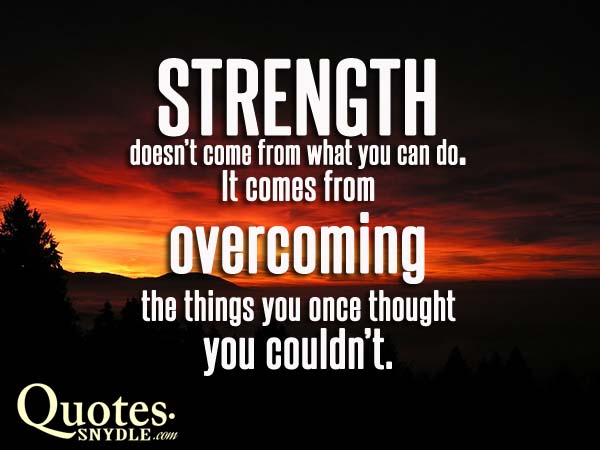 Strength doesn't come from what you can do. It comes from overcoming the things you once thought you couldn't.
― Unknown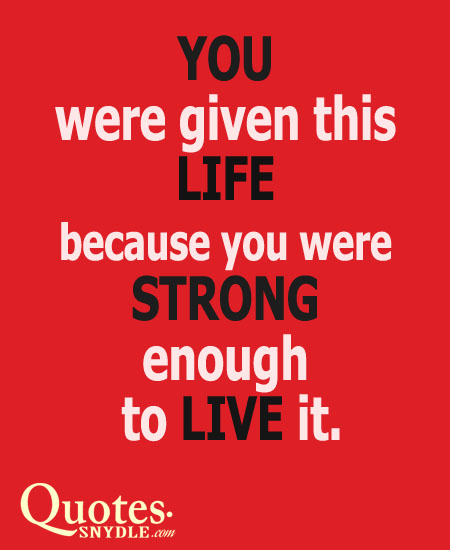 You were given this life because you were strong enough to live it.
― Unknown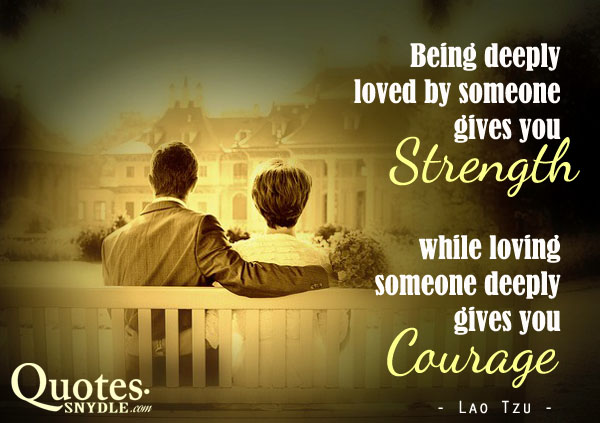 Being deeply loved by someone gives you strength, while loving someone deeply gives you courage.
― Lao Tzu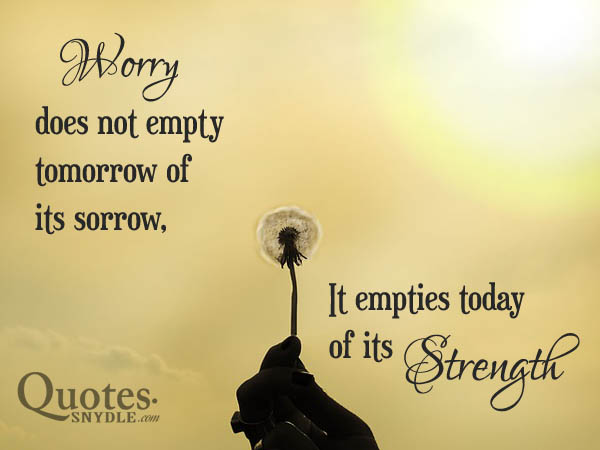 Worry does not empty tomorrow of its sorrow, it empties today of its strength.
― Corrie ten Boom, Clippings from My Notebook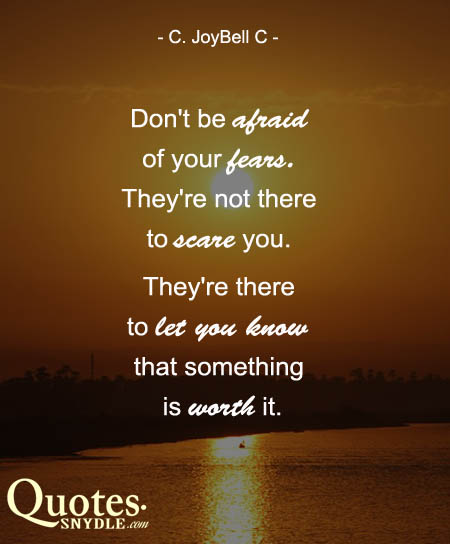 Don't be afraid of your fears. They're not there to scare you. They're there to let you know that something is worth it.
― C. JoyBell C.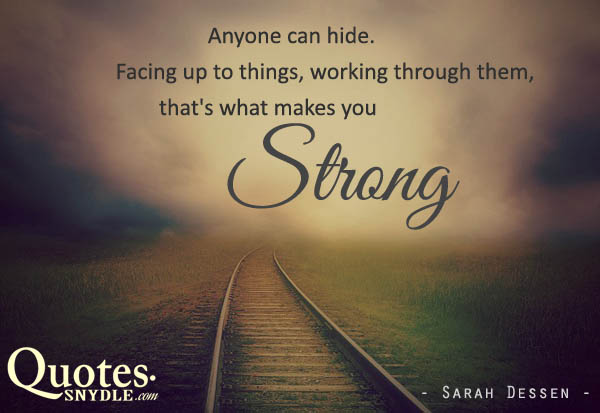 Anyone can hide. Facing up to things, working through them, that's what makes you strong.
― Sarah Dessen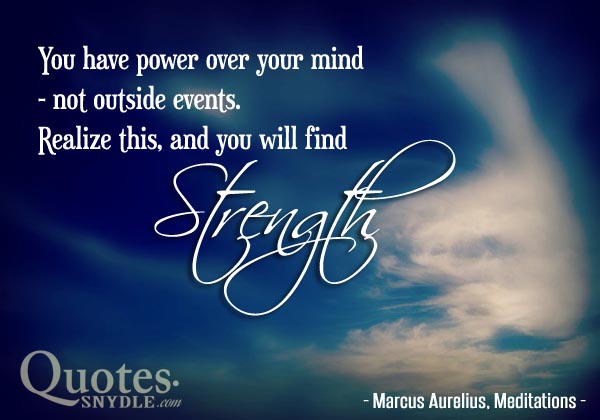 You have power over your mind – not outside events. Realize this, and you will find strength.
― Marcus Aurelius, Meditations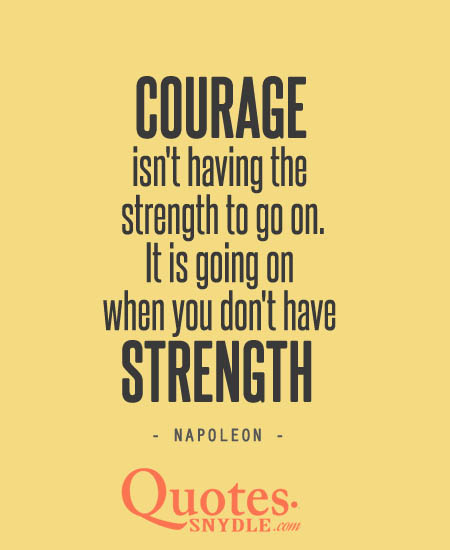 Courage isn't having the strength to go on – it is going on when you don't have strength.
― Napoleon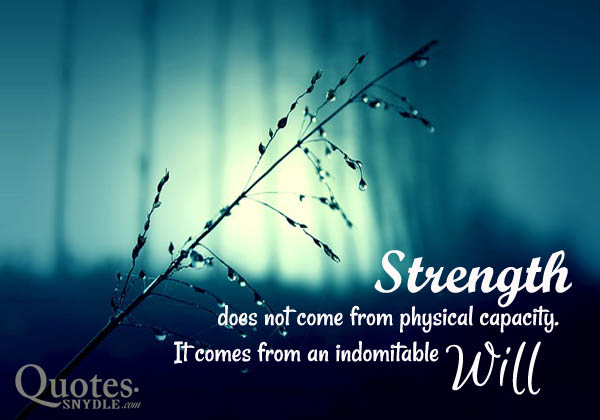 Strength does not come from physical capacity. It comes from an indomitable will.
― Mahatma Gandhi
Famous Quotes about Strength
We cannot drown our sorrows and worries in beer or any alcoholic drink. That won't make problems go away and you'd only have a headache and a horrible bloated feeling to show for it. Take a look at these popular and famous quotes about strength to help you move on your life and solve your problems.
Be strong. Live honorably and with dignity. When you don't think you can, hold on.
― James Frey, A Million Little Pieces
It is time for parents to teach young people early on that in diversity there is beauty and there is strength.
― Maya Angelou
Some people believe holding on and hanging in there are signs of great strength. However, there are times when it takes much more strength to know when to let go and then do it.
― Ann Landers
And one has to understand that braveness is not the absence of fear but rather the strength to keep on going forward despite the fear.
― Paulo Coelho
It is unwise to be too sure of one's own wisdom. It is healthy to be reminded that the strongest might weaken and the wisest might err.
― Mahatma Gandhi
The strong person is not the good wrestler. Rather, the strong person is the one who controls himself when he is angry.
― Sahih al-Bukhari
I was not designed to be forced. I will breathe after my own fashion. Let us see who is the strongest.
― Henry David Thoreau, On the Duty of Civil Disobedience
Bible Quotes about Strength and Religious Quotes about Strength
Let's face our problems head on. We know we can do it. We are strong enough to face even the worst challenges life has to offer. God will always be with you. Just seek for his guidance and pray and before you knew it, you'll find strength to move forward. Read on for some religious strength quotes found in the bible.
God is our refuge and strength, an ever-present help in trouble.
― Psalms 46:1
The LORD is my strength and my shield; my heart trusts in him, and I am helped. My heart leaps for joy and I will give thanks to him in song.
― Psalm 28:7 NIV
Spending time with God is the key to our strength and success in all areas of life. Be sure that you never try to work God into your schedule, but always work your schedule around Him.
― Joyce Meyer
Great peace have those who love your law, and nothing can make them stumble.
― Psalm 119:165
Be strong and courageous. Do not be afraid or terrified because of them, for the Lord your God goes with you; he will never leave you nor forsake you.
― Deuteronomy 31:6
But as for you, be strong and do not give up, for your work will be rewarded.
― 2 Chronicles 15:7
My flesh and my heart may fail, but God is the strength of my heart and my portion forever.
― Psalm 73:26
Surely God is my salvation; I will trust and not be afraid. The LORD, the LORD himself, is my strength and my defense; he has become my salvation.
Isaiah 12:2
Be on your guard; stand firm in the faith; be courageous; be strong.
1 Corinthians 16:13
I can do all this through him who gives me strength.
– Philippians 4:13
Short Quotes about Strength
Strength shows, not only in the ability to persist but the ability to start over.
― Unknown
A brave man acknowledges the strength of others.
― Veronica Roth, Divergent
In the end, some of your greatest pain become your greatest strength.
― Unknown
Tears shed for another person are not a sign of weakness. They are a sign of a pure heart.
― José N. Harris, MI VIDA: A Story of Faith, Hope and Love
Better to be strong than pretty and useless.
― Lilith Saintcrow, Strange Angels
A quiet conscience makes one strong!
― Anne Frank, The Diary of a Young Girl
Life doesn't get easier or more forgiving, we get stronger and more resilient.
― Steve Maraboli, Life, the Truth, and Being Free
The world breaks every one and afterward many are strong at the broken places.
― Ernest Hemingway, A Farewell to Arms
With the new day comes new strength and new thoughts.
― Eleanor Roosevelt
Quotes about Family Strength
You are stronger than you think—don't let your problems make you think otherwise. Aside from God, you have a family that you can always seek help from. They can be with you, to guide you, to help you, to encourage you, and to help you solve your problems. Here are some family strength quotes for you.
Our family is a circle of love and strength. With every birth and every union, the circle grows. Every joy shared adds more love. Every obstacle faced together makes the circle stronger.
― Unknown
My family comes first. Maybe that's what makes me different from other guys.
― Bobby Darin
The only rock I know that stays steady, the only institution I know that works, is the family.
― Lee Iacocca
The strength of a nation derives from the integrity of the home.
― Confucius
The love of a family is life's greatest blessing.
― Unknown
Inspirational Quotes about Strength
Strength is the capacity to break a Hershey bar into four pieces with your bare hands – and then eat just one of the pieces.
― Judith Viorst, Love & Guilt & The Meaning Of Life, Etc
It gives me strength to have somebody to fight for; I can never fight for myself, but, for others, I can kill.
― Emilie Autumn, The Asylum for Wayward Victorian Girls
It's not that you should never love something so much that it can control you.
It's that you need to love something that much so you can never be controlled.
It's not a weakness.
It's your best strength.
― Patrick Ness, The Ask and the Answer
Believe in a love that is being stored up for you like an inheritance, and have faith that in this love there is a strength and a blessing so large that you can travel as far as you wish without having to step outside it.
― Rainer Maria Rilke, Letters to a Young Poet
Though nothing can bring back the hour
Of splendor in the grass, of glory in the flower;
We will grieve not, rather find
Strength in what remains behind;
In the primal sympathy
Which having been must ever be…
― William Wordsworth
A strong woman who recklessly throws away her strength, she is worse than a weak woman who has never had any strength to throw away.
― Thomas Hardy, Tess of the D'Urbervilles