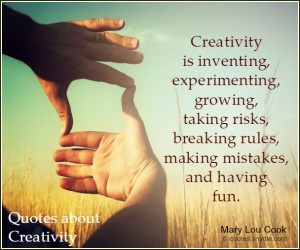 Great achievers are great dreamers who dare to turn their dreams into reality through creative means. Creativity is characterized by originality of thought or inventiveness and using one's imagination. Creativity enhances life and in everyday life people are faced with opportunities to use their imagination and create masterpieces out of the plain and ordinary things around them.
From preparing food, to making clothes, to designing machines and houses, every time something has to be done it calls for the power of creativity within a person. Alas! Too many times people prefer to go with the ordinary and so end up with very ordinary products and results when a little creativity would have made a lot of difference.
What tasks lie ahead of you? Is it that report at work? Is it adding spice to your personal life? Is it changing the cuisine in your house? You can be creative with whatever you have and by just using your imagination you can change the outlook of things around you.
Famous Quotes about Creativity
There are many quotes about creativity that have been written about creativity and they should inspire you to use your imagination, think outside the box and just go wild with your ideas. Here are some motivating creativity quotes and sayings that might give you the drive to cultivate your skills.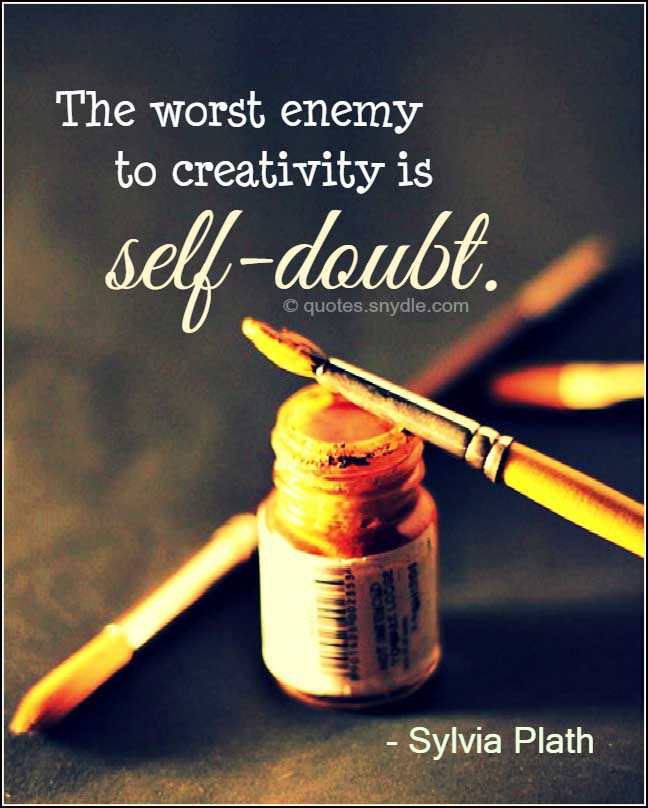 The worst enemy to creativity is self-doubt.
– Sylvia Plath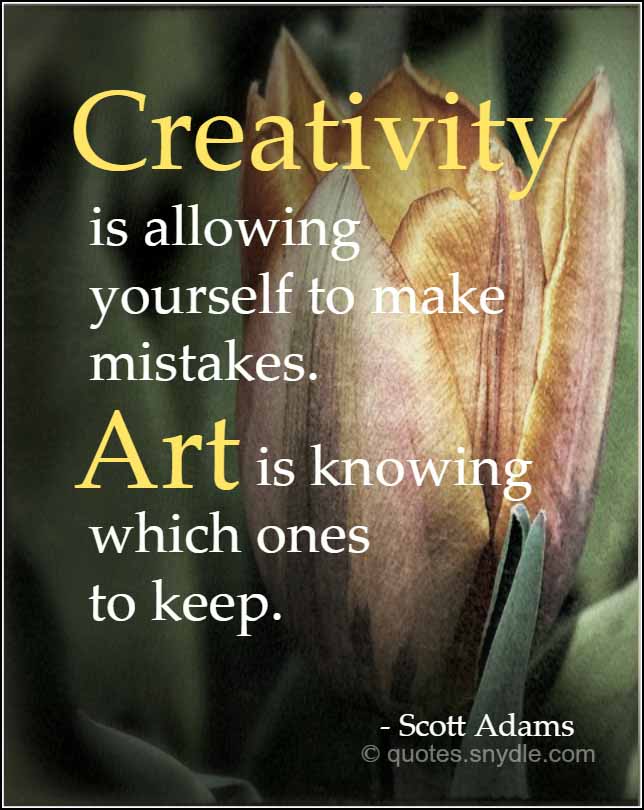 Creativity is allowing yourself to make mistakes. Art is knowing which ones to keep.
– Scott Adams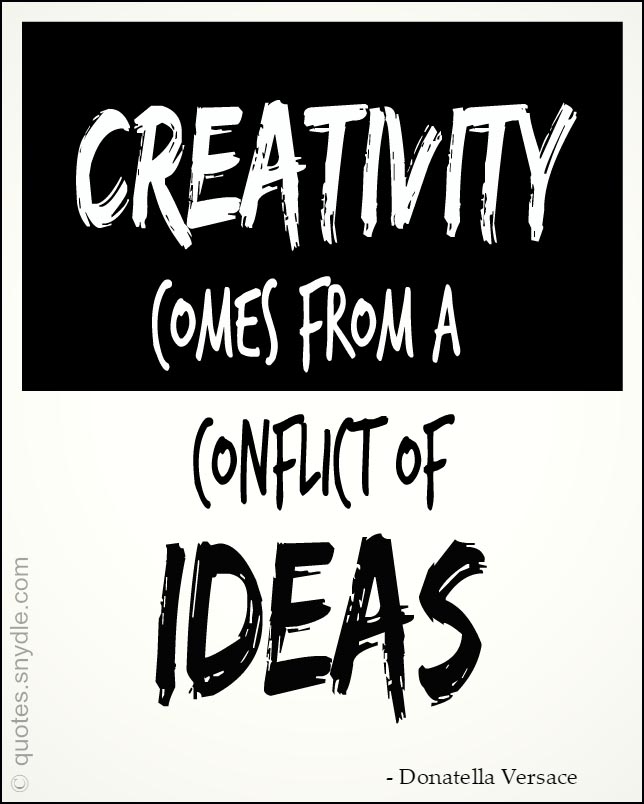 Creativity comes from a conflict of ideas.
– Donatella Versace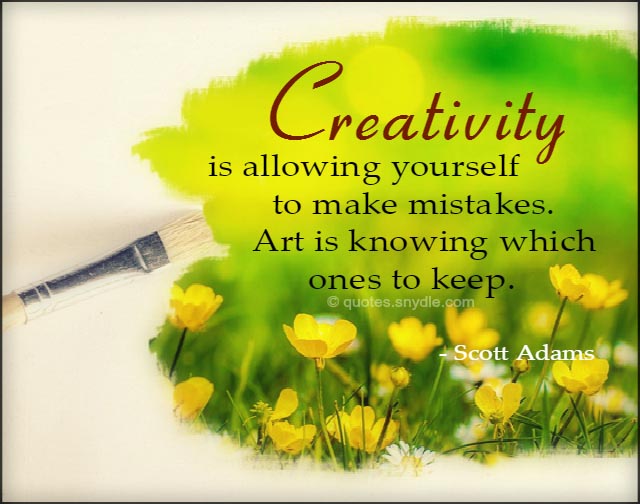 Creativity is allowing yourself to make mistakes. Art is knowing which ones to keep.
– Scott Adams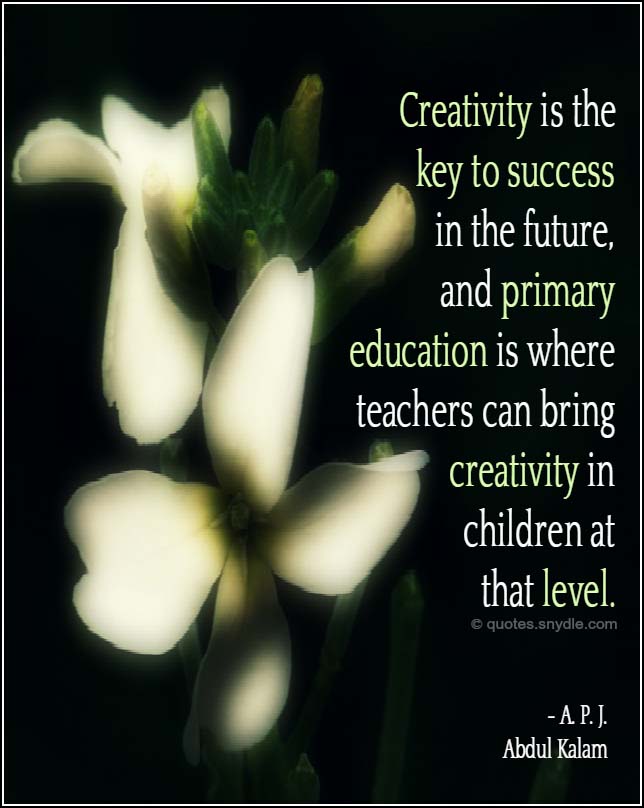 Creativity is the key to success in the future, and primary education is where teachers can bring creativity in children at that level.
– A. P. J. Abdul Kalam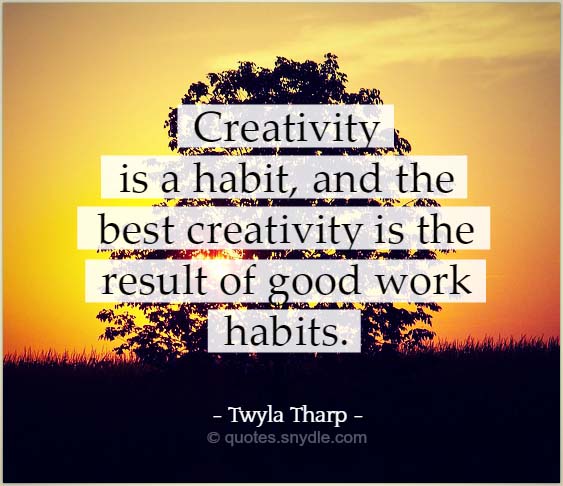 Creativity is a habit, and the best creativity is the result of good work habits.
– Twyla Tharp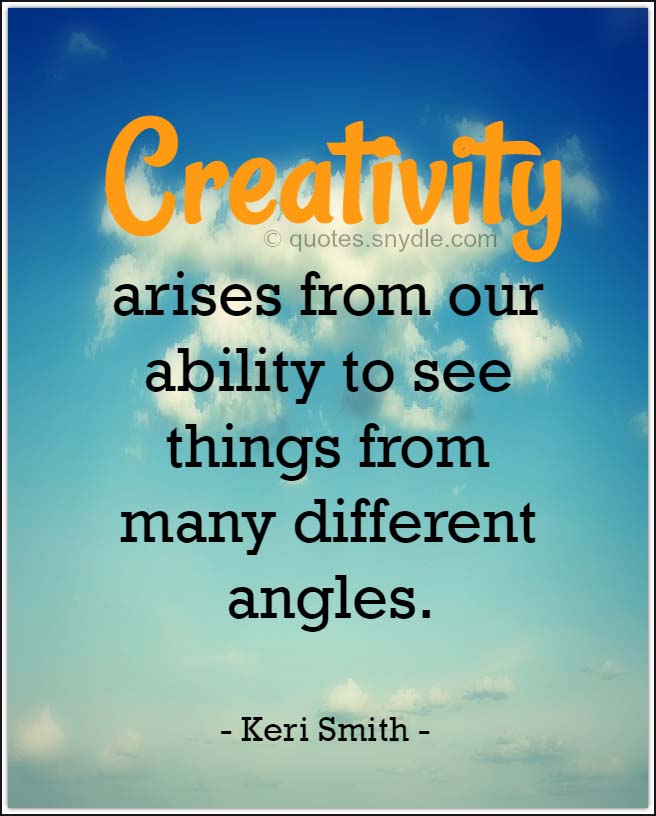 Creativity arises from our ability to see things from many different angles.
– Keri Smith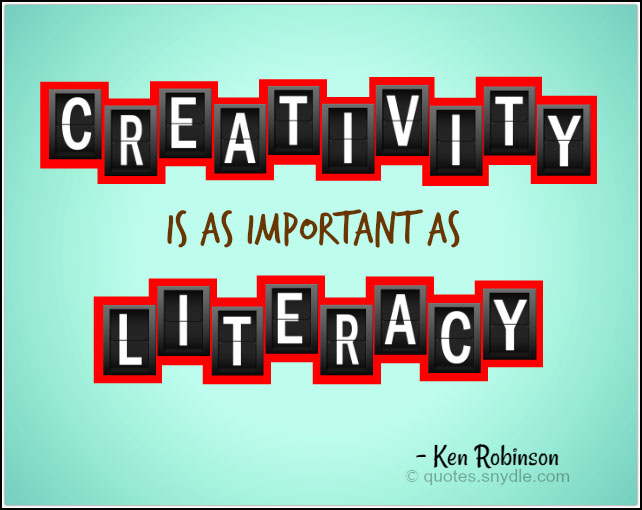 Creativity is as important as literacy.
– Ken Robinson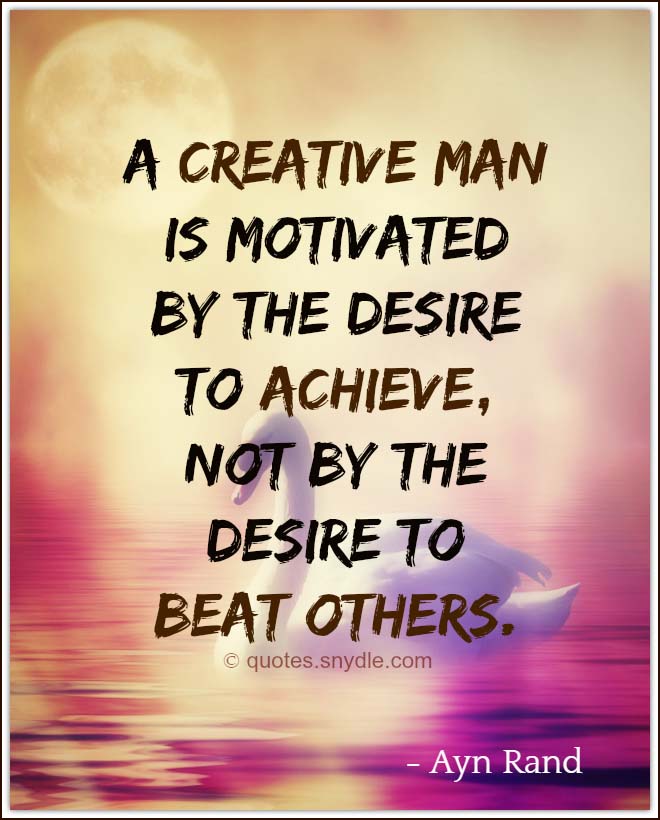 A creative man is motivated by the desire to achieve, not by the desire to beat others.
– Ayn Rand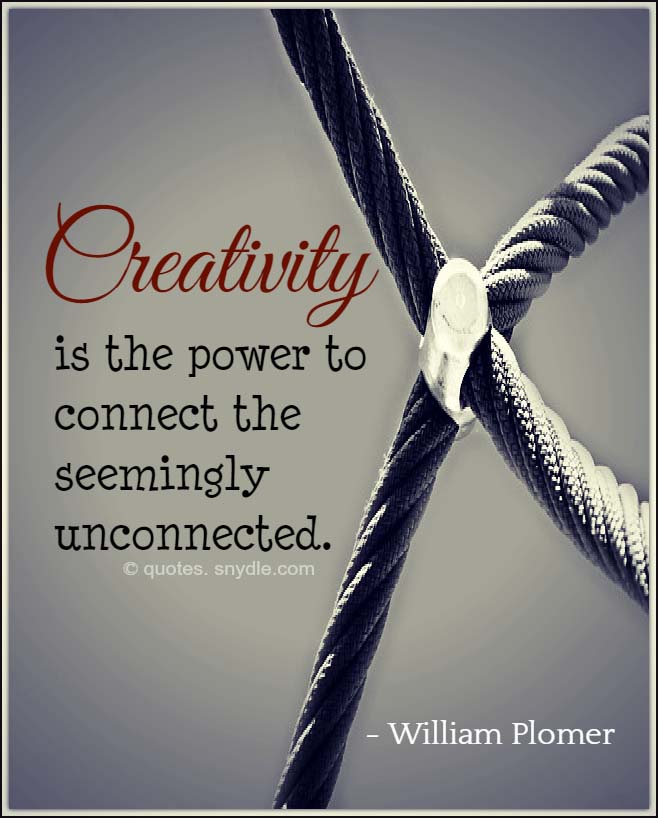 Creativity is the power to connect the seemingly unconnected.
– William Plomer
Creativity is knowing how to hide your sources.
– Albert Einstein
Curiosity about life in all of its aspects, I think, is still the secret of great creative people.
– Leo Burnett
Creativity is more than just being different. Anybody can plan weird; that's easy. What's hard is to be as simple as Bach. Making the simple, awesomely simple, that's creativity.
– Charles Mingus
Creativity is a drug I cannot live without.
– Cecil B. DeMille
Creativity is putting your imagination to work, and it's produced the most extraordinary results in human culture.
– Ken Robinson
Creativity requires the courage to let go of certainties.
– Erich Fromm
Creativity is the process of having original ideas that have value. It is a process; it's not random.
– Ken Robinson
Great minds discuss ideas. Average minds discuss events. Small minds discuss people.
– Eleanor Roosevelt
Creativity is thinking up new things. Innovation is doing new things.
– Theodore Levitt
The criminal is the creative artist; the detective only the critic.
– G.K. Chesterton
Politics is the art of the possible; creativity is the art of the impossible.
– Ben Okri
Creativity Quotes and Sayings
The authors of the quotes used their creative power to write words that would inspire others to rise up and achieve the impossible, and by finding inspiration in their words, who knows, you could just be the next Michael Angelo of this generation.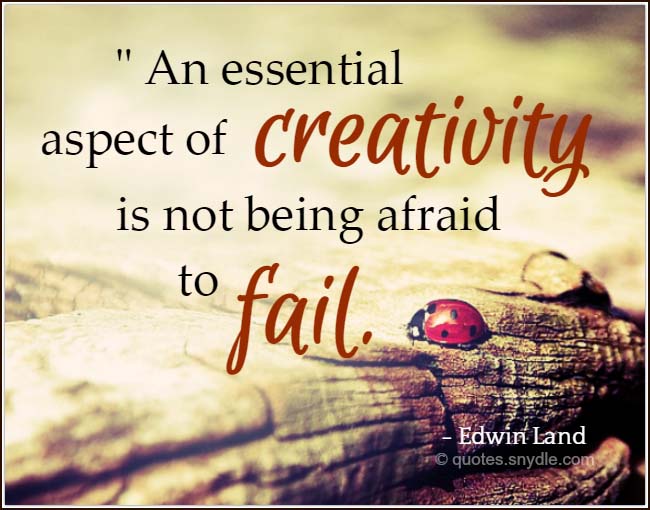 An essential aspect of creativity is not being afraid to fail.
– Edwin Land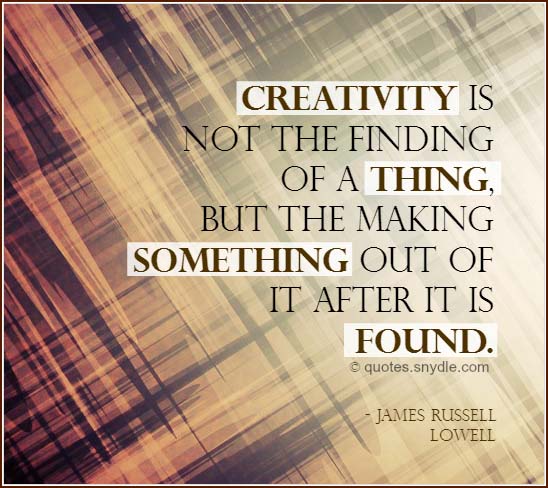 Creativity is not the finding of a thing, but the making something out of it after it is found.
– James Russell Lowell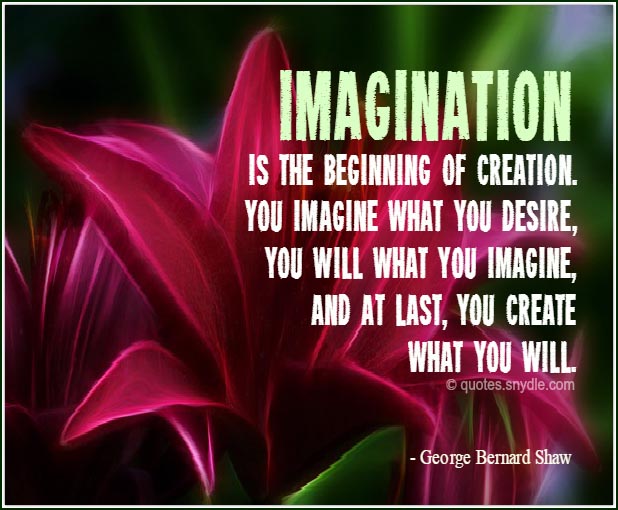 Imagination is the beginning of creation. You imagine what you desire, you will what you imagine, and at last, you create what you will.
– George Bernard Shaw

The chief enemy of creativity is good sense.
– Pablo Picasso
Creativity is contagious, pass it on.
– Albert Einstein
Creativity is just connecting things. When you ask creative people how they did something, they feel a little guilty because they didn't really do it, the just saw something. It seemed obvious to them after a while.
– Steve Jobs
Creativity is a great motivator because it makes people interested in what they are doing. Creativity gives hope that there can be a worthwhile idea. Creativity gives the possibility of some sort of achievement to everyone. Creativity makes life more fun and more interesting.
– Edward de Bono
Creativity is not just for artists. It's for businesspeople looking for a new way to close a sale; it's for engineers trying to solve a problem; it's for parents who want their children to see the world in more than one way.
– Twyla Tharp
Originality is the essence of true scholarship. Creativity is the soul of the true scholar.
– Nnamdi Azikiwe
Frugality without creativity is deprivation.
– Amy Dacyczyn

Creativity is a drug I cannot live without.
– Cecil B. DeMille
Energy is the key to creativity. Energy is the key to life.
– William Shatner
Creativity is the greatest expression of liberty.
– Bryant H. McGill
Creativity is as important now in education as literacy and we should treat it with the same status.
– Ken Robinson
Creativity comes from trust. Trust your instincts. And never hope more than you work.
– Rita Mae Brown
Quotes on Creativity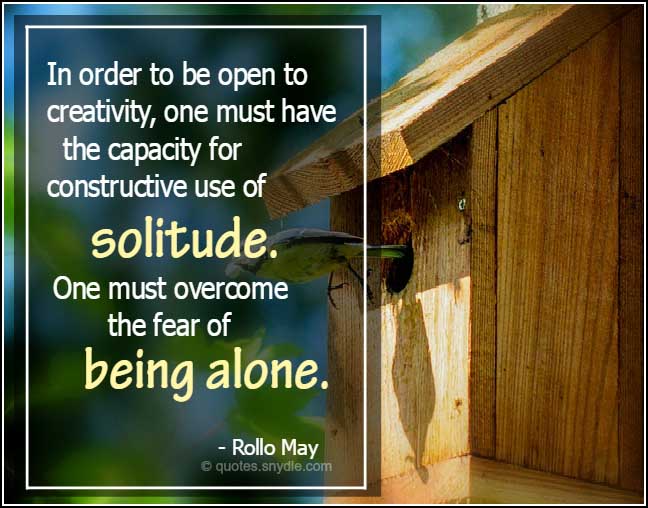 In order to be open to creativity, one must have the capacity for constructive use of solitude. One must overcome the fear of being alone.
– Rollo May
My future starts when I wake up every morning. Every day I find something creative to do with my life.
– Miles Davis
When there is no freedom, there is no creativity.
– Soud Qbeilat
That's the great secret of creativity. You treat ideas like cats: you make them follow you.
– Ray Bradbury
Creativity is the sudden cessation of stupidity.
– Edwin Land
Creativity is the ability to introduce order into the randomness of nature.
– Eric Hoffer
Creativity is an inherent human quality of the highest order. When we create, we become more than the sum of our parts.
– Yanni
Creativity can solve almost any problem. The creative act, the defeat of habit by originality, overcomes everything.
– George Lois
The creative person is willing to live with ambiguity. He doesn't need problems solved immediately and can afford to wait for the right ideas.
– Abe Tannenbaum
Making the simple complicated is commonplace; making the complicated simple, awesomely simple, that's creativity.
– Charles Mingus
More Quotes about Creativity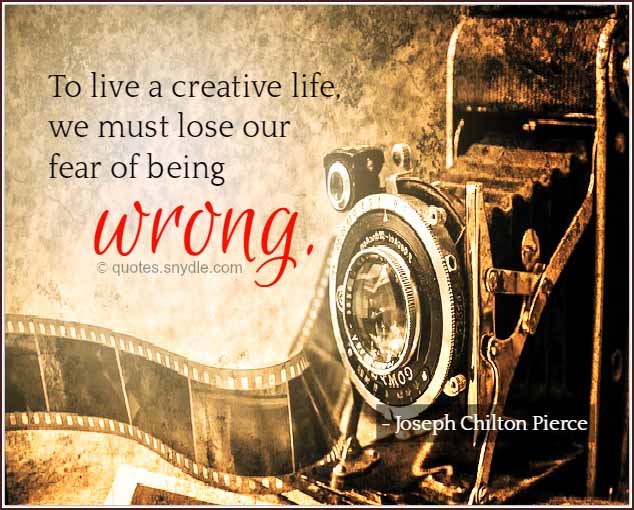 To live a creative life, we must lose our fear of being wrong.
– Joseph Chilton Pierce
Others have seen what is and asked why. I have seen what could be and asked why not.
– Pablo Picasso
Every child is an artist, the problem is staying an artist when you grow up.
– Pablo Picasso
If you hear a voice within you say, 'You cannot paint,' then by all means paint, and that voice will be silenced.
– Vincent Van Gogh
You can't wait for inspiration, you have to go after it with a club.
– Jack London
Think left and think right and think low and think high. Oh, the thinks you can think up if only you try.
– Dr. Seuss
Passion is one great force that unleashes creativity, because if you're passionate about something, then you're more willing to take risks.
– Yo-Yo Ma
Your ego can become an obstacle to your work. If you start believing in your greatness, it is the death of your creativity.
– Marina Abramovic
There is no doubt that creativity is the most important human resource of all. Without creativity, there would be no progress, and we would be forever repeating the same patterns.
– Edward de Bono
It is better to have enough ideas for some of them to be wrong, than to be always right by having no ideas at all.
– Edward de Bono
I don't think there's any artist of any value who doesn't doubt what they're doing.
– Francis Ford Coppola
Imagination is more important than knowledge.
– Albert Einstein
An artist is not paid for his labor but for his vision.
– James Whistler
Innovation is creativity with a job to do.
– John Emmerling
For me, insanity is super sanity. The normal is psychotic. Normal means lack of imagination, lack of creativity.
– Jean Dubuffet
Routine kills creative thought.
– Scarlett Thomas
Creativity is a continual surprise.
– Ray Bradbury