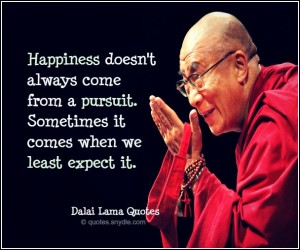 Dalai Lama is a religious leader and the title means the teacher whose wisdom is as great as the ocean. Dalai Lamas served as the political and religious rules of Tibet in the seventeenth century until the year nineteen fifty nine when the presiding Dalai Lama was forced into exile when China took control of Tibet.
The current Dalai Lama is the fourteenth and lives in exile in India as the head of the exiled Tibetan community. He is a monk, scholar and statesman who received the Nobel Peace Prize in 1959 for his non violent struggle to end China's rule of Tibet.
The Dalai Lama's quotes strongly bring out the idea of being kind and compassionate, living at peace with oneself and others and being a humane human being. Reading these quotes will help you know how to live with others, even those you feel you cannot tolerate. He says it is possible to be content with one's life and it all starts from the heart.
Famous Dalai Lama Quotes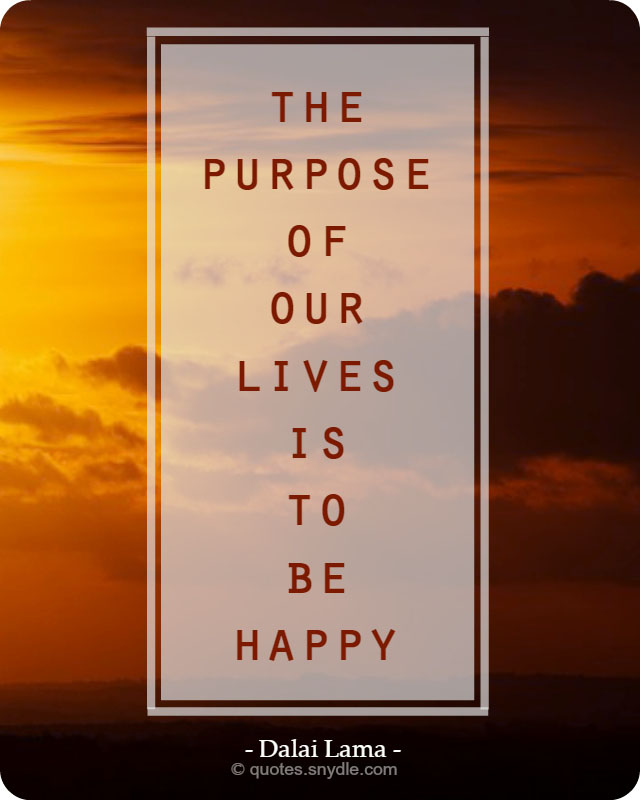 The purpose of our lives is to be happy.
– Dalai Lama
Be kind whenever possible. It is always possible.
– Dalai Lama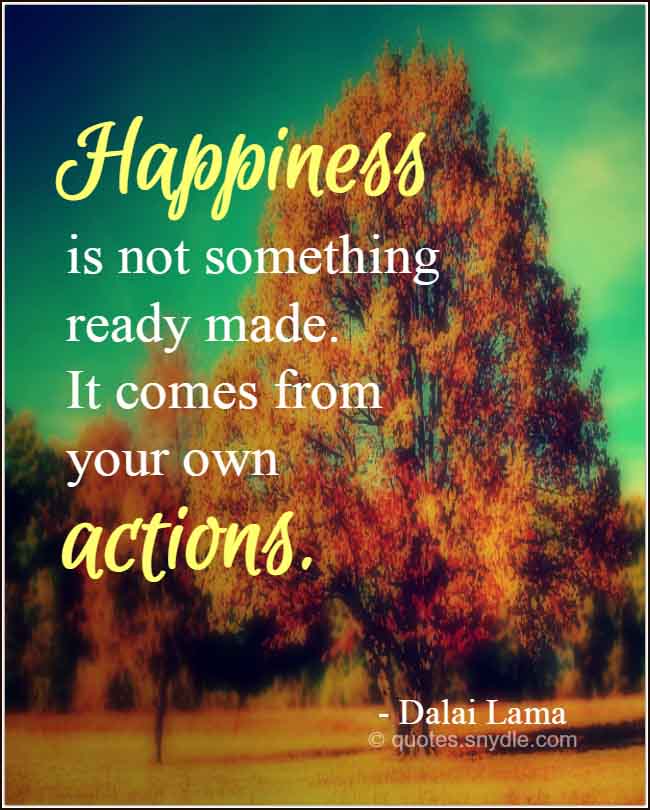 Happiness is not something ready made. It comes from your own actions.
– Dalai Lama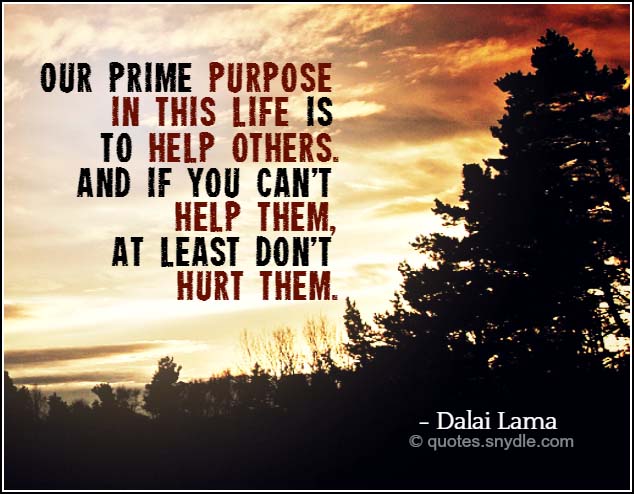 Our prime purpose in this life is to help others. And if you can't help them, at least don't hurt them.
– Dalai Lama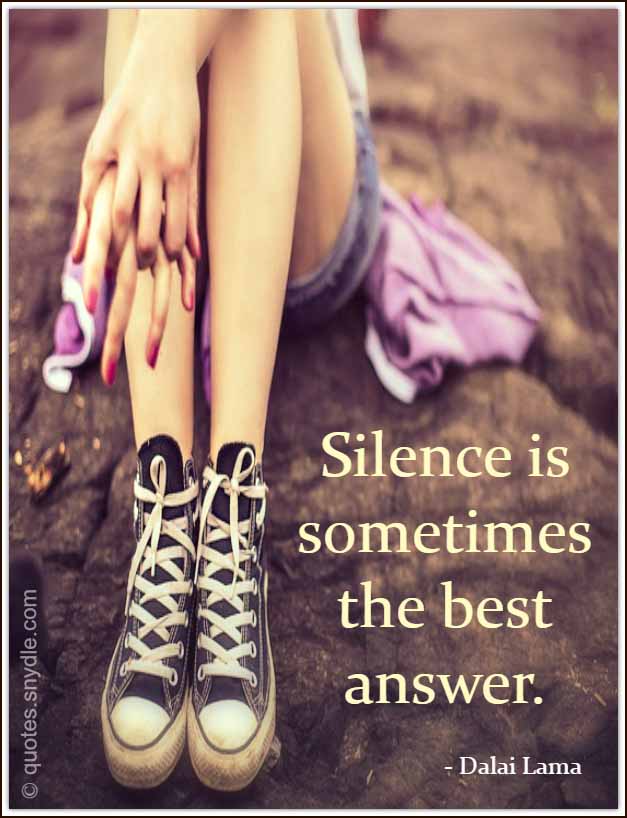 Silence is sometimes the best answer.
– Dalai Lama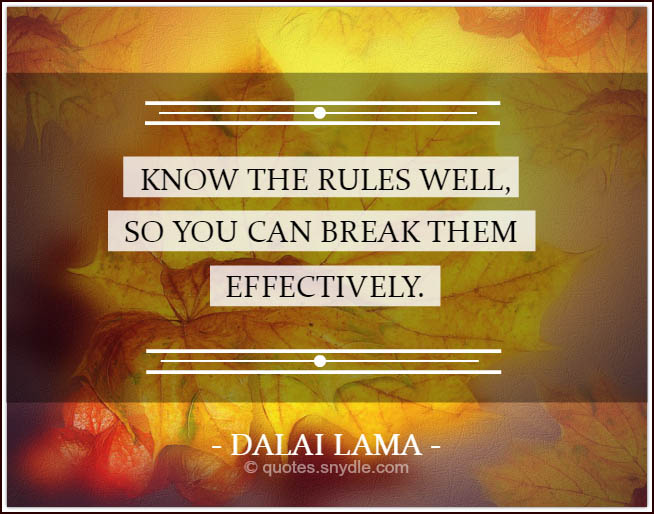 Know the rules well, so you can break them effectively.
– Dalai Lama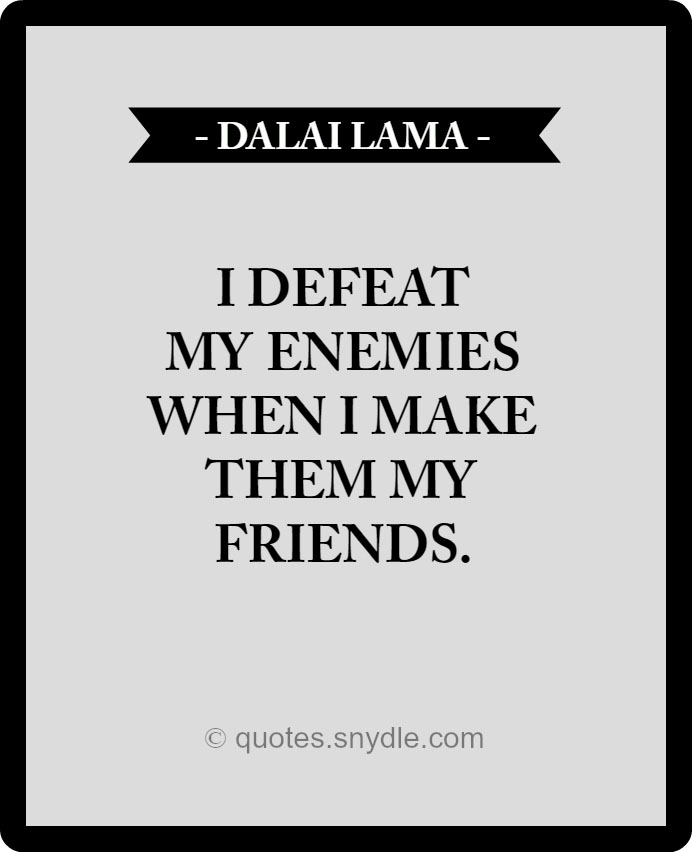 I defeat my enemies when I make them my friends.
– Dalai Lama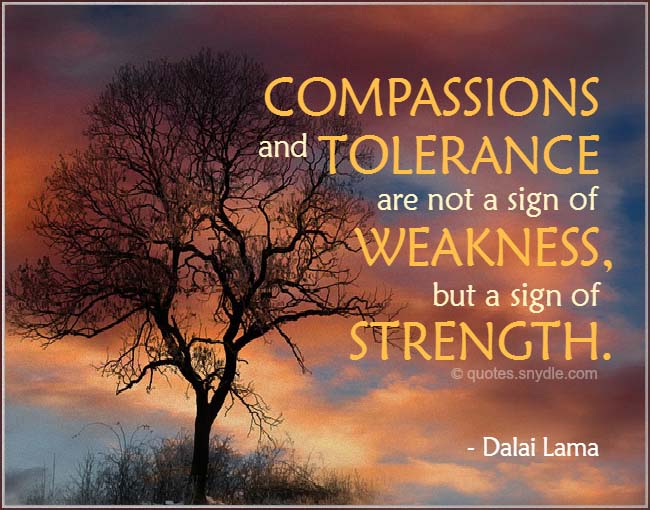 Compassion and tolerance are not a sign of weakness, but a sign of strength.
– Dalai Lama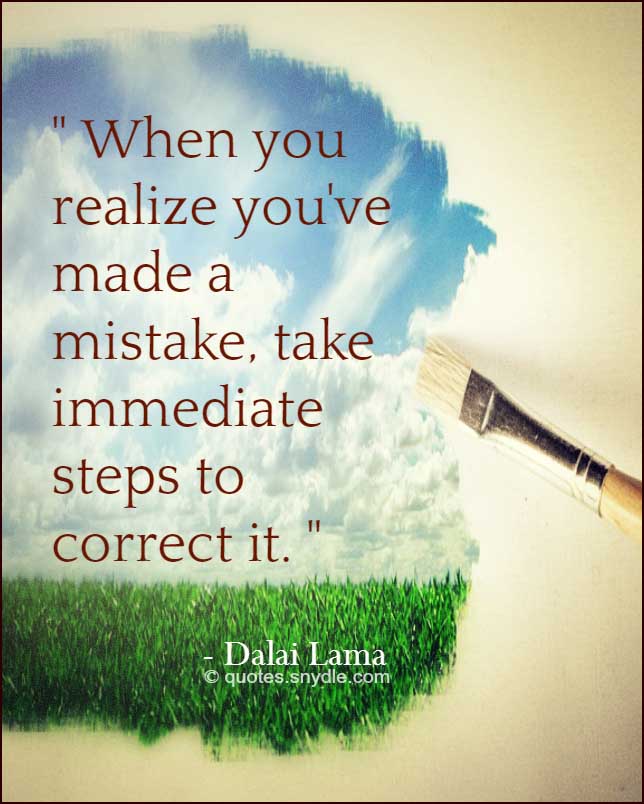 When you realize you've made a mistake, take immediate steps to correct it.
– Dalai Lama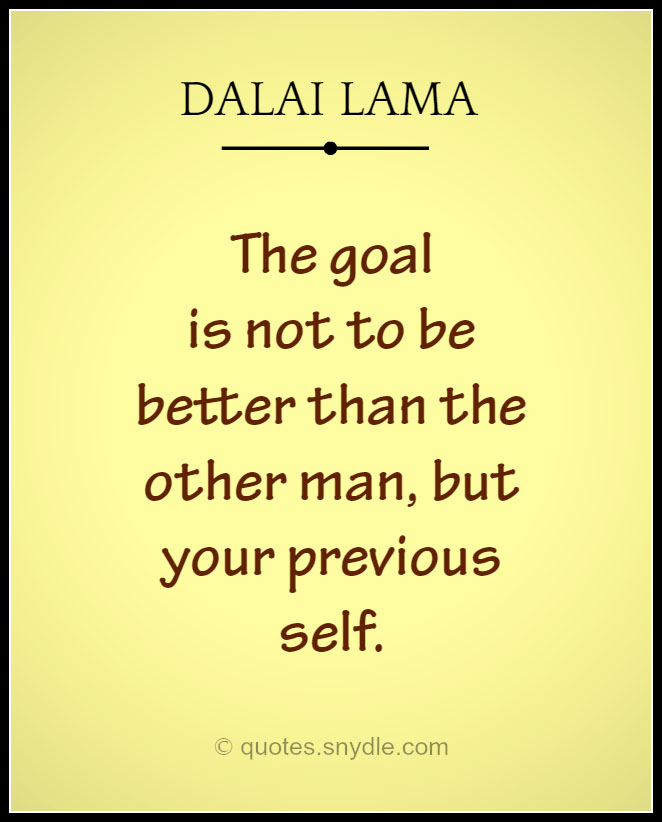 The goal is not to be better than the other man, but your previous self.
– Dalai Lama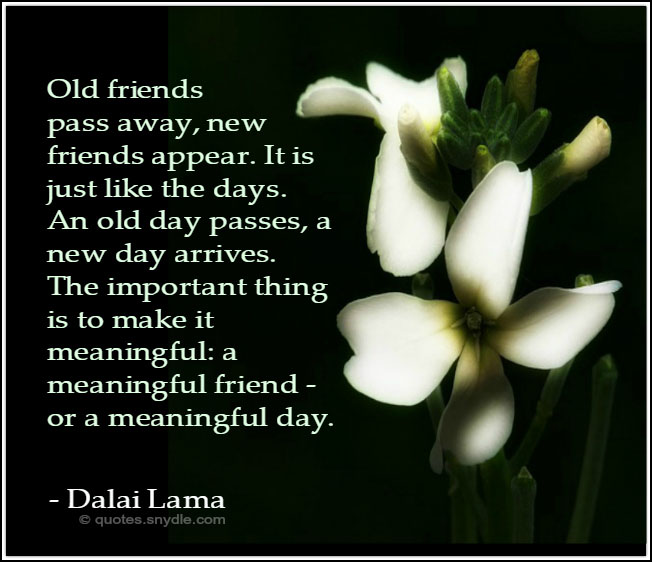 Old friends pass away, new friends appear. It is just like the days. An old day passes, a new day arrives. The important thing is to make it meaningful: a meaningful friend – or a meaningful day.
– Dalai Lama
The mind is like a parachute. It works best when it's open.
– Dalai Lama
Give the ones you love wings to fly, roots to come back and reasons to stay.
– Dalai Lama
The ultimate source of comfort and peace is within ourselves.
– Dalai Lama
Remember that great love and great achievements involve great risk.
– Dalai Lama
The very purpose of our life is to seek happiness.
– Dalai Lama
Anger or hatred is like a fisherman's hook. It is very important for us to ensure that we are not caught by it.
– Dalai Lama
Dalai Lama Quotes about Life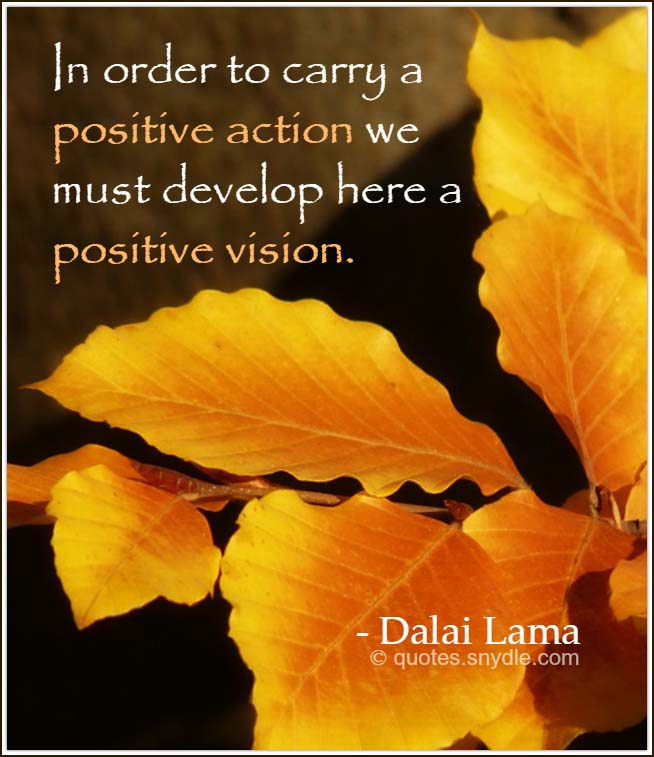 In order to carry a positive action we must develop here a positive vision.
– Dalai Lama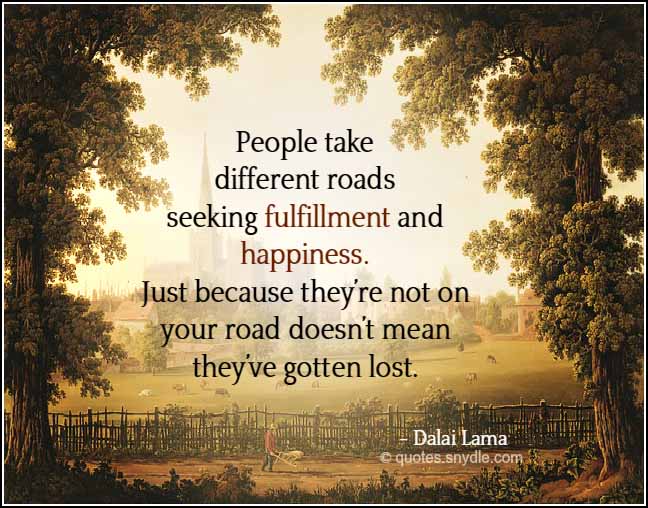 People take different roads seeking fulfillment and happiness. Just because they're not on your road doesn't mean they've gotten lost.
– Dalai Lama
Judge your success by what you had to give up in order to get it.
– Dalai Lama
We can never obtain peace in the outer world until we make peace with ourselves.
– Dalai Lama
In our struggle for freedom, truth is the only weapon we possess.
– Dalai Lama
The whole purpose of religion is to facilitate love and compassion, patience, tolerance, humility, and forgiveness.
– Dalai Lama
We can live without religion and meditation, but we cannot survive without human affection.
– Dalai Lama

A disciplined mind leads to happiness, and an undisciplined mind leads to suffering.
– Dalai Lama
Happiness is determined more by one's state of mind than by external events.
– Dalai Lama
The greater the level of calmness of our mind, the greater our peace of mind, the greater our ability to enjoy a happy and joyful life.
– Dalai Lama
When our minds are clouded by hatred, selfishness, jealousy, and anger, we lose not only control but also our judgment.
– Dalai Lama
The first step in restoring faith among those you lead is to inspire them with a sense of purpose—just
– Dalai Lama
When we meet real tragedy in life, we can react in two ways–either by losing hope and falling into self-destructive habits, or by using the challenge to find our inner strength.
– Dalai Lama
When you think everything is someone else's fault, you will suffer a lot. When you realize that everything springs only from yourself, you will learn both peace and joy.
– Dalai Lama
Through violence, you may 'solve' one problem, but you sow the seeds for another.
– Dalai Lama
The more you are motivated by love, the more fearless & free your action will be.
– Dalai Lama
The way to change others' minds is with affection, and not anger.
– Dalai Lama
Inspirational Quotes by Dalai Lama
Remember that the best relationship is one in which your love for each other exceeds your need for each other.
– Dalai Lama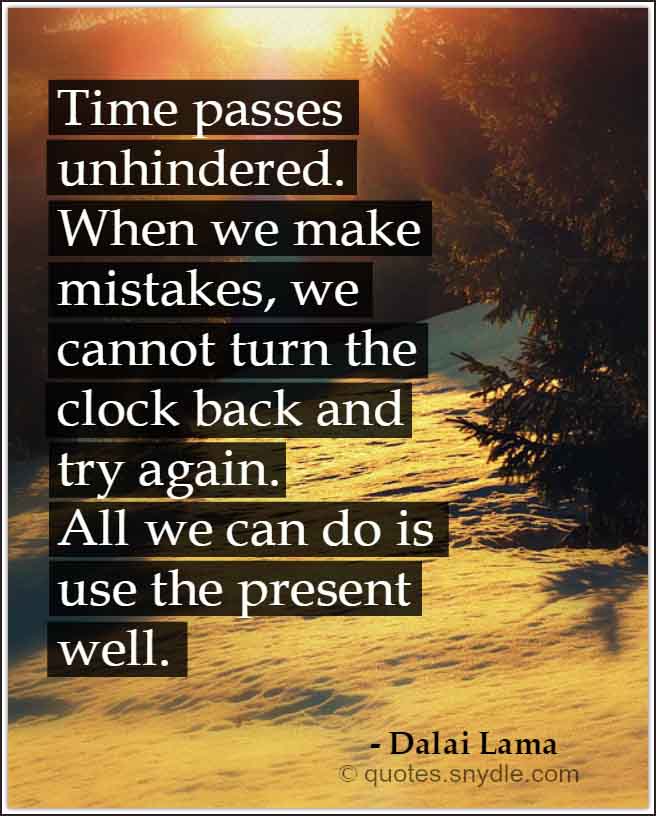 Time passes unhindered. When we make mistakes, we cannot turn the clock back and try again. All we can do is use the present well.
– Dalai Lama
If you want others to be happy, practice compassion. If you want to be happy, practice compassion.
– Dalai Lama
A lack of transparency results in distrust and a deep sense of insecurity.
– Dalai Lama
Love is the absence of judgment.
– Dalai Lama
With realization of one's own potential and self-confidence in one's ability, one can build a better world.
– Dalai Lama
If you don't love yourself, you cannot love others. You will not be able to love others. If you have no compassion for yourself then you are not able of developing compassion for others.
– Dalai Lama
In the practice of tolerance, one's enemy is the best teacher.
– Dalai Lama
A good friend who points out mistakes and imperfections and rebukes evil is to be respected as if he reveals the secret of some hidden treasure.
– Dalai Lama
True change is within; leave the outside as it is.
– Dalai Lama
The best way to resolve any problem in the human world is for all sides to sit down and talk.
– Dalai Lama
I find hope in the darkest of days, and focus in the brightest. I do not judge the universe.
– Dalai Lama
Do not let the behavior of others destroy your inner peace.
– Dalai Lama
Share your knowledge. It is a way to achieve immortality.
– Dalai Lama
The enemy is the necessary condition for practicing patience.
– Dalai Lama
It is important to consider others at least as important as ourselves. This is the essence of spirituality.
– Dalai Lama
Compassion naturally creates a positive atmosphere, and as a result you feel peaceful and content.
– Dalai Lama
I believe the most important thing for humankind is its own creativity. I further believe that, in order to be able to exercise this creativity, people need to be free.
– Dalai Lama