Friendship quotes can be inspirational and cute. Here are famous quotes about friendship for you. Friendship is the glue that holds the world together. Without friends, our days will be lonely and bleak. They bring warmth and light in this dark cold world. Friends are like family. They care about you and want what's best for you. Friendship is a bond that goes back to the beginning of time. It is a bond between souls and hearts that can never be explained. Here are some of the famous quotes about friendship that you can share to your friends to let them know how blessed you are to have them. We include inspirational friendship quotes for inspiration too.
Best Friendship Quotes and Sayings
Friends are people that know who you really are. They can read your mind and your thoughts. You can rarely hide things from them, because they know you like they know themselves. Here are some collection of famous friendship quotes and sayings for you and your friends.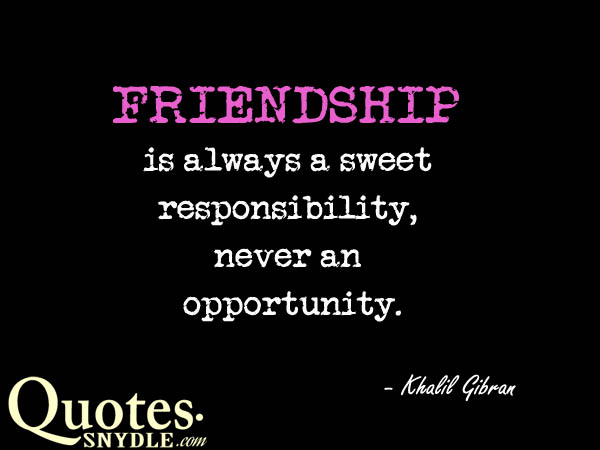 Friendship is always a sweet responsibility, never an opportunity.
― Khalil Gibran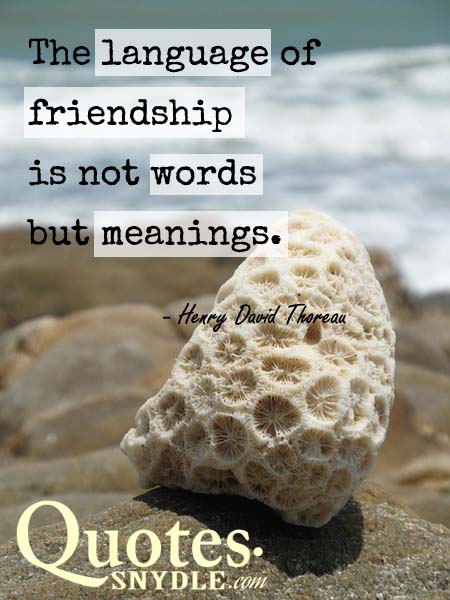 The language of friendship is not words but meanings.
― Henry David Thoreau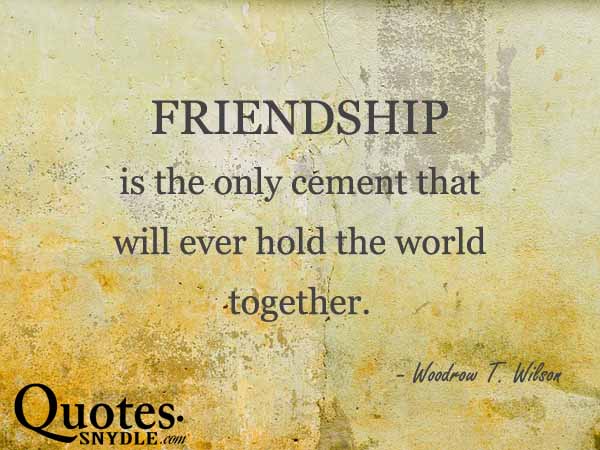 Friendship is the only cement that will ever hold the world together.
― Woodrow T. Wilson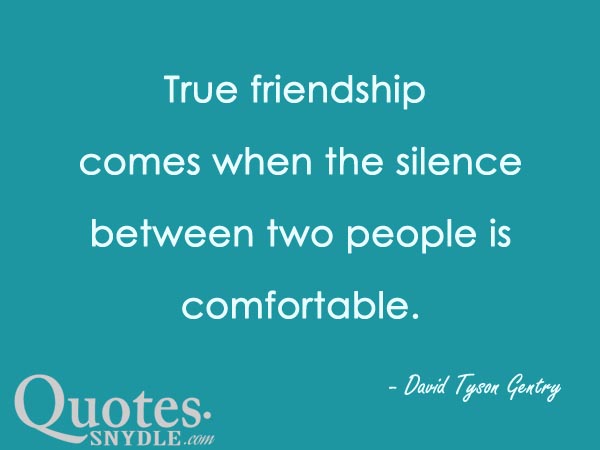 True friendship comes when the silence between two people is comfortable.
― David Tyson Gentry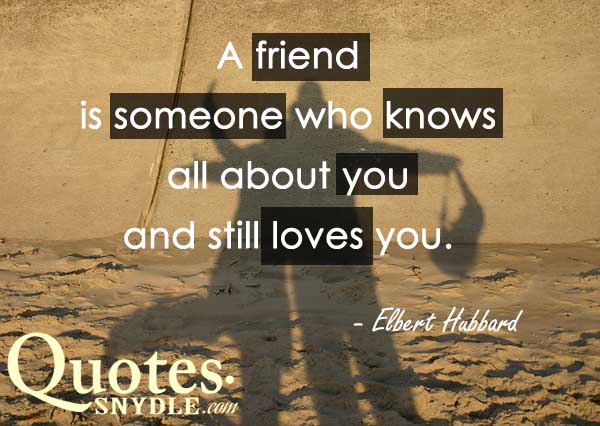 A friend is someone who knows all about you and still loves you.
― Elbert Hubbard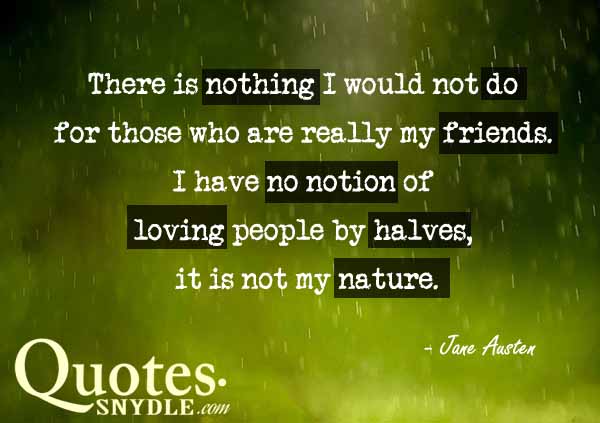 There is nothing I would not do for those who are really my friends. I have no notion of loving people by halves, it is not my nature.
― Jane Austen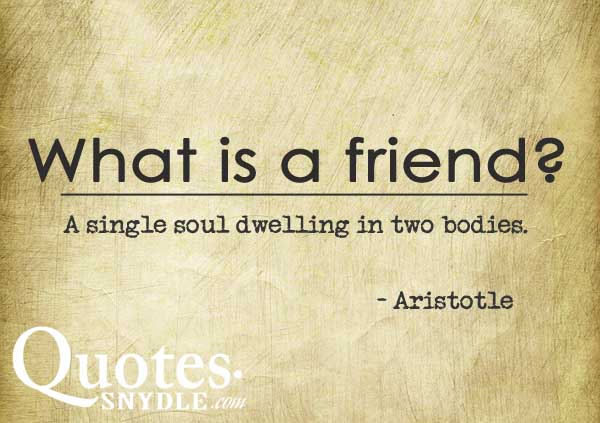 What is a friend? A single soul dwelling in two bodies.
― Aristotle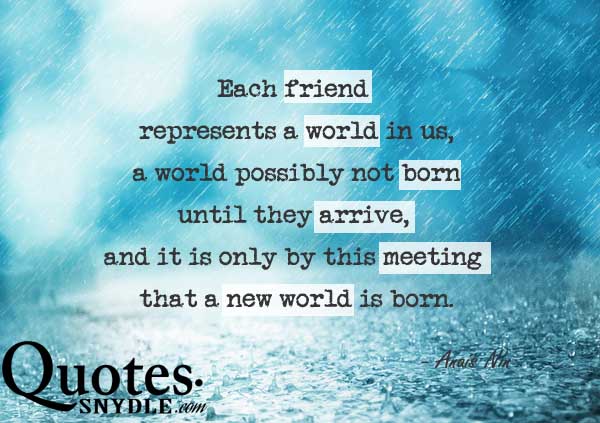 Each friend represents a world in us, a world possibly not born until they arrive, and it is only by this meeting that a new world is born.
― Anaïs Nin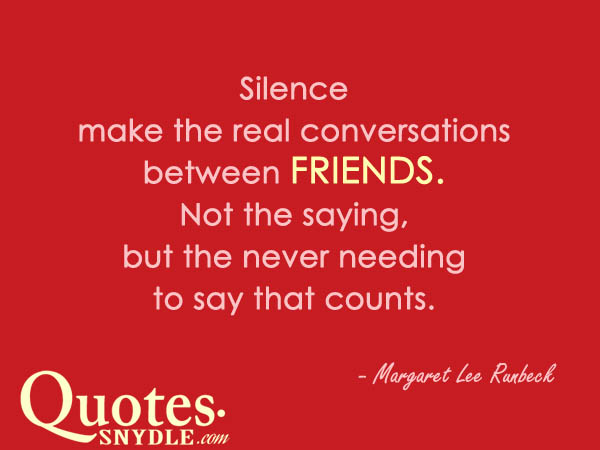 Silence make the real conversations between friends. Not the saying, but the never needing to say that counts.
― Margaret Lee Runbeck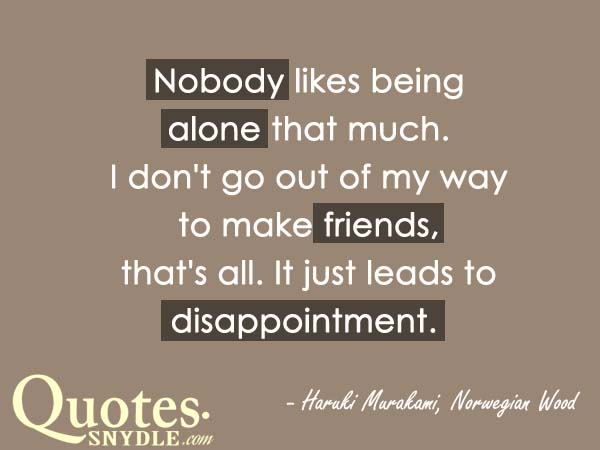 Nobody likes being alone that much. I don't go out of my way to make friends, that's all. It just leads to disappointment.
― Haruki Murakami, Norwegian Wood
Cute Quotes about Friendship
Friends are like your brothers and sisters from another mother. Sometimes it surprises you how you could be so alike or so different and still click. It is a bond that can never be explained. Sometimes it doesn't have to be explained. It only has to be cherished. Here are more quotes about friendship that will make you appreciate them more.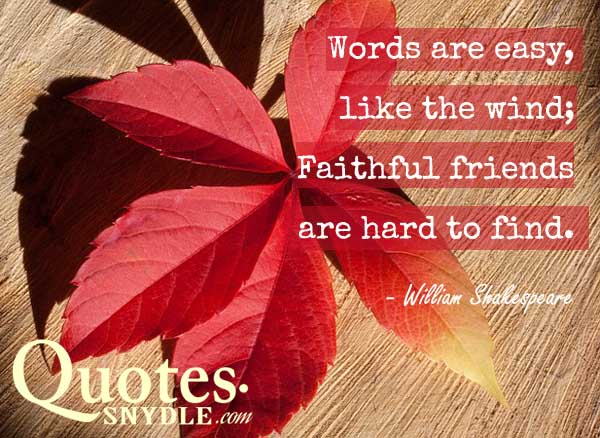 Words are easy, like the wind; Faithful friends are hard to find.
― William Shakespeare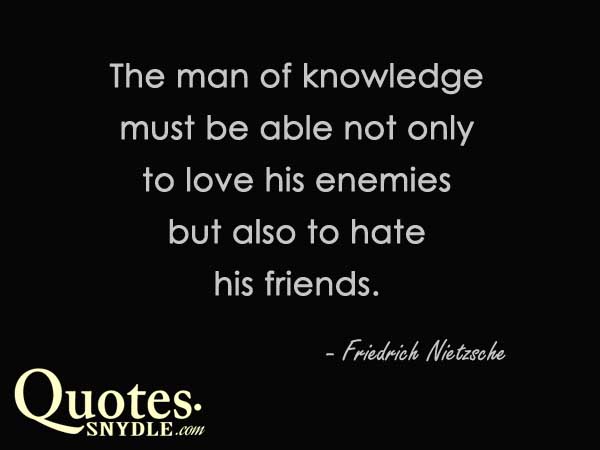 The man of knowledge must be able not only to love his enemies but also to hate his friends.
― Friedrich Nietzsche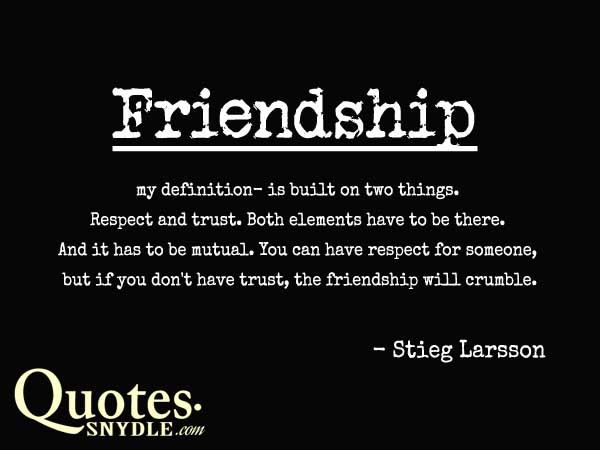 Friendship- my definition- is built on two things. Respect and trust. Both elements have to be there. And it has to be mutual. You can have respect for someone, but if you don't have trust, the friendship will crumble.
― Stieg Larsson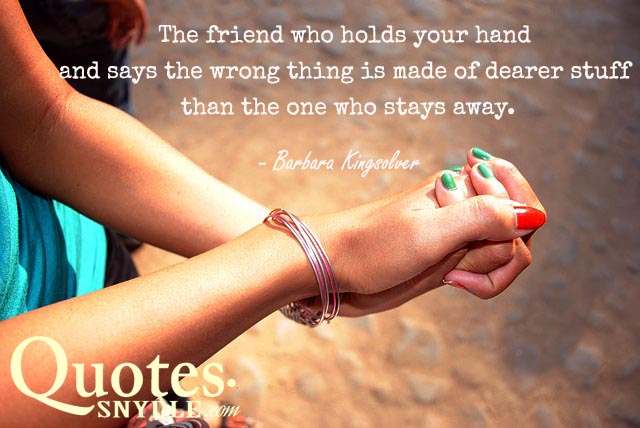 The friend who holds your hand and says the wrong thing is made of dearer stuff than the one who stays away.
― Barbara Kingsolver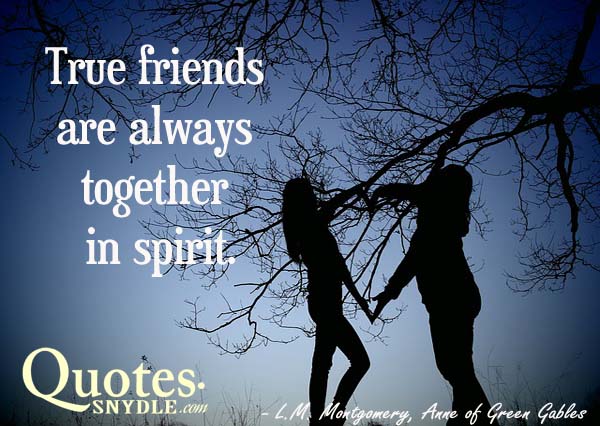 True friends are always together in spirit. (Anne Shirley)
― L.M. Montgomery, Anne of Green Gables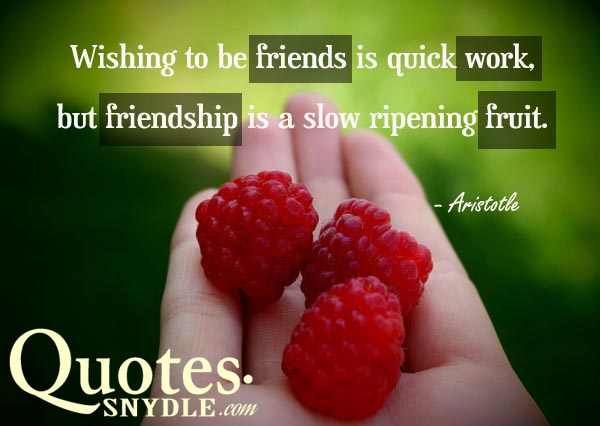 Wishing to be friends is quick work, but friendship is a slow ripening fruit.
― Aristotle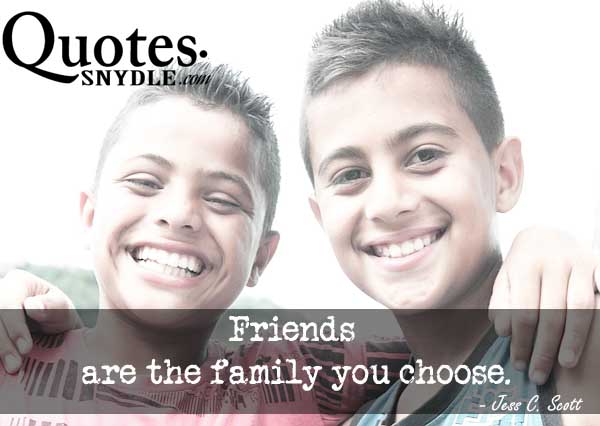 Friends are the family you choose.
– Jess C. Scott
True Friendship Quotes
Whether it is a friendship that has survived decades or a fleeting friendship made during travels or bus rides, we can always count on these memories to make us smile and to wash our souls with nostalgia and love. Find more inspirational quotes about friendship as you browse.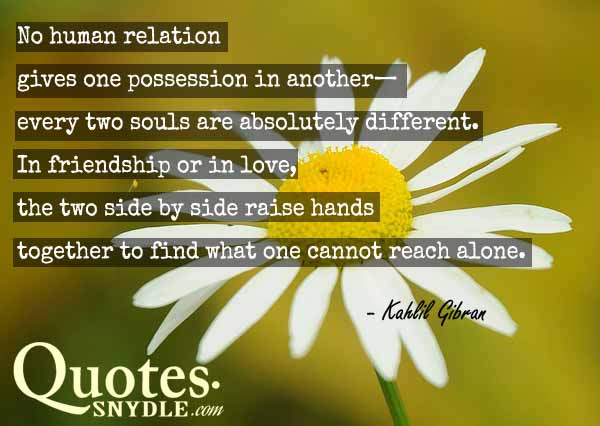 No human relation gives one possession in another—every two souls are absolutely different. In friendship or in love, the two side by side raise hands together to find what one cannot reach alone.
― Kahlil Gibran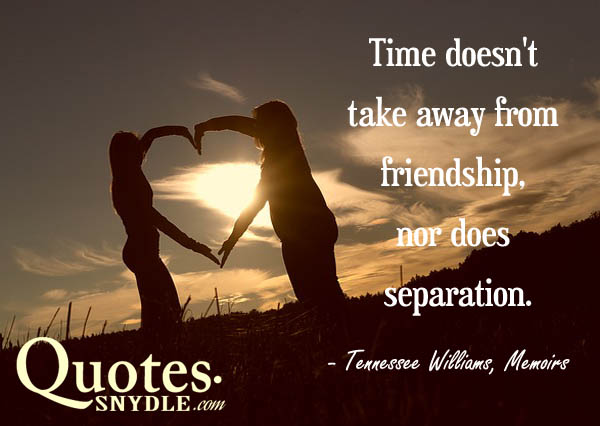 Time doesn't take away from friendship, nor does separation.
― Tennessee Williams, Memoirs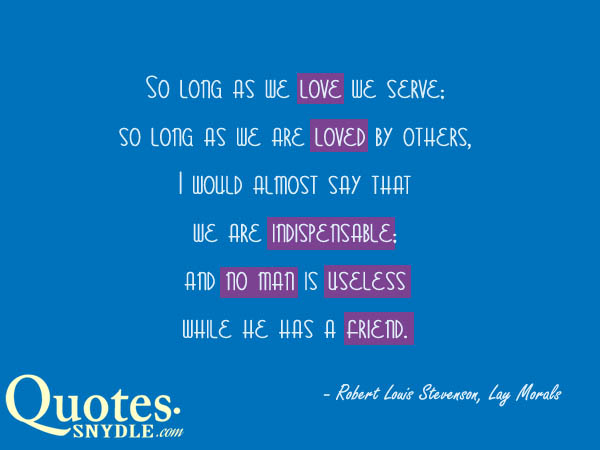 So long as we love we serve; so long as we are loved by others, I would almost say that we are indispensable; and no man is useless while he has a friend.
― Robert Louis Stevenson, Lay Morals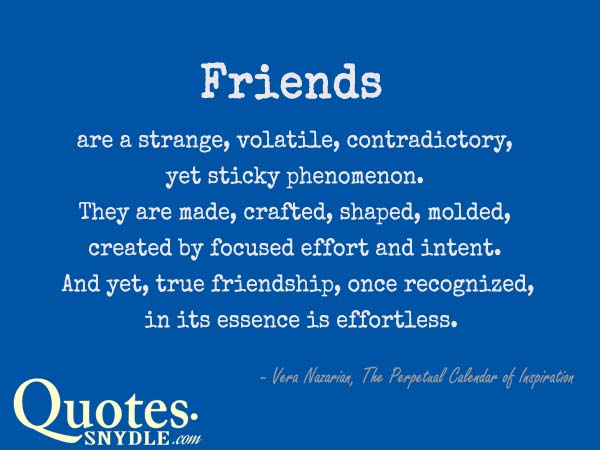 Friends are a strange, volatile, contradictory, yet sticky phenomenon. They are made, crafted, shaped, molded, created by focused effort and intent. And yet, true friendship, once recognized, in its essence is effortless.
― Vera Nazarian, The Perpetual Calendar of Inspiration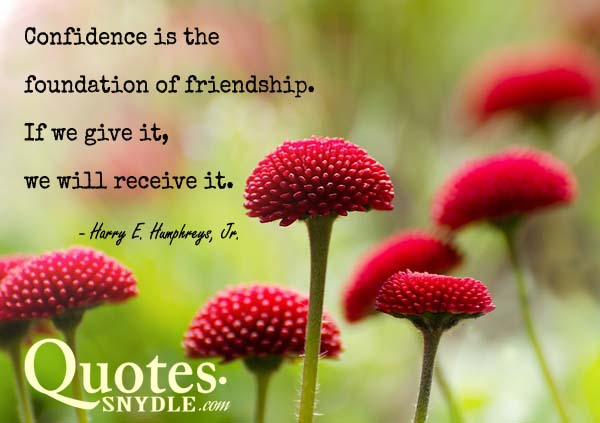 Confidence is the foundation of friendship. If we give it, we will receive it.
― Harry E. Humphreys, Jr.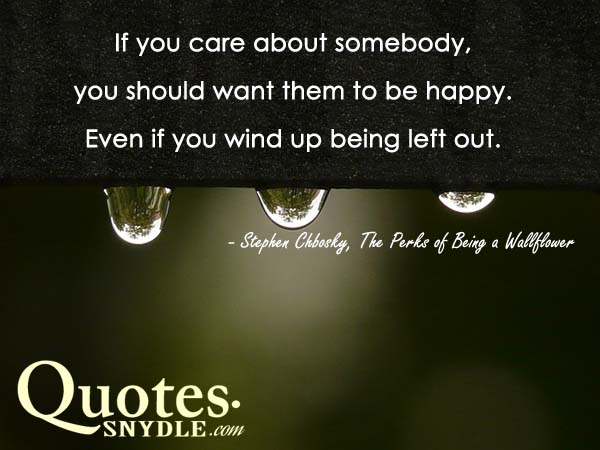 If you care about somebody, you should want them to be happy. Even if you wind up being left out.
― Stephen Chbosky, The Perks of Being a Wallflower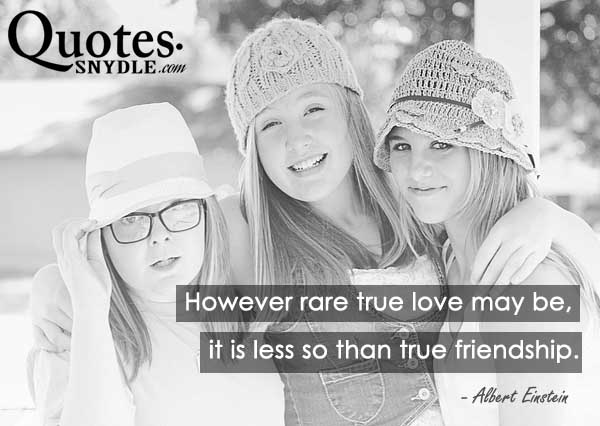 However rare true love may be, it is less so than true friendship.
― Albert Einstein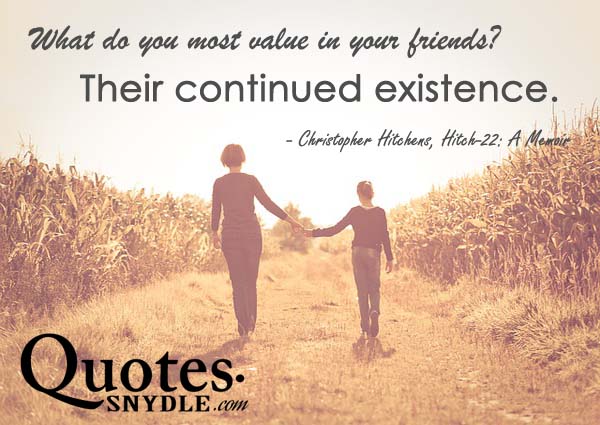 What do you most value in your friends?
Their continued existence.
― Christopher Hitchens, Hitch-22: A Memoir
More Quotes about Friendship
We treasure the times with friends because they were times we got to spend time with the people whose care, love and affection know no bounds. Here are some of the most beautiful friendship quotes that you can dedicate to your best friends.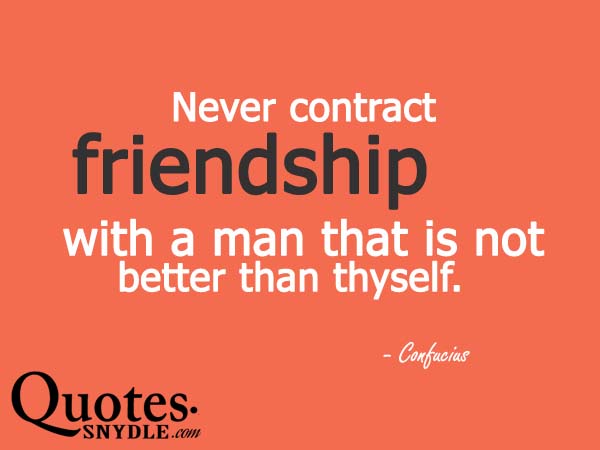 Never contract friendship with a man that is not better than thyself.
― Confucius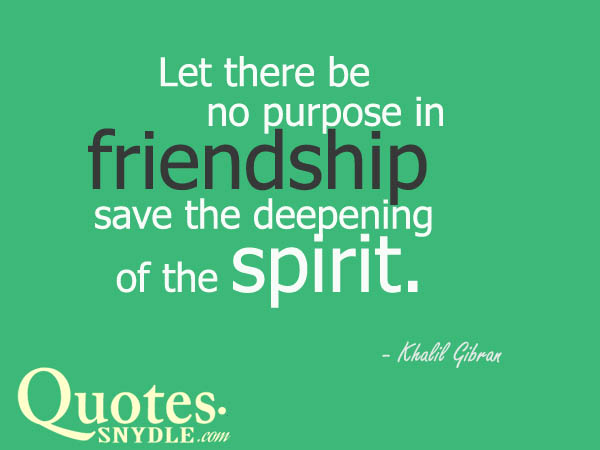 Let there be no purpose in friendship save the deepening of the spirit.
― Khalil Gibran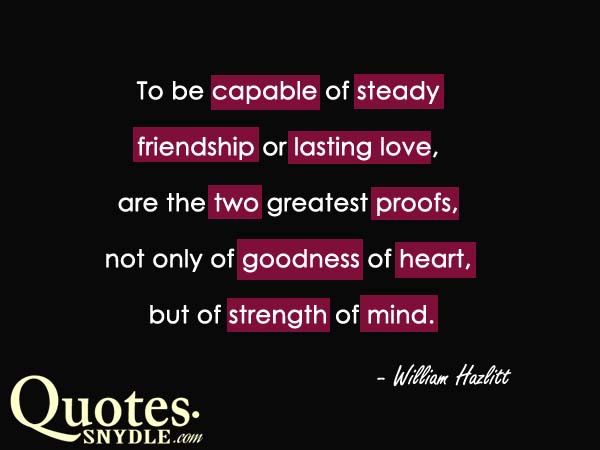 To be capable of steady friendship or lasting love, are the two greatest proofs, not only of goodness of heart, but of strength of mind.
― William Hazlitt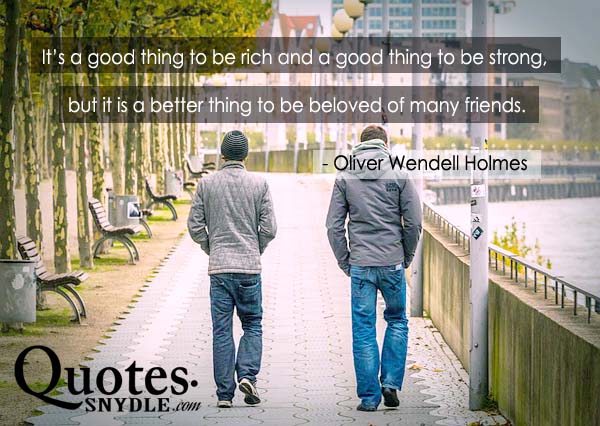 It's a good thing to be rich and a good thing to be strong, but it is a better thing to be beloved of many friends.
― Oliver Wendell Holmes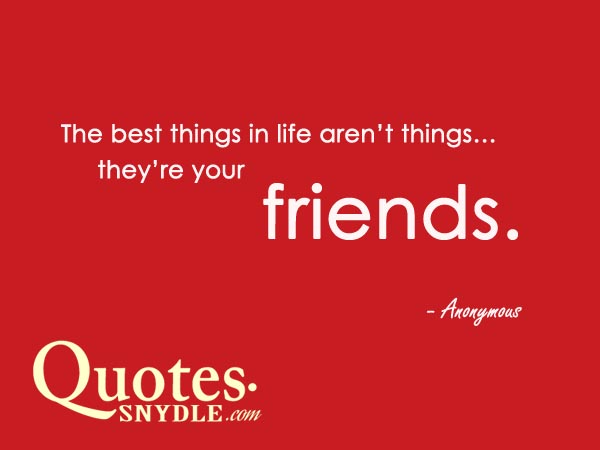 The best things in life aren't things…they're your friends.
― Unknown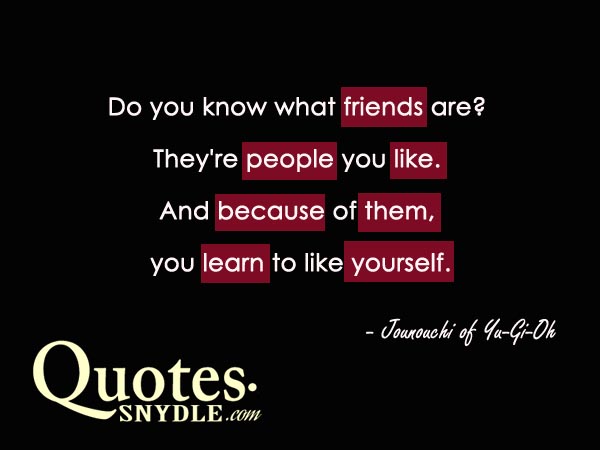 Do you know what friends are? They're people you like. And because of them, you learn to like yourself.
― Jounouchi of Yu-Gi-Oh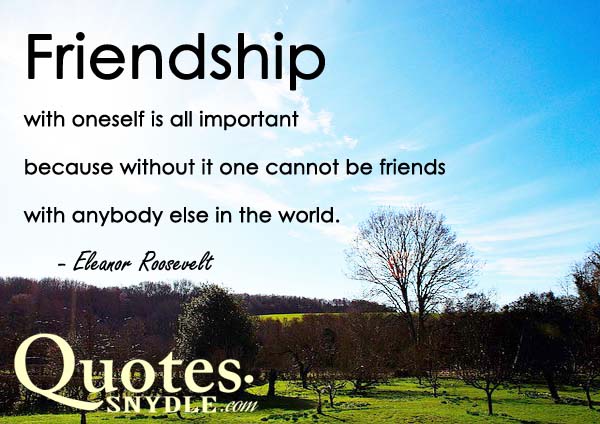 Friendship with oneself is all important because without it one cannot be friends with anybody else in the world.
― Eleanor Roosevelt