Here are the best motivational quotes about moving on and letting go quotes for you. When you are in love, breaking up never crosses your mind until the time when it comes and you are left bawling on the floor, mourning for your lost love. Suddenly, the fact that you will never be together hits you like a bus and you are left shattered and broken. You try to forget the pain. You surround yourself with friends and clutter your mind with things to keep your mind off it, but when it is late at night and you are alone in your room with no one and nothing to distract you, all those memories play in your head.
Once you finally decide on moving on, you are stumped. Where you start? How do you start? You have scoured the web and found tons of motivational quotes about moving on. You have read tons of articles about moving on and watched motivational videos, but where do you start?
Best Moving On Quotes and Letting Go Quotes
Moving on should start from your own self. Moving on means letting go of all those feelings and all the hurt and anger directed at yourself, at the person and the world in general. Let go of those thoughts that tell you that you're not good enough.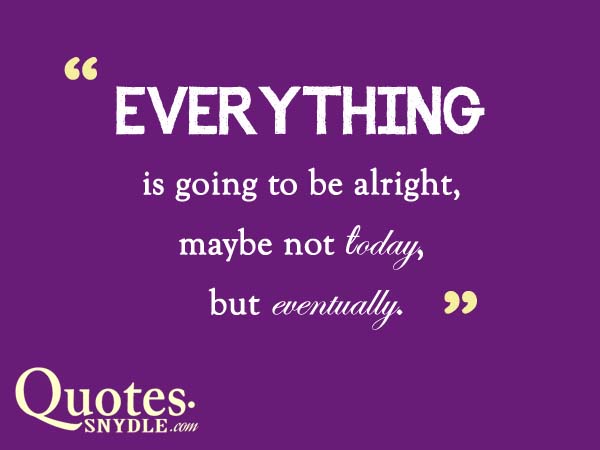 Everything is going to be alright, maybe not today, but eventually.
― Unknown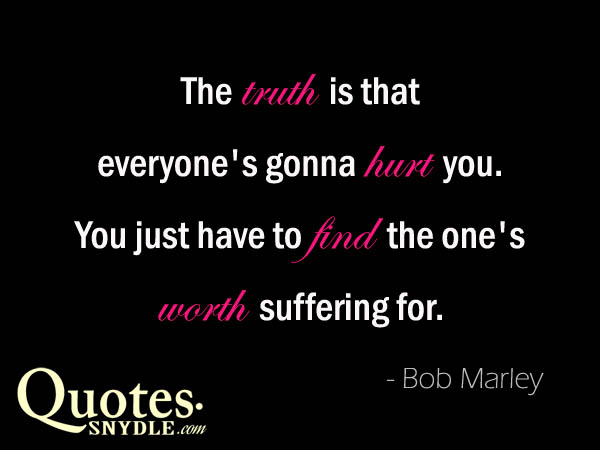 The truth is that everyone's gonna hurt you. You just have to find the one's worth suffering for.
― Bob Marley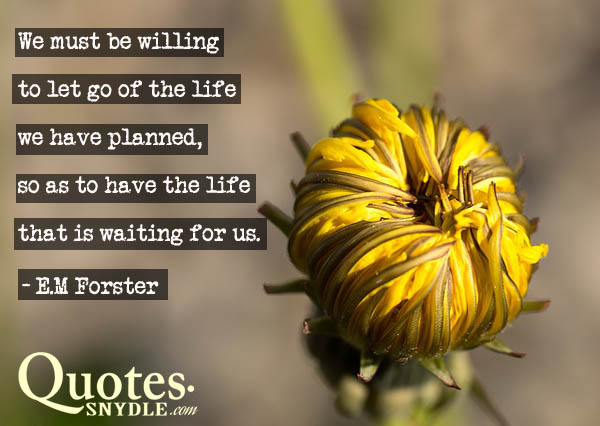 We must be willing to let go of the life we have planned, so as to have the life that is waiting for us.
― E.M Forster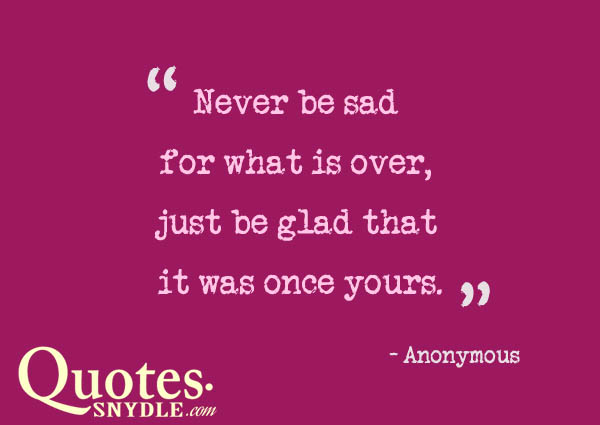 Never be sad for what is over, just be glad that it was once yours.
― Unknown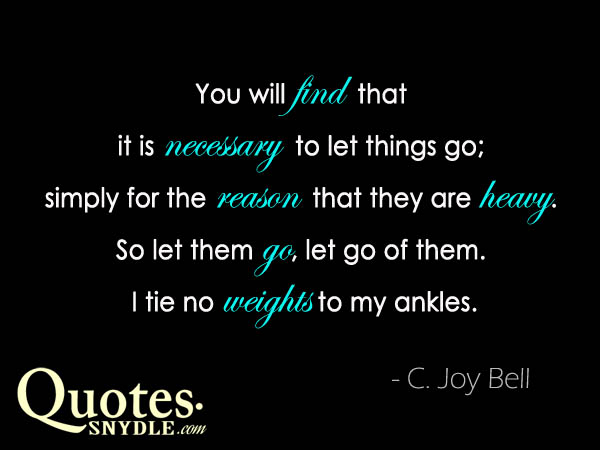 You will find that it is necessary to let things go; simply for the reason that they are heavy. So let them go, let go of them. I tie no weights to my ankles.
― C. JoyBell C.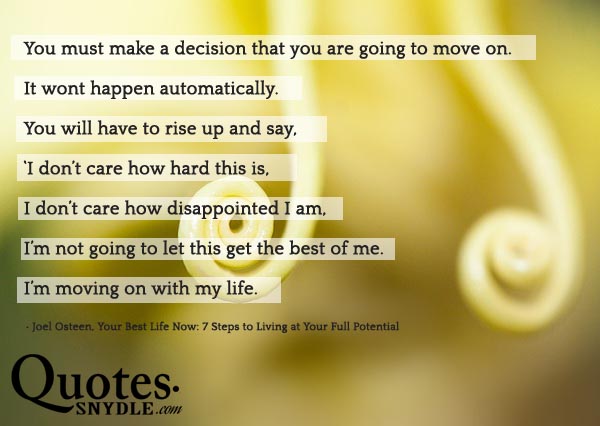 You must make a decision that you are going to move on. It wont happen automatically. You will have to rise up and say, 'I don't care how hard this is, I don't care how disappointed I am, I'm not going to let this get the best of me. I'm moving on with my life.
― Joel Osteen, Your Best Life Now: 7 Steps to Living at Your Full Potential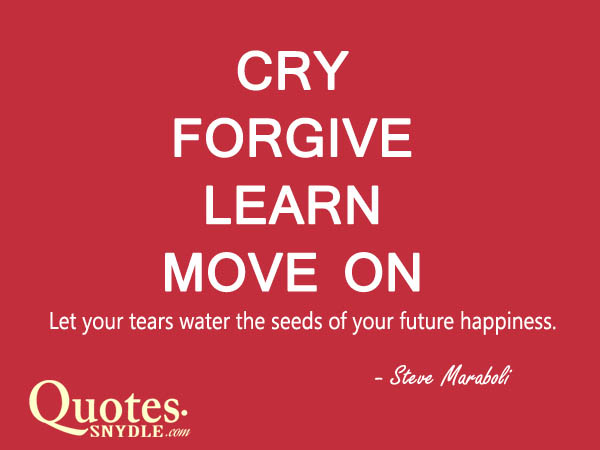 Cry. Forgive. Learn. Move on. Let your tears water the seeds of your future happiness.
― Steve Maraboli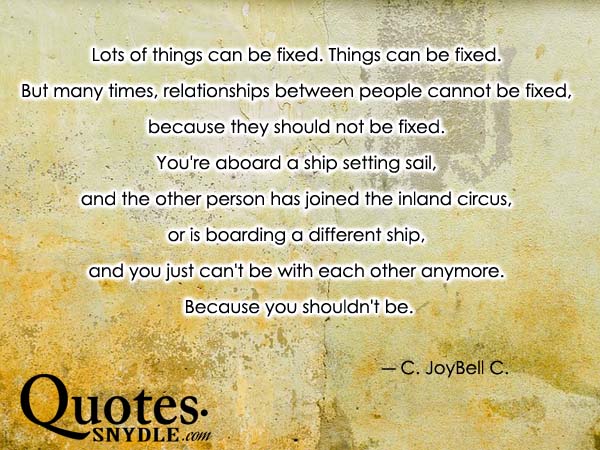 Lots of things can be fixed. Things can be fixed. But many times, relationships between people cannot be fixed, because they should not be fixed. You're aboard a ship setting sail, and the other person has joined the inland circus, or is boarding a different ship, and you just can't be with each other anymore. Because you shouldn't be.
― C. JoyBell C.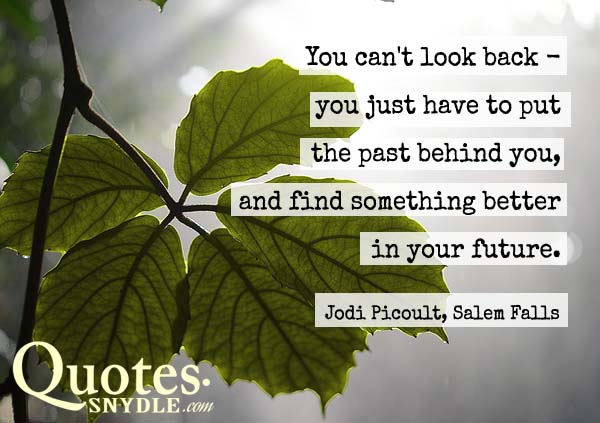 You can't look back – you just have to put the past behind you, and find something better in your future.
― Jodi Picoult, Salem Falls
Inspirational Moving On Quotes
Motivate yourself to be a better and happier person. Stop holding yourself back from your full potential by constantly living in the past. This is just a minor bump in your journey to finding love and happiness in your life; do not let it define you and consume you. If they can do it, then you most certainly can, too.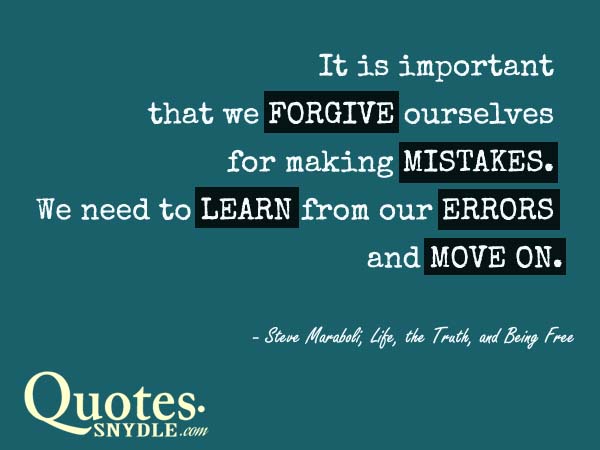 It is important that we forgive ourselves for making mistakes. We need to learn from our errors and move on.
― Steve Maraboli, Life, the Truth, and Being Free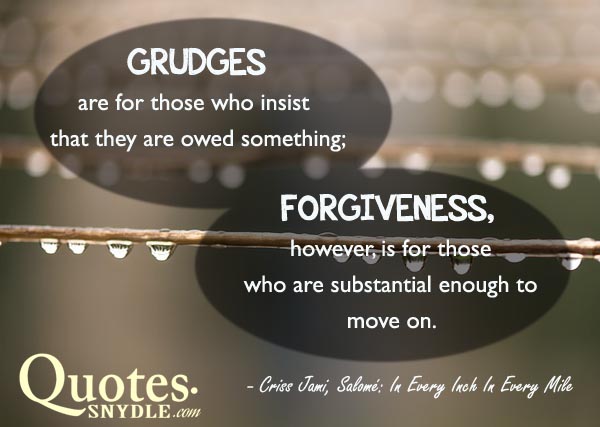 Grudges are for those who insist that they are owed something; forgiveness, however, is for those who are substantial enough to move on.
― Criss Jami, Salomé: In Every Inch In Every Mile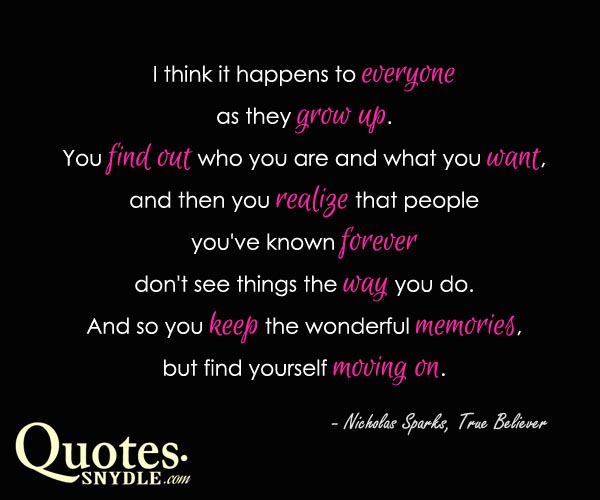 I think it happens to everyone as they grow up. You find out who you are and what you want, and then you realize that people you've known forever don't see things the way you do. And so you keep the wonderful memories, but find yourself moving on.
― Nicholas Sparks, True Believer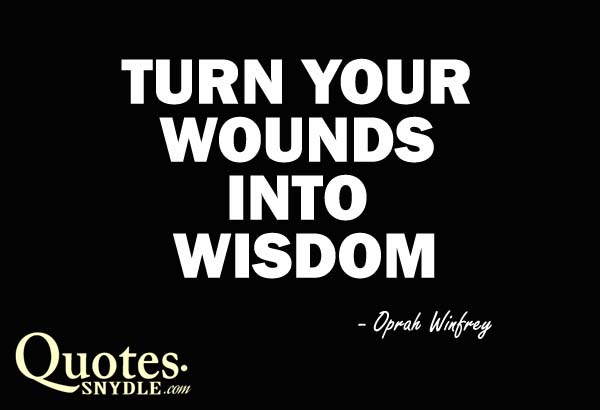 Turn your wounds into wisdom.
― Oprah Winfrey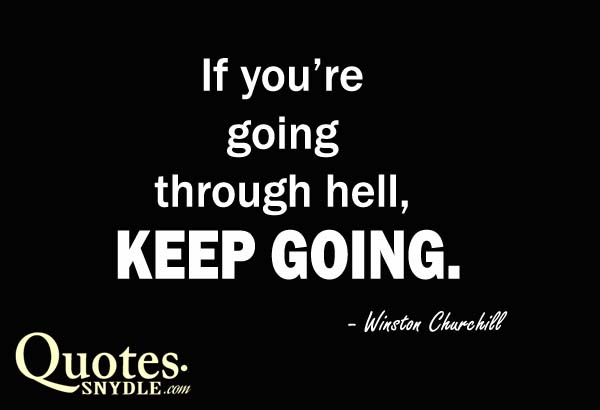 If you're going through hell, keep going.
― Winston Churchill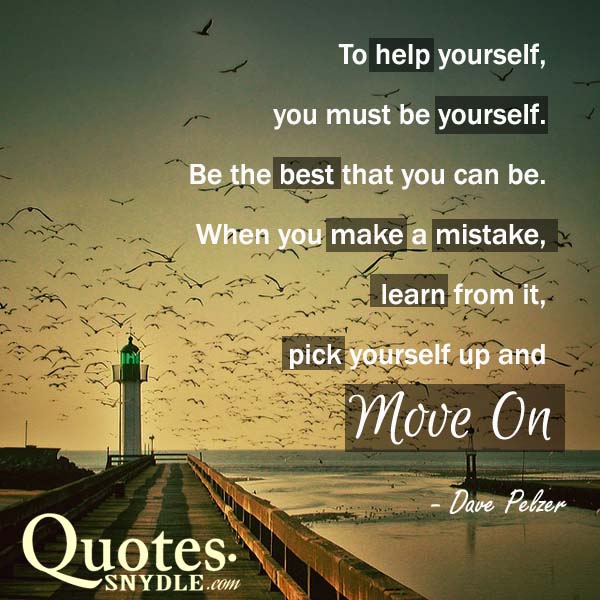 To help yourself, you must be yourself. Be the best that you can be. When you make a mistake, learn from it, pick yourself up and move on.
― Dave Pelzer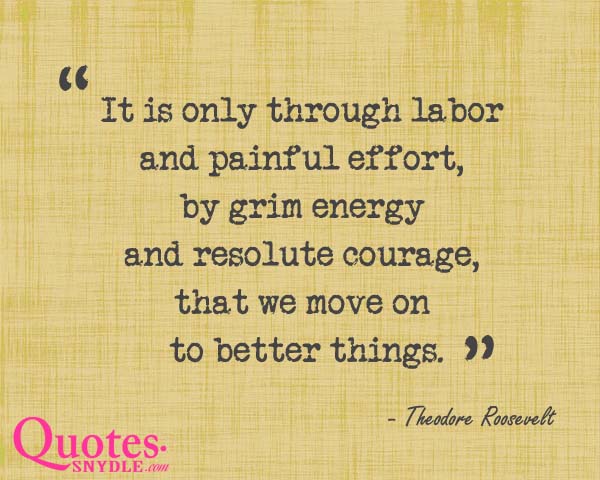 It is only through labor and painful effort, by grim energy and resolute courage, that we move on to better things.
― Theodore Roosevelt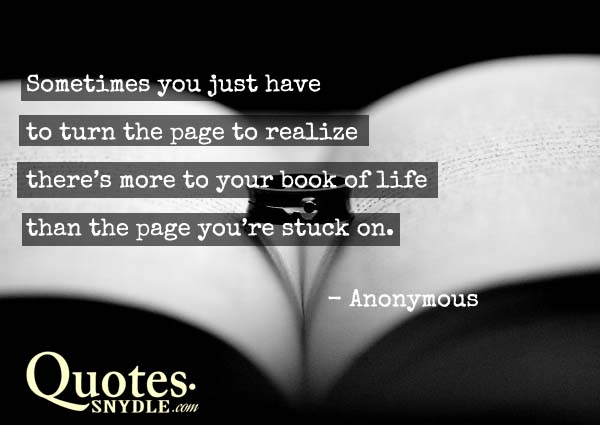 Sometimes you just have to turn the page to realize there's more to your book of life than the page you're stuck on. Stop being afraid to move on. Close this chapter of hurt, and never re-read it. It's time to get what your life deserves, and move on from the things that don't deserve you. Don't try to fix what's been broken in your past, let your future create something better.
― Unknown
Moving on Quotes for Guys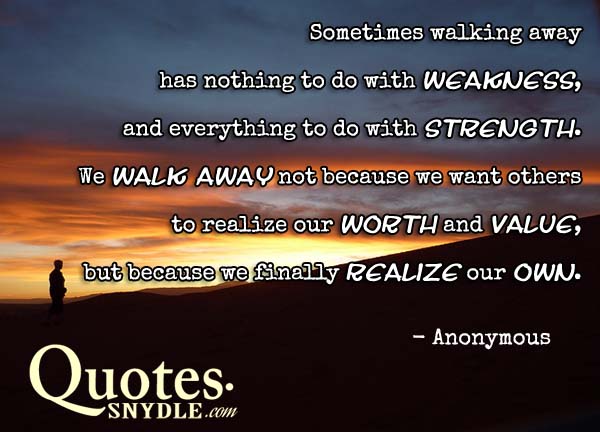 Sometimes walking away has nothing to do with weakness, and everything to do with strength. We walk away not because we want others to realize our worth and value, but because we finally realize our own.
― Unknown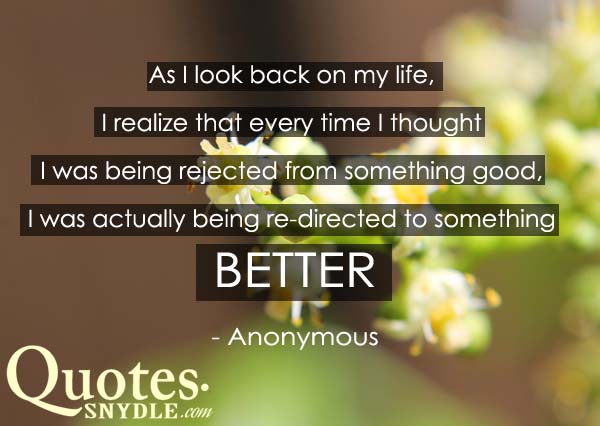 As I look back on my life, I realize that every time I thought I was being rejected from something good, I was actually being re-directed to something better.
― Unknown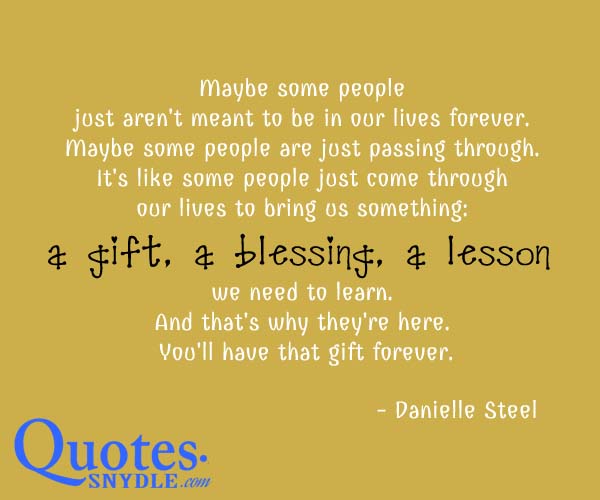 Maybe some people just aren't meant to be in our lives forever. Maybe some people are just passing through. It's like some people just come through our lives to bring us something: a gift, a blessing, a lesson we need to learn. And that's why they're here. You'll have that gift forever.
― Danielle Steel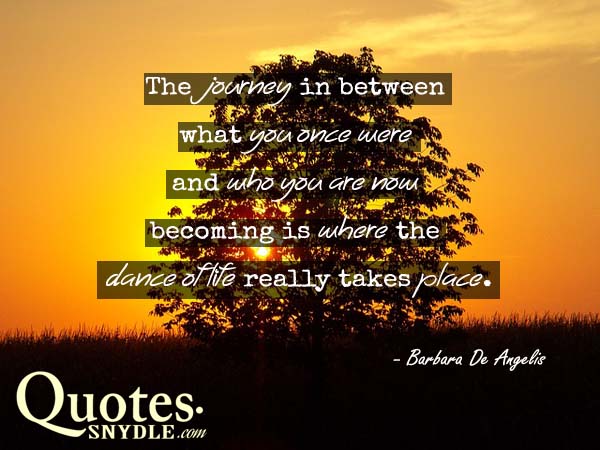 The journey in between what you once were and who you are now becoming is where the dance of life really takes place.
― Barbara De Angelis
Don't rely on someone else for your happiness and self worth. Only you can be responsible for that. If you can't love and respect yourself – no one else will be able to make that happen. Accept who you are – completely; the good and the bad – and make changes as YOU see fit – not because you think someone else wants you to be different.
― Stacey Charter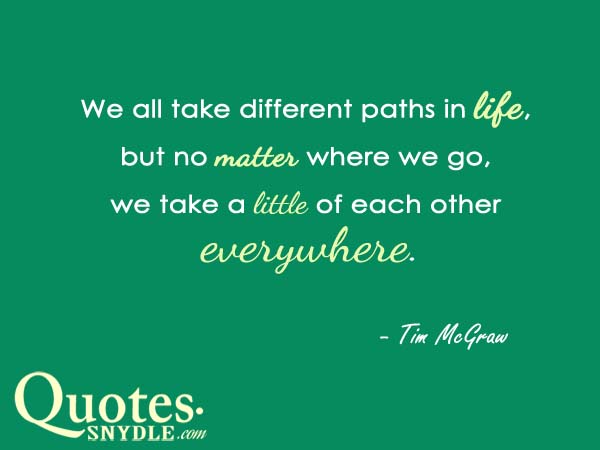 We all take different paths in life, but no matter where we go, we take a little of each other everywhere.
― Tim McGraw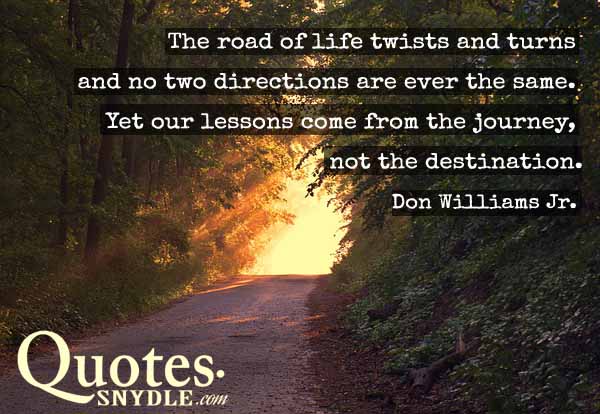 The road of life twists and turns and no two directions are ever the same. Yet our lessons come from the journey, not the destination.
― Don Williams Jr.
Moving on Quotes for Her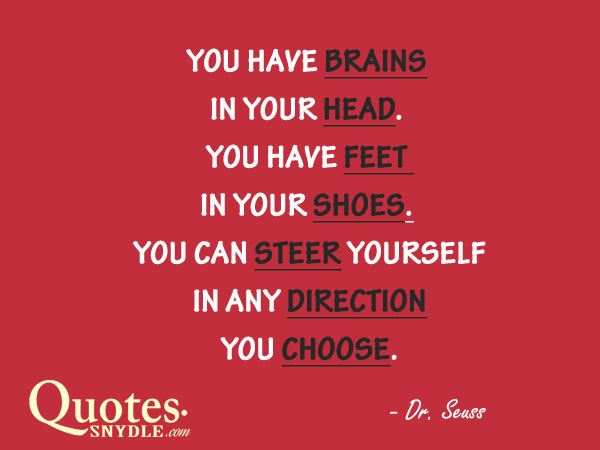 You have brains in your head. You have feet in your shoes. You can steer yourself in any direction you choose.
― Dr. Seuss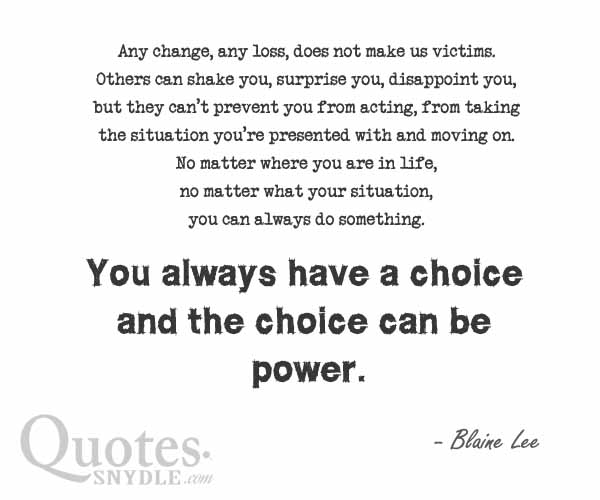 Any change, any loss, does not make us victims. Others can shake you, surprise you, disappoint you, but they can't prevent you from acting, from taking the situation you're presented with and moving on. No matter where you are in life, no matter what your situation, you can always do something. You always have a choice and the choice can be power.
― Blaine Lee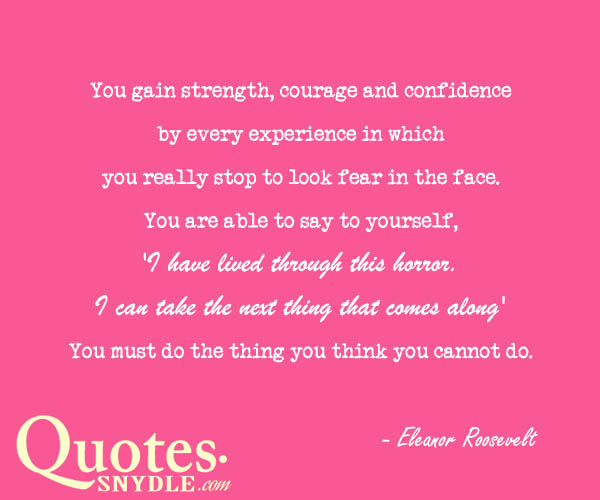 You gain strength, courage and confidence by every experience in which you really stop to look fear in the face. You are able to say to yourself, 'I have lived through this horror. I can take the next thing that comes along.' You must do the thing you think you cannot do. ― Eleanor Roosevelt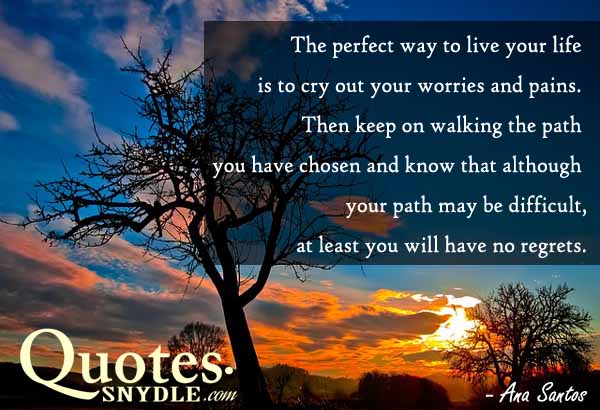 The perfect way to live your life is to cry out your worries and pains. Then keep on walking the path you have chosen and know that although your path may be difficult, at least you will have no regrets.
― Ana Santos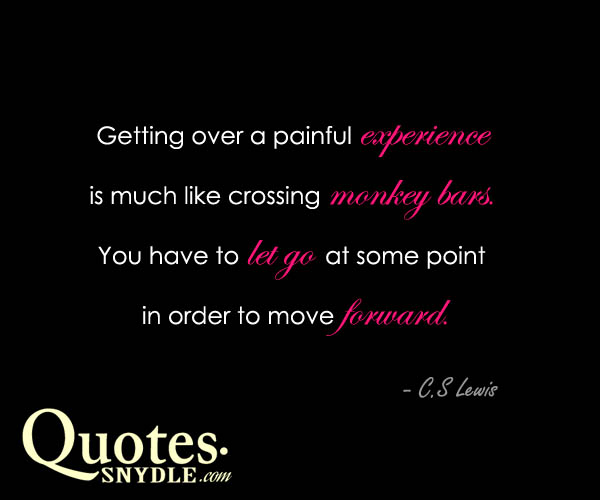 Getting over a painful experience is much like crossing monkey bars. You have to let go at some point in order to move forward.
― C.S Lewis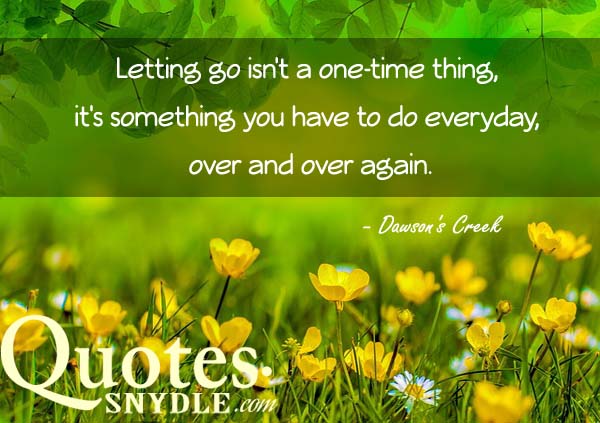 Letting go isn't a one-time thing, it's something you have to do everyday, over and over again.
― Dawson's Creek
More Quotes about Moving On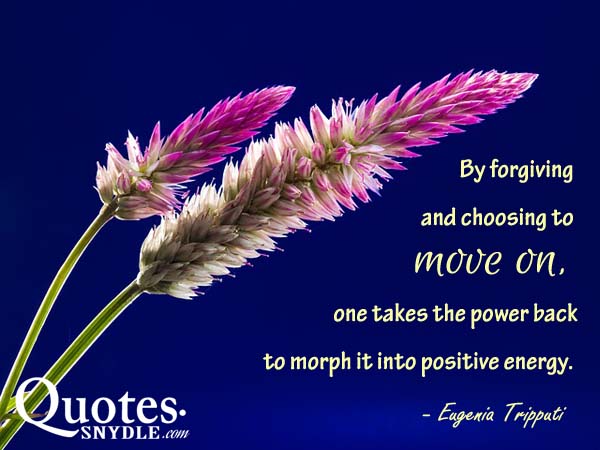 By forgiving and choosing to move on, one takes the power back to morph it into positive energy.
― Eugenia Tripputi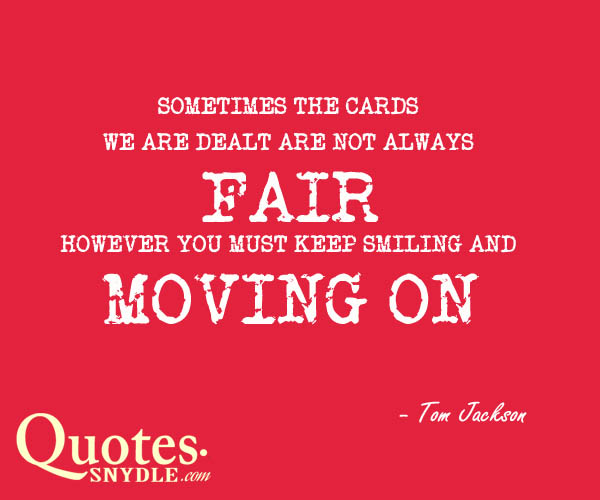 Sometimes the cards we are dealt are not always fair. However you must keep smiling & moving on.
― Tom Jackson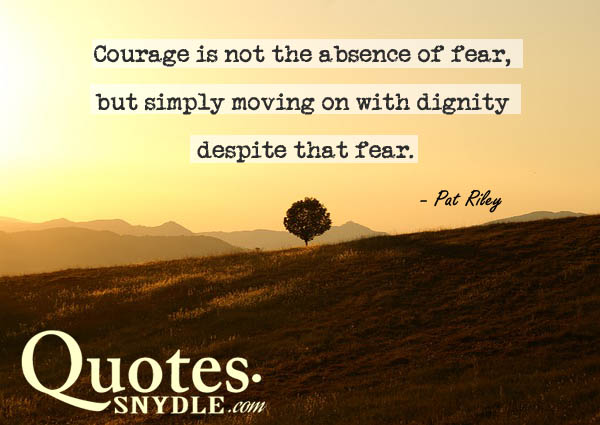 Courage is not the absence of fear, but simply moving on with dignity despite that fear.
― Pat Riley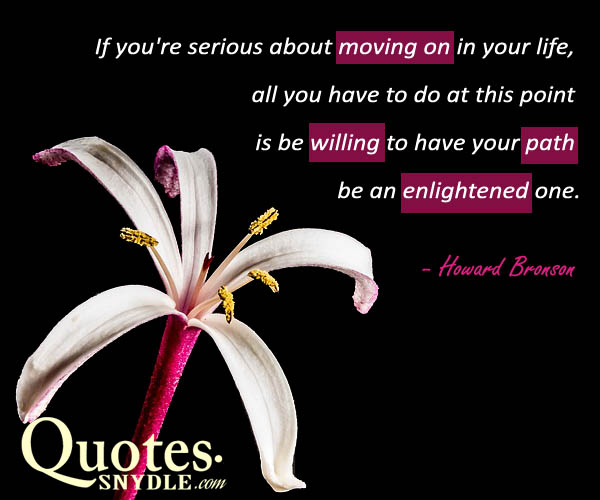 If you're serious about moving on in your life, all you have to do at this point is be willing to have your path be an enlightened one.
― Howard Bronson
Take a second out to think about this: in your life you search and search for the right person for you. Every time you break up with someone you get one step closer to that person. You should look at moving on as getting closer to meeting the one.
― Ian Philpot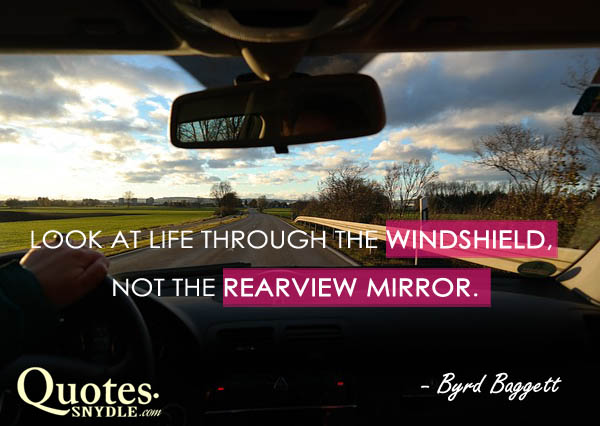 Look at life through the windshield, not the rearview mirror.
― Byrd Baggett