Only a fool can say that there is no God, and this is a quote from the Bible. Regardless of what religion people profess they are all in agreement that there is a higher power that is in charge of the destinies of men. As one wise person said, there is a God shaped void in all of us and if we do not accept that God can fill that void in our lives, then we go ahead and fill it with something else which unfortunately becomes a god in our lives.
God is real, He is alive and He makes a great difference in the lives of people. For thousands of years people have lived with this knowledge and have written sayings, poems, stories and quotes about what that knowledge meant to them and how it impacted their lives.
People the world over have placed their faith in a higher power and lived to tell of the victories that faith brought to their lives. Reading quotes about God will inspire you to realize that there is hope even when things are looking down, and that you can face the future with courage knowing that there is a divine power in charge of your destiny.
Quotes and Sayings about God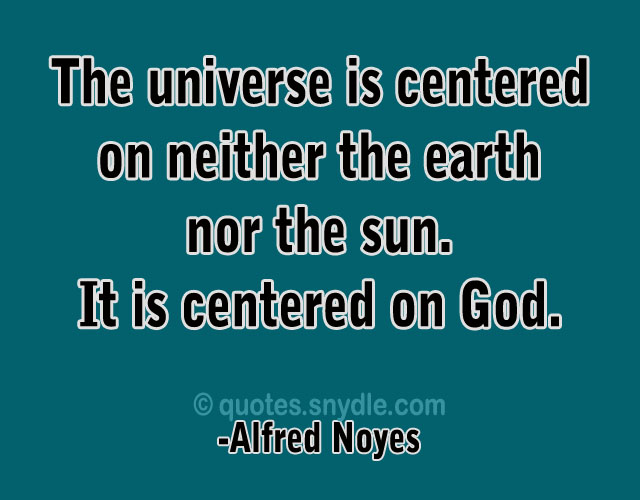 The universe is centered on neither the earth nor the sun. It is centered on God.
– Alfred Noyes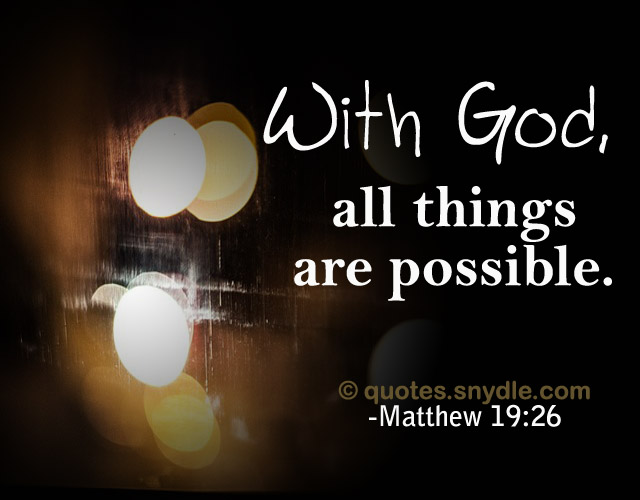 With God, all things are possible.
– Matthew 19:26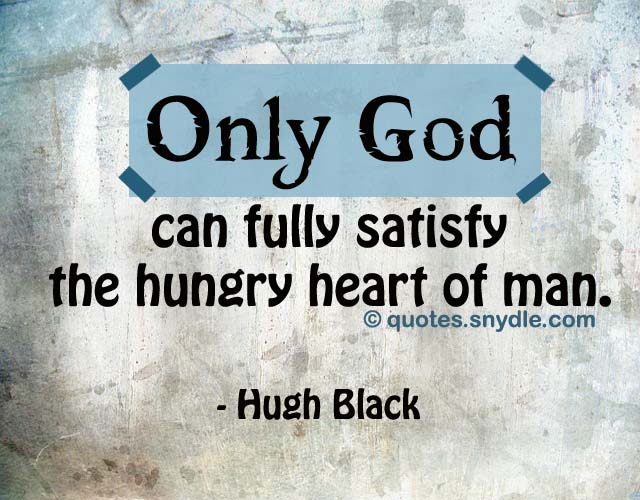 Only God can fully satisfy the hungry heart of man.
– Hugh Black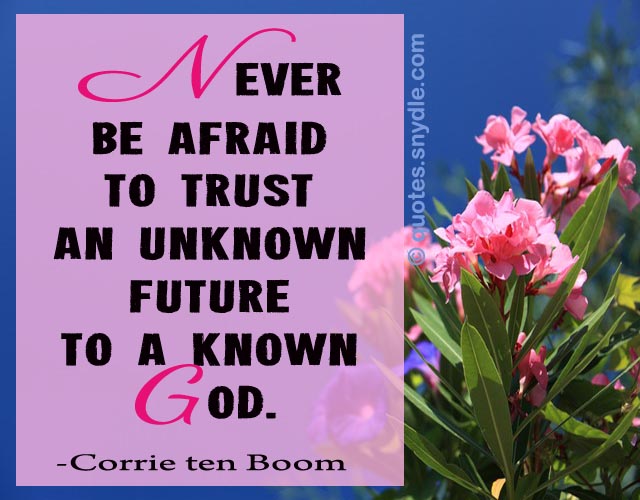 Never be afraid to trust an unknown future to a known God."
– Corrie ten Boom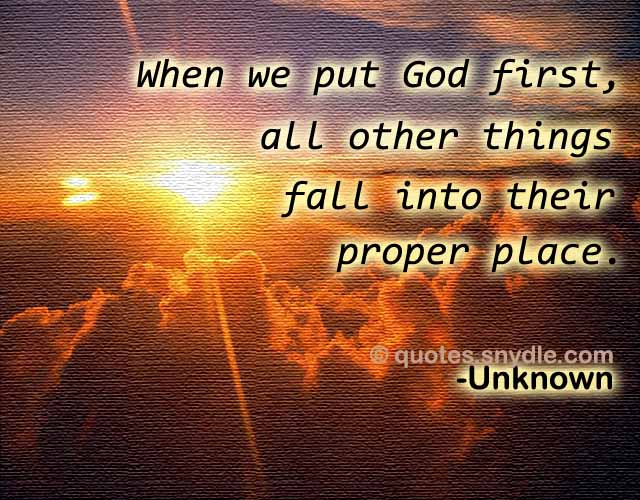 When we put god first, all other things fall into their proper place.
– Unknown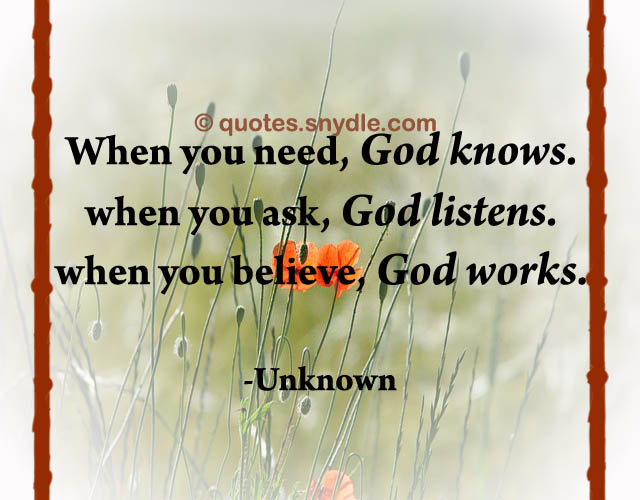 When you need, God knows.
When you ask, God listens.
When you believe, God works.
– Unknown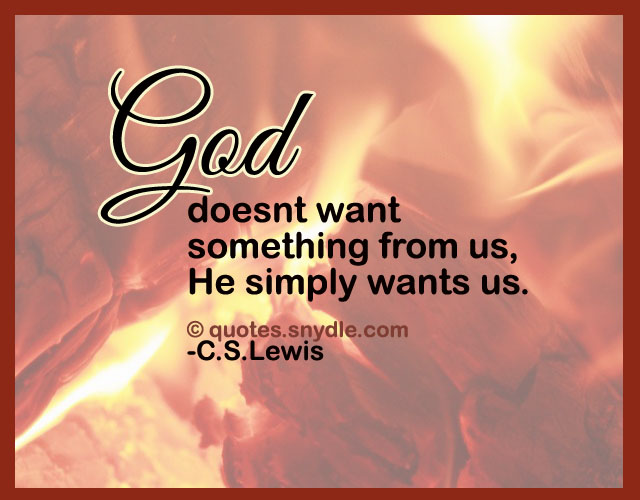 God doesn't want something from us, He simply wants us.
– C.S. Lewis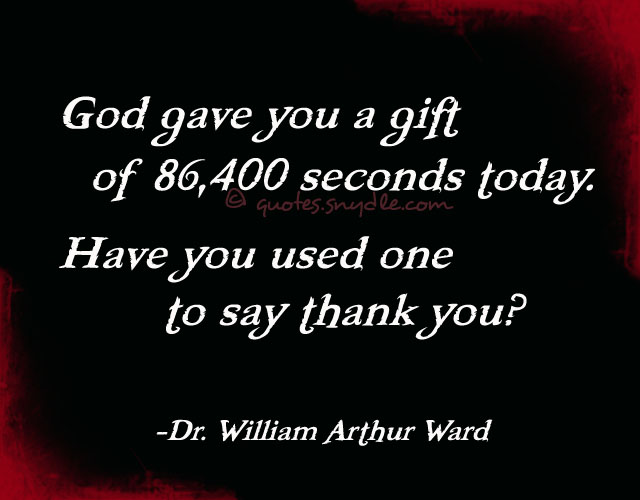 God gave you a gift of 86,400 seconds today. Have you used one to say thank you?
– Dr. William Arthur Ward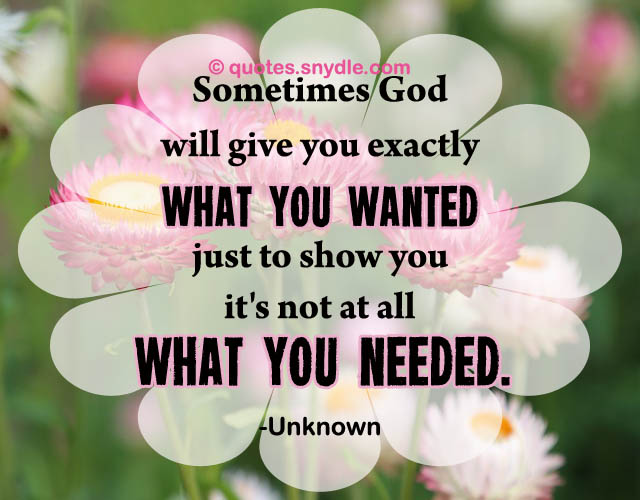 Sometimes God will give you exactly what you wanted just to show you it's not at all what you needed.
– Unknown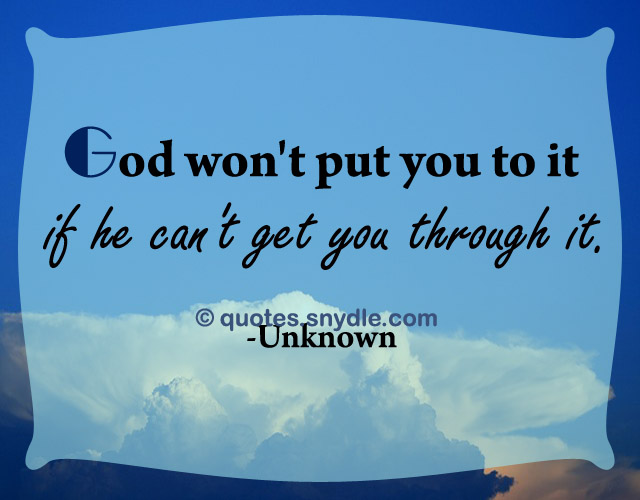 God won't put you to it if he can't get you through it.
– Unknown
Inspirational Quotes about God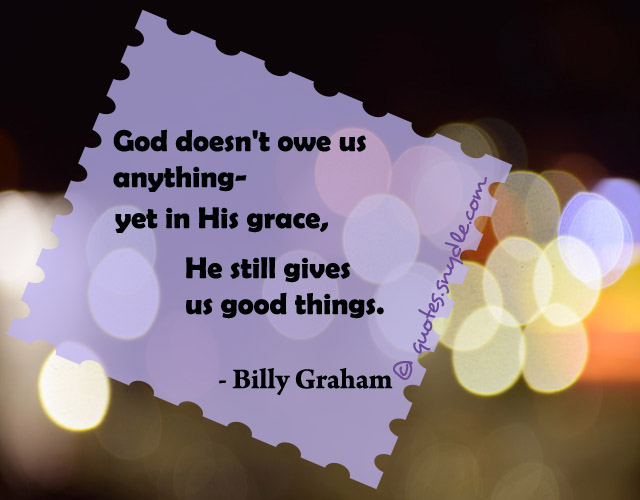 God doesn't owe us anything – yet in His grace, He still gives us good things.
– Billy Graham
God is the best listener. You don't need to shout, nor cry out loud. Because He hears even the very silent prayer of a sincere heart.
– Unknown
God doesn't give you the people you want, He gives you the people you need. to help you, to hurt you, to leave you, to love you and to make you the person you were meant to be.
– Unknown
God sometimes takes us into troubled waters not to drown us but to cleanse us.
– Unknown
God does not like the hardness of tongue and heart that's why he made them boneless.
– Unknown
Quotes about Faith in God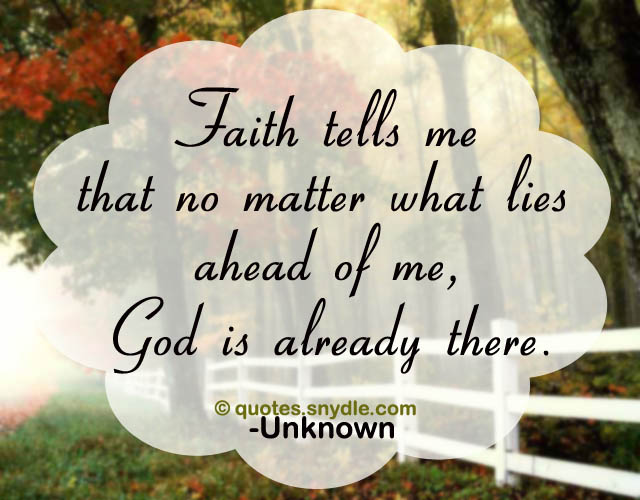 Faith tells me that no matter what lies ahead of me, God is already there.
– Unknown
Do not fear tomorrow for God is already there.
– Unknown
The darker the night, the brighter the stars,
The deeper the grief, the closer is God!
– Fyodor Dostoyevsky, Crime and Punishment
We shall steer safely through every storm, so long as our heart is right, our intention fervent, our courage steadfast, and our trust fixed on God.
– St. Francis De Sales
God has a bigger plan for me than i have for myself.
– Unknown
Never be afraid to trust an unknown future to a known God.
– Unknown
God surely listens, understands and knows the hopes and fears you keep in your heart. For when you trust in his love, miracles happen.
– Unknown
Disappointments are just god's way of saying "i have got something better"
– Unknown
God sometimes pushes us to our limits because he has greater faith in us than we have in outselves.
-Unknown
Short Quotes about God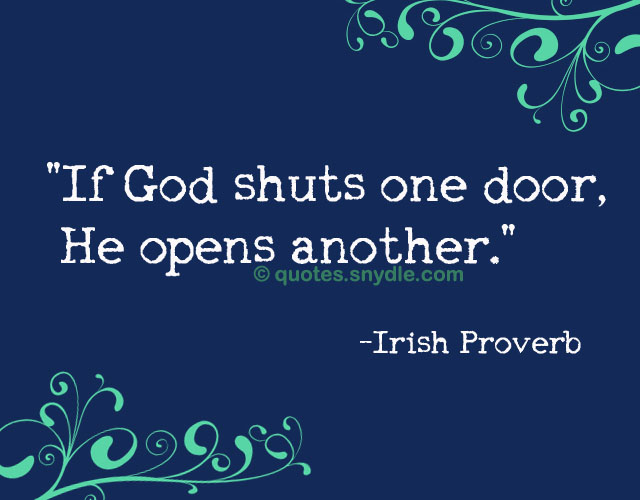 If God shuts one door, He opens another.
– Irish Proverb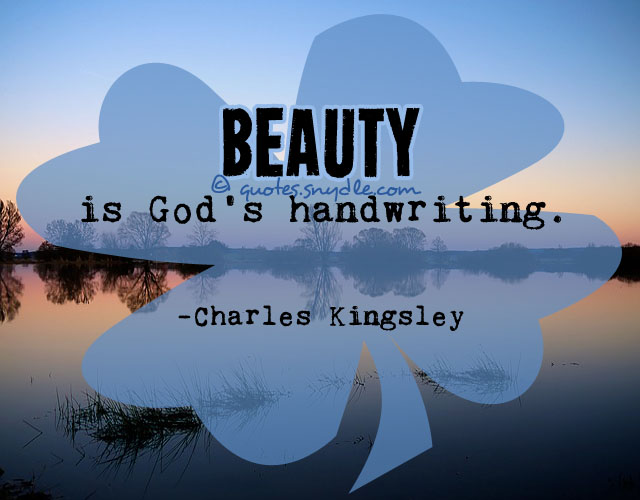 Beauty is God's handwriting.
– Charles Kingsley
Hold on, God knows what He's doing.
– Unknown
When we lose God, it is not God who is lost.
– Unknown
Life may be tough but i've got a God that's tougher.
– Unknown
Quotes about Thanking God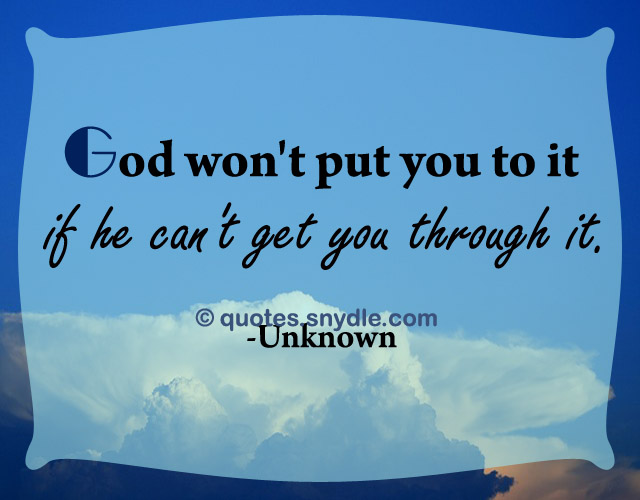 If you don't thank god for every smile, then you have no right to complain about every tear.
– Unknown
Just when you think god doesn't hear your prayers, he sends a reminder that he's always there.
– Unknown
When we pray for others, god listens to you and blesses them. So when you are safe and happy, remember that someone is praying for you.
– Unknown
God changes caterpillars into butterflies, sand into pearls and coal into diamonds using time and preasure. He's working on you too.
– Unknown
God gave you a heart to love with, not to hate with, God gave you the ability to create heaven on earth, not hell.
– Leon Brown
To fall in love with God is the greatest of all romances; to seek Him, the greatest adventure; to find Him, the greatest human achievement.
– Raphael Simon