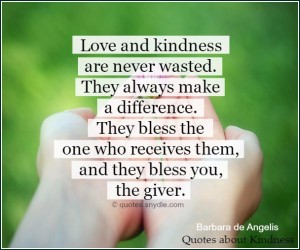 Kindness is defined as a state of being friendly, having a generous nature or attitude and seeking to always help others. In this fast paced world that we are living in, sadly this is one virtue that is slowly disappearing and when someone does a kind deed it is highlighted as a great achievement instead of being the norm.
Kindness is very simple and possible for every one of us and this can be seen when you read quotes that have been written about this virtue. You do not need to do mighty and great deeds in order to be considered kind, that would be pharisaical and hypocritical. Most quotes agree that kindness is being considerate and humane in the small things of life and these in turn add up to the big things.
Read quotes on kindness and reflect on the words and meditate on them, and begin to change your attitude towards life and others and see kindness become a normal part of your life.
Famous Quotes about Kindness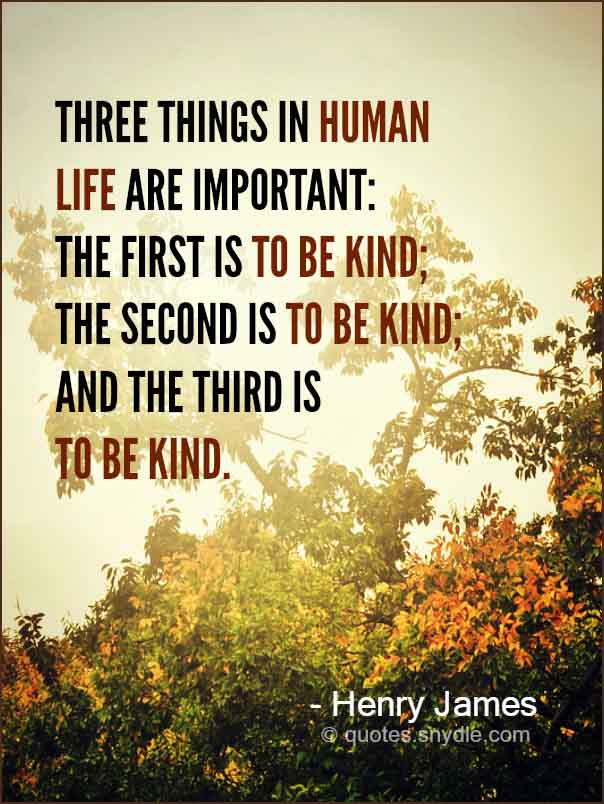 Three things in human life are important: the first is to be kind; the second is to be kind; and the third is to be kind.
– Henry James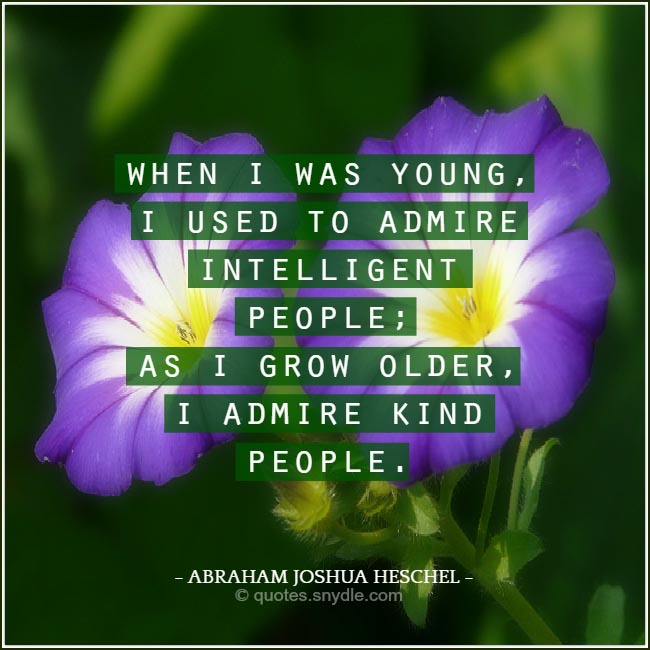 When I was young, I used to admire intelligent people; as I grow older, I admire kind people.
– Abraham Joshua Heschel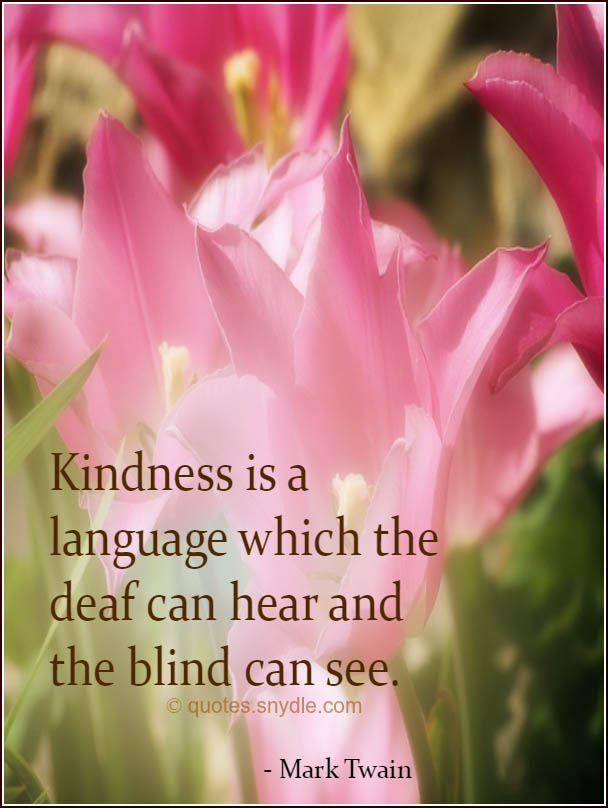 Kindness is a language which the deaf can hear and the blind can see.
– Mark Twain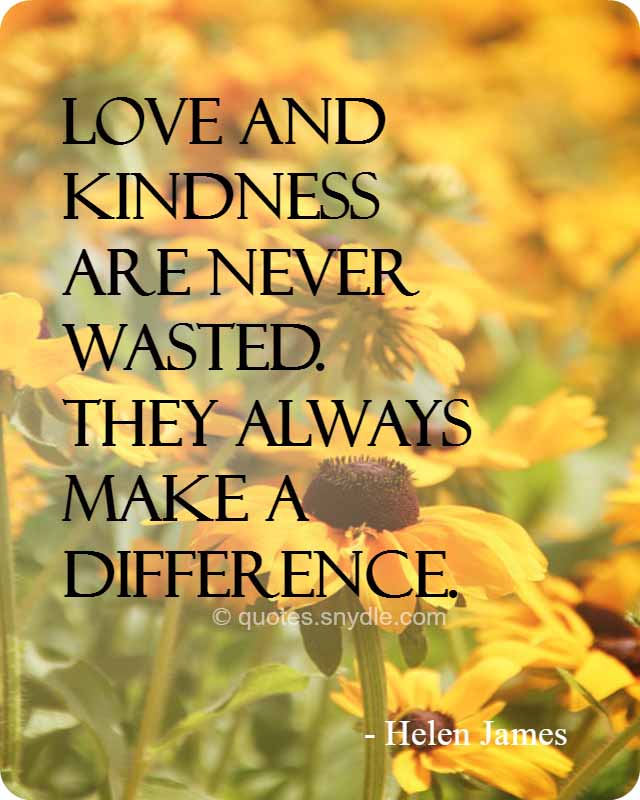 Love and kindness are never wasted. They always make a difference.
– Helen James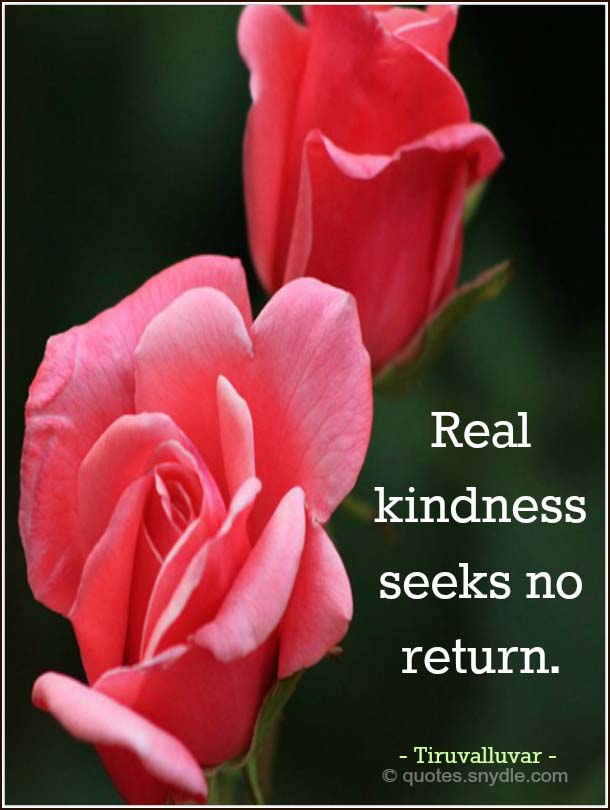 Real kindness seeks no return.
– Tiruvalluvar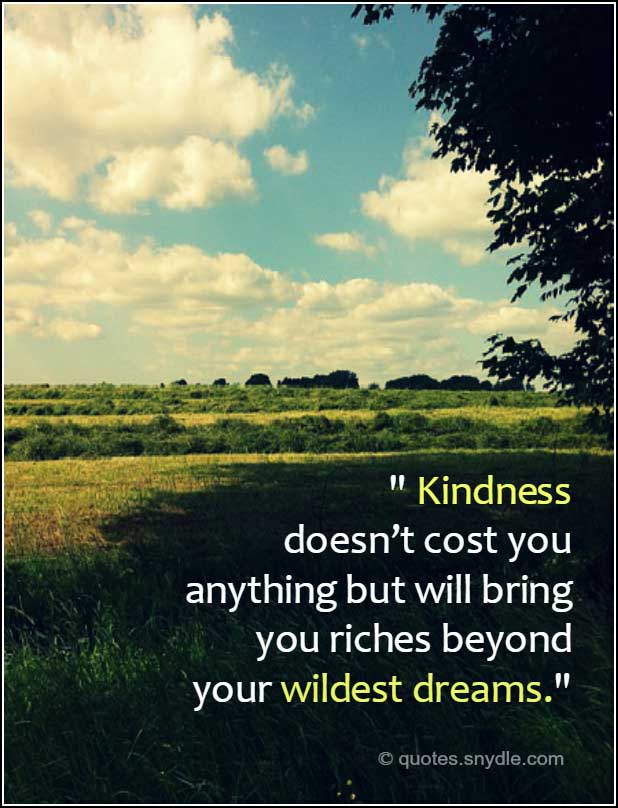 Kindness doesn't cost you anything but will bring you riches beyond your wildest dreams.
– Anonymous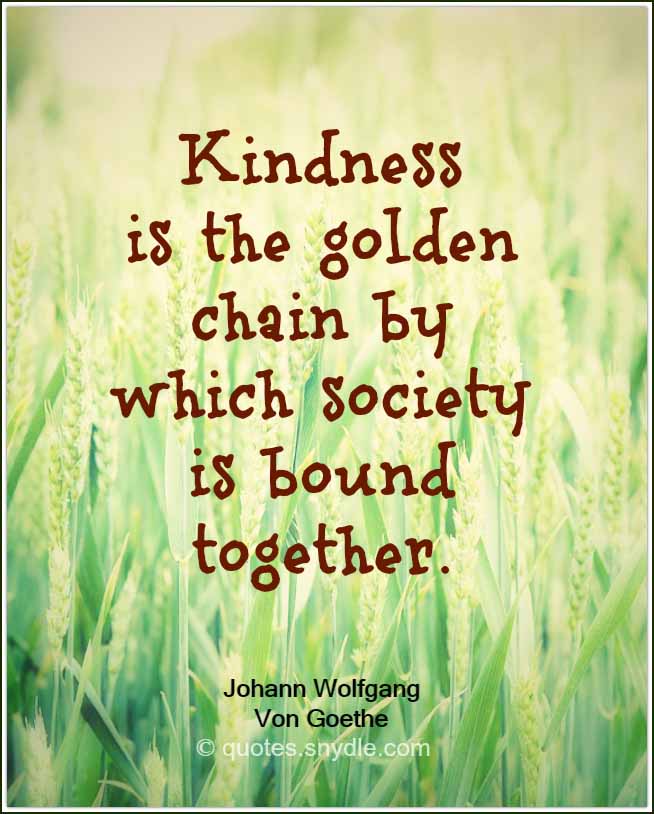 Kindness is the golden chain by which society is bound together.
– Johann Wolfgang Von Goethe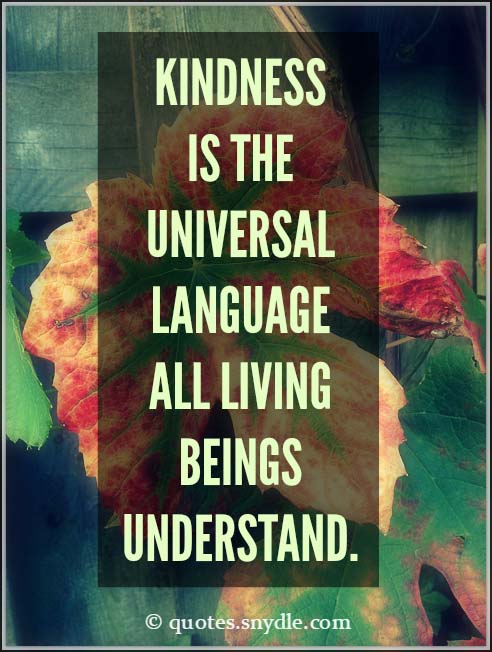 Kindness is the universal language all living beings understand.
– Unknown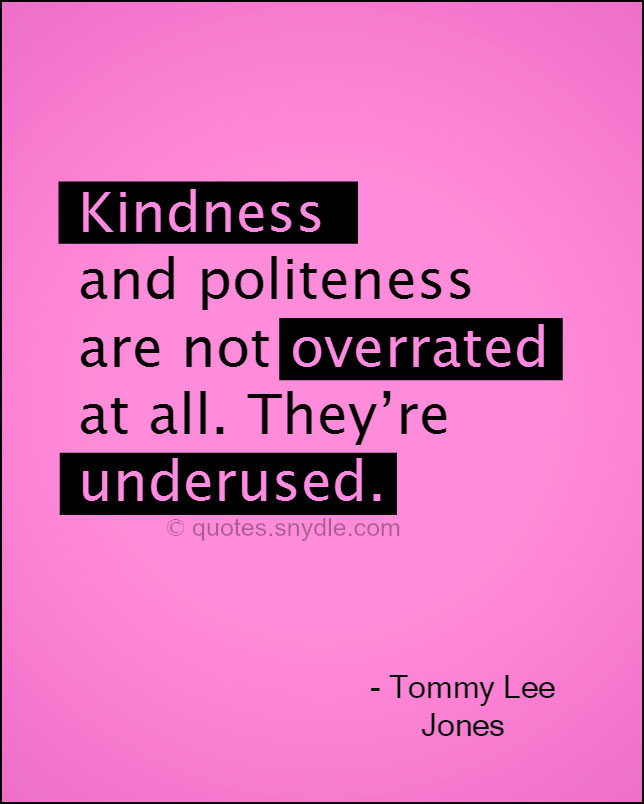 Kindness and politeness are not overrated at all. They're underused.
– Tommy Lee Jones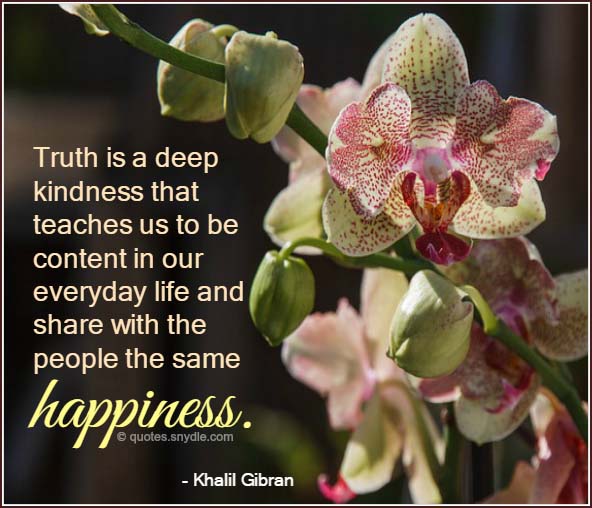 Truth is a deep kindness that teaches us to be content in our everyday life and share with the people the same happiness.
– Khalil Gibran
You don't need a reason to help people.
– Unknown
Kindness is the root of all good things.
– Unknown
Being kind is more important than being right.
– Shavoris Brown
Great persons are able to do great kindnesses.
– Unknown
Never look down on anybody unless you're helping him up.
– Jesse Jackson
One of the simplest way to show kindness is by smiling.
– Unknown
Be kind to unkind people – they need it the most.
– Ashleigh Brilliant
Kindness is the greatest wisdom.
– Author Unknown
It's nice to be important, but it's more important to be nice.
– Unknown
A warm smile is the universal language of kindness.
– William Arthur Ward
Inspirational Quotes about Kindness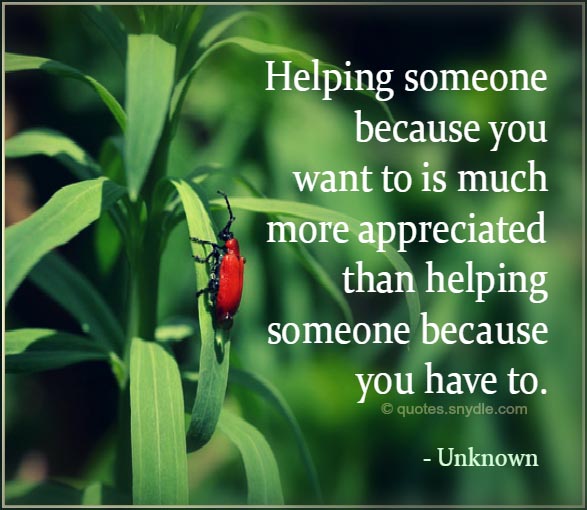 Helping someone because you want to is much more appreciated than helping someone because you have to.
– Unknown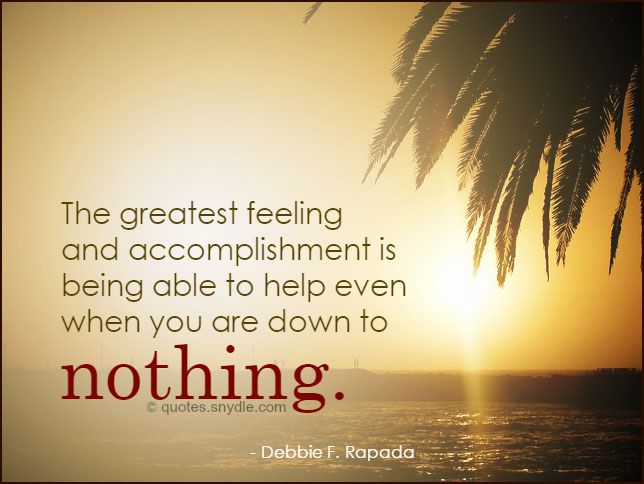 The greatest feeling and accomplishment is being able to help even when you are down to nothing.
– Debbie F. Rapada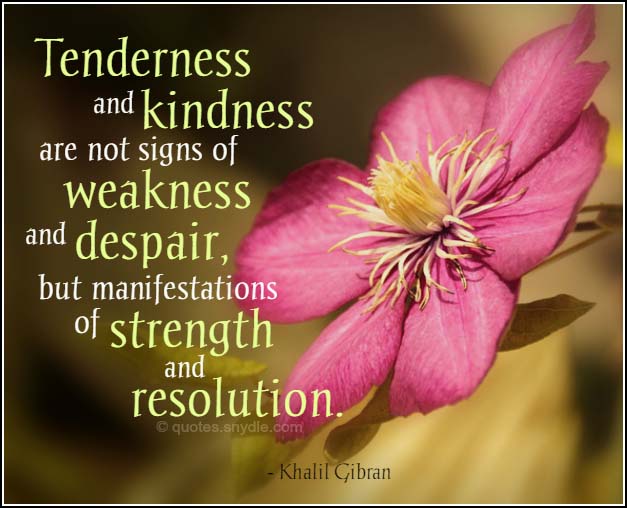 Tenderness and kindness are not signs of weakness and despair, but manifestations of strength and resolution.
– Khalil Gibran
Kindness is loving people more than they deserve.
– Joseph Joubert
Be kind, for everyone you meet is fighting a harder battle.
– Plato
No one has ever become poor by giving.
– Anne Frank
You cannot do a kindness too soon, for you never know how soon it will be too late.
– Ralph Waldo Emerson
I want to be the kind of person that kind people like and want to be like.
– Jarod Kintz
Wherever there is a human in need, there is an opportunity for kindness and to make a difference.
– Kevin Heath
No act of kindness, no matter how small, is ever wasted.
– Aesop
A tree is known by its fruit; a man by his deeds. A good deed is never lost; he who sows courtesy reaps friendship, and he who plants kindness gathers love.
– Saint Basil
Educating the mind without educating the heart, is no education at all.
– Aristotle
Treat everyone with politeness, even those who are rude to you – not because they are nice, but because you are.
– Unknown
Quotes and Sayings about Kindness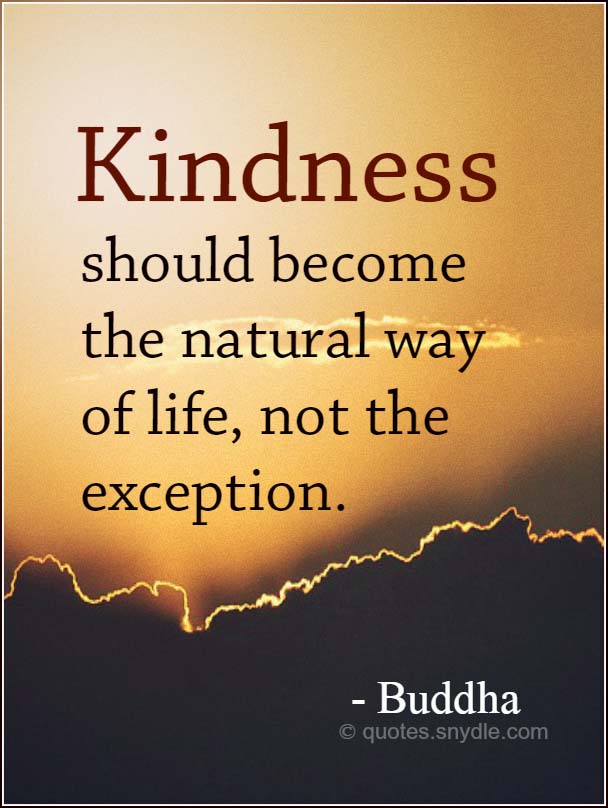 Kindness should become the natural way of life, not the exception.
– Buddha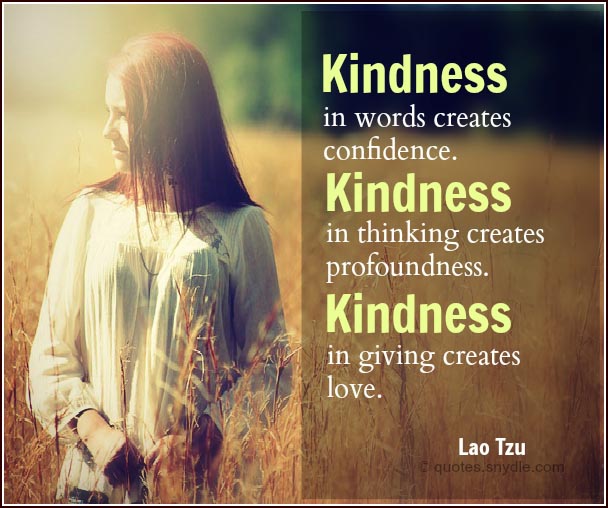 Kindness in words creates confidence. Kindness in thinking creates profoundness. Kindness in giving creates love.
– Lao Tzu
Indifference and neglect often do much more damage than outright dislike.
– J.K. Rowling
My religion is very simple. My religion is kindness.
– Dalai Lama XIV
Your greatness is measured by your kindness; your education and intellect by your modesty; your ignorance is betrayed by your suspicions and prejudices, and your real caliber is measured by the consideration and tolerance you have for others.
– William J.H. Boetcker
The words of kindness are more healing to a drooping heart than balm or honey.
– Sarah Fielding
One of the most difficult things to give away is kindness; usually it comes back to you.
– Anonymous
A life of kindness is the primary meaning of divine worship.
– Emanuel Swedenborg
The nicest feeling in the world is to do a good deed anonymously and have somebody find out.
– Oscar Wilde
Use your voice for kindness, your ears for compassion, your hands for charity, your mind for truth, and your heart for love.
– Anonymous
Don't mistake my kindness for weakness. I am kind to everyone, but when someone is unkind to me weak is not what you are going to remember about me.
– Al Capone
Kindness can become its own motive. We are made kind by being kind.
– Eric Hoffer
Today I bent the truth to be kind, and I have no regret, for I am far surer of what is kind than I am of what is true.
– Robert Brault
One can pay back the loan of gold, but one dies forever in debt to those who are kind.
– Malayan Proverb
The simplest acts of kindness are by far more powerful then a thousand heads bowing in prayer.
– Mahatma Gandhi
He who sees a need and waits to be asked for help is as unkind as if he had refused it.
– Dante Alighieri
I prefer you to make mistakes in kindness than work miracles in unkindness.
– Mother Teresa