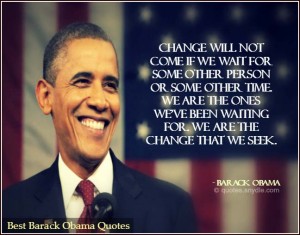 From humble beginnings to the White House. In between is the long road that Barack Obama has taken to get to where he is right now, the first African American president of the United States of America.
Obama's vast experiences as a child of parents of different races, and then living in Indonesia and his schooling days have shaped his character into a person who believes that it is possible to hope and reach for your dreams and achieve. He has achieved what others only dream of. Obama is an exceptionally powerful orator and his words have captivated audiences the world over. Just nine months after his inauguration as the forty fourth president of the United States of America, Obama was declared the 2009 Nobel Peace Prize Laureate.
Reading Obama's quotes makes you understand just how daring he has been and his achievements have been as a result of his believing in himself and reaching for what most people would consider the impossible.
Barack Obama Famous Quotes
Quotes by Barack Obama dare you to reach out and grab at opportunities and not wait for others to do what you should be doing to achieve great things. The real hero is found within you. Reach for Barack Obama's quotes to inspire you and give you the push to reach for the stars.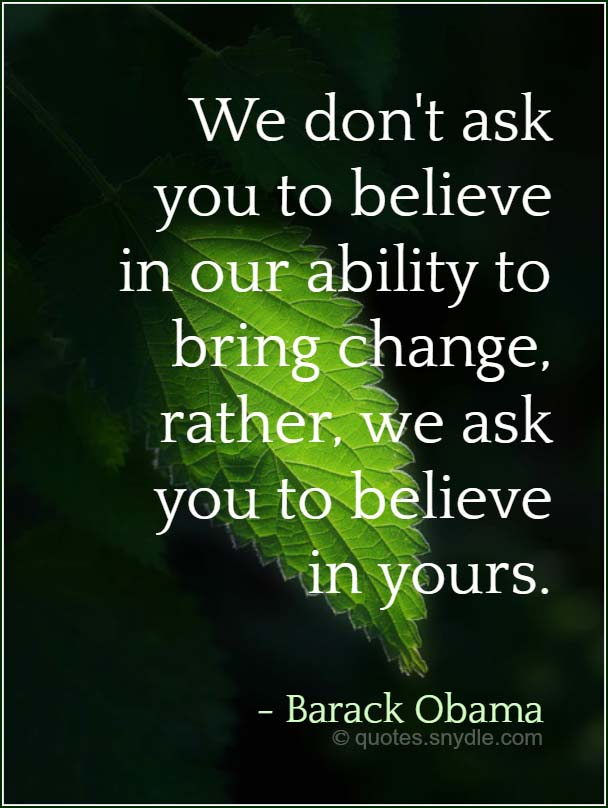 We don't ask you to believe in our ability to bring change, rather, we ask you to believe in yours.
– Barack Obama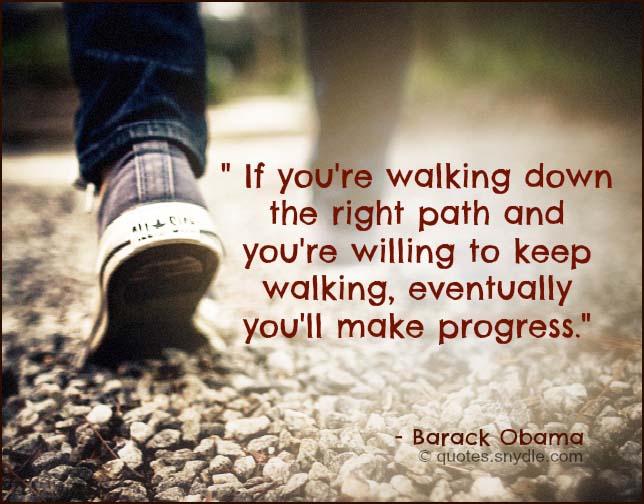 If you're walking down the right path and you're willing to keep walking, eventually you'll make progress.
– Barack Obama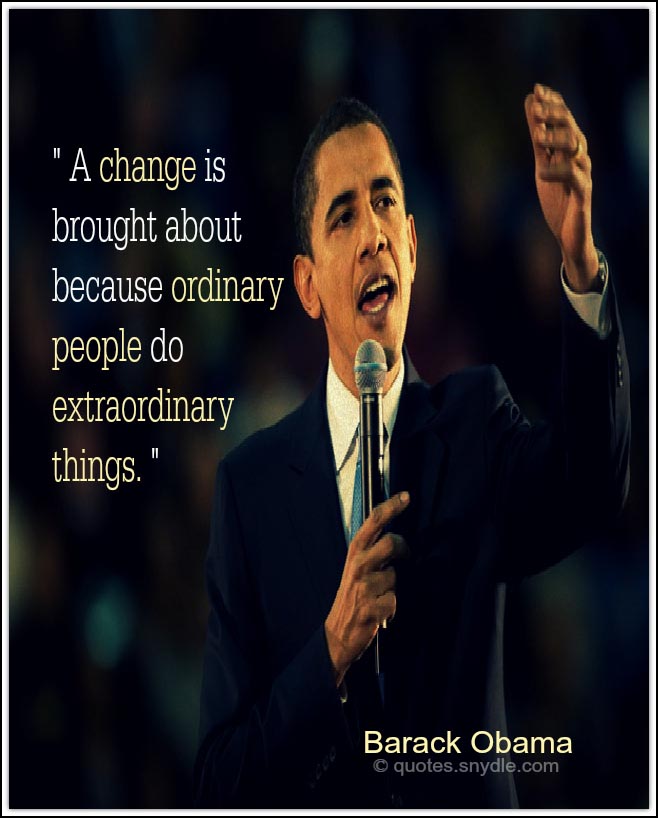 A change is brought about because ordinary people do extraordinary things.
– Barack Obama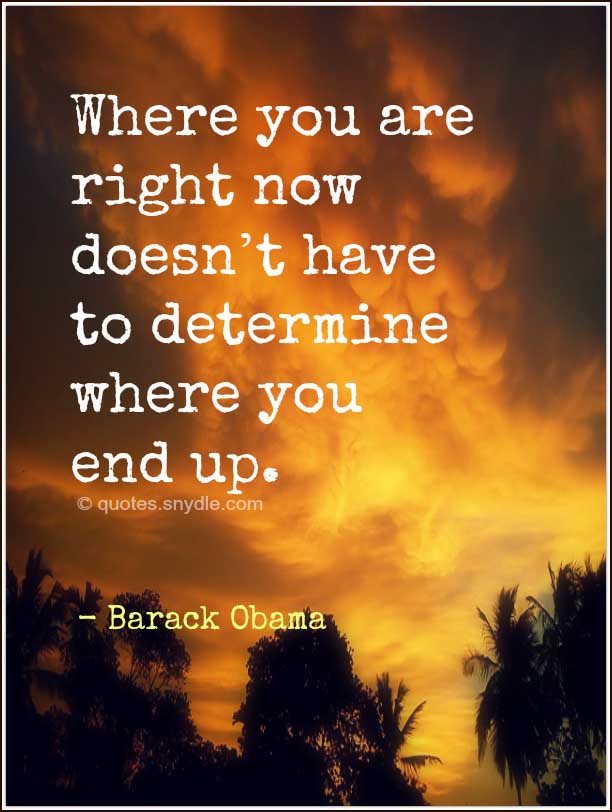 Where you are right now doesn't have to determine where you end up.
– Barack Obama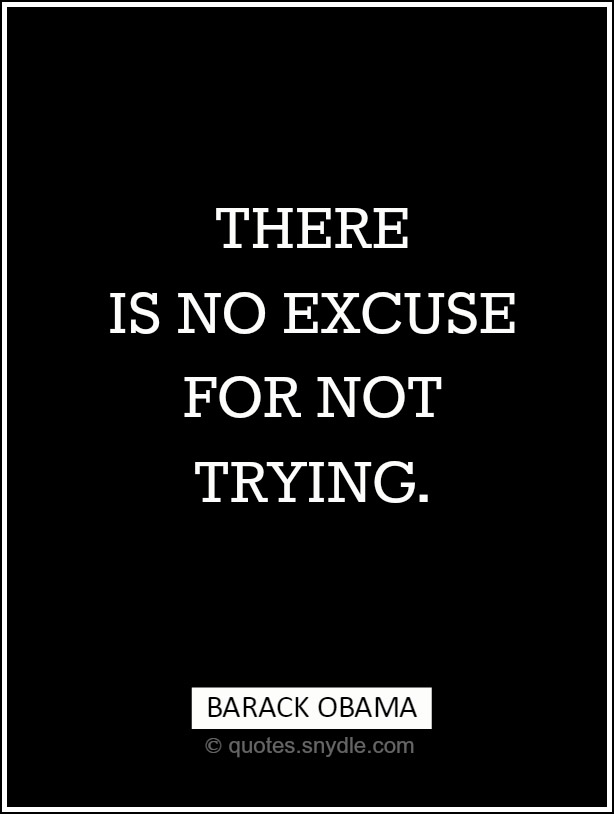 There is no excuse for not trying.
– Barack Obama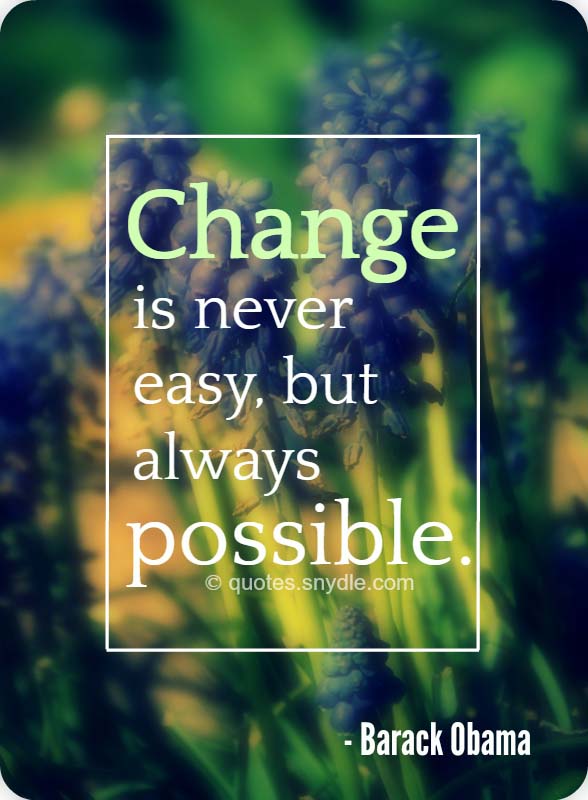 Change is never easy, but always possible.
– Barack Obama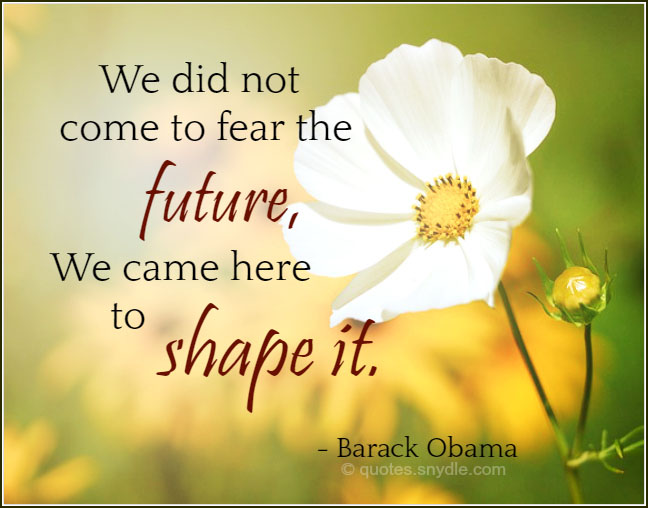 We did not come to fear the future. We came here to shape it.
– Barack Obama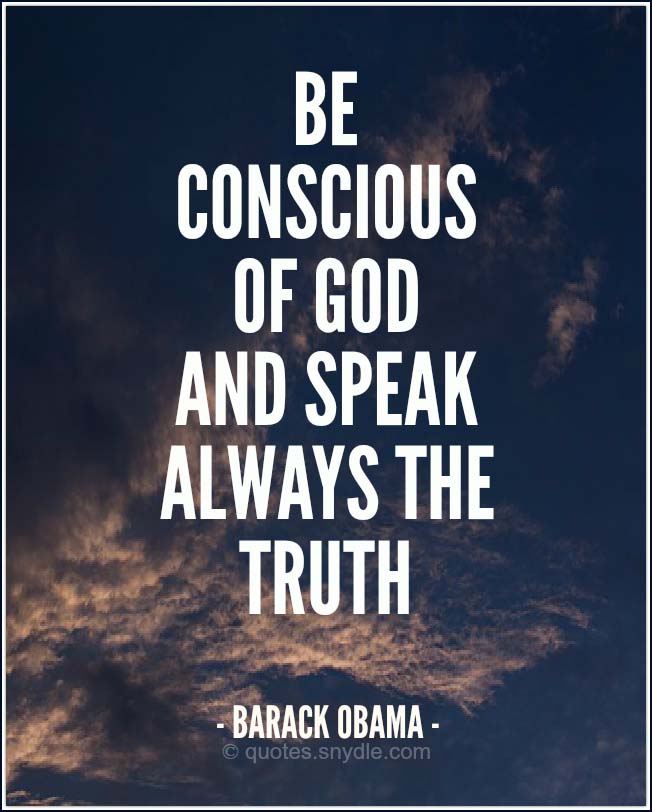 Be conscious of God and speak always the truth.
– Barack Obama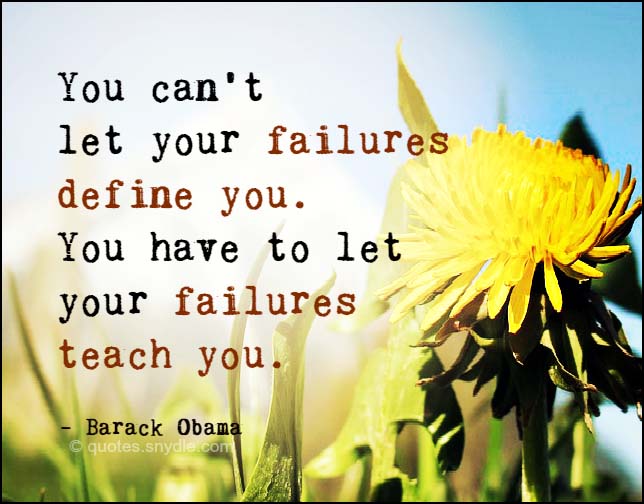 You can't let your failures define you. You have to let your failures teach you.
– Barack Obama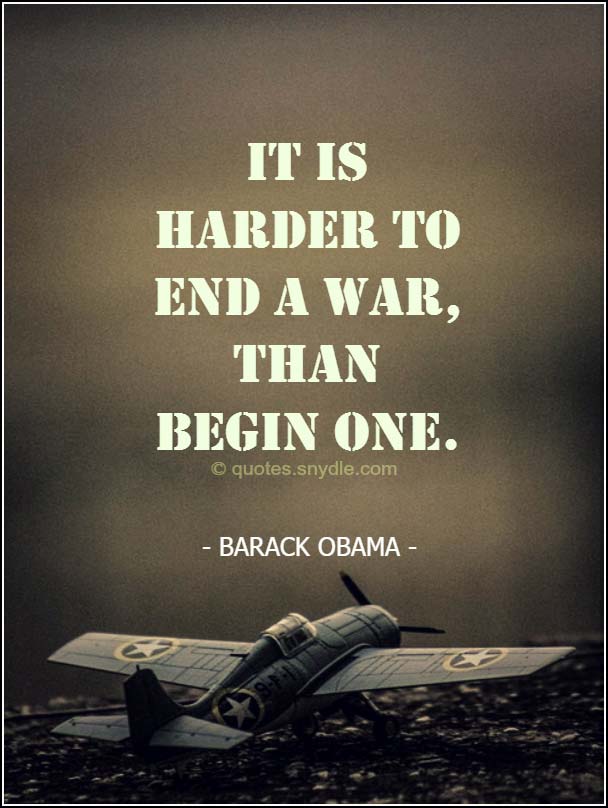 It is harder to end a war, than begin one.
– Barack Obama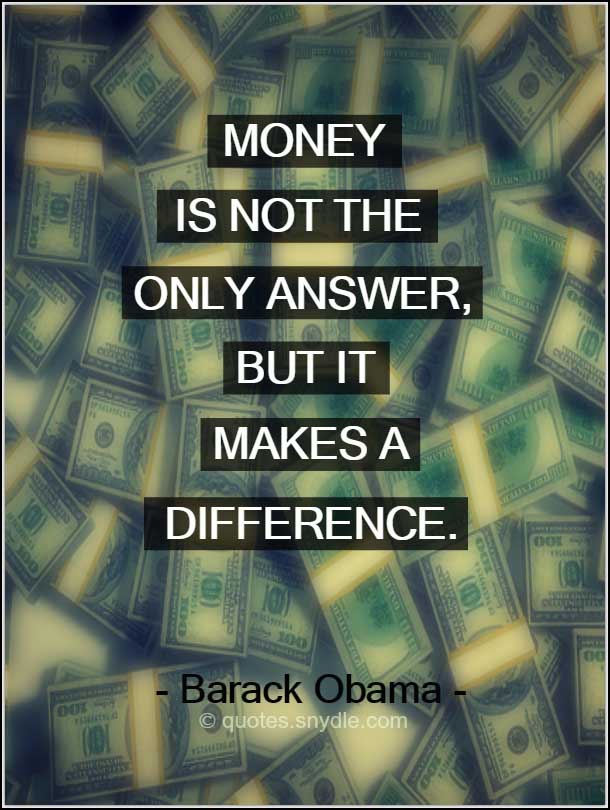 Money is not the only answer, but it makes a difference.
– Barack Obama
I don't have time to feel sorry for myself. I don't have time to complain. I'm going to press on.
– Barack Obama
The question we ask today is not whether our government is too big or too small, but whether it works"
– Barack Obama
People with disabilities deserve the chance to build a life for themselves in the communities where they choose to live.
– Barack Obama
My job is not to represent Washington to you, but to represent you to Washington.
– Barack Obama
That's the good thing about being president, I can do whatever I want.
– Barack Obama
Inspirational Quotes by Barrack Obama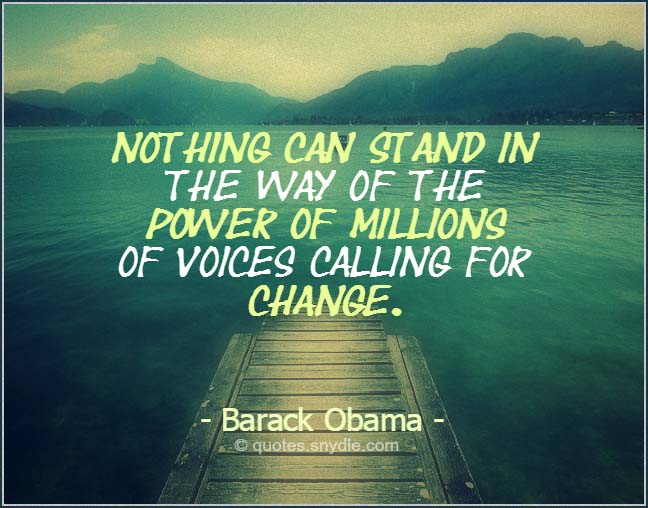 Nothing can stand in the way of the power of millions of voices calling for change.
– Barack Obama
We now live in a world where the most valuable skill you can sell is knowledge.
– Barack Obama
If the people cannot trust their government to do the job for which it exists – to protect them and to promote their common welfare – all else is lost.
– Barack Obama
We need to internalize this idea of excellence. Not many folks spend a lot of time trying to be excellent.
– Barack Obama
The best way to not feel hopeless is to get up and do something. Don't wait for good things to happen to you. If you go out and make some good things happen, you will fill the world with hope, you will fill yourself with hope.
– Barack Obama
While we breathe, we will hope.
– Barack Obama
Progress does not compel us to settle centuries-long debates about the role of government for all time, but it does require us to act in our time.
– Barack Obama
If you work hard and meet your responsibilities, you can get ahead, no matter where you come from, what you like, or who you love.
– Barack Obama
Of all the rocks upon which we build our lives, we are reminded today that family is the most important.
– Barack Obama
Each path to knowledge involves different rules and these rules are not interchangeable.
– Barack Obama
You know, my faith is one that admits some doubt.
– Barack Obama
We must act, knowing that our work will be imperfect.
– Barack Obama
Our values call upon us to care about people we'll never meet.
– Barack Obama
You know, my faith is one that admits some doubt.
– Barack Obama
Barack Obama Quotes about Citizens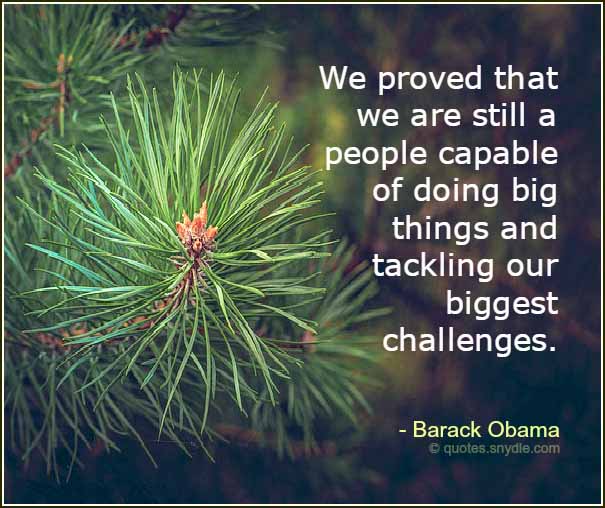 We proved that we are still a people capable of doing big things and tackling our biggest challenges.
– Barack Obama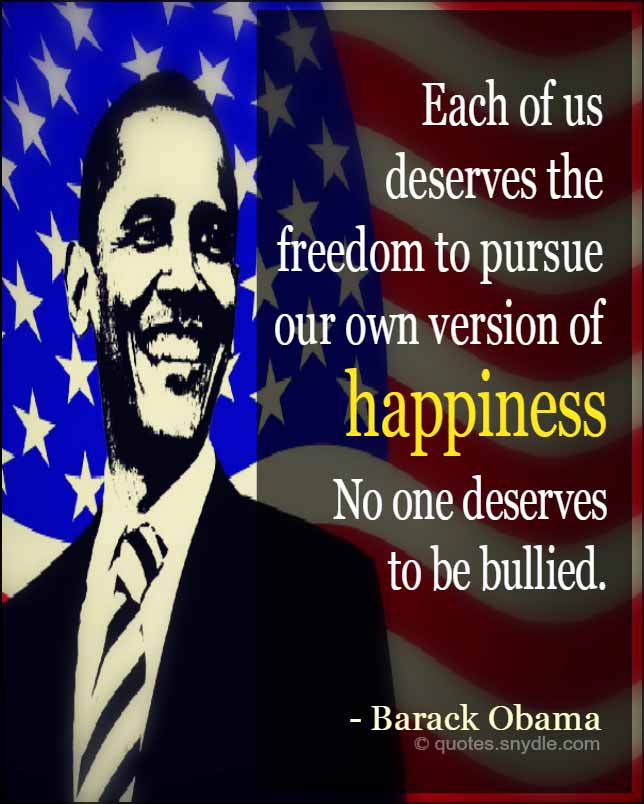 Each of us deserves the freedom to pursue our own version of happiness. No one deserves to be bullied.
– Barack Obama
We have an obligation and a responsibility to be investing in our students and our schools. We must make sure that people who have the grades, the desire and the will, but not the money, can still get the best education possible.
– Barack Obama
We may come from different places and have different stories, but we share common hopes, and one very American dream.
– Barack Obama
You have the ability and gifts to do whatever you want". It is your turn now to change the world. Yes we can!
– Barack Obama
If you've got a business, you didn't build that. Somebody else made that happen.
– Barack Obama
If you are living life to its fullest, you will fail.
– Barack Obama
Focusing your life solely on making a buck shows a certain poverty of ambition. It asks too little of yourself. Because it's only when you hitch your wagon to something larger than yourself that you realize your true potential.
– Barack Obama
We want everybody to act like adults, quit playing games, realize that it's not just my way or the highway.
– Barack Obama
Peace is not merely the absence of visible conflict.
– Barack Obama
At the moment that we persuade a child to cross that magic threshold into a library, we change their lives forever, for the better. It's an enormous force for good.
– Barack Obama
No one in America should ever be afraid to walk down the street holding the hand of the person they love.
– Barack Obama