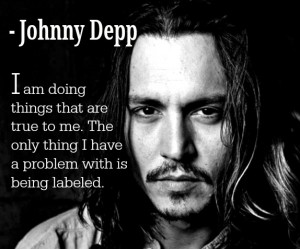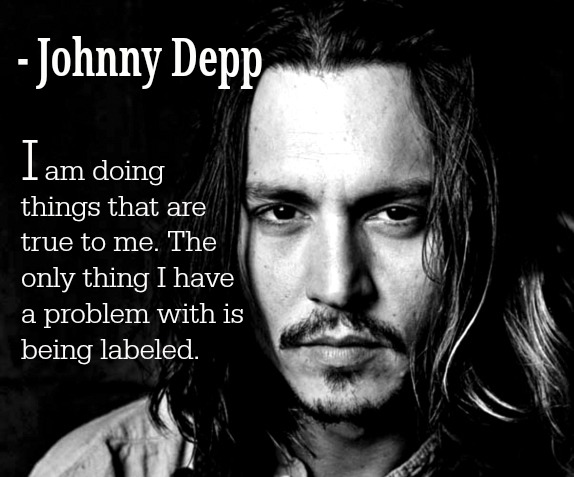 Johnny Depp is an American actor who is most famous for his role as the captivating Jack Sparrow in the movies sequences of The Pirates of the Caribbean. His strange humour, cunning ways and being quick on his feet have made him a loveable character both as Jack and people often say that his character Jack reflects his own personality.
His other movies are no different and earlier in his life Johnny decided that he would only appear in films which he felt were right for him, and over the years it has become obvious that he has chosen roles that he found interesting rather than those he thought would succeed in the box office. This makes Johnny a great actor who actually loves what he does and it is not all about the money, and no wonder he is a hit.
Johnny Depp is also famous for his notable quotes and sayings. We collected some of the best Johnny Depp quotes and put them into images four your ease of sharing. Enjoy!
Quotes from Johnny Depp
Johnny has coined very interesting inspiring quotes about life, family, career and what is clear is that he uses humor a lot. Some of his notable quotes are the following.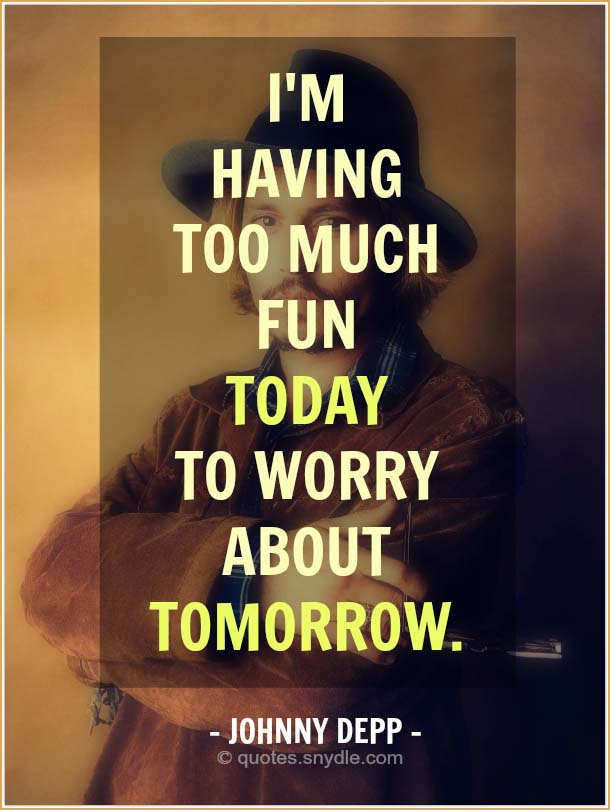 I'm having too much fun today to worry about tomorrow.
– Johnny Depp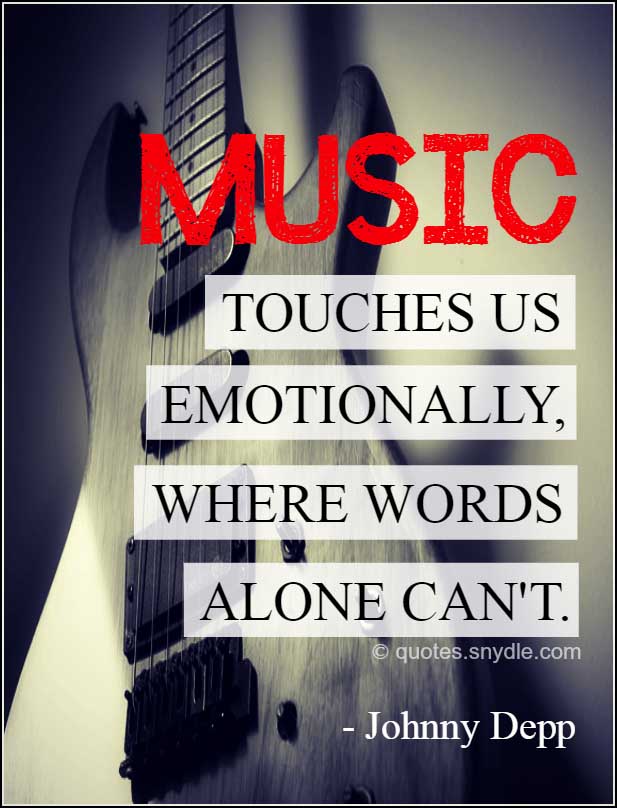 Music touches us emotionally, where words alone can't.
– Johnny Depp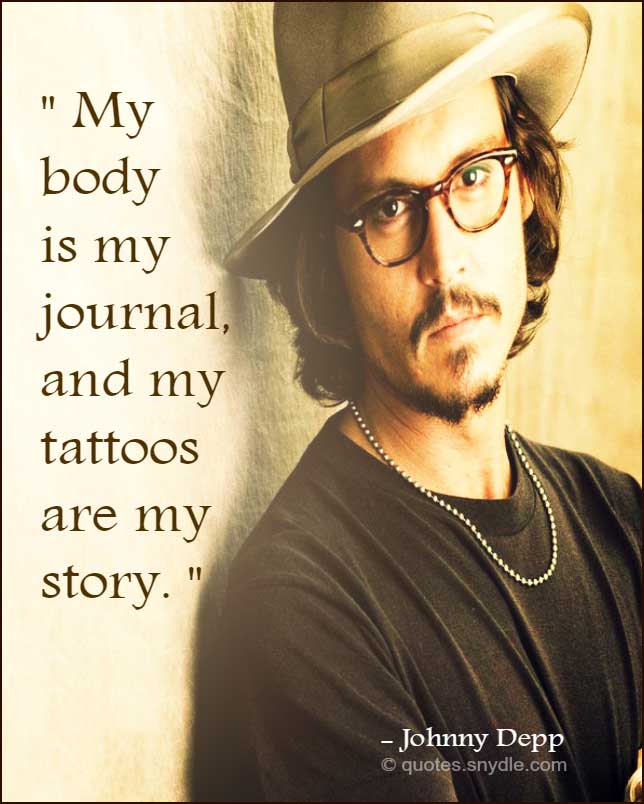 My body is my journal, and my tattoos are my story.
– Johnny Depp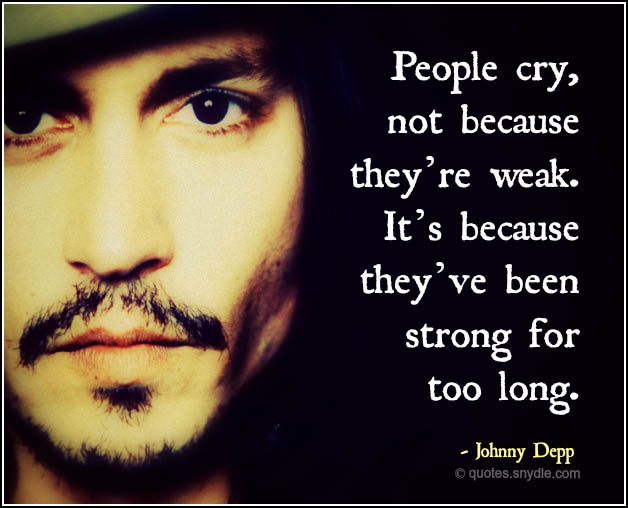 People cry, not because they're weak. It's because they've been strong for too long.
– Johnny Depp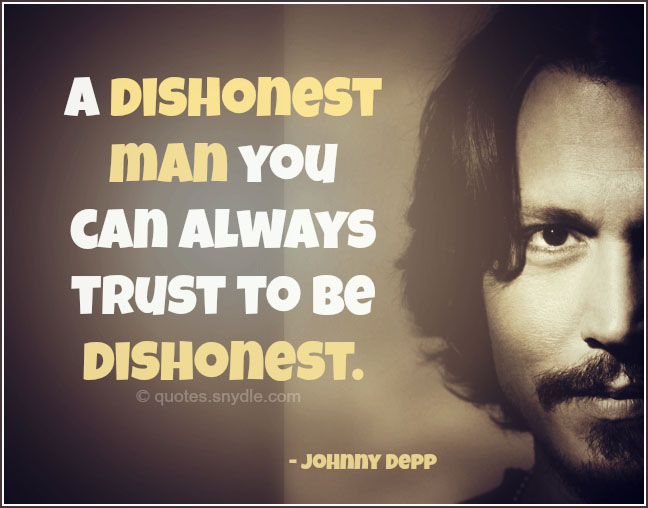 A dishonest man you can always trust to be dishonest.
– Johnny Depp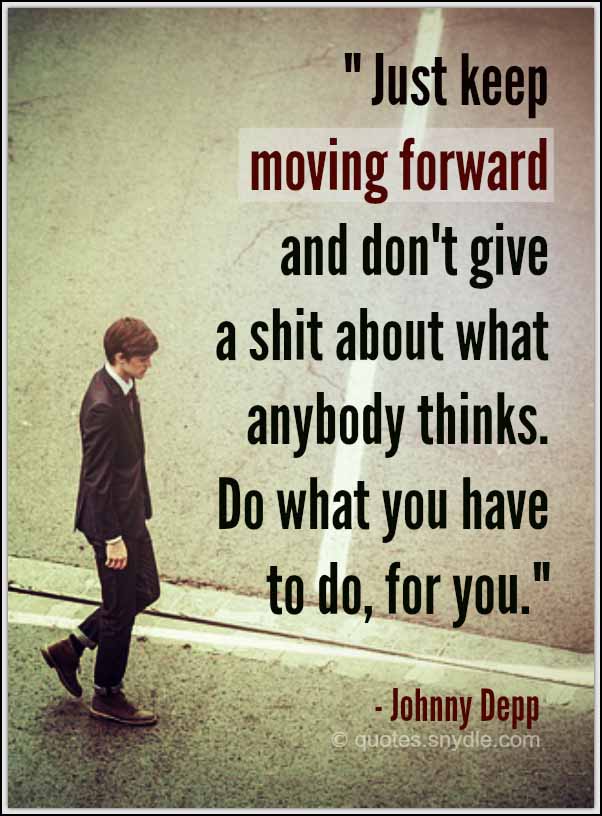 Just keep moving forward and don't give a shit about what anybody thinks. Do what you have to do, for you.
– Johnny Depp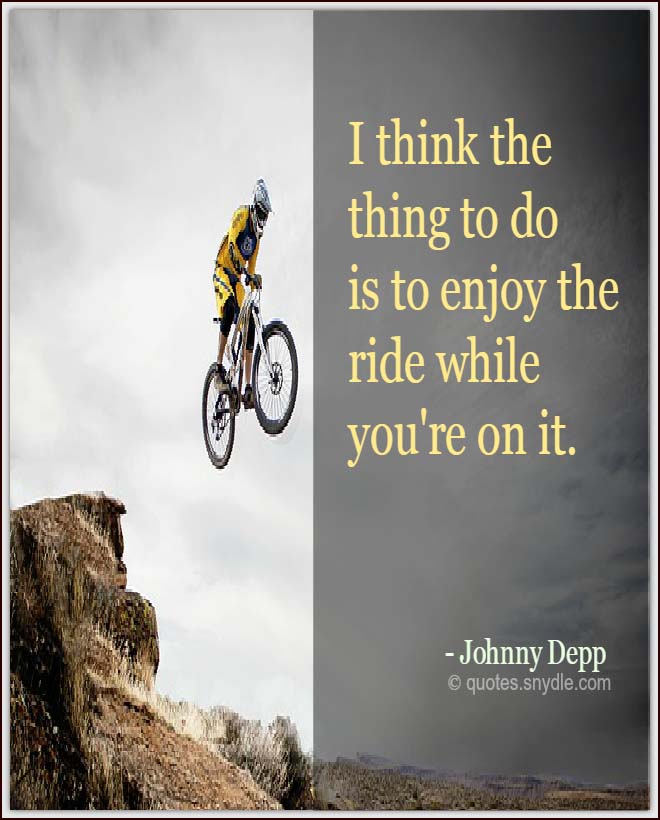 I think the thing to do is to enjoy the ride while you're on it.
– Johnny Depp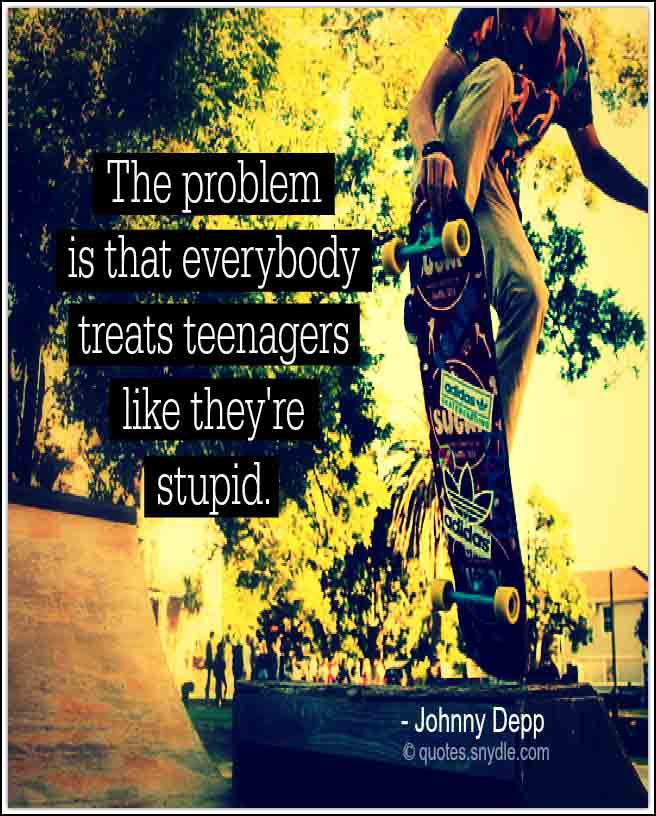 The problem is that everybody treats teenagers like they're stupid.
– Johnny Depp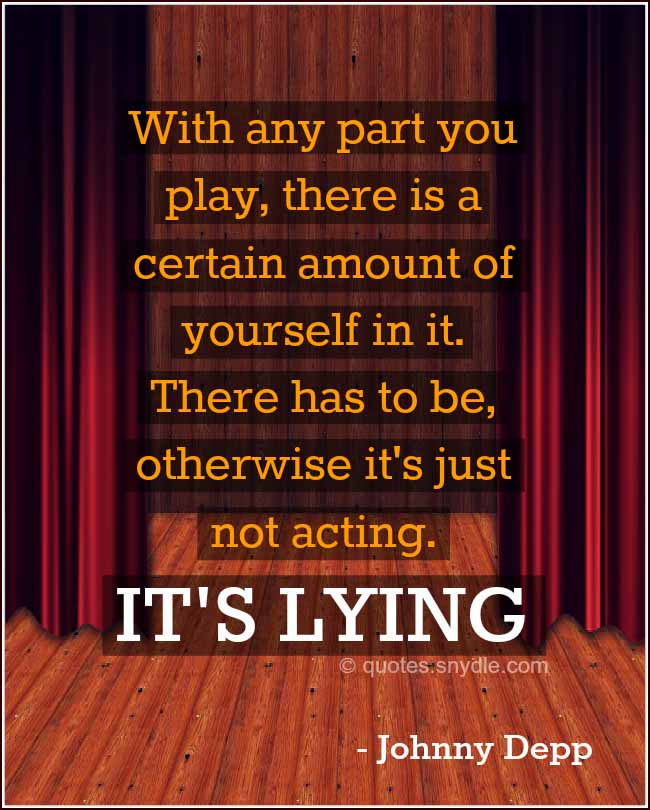 With any part you play, there is a certain amount of yourself in it. There has to be, otherwise it's just not acting. It's lying.
– Johnny Depp
You gotta be careful: don't say a word to nobody about nothing anytime ever.
– Johnny Depp
I am doing things that are true to me. The only thing I have a problem with is being labeled.
– Johnny Depp
Better to not know which moment may be your last. Every morsel of your entire being alive to the infinite mystery of it all.
– Johnny Depp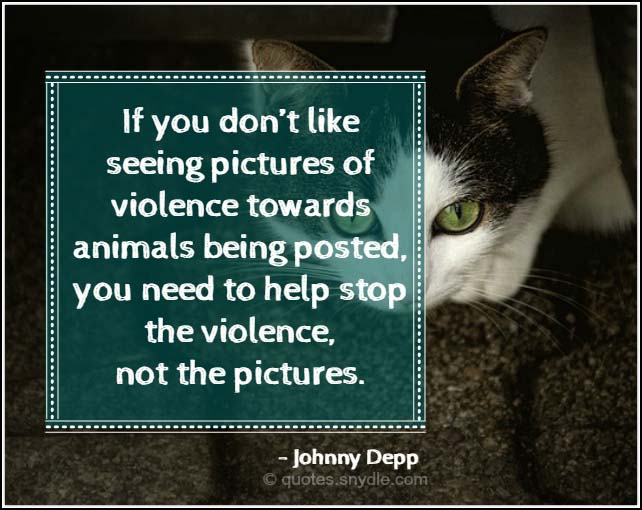 If you don't like seeing pictures of violence towards animals being posted, you need to help stop the violence, not the pictures.
– Johnny Depp
I'm shy, paranoid, whatever word you want to use. I hate fame. I've done everything I can to avoid it.
– Johnny Depp
May the wind always be on your back and the sun upon your face and may the winds of destiny carry you aloft to dance with the stars.
– Johnny Depp
Johnny Depp Love Quotes
His quotes will inspire you while putting a smile on your face at the same time. Here are some of the few quotes of Johnny Depp about Love.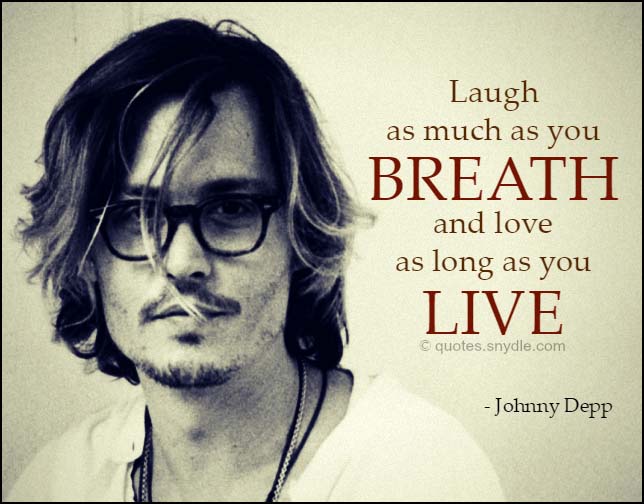 Laugh as much as you breathe and love as long as you live.
– Johnny Depp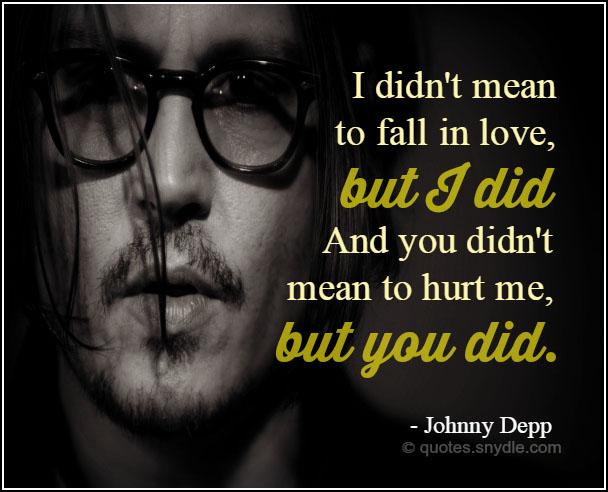 I didn't mean to fall in love, but I did. And you didn't mean to hurt me, but you did.
– Johnny Depp
If you love two people at the same time, choose the second. Because if you really loved the first one, you wouldn't have fallen for the second.
– Johnny Depp
There are four questions of value in life… What is sacred? Of what is the spirit made? What is worth living "for, and what is worth dying for? The answer to each is same. Only love.
– Johnny Depp
A woman who would steal your love when your love is all you really have isn't much of a woman.
– Johnny Depp
I never found myself needing that piece of paper. Marriage is really from soul to soul, heart to heart. You don't need somebody to say, okay you're married.
– Johnny Depp
Johnny Depp Funny Quotes
The quotes and sayings by Johnny Depp will appeal to the child in you and on your fun side, making you realize that you can have a career and enjoy it, and though life is serious you can spice it up with humour in the right doses and places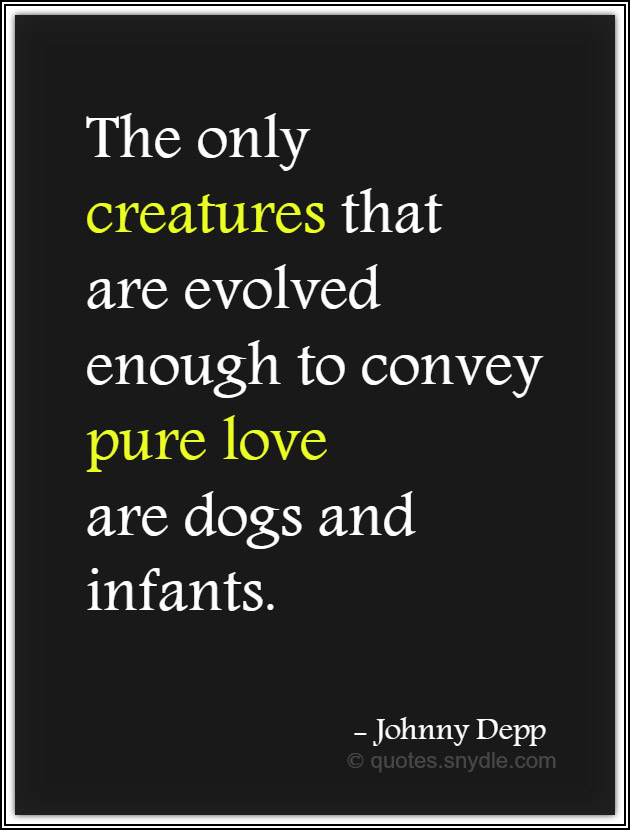 The only creatures that are evolved enough to convey pure love are dogs and infants.
– Johnny Depp
If someone were to harm my family or a friend or somebody I love, I would eat them. I might end up in jail for 500 years, but I would eat them.
– Johnny Depp
If you catch me saying 'I am a serious actor,' I beg you to slap me.
– Johnny Depp
Trips to the dentist-I like to postpone that kind of thing.
– Johnny Depp
Over the years all these vampire movies have come out and nobody looks like a vampire anymore.
– Johnny Depp
If they let me choose between you and the dog, I'll choose the dog.
– Johnny Depp
The only gossip I'm interested in is things from the Weekly World News – 'Woman's bra bursts, 11 injured'. That kind of thing.
– Johnny Depp
Johnny Depp Movie Quotes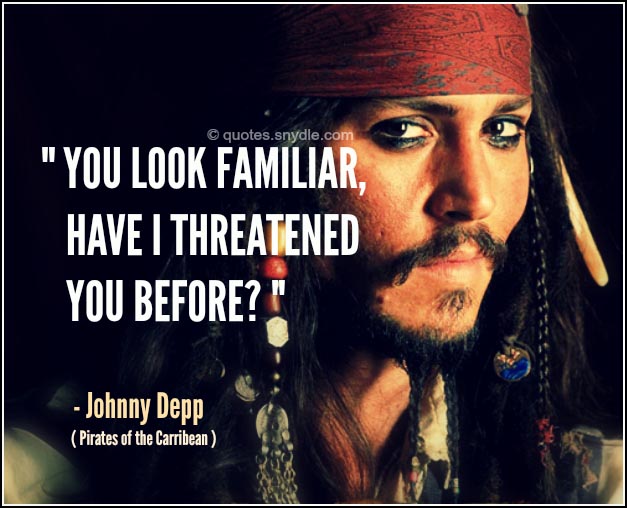 You look familiar, have I threatened you before?
– Johnny Depp, Pirates Of The Carribean
Did no one come to save me just because they missed me?
– Johnny Depp
My tremendous intuitive sense of the female creature informs me that you are troubled.
– Johnny Depp
Of course you can! Everything in this room is eatable, even I'm eatable! But that is called 'cannibalism', my dear children, and is in fact frowned upon in most societies.
– Johnny Depp, Charlie and the Chocolate Factory
Me, I'm dishonest. And a dishonest man you can always trust to be dishonest. Honestly, it's the honest ones you want to watch out for. Because you can never predict when they're going to do something incredibly…stupid.
– Johnny Depp
Good morning starshine, the earth says Hello!
Johhny Depp, Charlie And The Chocolate Factory
The challenge for me is still to do something that hasn't been beaten into the movie going consciousness. Otherwise what am I in it for?
– Johnny Depp
What a regrettably large head you have. I would very much like to hat it. I used to hat The White Queen, you know. Her head was so small.
– Johnny Depp, Alice in Wonderland
I've been considering words that start with the letter M. Moron. Mutiny. Murder. Mmm-malice.
– Johnny Depp, Alice in Wonderland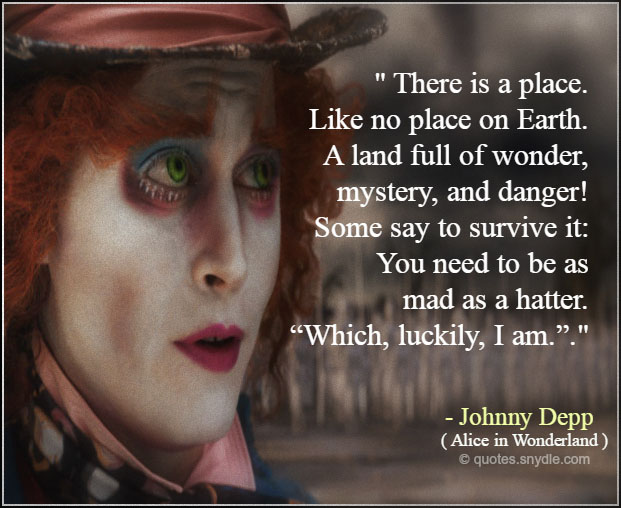 There is a place. Like no place on Earth. A land full of wonder, mystery, and danger! Some say to survive it: You need to be as mad as a hatter."Which, luckily, I am."
– Johnny Depp, Alice in Wonderland