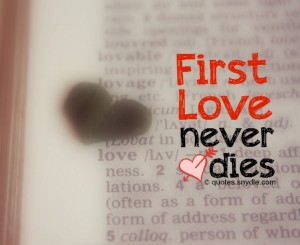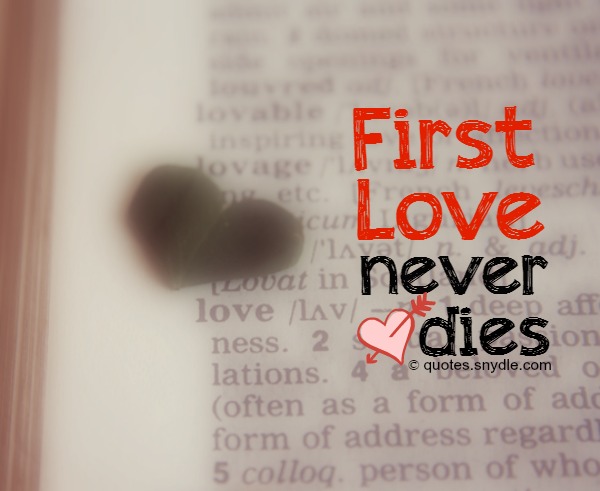 It is often said that people never forget their first love. First love can be the most beautiful thing to happen to you but on the other hand it can be the most painful experience that you have had to go through.
Take heart, you are in good company with those who have also had the same experiences and actually lived to write about them. First love may have brought you laughter and joy or sorrow and pain, but whatever your experience it is time to find strength and inspiration from quotes that were written by people all over the world who have also been through the same thing. Whether your first love was good or bad, these quotes and sayings should make you realize that someone else somewhere at one point in life has been where you are, walked the road you are walking and yet found the strength to keep on walking even when love failed them or when they succeeded at love.
These quotes should also make you realize that too often first love is just the beginning of understanding ourselves better and whether it works out or not, there is a good lesson to be learned and you can go on and become a better person as a result of this.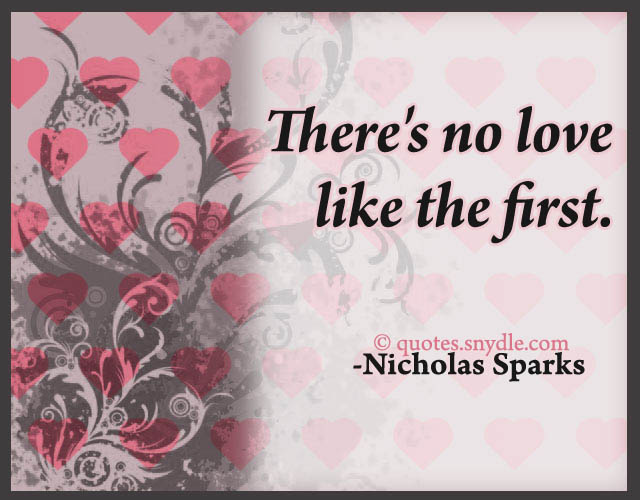 There's no love like the first.
– Nicholas Sparks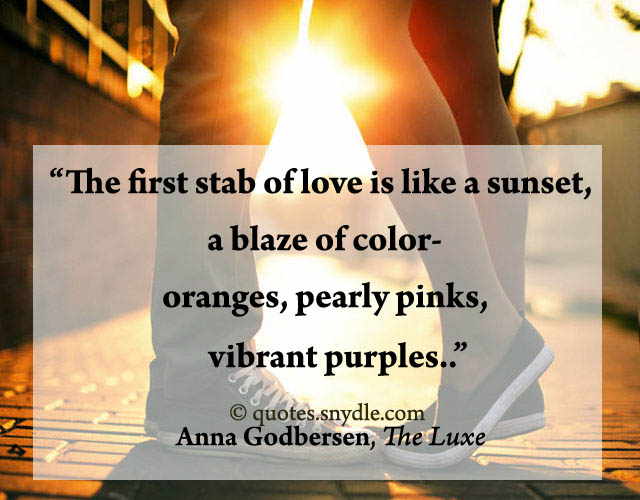 The first stab of love is like a sunset, a blaze of color — oranges, pearly pinks, vibrant purples…"
– Anna Godbersen, The Luxe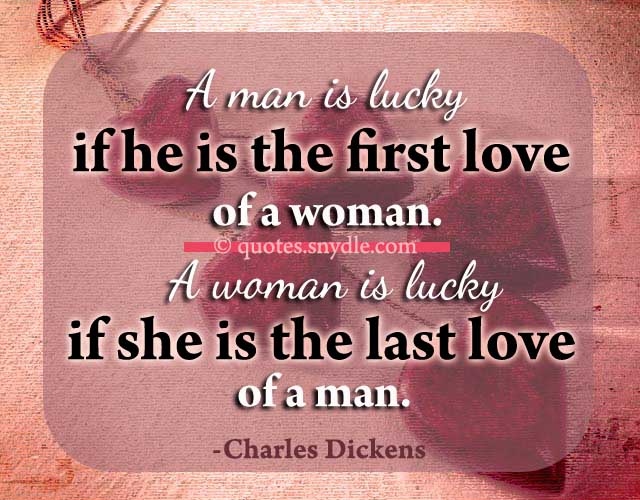 A man is lucky if he is the first love of a woman. A woman is lucky if she is the last love of a man."
– Charles Dickens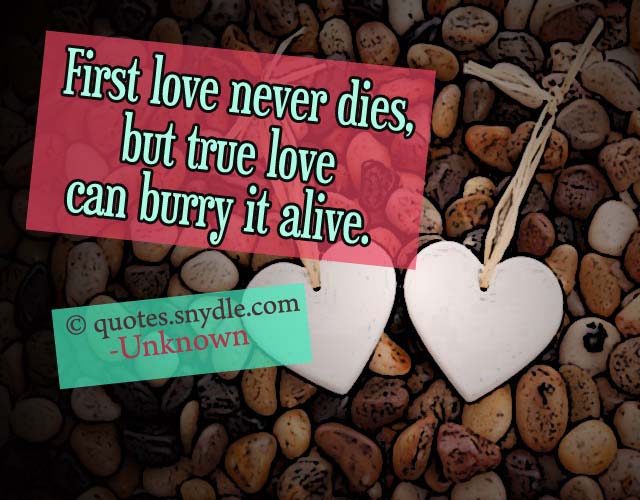 First love never dies, but true love can burry it alive.
– Unknown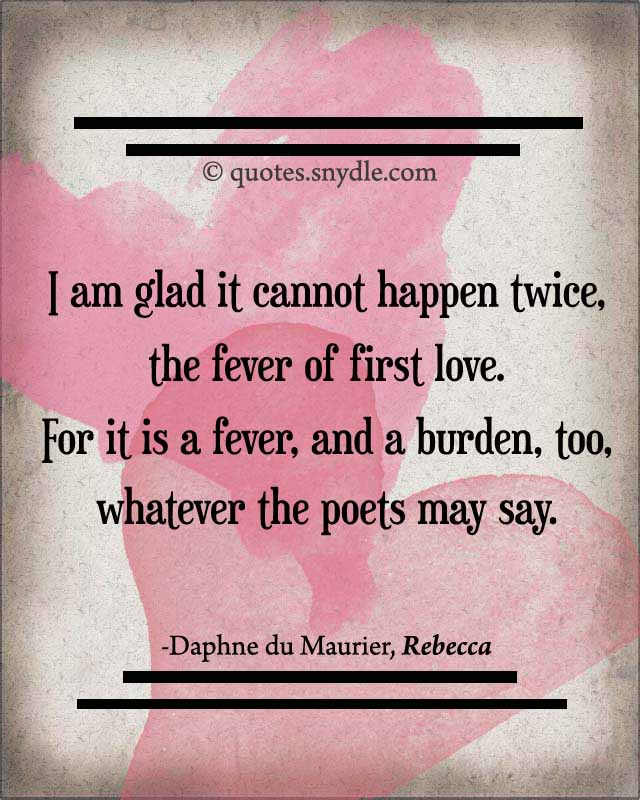 I am glad it cannot happen twice, the fever of first love. For it is a fever, and a burden, too, whatever the poets may say.
– Daphne du Maurier, Rebecca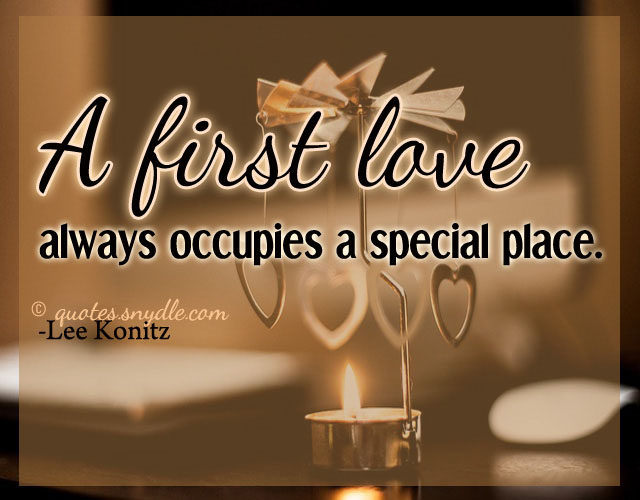 A first love always occupies a special place.
– Lee Konitz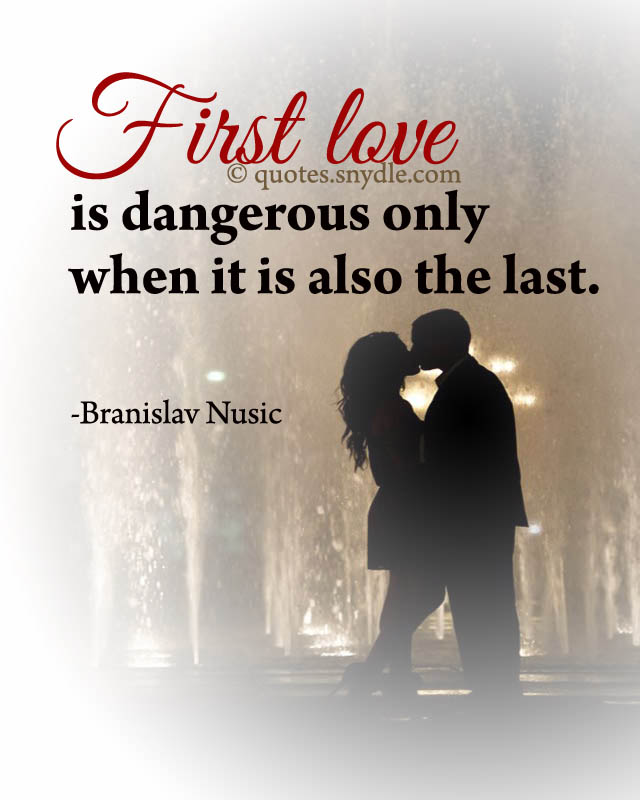 First love is dangerous only when it is also the last.
– Branislav Nusic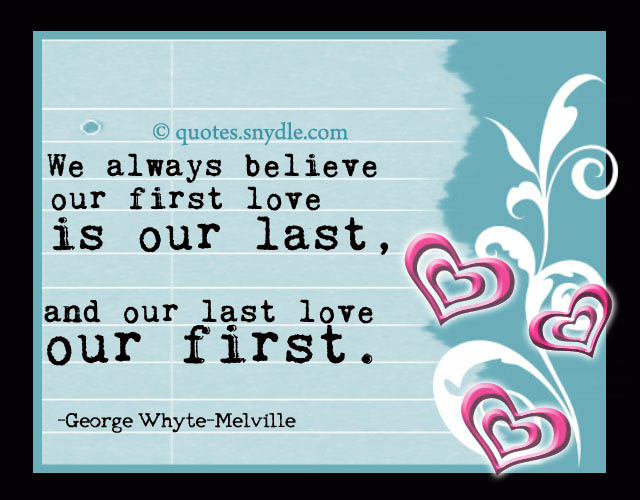 We always believe our first love is our last, and our last love our first.
– George Whyte-Melville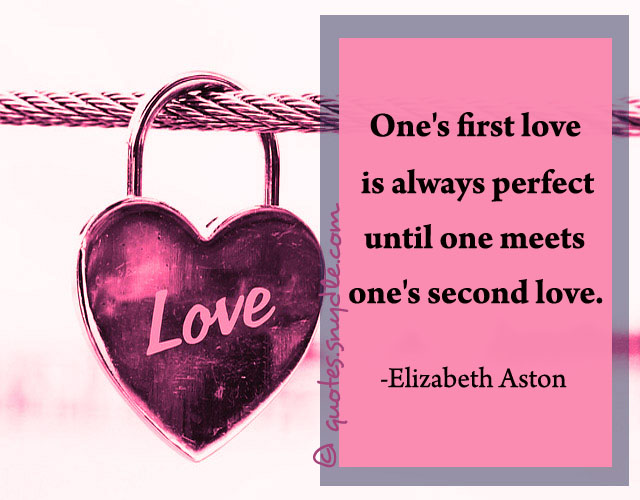 One's first love is always perfect until one meets one's second love
– Elizabeth Aston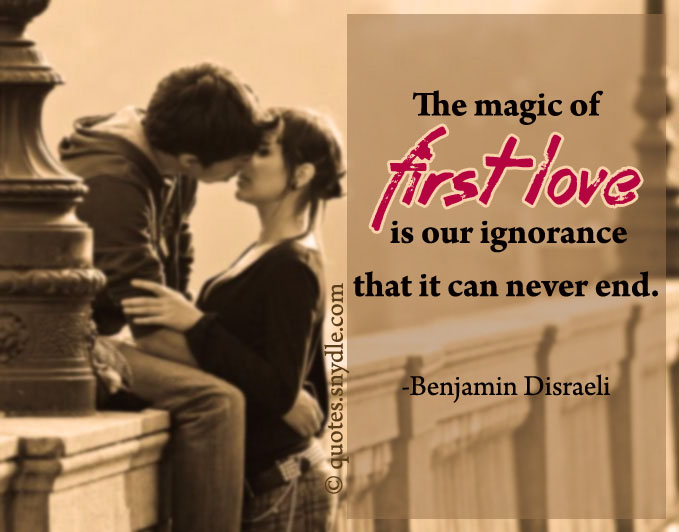 The magic of first love is our ignorance that it can never end.
– Benjamin Disraeli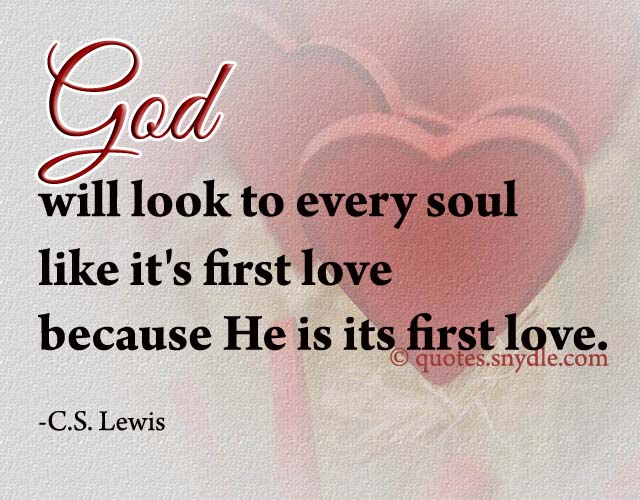 God will look to every soul like it's first love because He is its first love.
– C.S. Lewis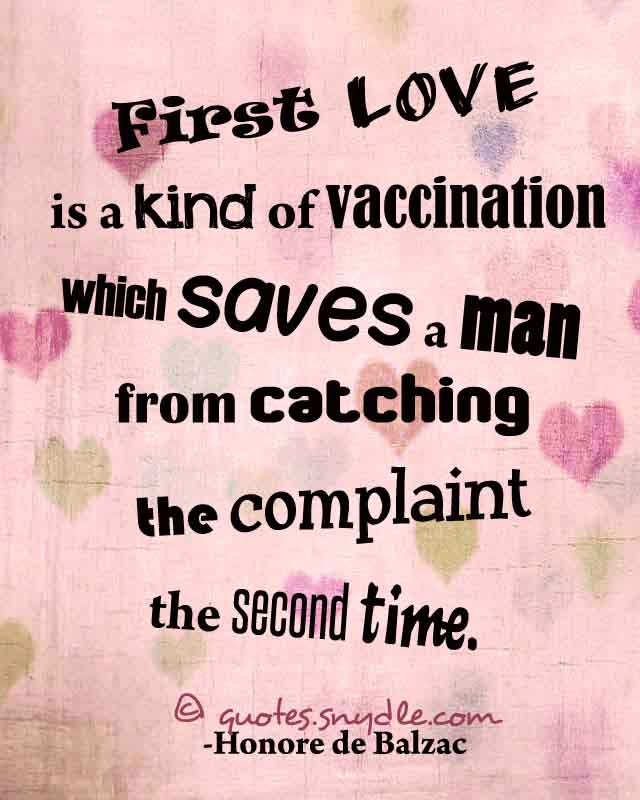 First love is a kind of vaccination which saves a man from catching the complaint the second time.
– Honore de Balzac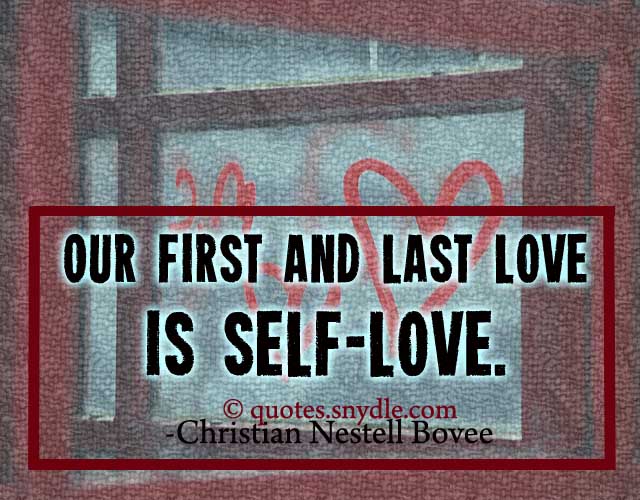 Our first and last love is self-love.
– Christian Nestell Bovee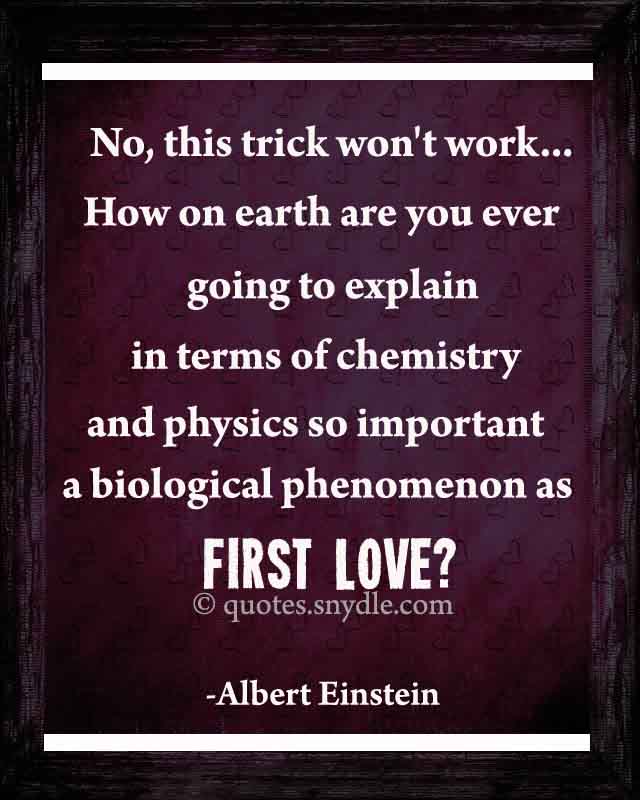 "No, this trick won't work… How on earth are you ever going to explain in terms of chemistry and physics so important a biological phenomenon as first love? "
– Albert Einstein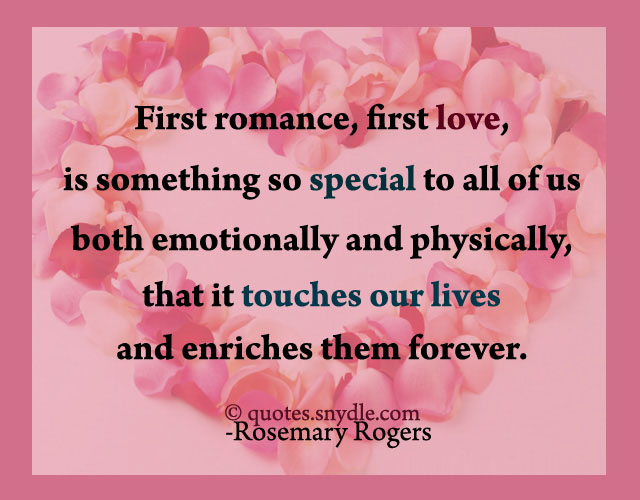 First romance, first love, is something so special to all of us, both emotionally and physically, that it touches our lives and enriches them forever.
– Rosemary Rogers
The moment my eyes fell on him, i was content.
– Edith Wharton
When i saw you i fell in love, and you smiled because you knew.
– William Shakespeare
First loves are never really over. Nobody's perfect, it doesn't mean it wasn't worth your while.
– Unknown
Love at first sight is easy to understand; it's when two people have been looking at each other for a lifetime that it becomes a miracle.
– Amy Bloom
When you feel a snake slither down your spine and your nipples are itchy, when your armpits tingle and your mouth is dry when you see him, that's first love.
– Chloe Thurlow, The Secret Life of Girls
If you've been married for 400 years, as I have, it's nice to experience first love again and you can vicariously through a book.
– E. L. James
Italy, and the spring and first love all together should suffice to make the gloomiest person happy.
– Bertrand Russell
The advantage of love at first sight is that it delays a second sight.
– Natalie Clifford Barney
She was my first love, and I loved her as only a boy loves.
– James Weldon Johnson
First love is only a little foolishness and a lot of curiosity.
– George Bernard Shaw