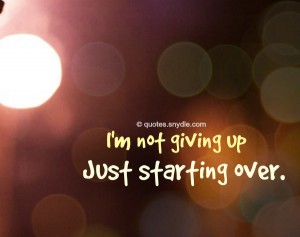 We have all been in a place where things went so wrong that we felt the end had come. Whether it was because of our own unwise choices or the unkind actions of others most of us have at one time or other suffered terrible losses emotionally, physically, materially, financially, basically in almost all aspects of life. Some of us have been lucky it has been in only one area but others have had to suffer in every area of their lives.
The beauty of life is that there is always room to start over. With the support of family and friends many people have made a comeback and gone on to become even greater and better as a result of the adversities they have faced. Others however have had to rely on the written or spoken words of people who went through similar situations and challenges.
There are hundreds of quotes written about starting over, turning over a new leaf, new beginnings and so on, but one thing is clear in all this. These quotes are very inspiring and restore hope where hope was lost, and rekindle optimism once again and by reading and taking them to heart you will realize that no matter how bad yesterday was, today is a new day and another chance to start over again.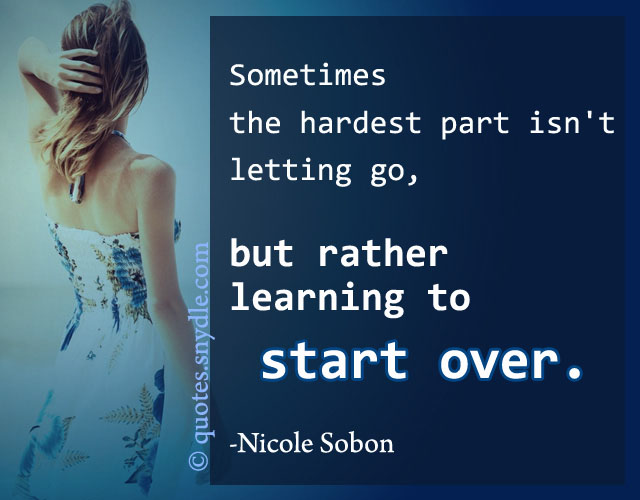 Sometimes the hardest part isn't letting go, but rather learning to start over.
– Nicole Sobon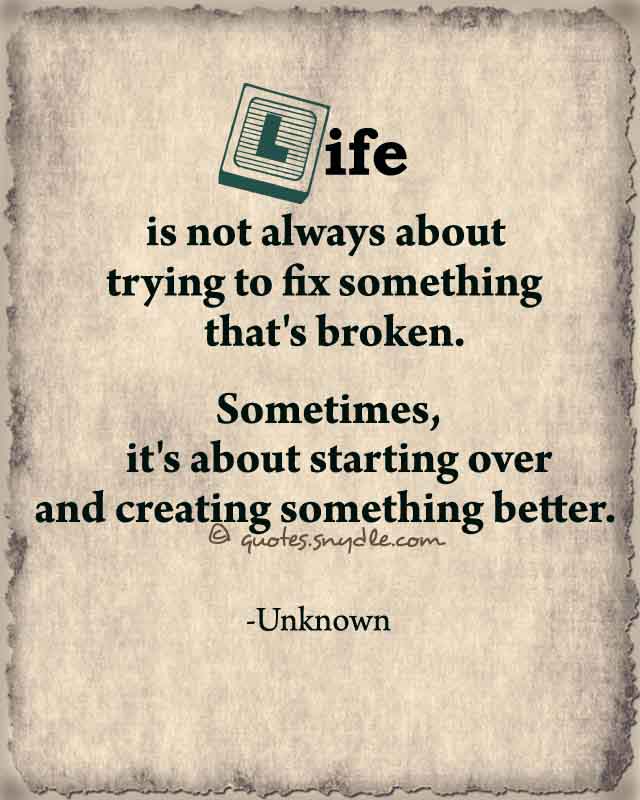 Life is not always about trying to fix something that's broken. Sometimes, it's about starting over and creating something better.
– Unknown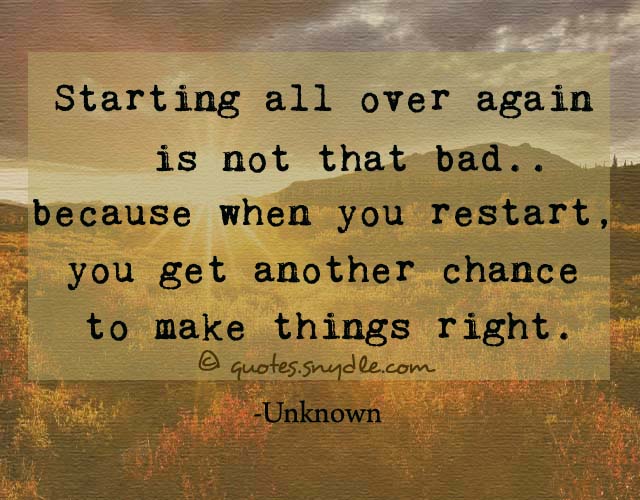 Starting all over again is not that bad.. because when you restart, you get another chance to make things right.
– Unknown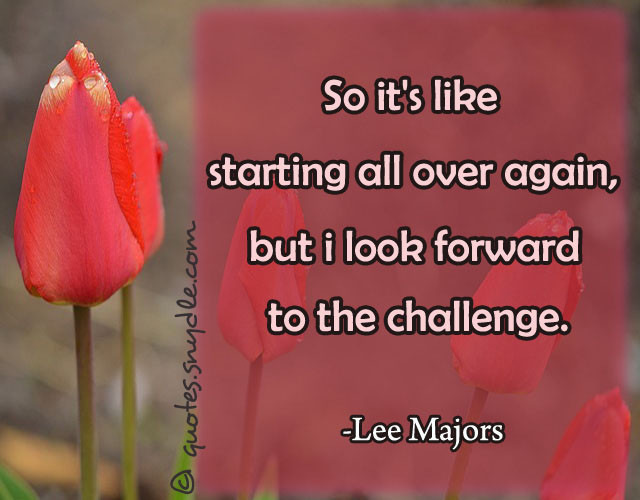 So it's like starting all over again, but i look forward to the challenge.
– Lee Majors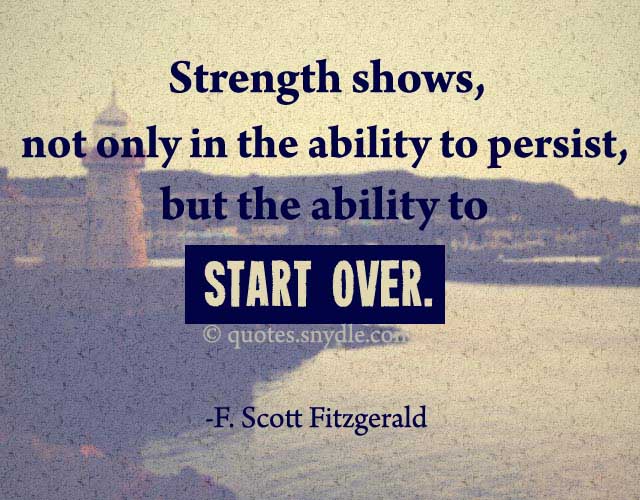 Strength shows, not only in the ability to persist, but the ability to start over.
– F. Scott Fitzgerald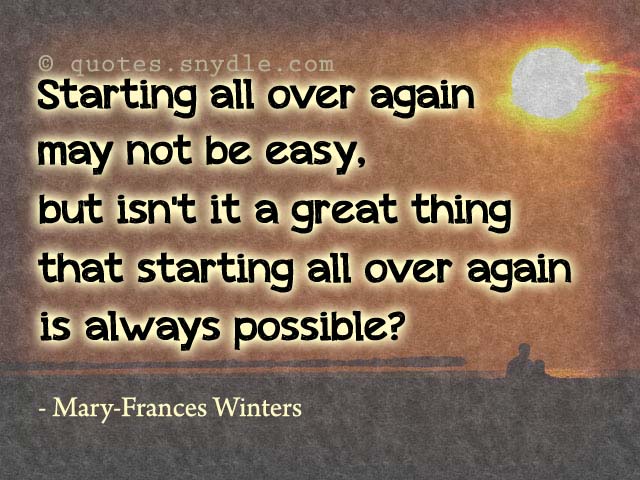 Starting all over again may not be easy, but isn't it a great thing that starting all over again is always possible?
– Mary-Frances Winters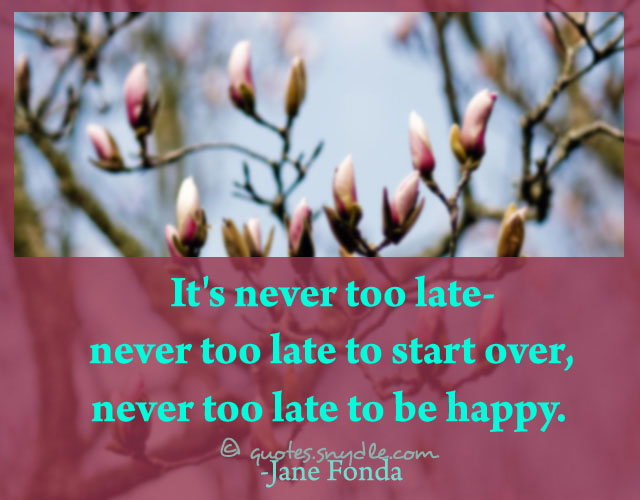 It's never too late- never too late to start over, never too late to be happy.
– Jane Fonda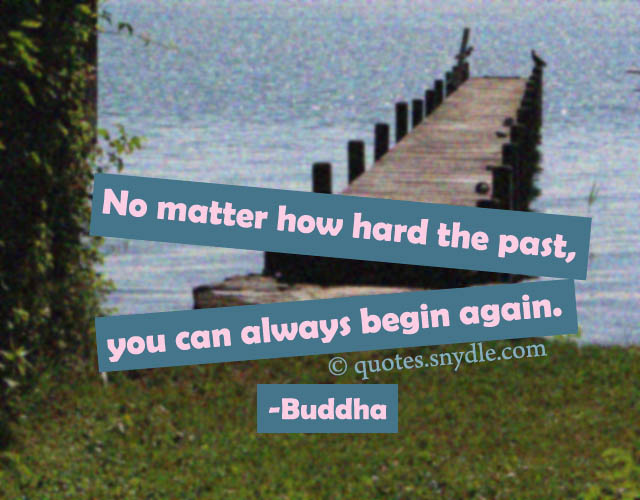 No matter how hard the past, you can always begin again.
– Buddha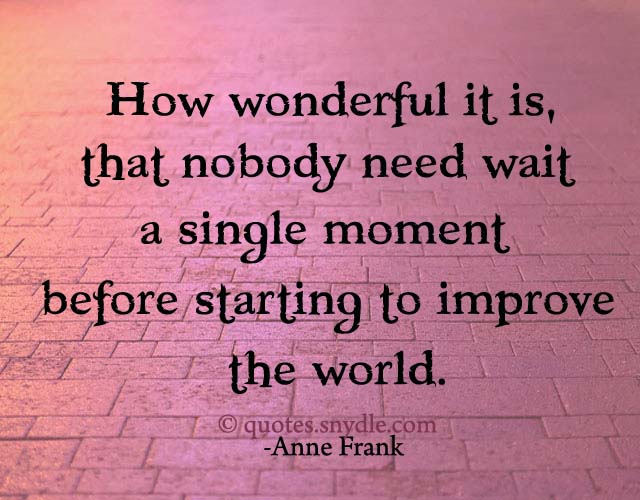 How wonderful it is, that nobody need wait a single moment before starting to improve the world.
– Anne Frank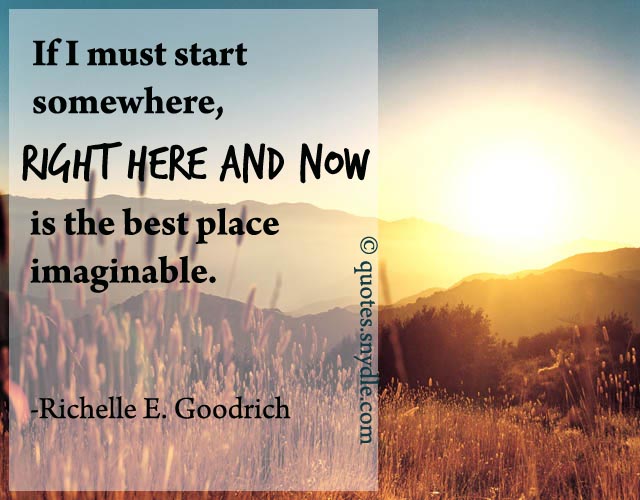 "If I must start somewhere, right here and now is the best place imaginable."
– Richelle E. Goodrich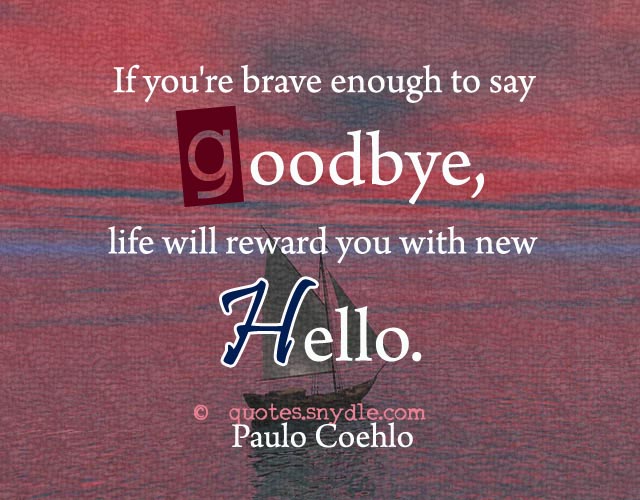 If you're brave enough to say goodbye, life will reward you with new hello.
– Paulo Coehlo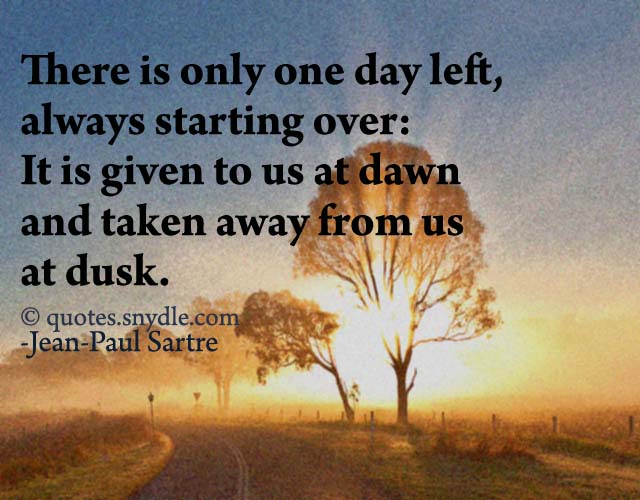 There is only one day left, always starting over: It is given to us at dawn and taken away from us at dusk.
– Jean-Paul Sartre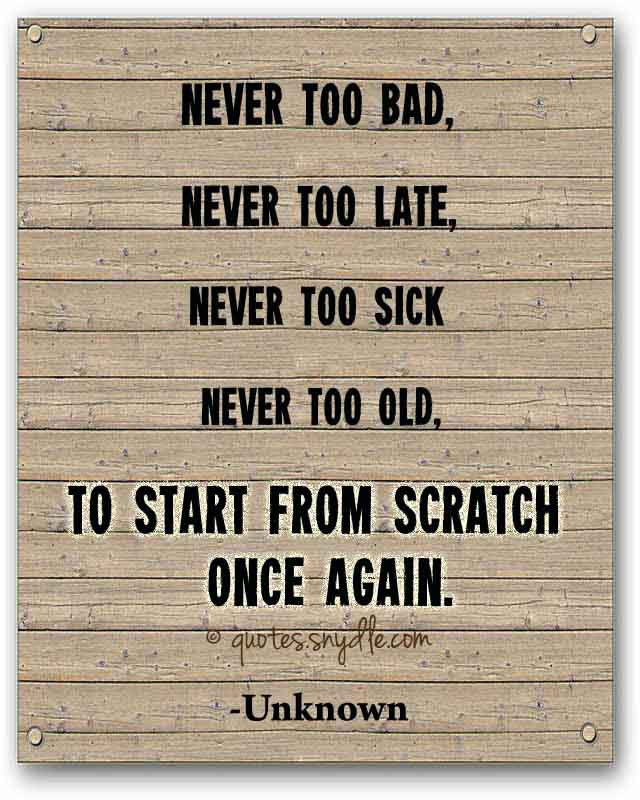 Never too old, never too bad, never too late, never too sick to start from scratch once again.
– Unknown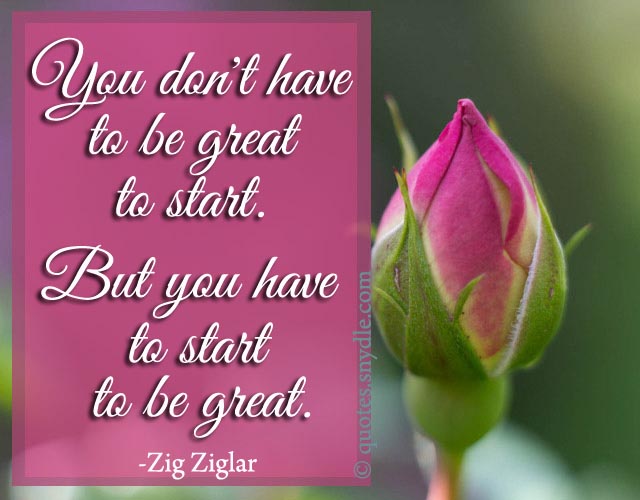 You don't have to be great to start. But you have to start to be great.
– Zig Ziglar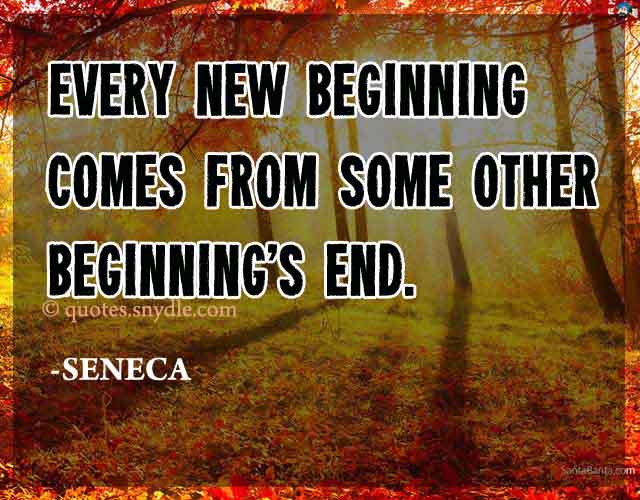 Every new beginning comes from some other beginning's end.
– Seneca
I have learned that trying again is important and decisivness is good. I have learned that silence hurts. I have learned about starting over and releasing pride.
– Sabrina Ward Harrison
Start by doing what's necessary; then do what's impossible; and suddenly you are doing the impossible.
– St. Francis of Assisi
There are two mistakes one can make along the road to truth… not going all the way and not starting.
– Buddha
Rock bottom became the solid foundation on which i rebuilt my life.
– J.K. Rowling
It's painful and it's messy. But sometimes you just have to make the break and start again.
– Tony Parsons, Man and Wife
It's never too late to start over!
– Lynne Gentry, Reinventing Leona
Then came the healing time, hearts started to shine, soul felt so fine, oh what a freeing time it was.
– Aberjhani
It's humbling to start fresh. It takes a lot of courage. But it can be reinvigorating. You just have to put your ego on a shelf & tell it to be quiet.
– Jennifer Ritchie Payette
So what do we do? Anything. Something. So long as we just don't sit there. If we screw it up, start over. Try something else. If we wait until we've satisfied all the uncertainties, it may be too late.
– Lee Iacocca
A bridge of silver wings stretches from the dead ashes of an unforgiving nightmare
to the jeweled vision of a life started anew.
– Aberjhani, Journey through the Power of the Rainbow
How do you restart something that had never been turned off?
-Veronica Rossi, Under the Never Sky
Hard is trying to rebuild yourself, piece by piece, with no instruction book, and no clue as to where all the important bits are supposed to go.
– Nick Hornby, A Long Way Down
We must be willing to get rid of the life we've planned, so as to have the life that is waiting for us. The old skin has to be shed before the new one can come.
– Joseph Campbell
All great beginnings start in the dark, when the moon greets you to a new day at midnight.
– Shannon L. Alder
That last page turned is a perfect excuse to write a whole new book.
– Toni Sorenson
And besides, I like to cry. After I cry hard it's like morning again, and i'm starting the day over.
– Ray Bradbury