Marilyn Monroe was every girl's role model. She was beautiful and talented. She proved to everyone that everyone can succeed as long as they work hard and put their minds to it. She didn't let her bad experiences hold her back from pursuing her dream and making it big in her life.
She may look like the textbook dumb blonde people look down on and make fun of, but she was so much more than that. Her experience taught her wisdom and she had a lot to say about life, love and perseverance. She might have left this world a long time ago, but her words have kept her alive in our hearts and minds.
Best Marilyn Monroe Quotes
What will the world be without Marilyn Monroe? She was an empowered woman who showed the world that nothing can stop her from reaching her goals. She took charge of her life and never gave up. She has inspired others to do the same and be the best that they can be.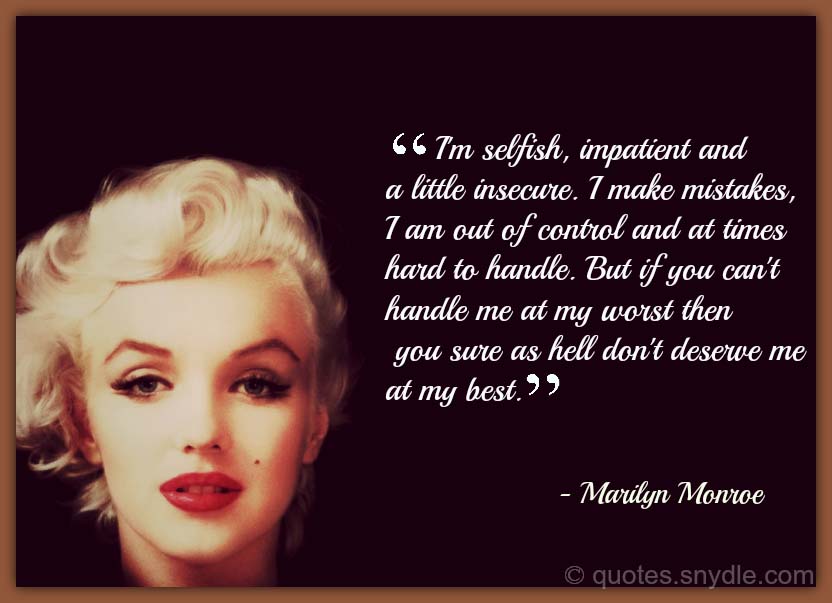 I'm selfish, impatient and a little insecure. I make mistakes, I am out of control and at times hard to handle. But if you can't handle me at my worst, then you sure as hell don't deserve me at my best.
― Marilyn Monroe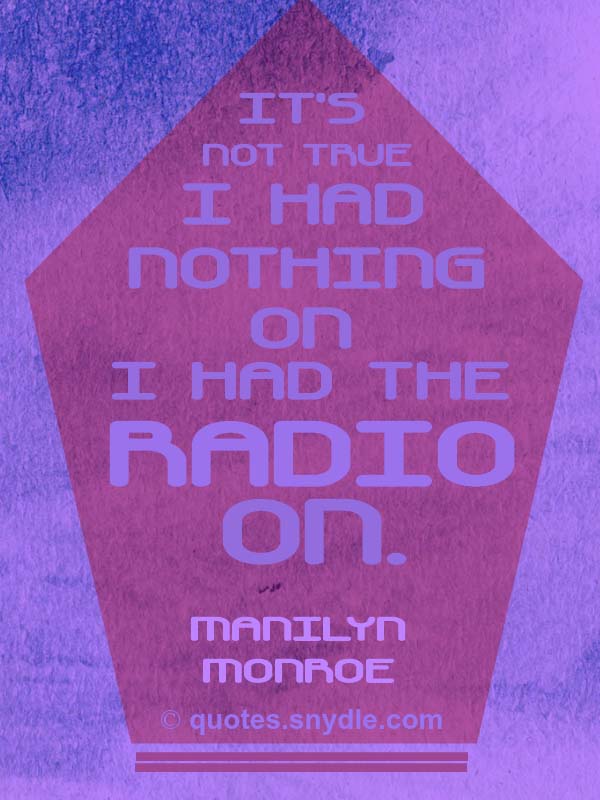 It's not true I had nothing on. I had the radio on.
― Marilyn Monroe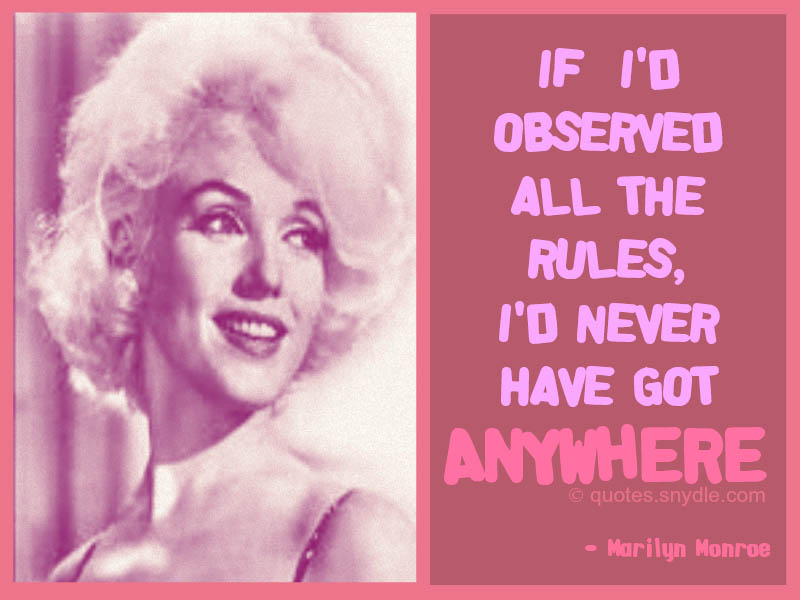 If I'd observed all the rules, I'd never have got anywhere.
― Marilyn Monroe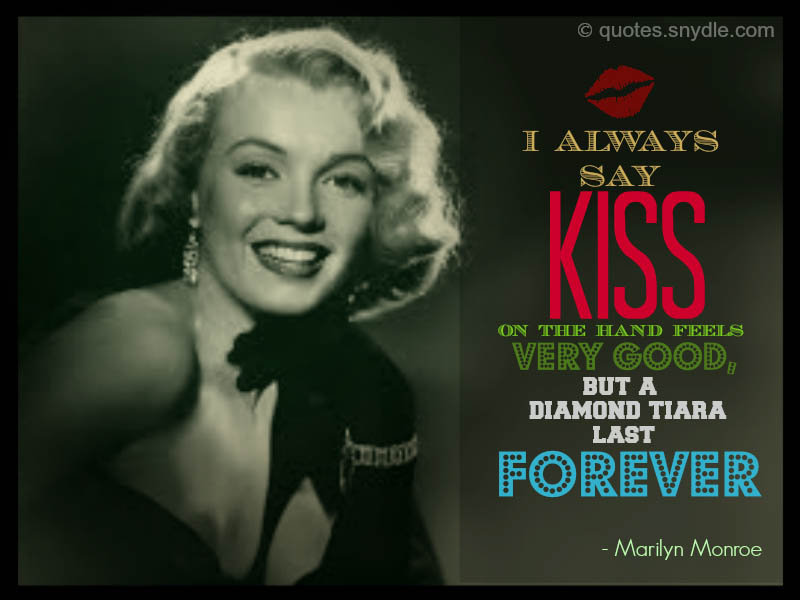 I always say a kiss on the hand feels very good, but a diamond tiara lasts forever.
― Marilyn Monroe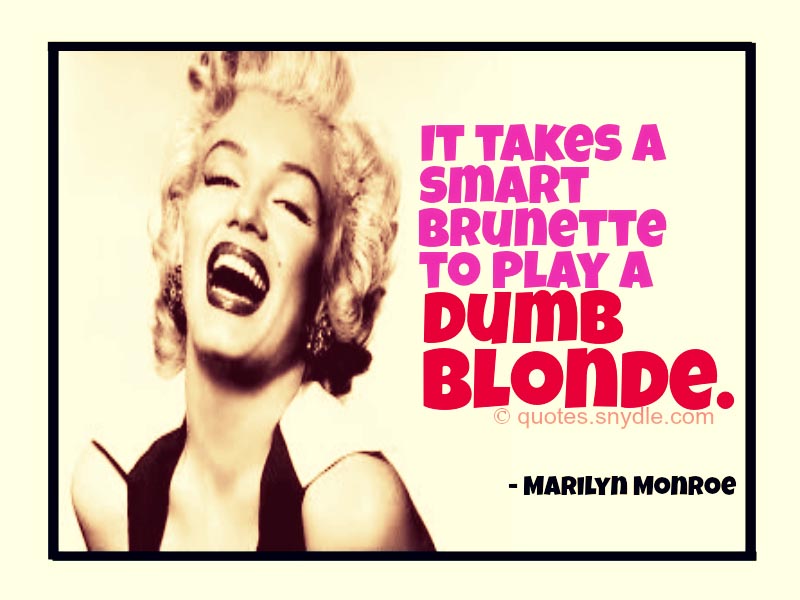 It takes a smart brunette to play a dumb blonde.
― Marilyn Monroe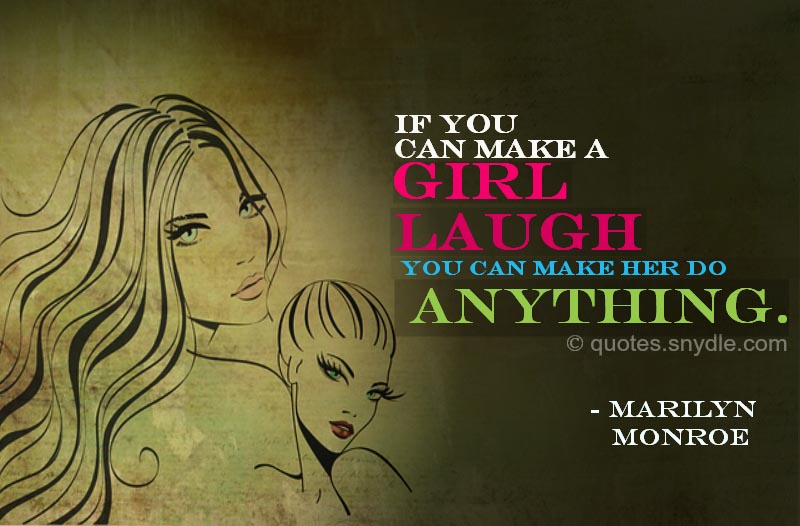 …If you can make a girl laugh – you can make her do anything…
― Marilyn Monroe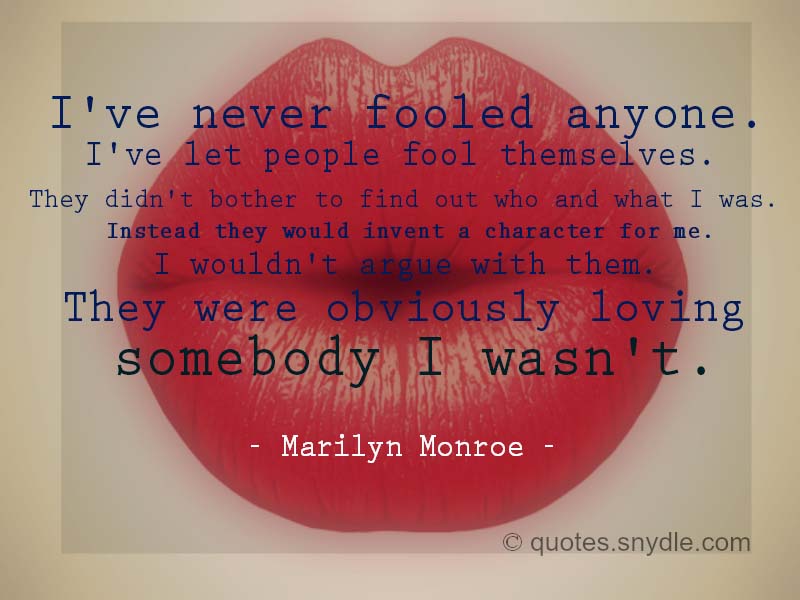 I've never fooled anyone. I've let people fool themselves. They didn't bother to find out who and what I was. Instead they would invent a character for me. I wouldn't argue with them. They were obviously loving somebody I wasn't.
― Marilyn Monroe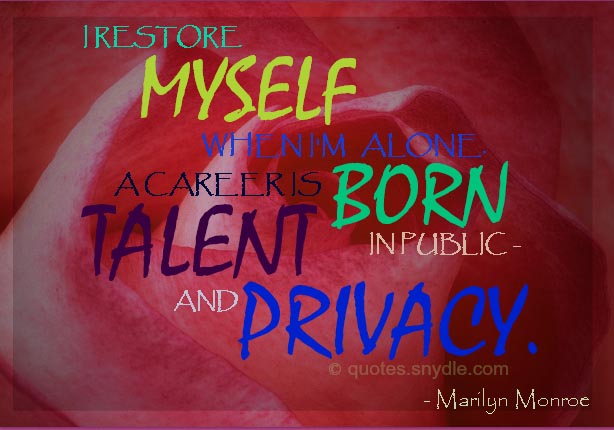 I restore myself when I'm alone. A career is born in public – talent in privacy.
― Marilyn Monroe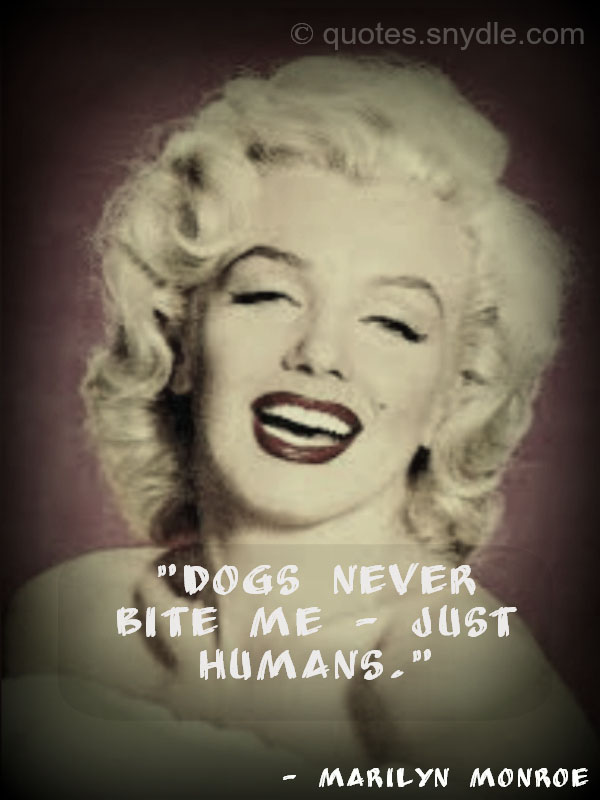 Dogs never bite me – just humans.
― Marilyn Monroe
Please don't make me a joke. End the interview with what I believe. I don't mind making jokes, but I don't want to look like one…I want to be an artist, an actress with integrity…
― Marilyn Monroe
Hollywood's a place where they'll pay you a thousand dollars for a kiss, and fifty cents for your soul. I know, because I turned down the first offer often enough and held out for the fifty cents.
― Marilyn Monroe
Give a girl the right shoes, and she can conquer the world.
― Marilyn Monroe
Success makes so many people hate you. I wish it wasn't that way. It would be wonderful to enjoy success without seeing envy in the eyes of those around you.
― Marilyn Monroe
If you're gonna be two-faced at least make one of them pretty.
― Marilyn Monroe
Marilyn Monroe Love Quotes
Marilyn Monroe knew a lot about love. A lot of people adored her with all her hearts. She was filled with love for everyone around her. She taught everyone how important it was to love their selves truly and wholeheartedly despite flaws and imperfections.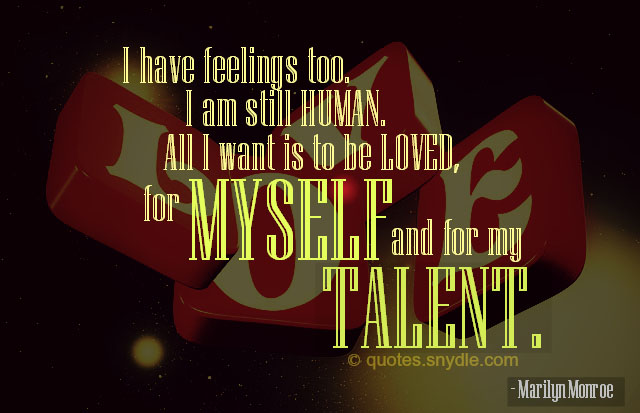 I have feelings too. I am still human. All I want is to be loved, for myself and for my talent.
― Marilyn Monroe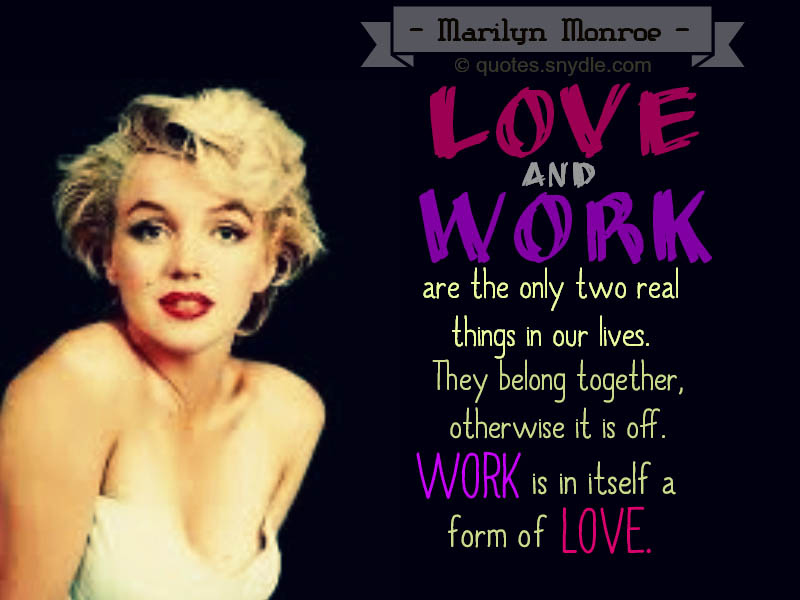 Love and work are the only two real things in our lives. They belong together, otherwise it is off. Work is in itself a form of love.
― Marilyn Monroe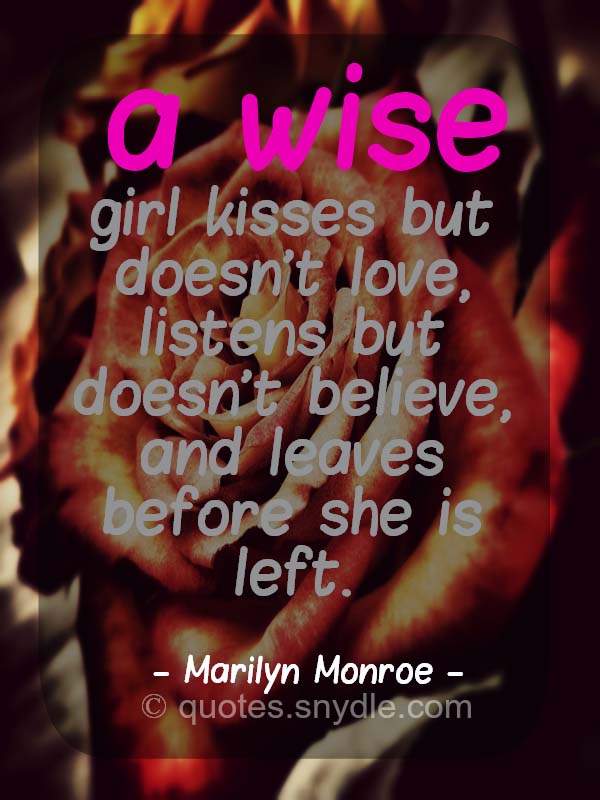 A wise girl kisses but doesn't love, listens but doesn't believe, and leaves before she is left.
― Marilyn Monroe
The real lover is the man who can thrill you just by touching your head or smiling into your eyes – or just by staring into space.
― Marilyn Monroe
I am good, but not an angel. I do sin, but I am not the devil. I am just a small girl in a big world trying to find someone to love.
― Marilyn Monroe
It's better to be unhappy alone than unhappy with someone – so far.
― Marilyn Monroe
I don't mind living in a man's world as long as I can be a woman in it.
― Marilyn Monroe
Before marriage, a girl has to make love to a man to hold him. After marriage, she has to hold him to make love to him.
― Marilyn Monroe
A strong man doesn't have to be dominant toward a woman. He doesn't match his strength against a woman weak with love for him. He matches it against the world.
― Marilyn Monroe
Men who think that a woman's past love affairs lessen her love for them are usually stupid and weak.
― Marilyn Monroe
All a girl really wants is for one guy to prove to her that they are not all the same.
― Marilyn Monroe
Marilyn Monroe Beauty Quotes
Marilyn Monroe was your average diva. She was a popular sex symbol who showed that there's more to a girl than her beauty. She taught girls everywhere how to be confident and be happy with themselves. She spoke words of encouragement and empowerment to women and girls everywhere.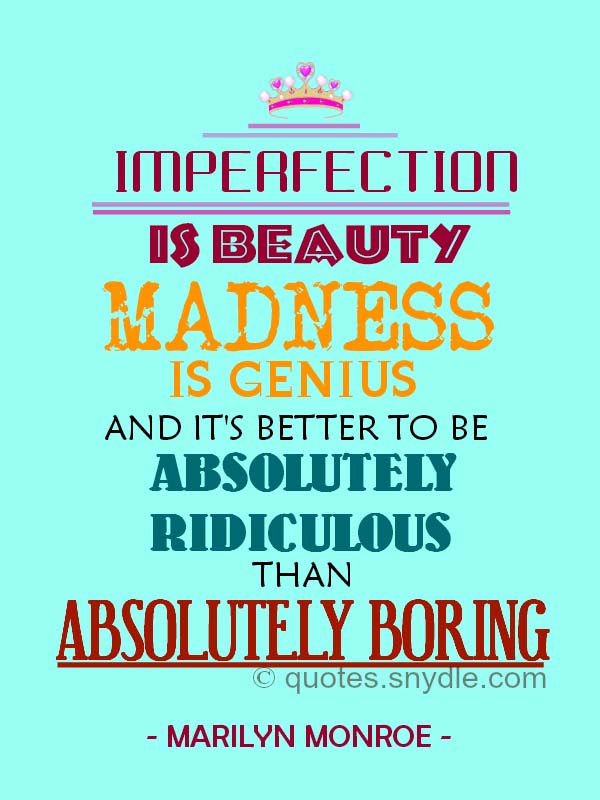 Imperfection is beauty, madness is genius and it's better to be absolutely ridiculous than absolutely boring.
― Marilyn Monroe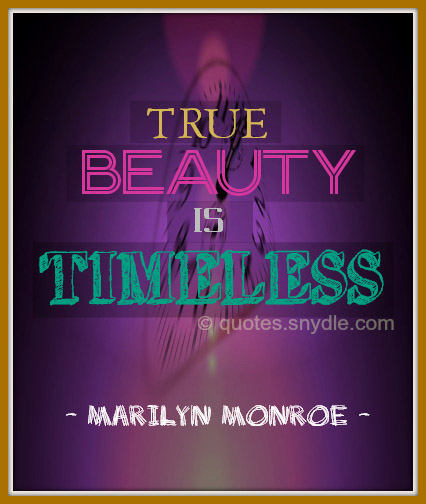 True beauty is timeless.
― Marilyn Monroe
I want to grow old without facelifts… I want to have the courage to be loyal to the face I've made. Sometimes I think it would be easier to avoid old age, to die young, but then you'd never complete your life, would you? You'd never wholly know you.
We are all born sexual creatures,thank God, but it's a pity so many people despise and crush this natural gift.
― Marilyn Monroe
People ask me if I am going on making cheesecake pictures now that I'm a star. My answer is that as long as there is a boy in Korea who wants a pinup of me, I'll go on posing for them.
― Marilyn Monroe
I don't want to make money, I just want to be wonderful.
― Marilyn Monroe
We are all of us stars, and we deserve to twinkle.
― Marilyn Monroe
Beauty and femininity are ageless and can't be contrived, and glamour, although the manufacturers won't like this, cannot be manufactured. Not real glamour; it's based on femininity.
― Marilyn Monroe
To all the girls that you think you're ugly because you're not a size o, you're the beautiful one. The society who's ugly.
― Marilyn Monroe
I love a natural look in pictures.
― Marilyn Monroe
Marilyn Monroe Life Quotes
Marilyn Monroe lived a hard life filled with hardships and sorrow. Her experiences will make anybody give up, but she was different. She strived hard to make her life better despite it all. She took the bull by the horns and faced it head on.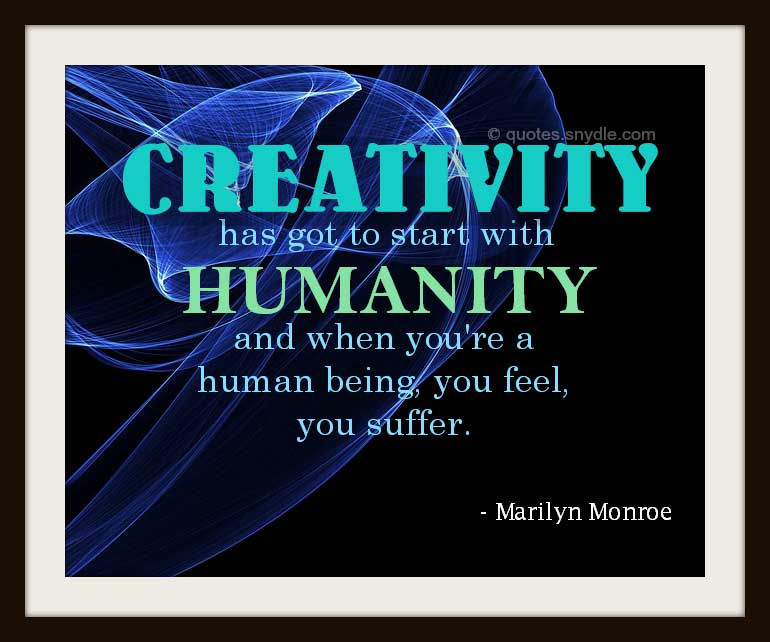 Creativity has got to start with humanity and when you're a human being, you feel, you suffer.
― Marilyn Monroe
I believe that everything happens for a reason. People change so that you can learn to let go, things go wrong so that you appreciate them when they're right, you believe lies so you eventually learn to trust no one but yourself, and sometimes good things fall apart so better things can fall together.
― Marilyn Monroe
We should all start to live before we get too old. Fear is stupid. So are regrets.
― Marilyn Monroe
Sometimes I feel my whole life has been one big rejection.
― Marilyn Monroe
Keep smiling, because life is a beautiful thing and there's so much to smile about.
― Marilyn Monroe
You never know what life is like, until you have lived it.
Nothing lasts forever so live it up, drink it down, laugh it off, avoid the bullshit, take chances and never have regrets, because at one point everything you did was exactly what you wanted.
― Marilyn Monroe
Just because you fail once, doesn't mean you're gonna fail at everything. Keep trying, hold on, and always, always, always believe in yourself, because if you don't, then who will?
― Marilyn Monroe
If you spend your life competing with business men, what do you have? A bank account and ulcers!
― Marilyn Monroe
There is nothing positive about being fat. And there is nothing positive about loving yourself. We all need to conform to society's expectations of who we are, because if we don't, who will? Life is more enjoyable when you are thin and pretty. I was never fat a day in my life and I never will.
― Marilyn Monroe